( Please allow a few moments for the full song downloads and turn on your love light. Full track listing below story …  )
Come on, we know you're out there fellow surfing Dead Heads and it's okay to come out of the closet for this one, the just re-leased, re-mastered and brilliant sounding 'The Best Of The Grateful Dead (Live )'.
There really is noting like a Grateful Dead show – take it from somebody who's been to a few from the time of the mid-60's Summer Of Love generation and all through the 1970's.
And there is not much better than to hear some of their best live performances of individual songs compiled in one epic recording such as this one with it's rich, clean re-mastered sonics from a band notoriously finicky for getting the best live audio possible from their equipment, soundboard and attendant sound engineers.
St. Stephen: Track 01- Fillmore West 2/27/69
The Grateful Dead forged its legend on the road, traveling countless miles between 1965 and 1995 to perform a world record 2,318 shows for millions of devoted fans. The band's refusal to ever play a song the same way twice has endeared generations of fans, many of whom prefer certain live versions of songs over their studio counterparts, and garnered the popular phrase among Dead Heads: "There is nothing like a Grateful Dead concert."
Made for die-hard Dead Heads and new fans alike, THE BEST OF THE GRATEFUL DEAD LIVE is the ultimate live collection, a two-disc set with recordings selected from the band's official live albums on Warner Bros. and Arista, plus a few tracks from their many archival live releases, beginning with infamous psychedelic tinged rock jam "St. Stephen" – from the group's first official live album, 1969's Live/Dead – and ending with the poignant and fitting "So Many Roads" sung in fine form by Garcia," taken from the band's final concert at Chicago's Soldier Field in July of 1995.
So Many Roads: Disc 2 Track 9- Soldier Field 7/9/95
THE BEST OF THE GRATEFUL DEAD LIVE is available as a two-CD for $19.98. The music is also available through digital and streaming services as well. Volume One of the collection is also be available on 180-gram vinyl as a 2-LP set for $34.98, covering the first half of the album. Volume Two on vinyl will be released at a later date to be announced.
"We wanted to follow up the 2015 The Best Of The Grateful Dead studio set with a live counterpart, and have focused our efforts on the band's primary live albums as well as some key tracks from archival concert releases," says band archivist and producer David Lemieux of "Dave's Picks" fame. "Just as there was nothing like a Grateful Dead concert, it's no secret that as good as the Dead's studio recordings were, they excelled in front of an audience, and this set provides an overview of just how great the Dead were live in concert."
The live albums the band released during its 30-year career are the primary source for the collection, including classic, crowd faves like teh joyful, Garcia sung "Bertha" from Grateful Dead (Skull & Roses) (1971), "Fire On The Mountain" from Dead Set (1981), and "The Music Never Stopped" from One From the Vault (1991). A testament to its ongoing popularity, the revered double-album Europe '72 (1972), is represented by no less than five tracks, including "Sugar Magnolia," "Jack Straw" and as absolutely searing rendition of "Morning Dew."
Other performances on the set were selected from the growing number of live releases that have emerged since the death of founding member Jerry Garcia in 1995. Some of those recordings include "Touch Of Grey" from Truckin' Up To Buffalo (2005), a 1990 version of "Eyes Of The World" with saxophonist Branford Marsalis soaring coda featured on Wake Up To Find Out (2014), and "Estimated Prophet," which debuted earlier this year as part of Cornell 5/8/77, a recording of the Grateful Dead's mythic show at Cornell University in 1977, thought by many to be the band's greatest live performance.
It's been said by critics and fans alike that the Dead is an acquired taste and, if you've never really given this magical, legendary live band a chance we highly recommend you acquire The Best Of The Grateful Dead ( Live ) and come out of closet with the rest of us because, as the the song goes, " one man gathers what another man spills".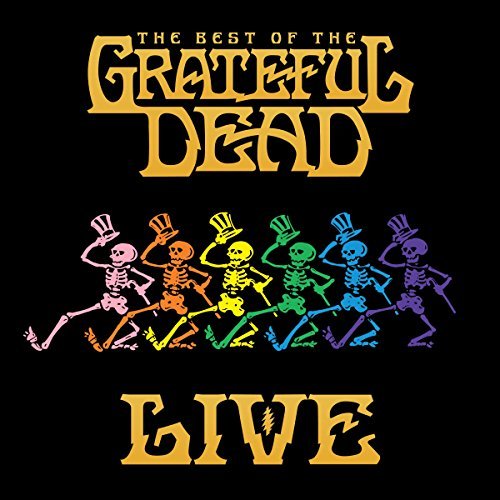 Track listing:
Disc One
1. "St. Stephen" – Fillmore West (2/27/69) from Live/Dead (1969)
2. "Bertha" – Fillmore East (4/27/71) from Grateful Dead (Skull & Roses) (1971)
3. "Wharf Rat" – Fillmore East (4/26/71) from Grateful Dead (Skull & Roses) (1971)
4. "Sugar Magnolia" – Olympia Theatre (5/4/72) from Europe '72 (1972)
5. "Jack Straw" – Olympia Theatre (5/3/72) from Europe '72 (1972)
6. "Truckin'" – Lyceum Theatre (5/26/72) from Europe '72 (1972)
7. "Morning Dew" – Lyceum Theatre (5/26/72) from Europe '72 (1972)
8. "Brown Eyed Women" – Tivoli Concert Hall (4/14/72) from Europe '72 (1972)
9. "The Music Never Stopped" – Great American Music Hall (8/13/75), One From The Vault (1991)
10. "Estimated Prophet" – Barton Hall (5/8/77) from Cornell 5/8/77 (2017)
Disc Two
1. "Friend Of The Devil" – Radio City Music Hall (10/27/80) from Dead Set (1981)
2. "Feel Like A Stranger" – Warfield Theatre (10/4/80) from Dead Set (1981)
3. "Fire On The Mountain" – Radio City Music Hall (10/31/80) from Dead Set (1981)
4. "Bird Song" – Warfield Theatre (10/14/80) from Reckoning (1981)
5. "Ripple" – Warfield Theatre (10/4/80) from Reckoning (1981)
6. "Eyes Of The World" – Nassau Coliseum (3/29/90) from Wake Up To Find Out (2014)
7. "Touch Of Grey" – Rich Stadium (7/4/89) from Truckin' Up To Buffalo (2005)
8. "Blow Away" – JFK Stadium (7/7/89) from Crimson, White & Indigo (2010)
9. "So Many Roads" – Soldier Field (7/9/95) from So Many Roads (1999)