Venerable surf scribe, and my old boss at Surfer Magazine back in the day, Matt Warshaw has the best words for a guy who doesn't dye his hair orange, use tan in a can and still thinks a tweet is a Goldfinch making a noise outside his bedroom window.
He actually has consistently written – and continues to write – the best words chronicling our sport ever, period.
And he and his superbly interesting, absorbingly entertaining as well uber knowledgeable Encyclopedia Of Surfing ( also know as EOS ) is about to go the way of the Dodo, land lines, Surfing Magazine, Trumps presidency ( or all our collective asses if it doesn't ) and even ESM itself if he can't scratch up $30K by months end to keep his valiant, one man enterprise going which would be nothing short of fucking travesty if it comes to pass.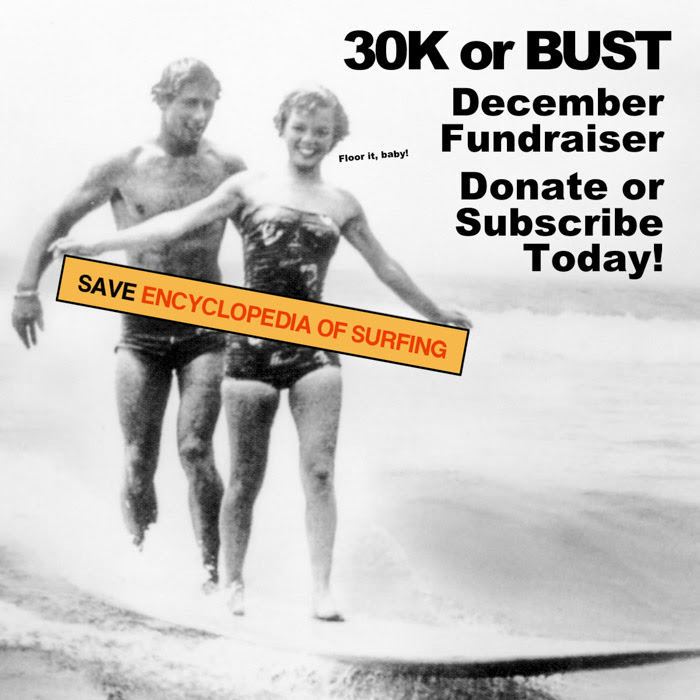 If you enjoy reading and knowing your wave riding history done with straight shooting honesty and brilliance, a bit of wry, twisted humor and deep, loving research on each and every subject that taps forth from his fingers through his well worn keyboard then it behooves you to anti- up $3.00 measly dollars a month to keep EOS online for all our reading pleasure.
Hell, you spill at least twice that much at a bar on the weekend so why not help surfings one and only true historian by investing what amounts to pocket change and enjoy each finely crafted entry by our sports pre-eminent scholar and wordsmith.
Do a really good thing today and help Warshaw and the EOS simply by clicking on the subscribe button below and check out Matts recent radio interview and learn more about the man, his work and his life. – Mez
https://encyclopediaofsurfing.com/subscribe/