Winter Storm Helena put a hurting on the East Coast this weekend: six people killed, nearly two feet of snow in some spots in New England, more than 1,200 car crashes in North Carolina and Virginia alone, icy road conditions from Mississippi to Massachusetts, single-digit highs as far south as Delmarva… Hell, The Weather Channel even said that Florida was the only state in the Union that didn't have snow or ice on the ground this weekend (and yes, that includes Hawaii). But what about the waves, you ask? Well, you've probably been on social media once or twice since Friday — so you know what happened. Big barrels from Miami to the Maritimes, offshore winds and sunny skies (even when it was cold!), and uncrowded lineups all over the Mid-Atlantic and Northeast thanks to road closures, travel advisories, and those  aforementioned air temps. We didn't have to wait long to put together this Winter Storm Helena Swell Gallery — a cool thousand submissions awaited us Monday morning, with more still pouring in as we speak (and Winter Storm Ira threatening to follow in Helena's footsteps). So without further ado…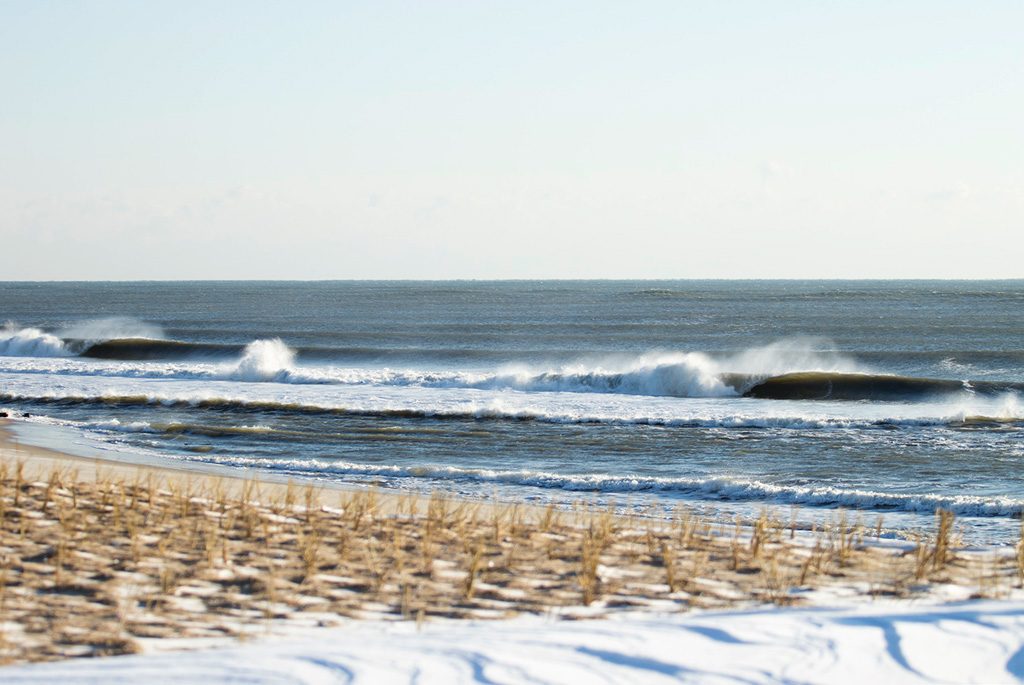 New Jersey. Photo: John Gilman
Gilman sent this shot in with an appropriate caption: "East Coast J-Bay?" Minus a few degrees thanks to Winter Storm Helena and plus a few extra pound-feet thanks to those icy, unforgiving lips, of course.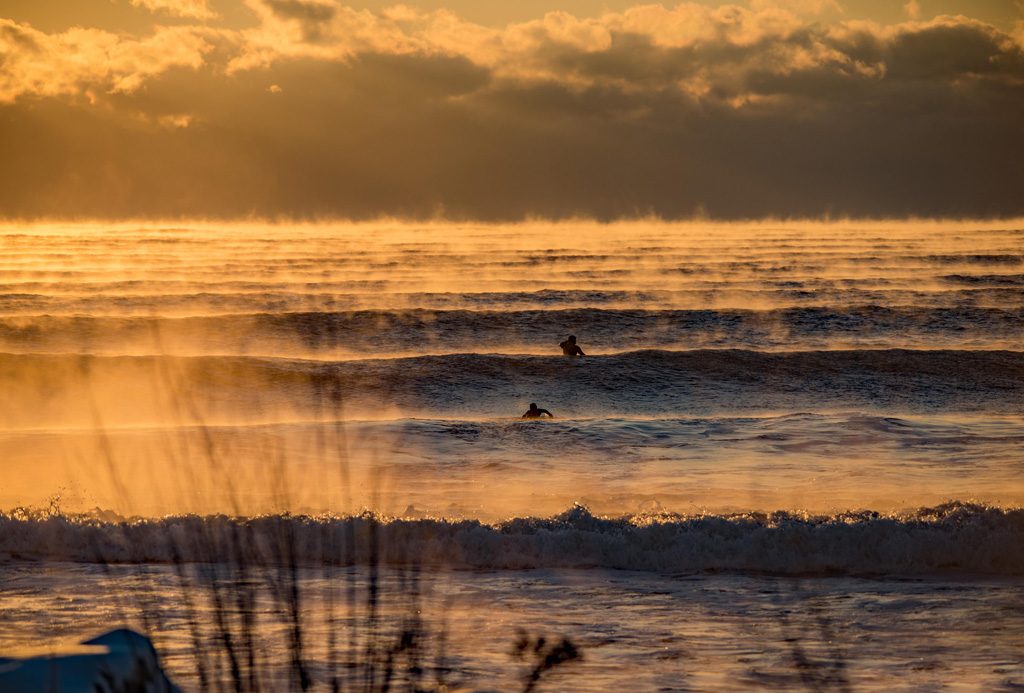 New Hampshire. Photo: John Adams
It only snowed a few inches in New Hampshire over the weekend, far below the foot or so many were predicting. And it actually hit 21º on Saturday, downright balmy 'round these parts for the aftermath of a winter storm. But that stunning sea smoke was still in full effect. Never gets old.
Jude Clark, New Jersey. Photo: Mike Cassella
We could stare at this photo of Jude in front of Manasquan's famous jacks for eternity. Wake us up next swell, please…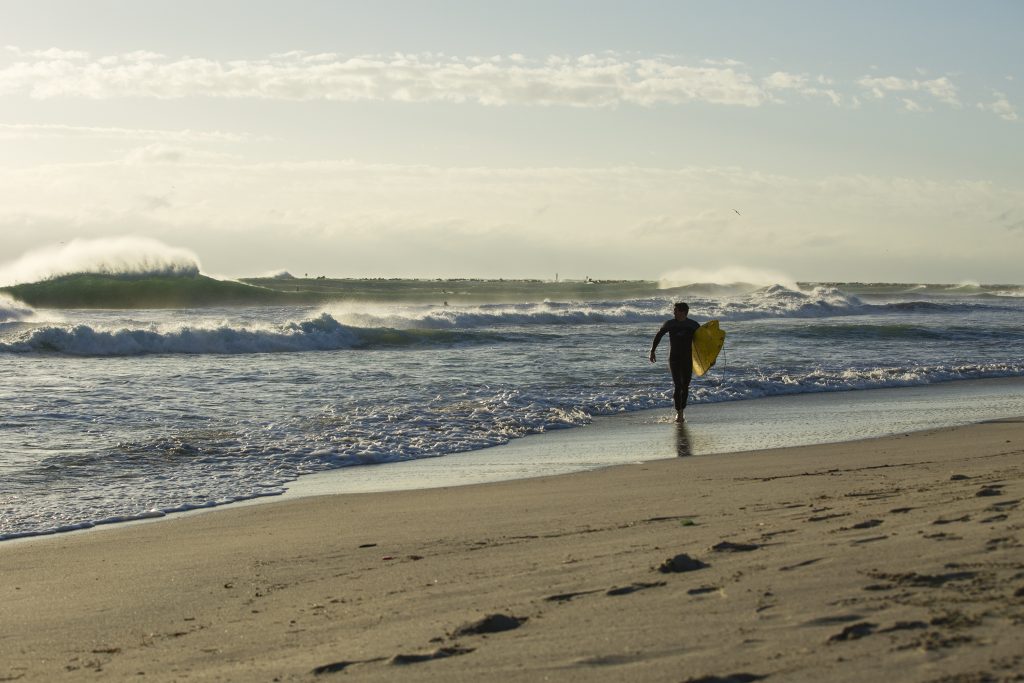 South Florida. Photo: Christian Oehmke
"Since enrolling in school, my uncle Shea Lopez and I have been exploring  South Florida whenever we get a chance," Oehmke says. "Since I don't get time to travel it's the next best thing for me to shoot outside of New Smyrna. This was the first time I've ever been to South Beach Miami, and if it wasn't for my uncle and the knowledge he's handed me, I wouldn't have been there Sunday morning."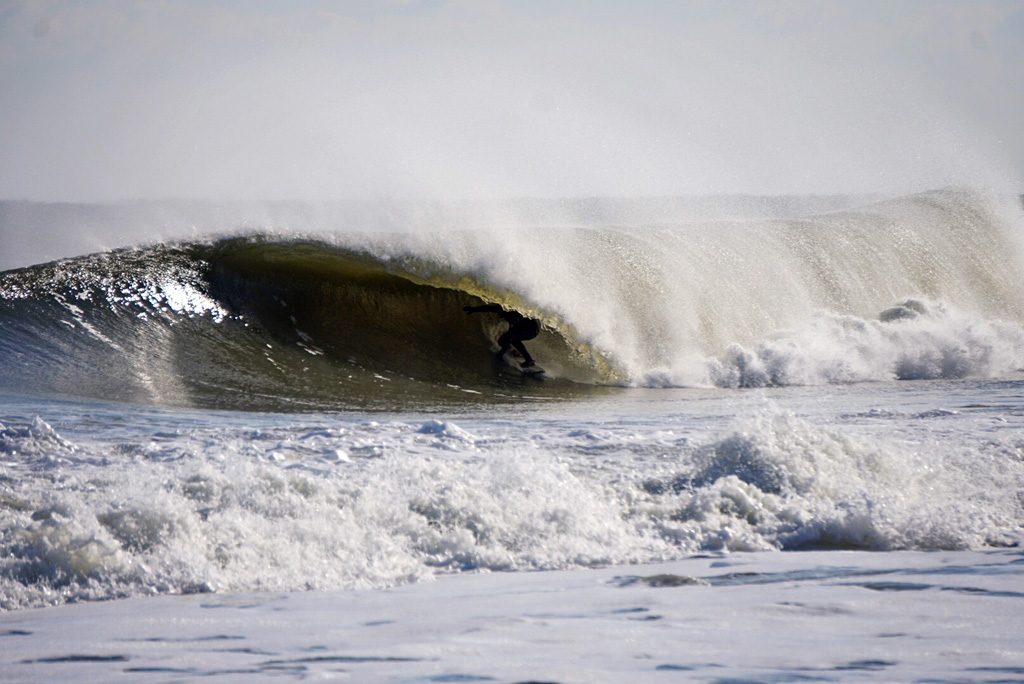 Sam Deeley, Maryland. Photo: Aidan Hopkins
Twelve inches of snow fell near Ocean Pines, Maryland, this weekend — but Sam Deeley still opted for some shade once the sun finally came out.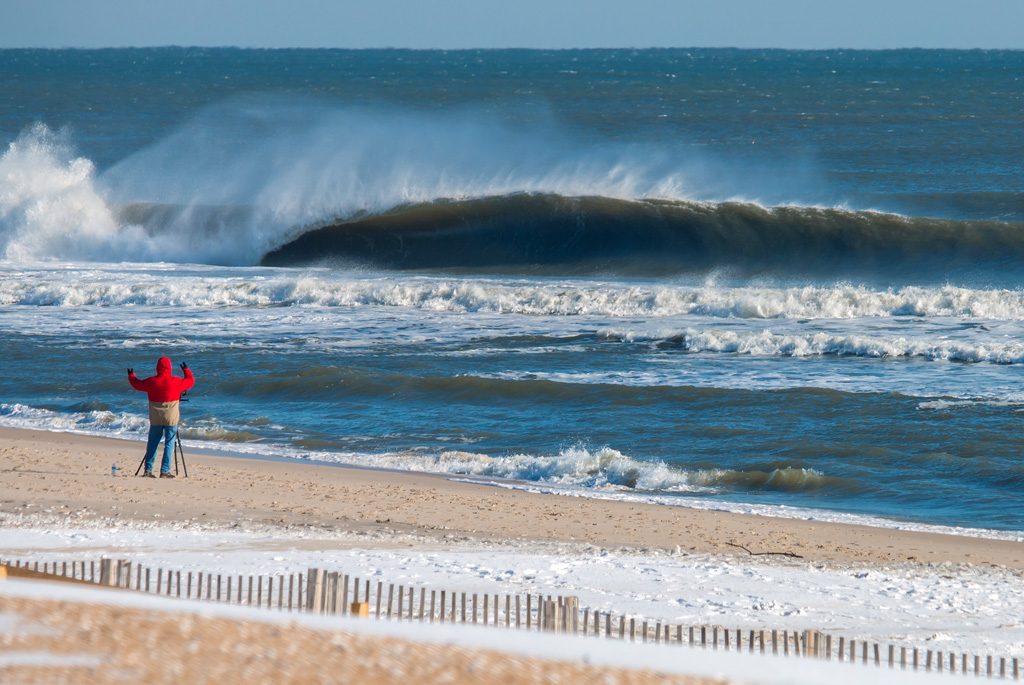 New Jersey. Photo: Matt Reitinger
You know it's going off when the filmer on the beach gets THIS pumped about an empty one.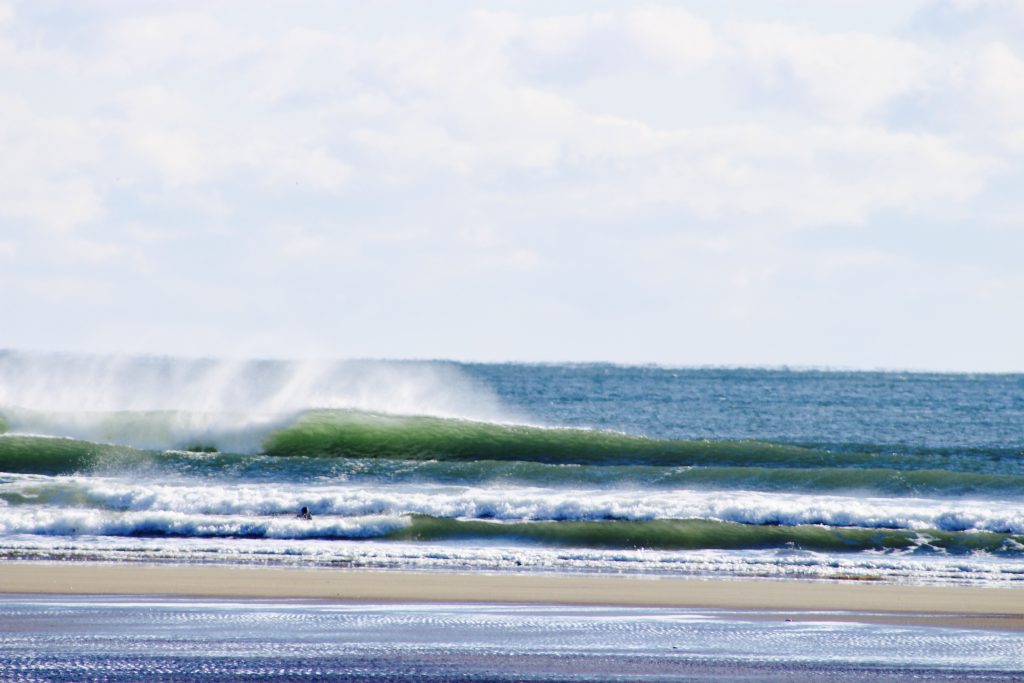 Maine. Photo: Tucker Grinnell
Get this far north in New England and it's always hard to tell exactly how good it is. But we're pretty sure this qualifies as the day of the year in Maine.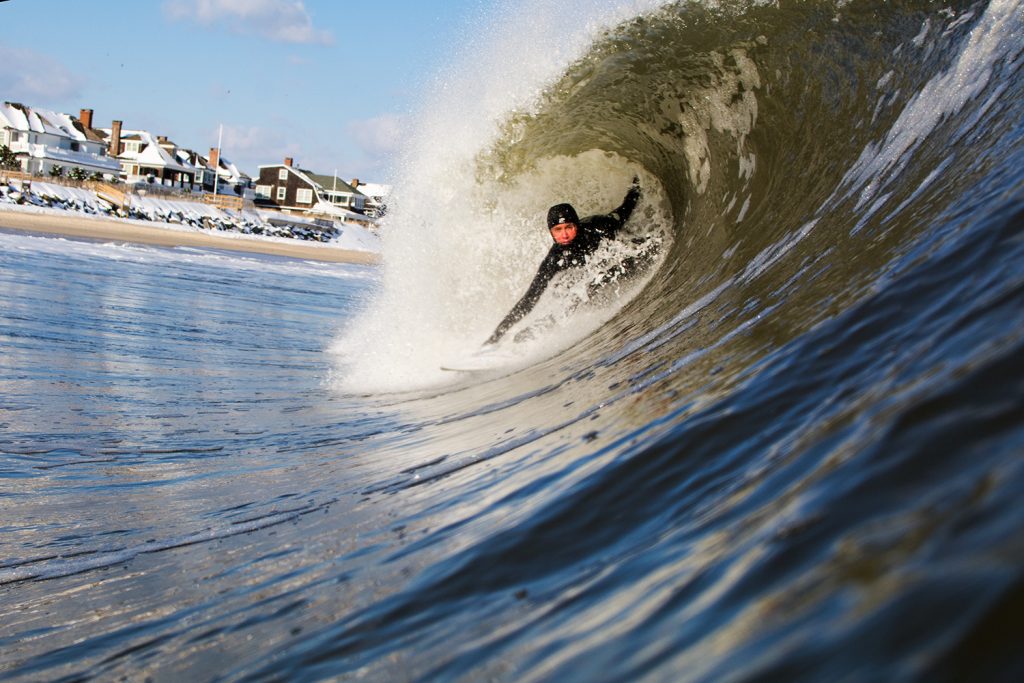 Cassidy McClain, New Jersey. Photo: Jake Krum
"I knew there were going to be waves after the snowstorm," Cassidy McClain says. "I just didn't think it was going to be as big or as perfect as it was! I was super stoked on this last icy session before I head to Cali and Australia for QS events. Although it kind of bums me out that I'm going to miss more days like this at home."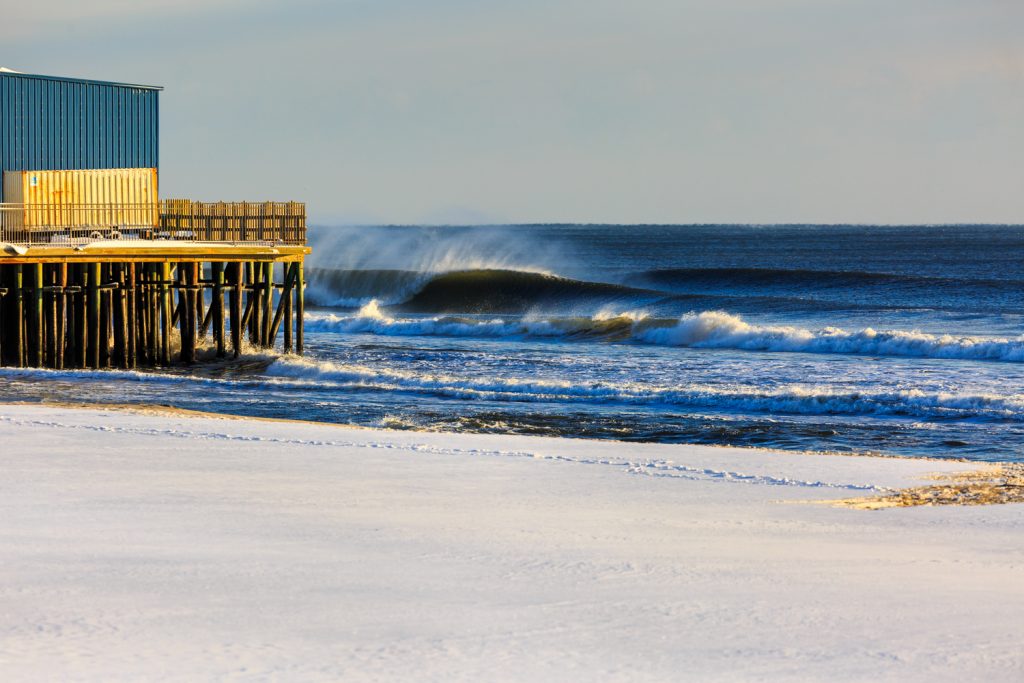 New Jersey. Photo: David Nilsen
The setup might look different, but the wave remains the same at this iconic Garden State spot.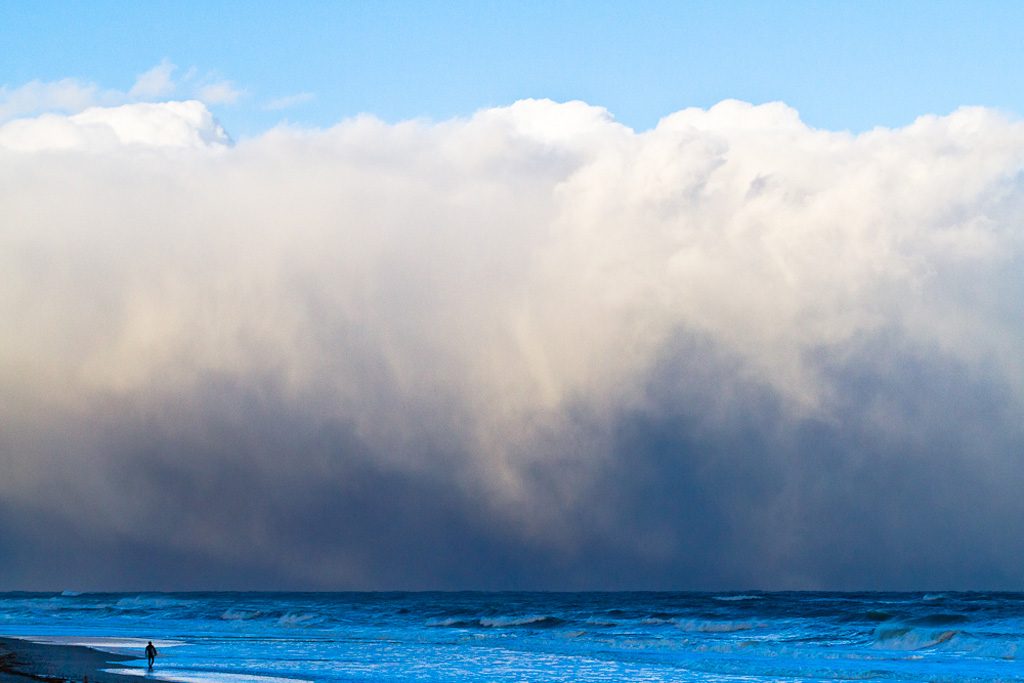 Mike Welch, Massachusetts. Photo: Scott Crivellaro
Ever wonder what an offshore snow squall looks like? Now you know.
Pat Parenty, New Jersey. Photo: Tim Torchia
"Pat was going HAM yesterday," Torchia says. "This session lasted close to four hours in the freezing temps and he seemed to pick off every good left that rolled in."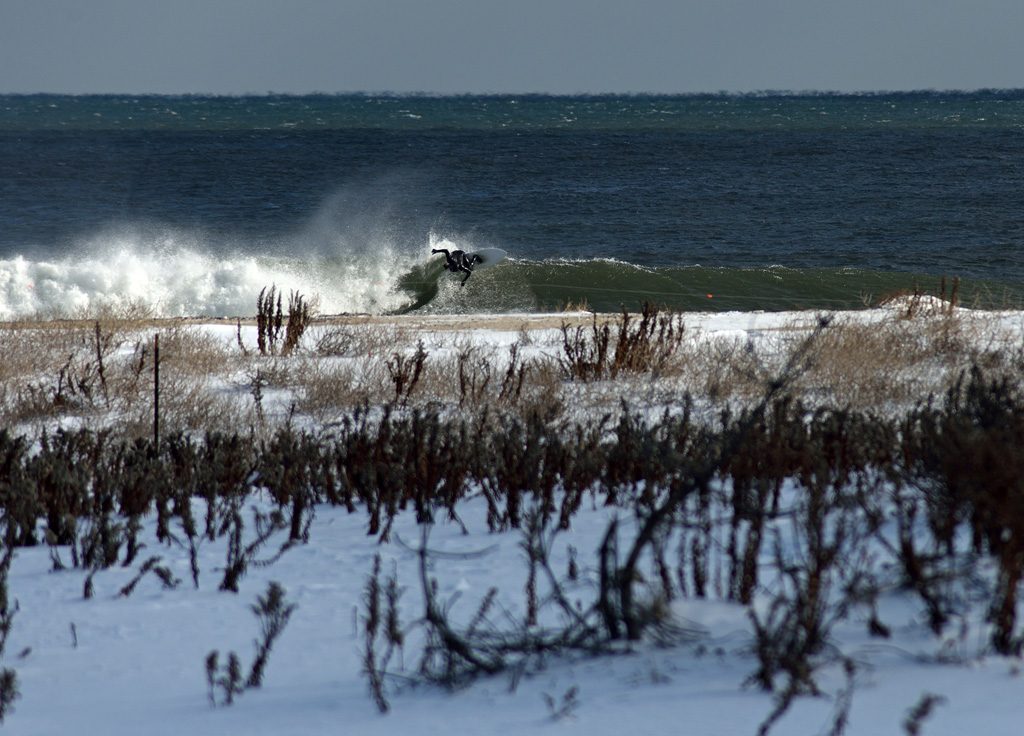 Ben McBrien, New Jersey. Photo: Tim Leopold
Remember, kids — it's not ALWAYS perfect in the Garden State in the winter. Ben McBrien showcases a more challenging side of the post-Winter Storm Helena landscape.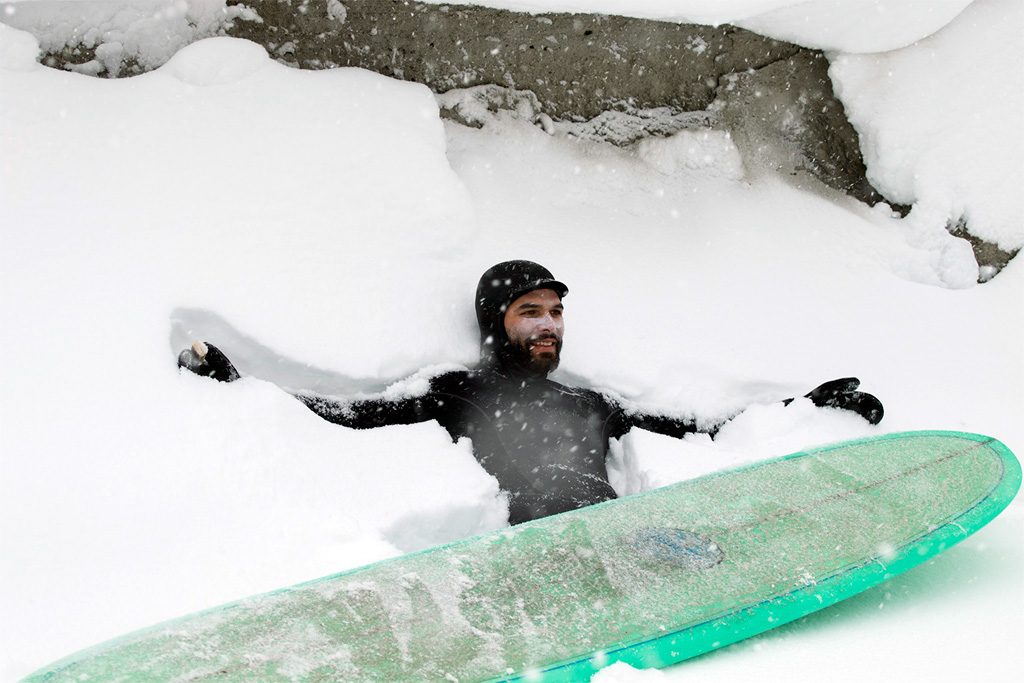 Tucker McGrath, New Jersey. Photo: John Gilman
Whether you think it's staged or simply a snapshot of one euphoric post-session moment, you have to agree — Tucker McGrath's snow angel is pretty damn cool.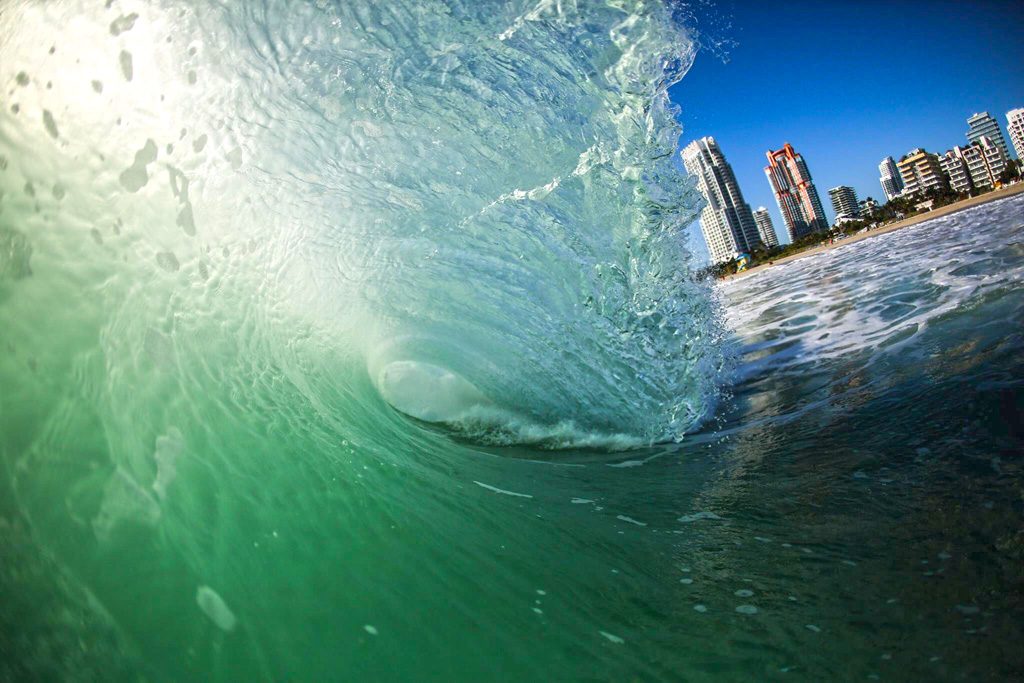 South Florida. Photo: Logan Suarez-Penrod
Meanwhile, the color palette in Miami was a little more inviting — especially for those of us who are happy to admit that we can't handle the snow.
New Jersey. Photo: Bill Brooks
Like Bill Brooks, for instance: "Without my son Alex  in the water, it was hard to get motivated to stay out for very long," Brooks said. "It was damn cold, and I've come to the conclusion that I like shooting in Central America more than the 'Frozen Tundra.' Might have something to do with running a ski patrol in Vermont for 20+ years."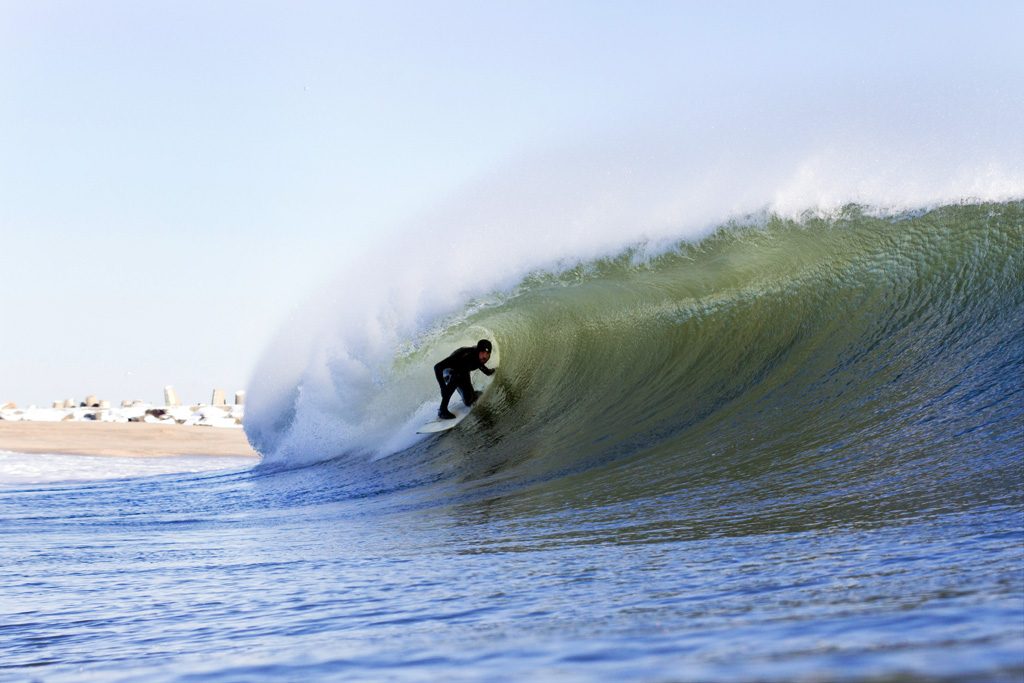 Kevin O'Connor, New Jersey. Photo: Alex Fatenko
Sure, it was frigid out for O'Connor and Fatenko. But how fun does THAT look?
Delaware. Photo: Ryan West
Don't forget what the walk to the beach looks like after a winter storm, however. Here's the Slower Lower pace of life after 13.5″ of snow fell in Ocean View — Bethany Beach saw nearly two inches in 30 minutes alone.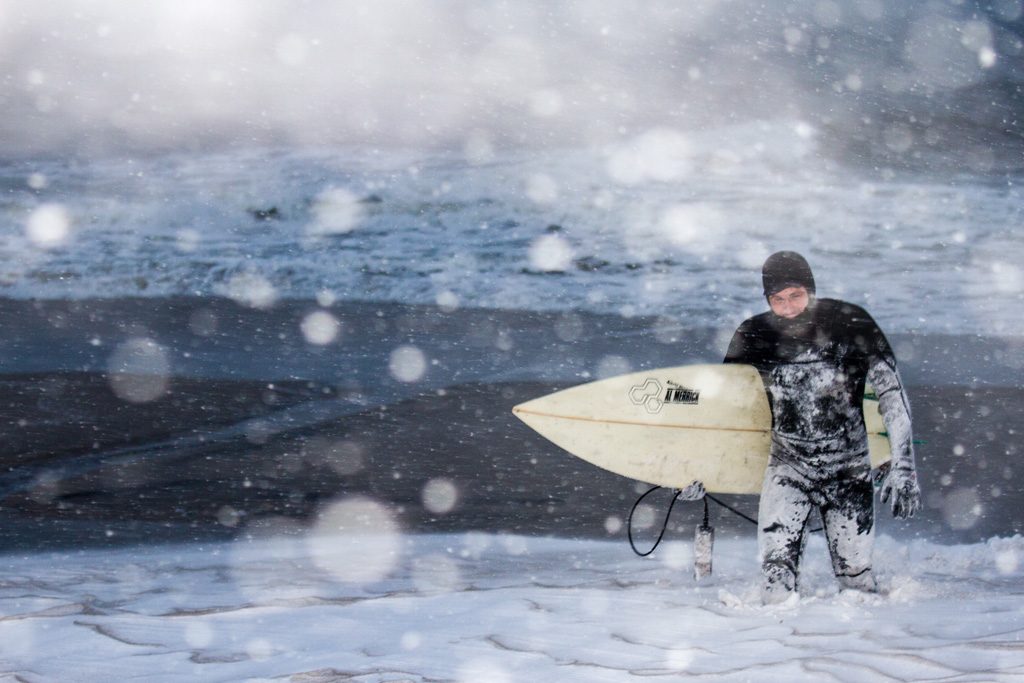 Matty Guarino, New Jersey. Photo: Shawn Casey
The walk back, however, is never as much fun, as Matty Guarino can attest.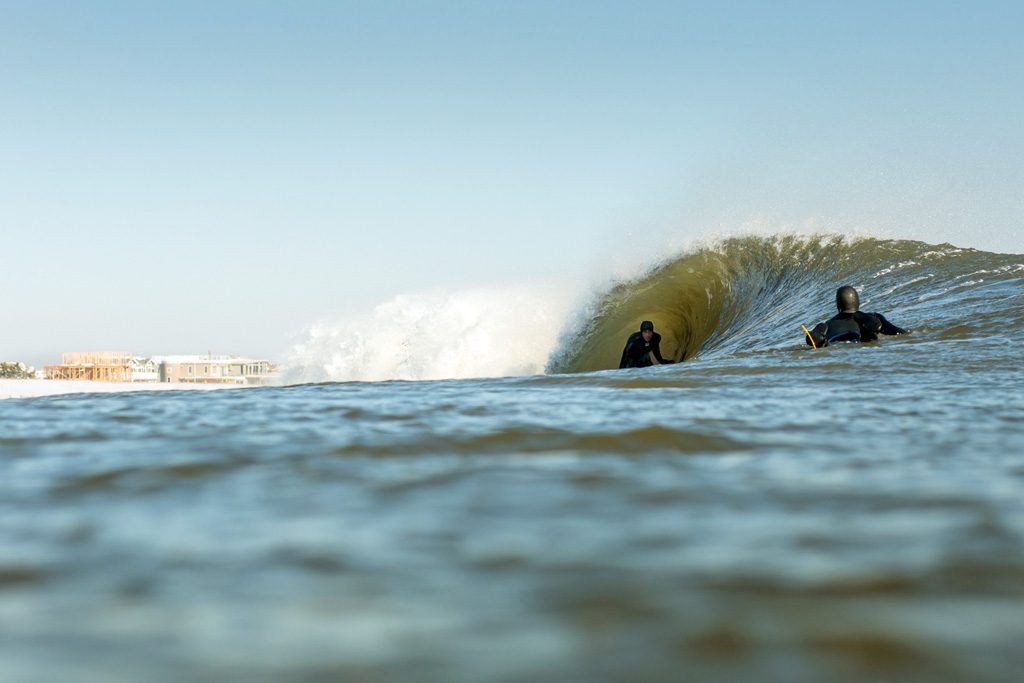 Rob Kelly, New Jersey. Photo: Kyle Gronostajski
Rob Kelly and Kyle Gronostajski would tell you that the snowbound mission was completely worth it, however.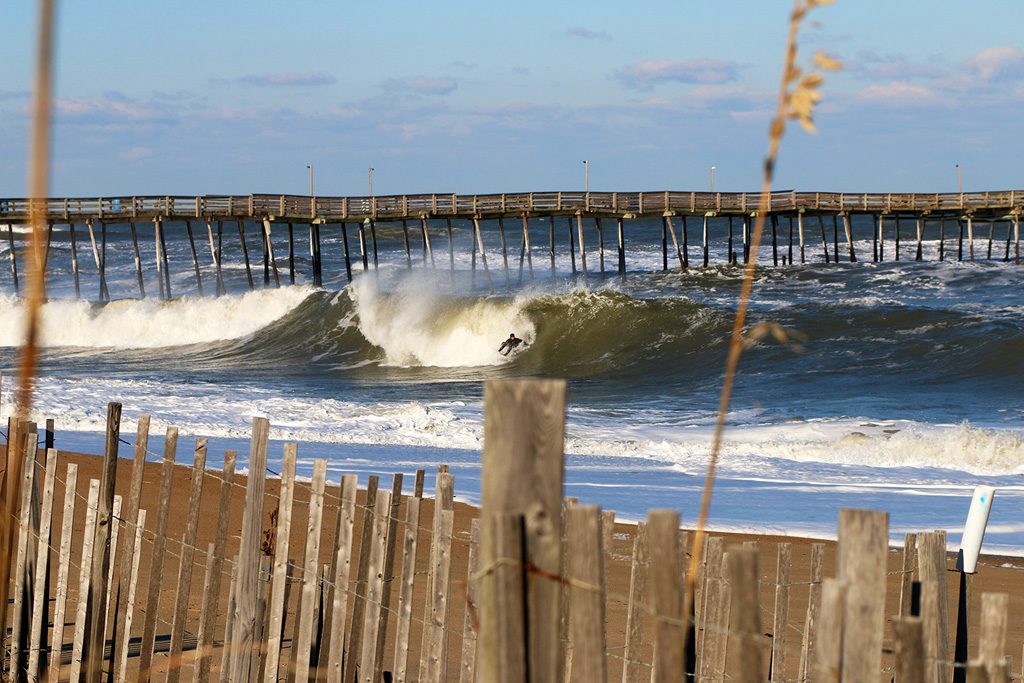 Taylor Moore, North Carolina. Photo: Woody Harris
In typically understated Tar Heel fashion, Woody Harris kept this one simple: "It never really cleaned up enough this weekend, but there were still a couple."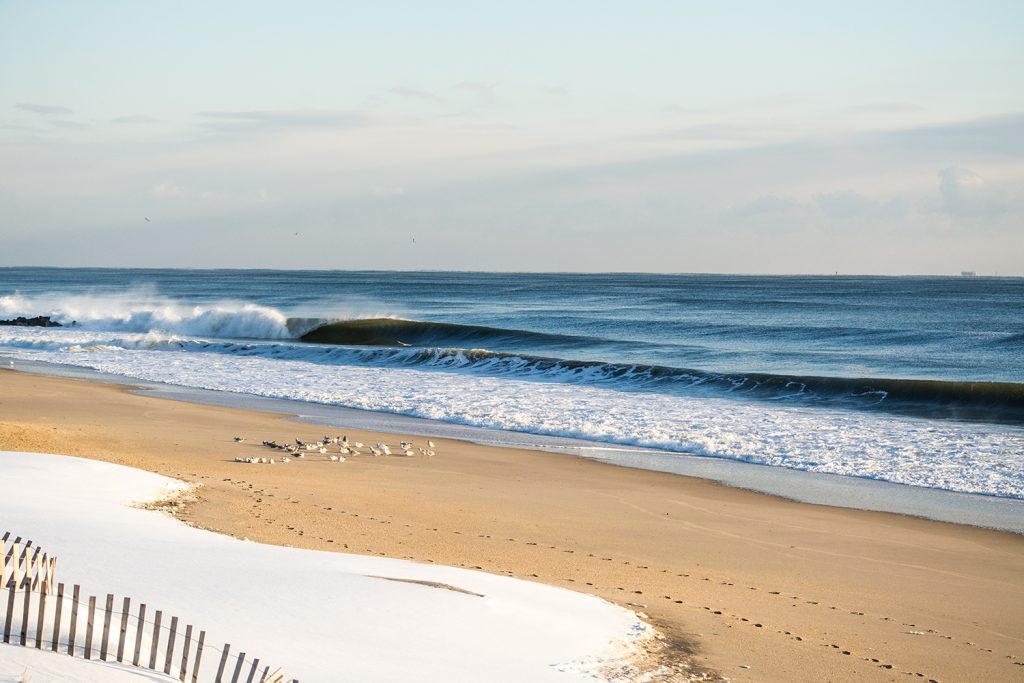 New Jersey. Photo: Jake Krum
The biggest benefit of a huge winter storm like Helena? Completely empty lineups (except for the birds, of course).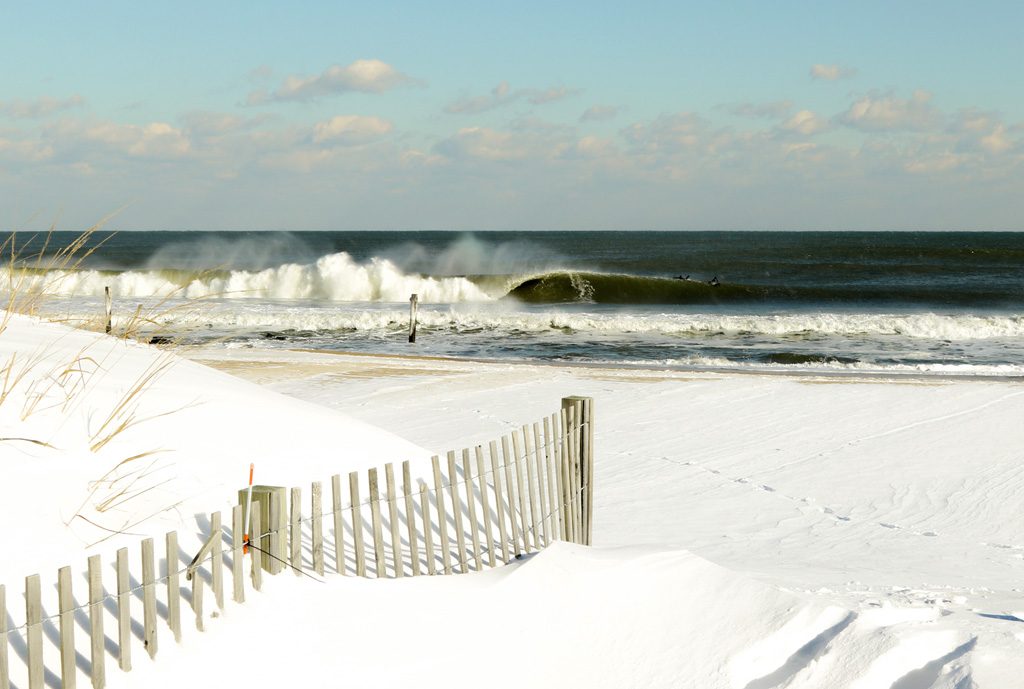 Maryland. Photo: Nick Tribuno
Nick Tribuno just returned home to the Old Line State after one hell of a trip across the United States — "and it sure felt nice to shoot a real deal swell," he says.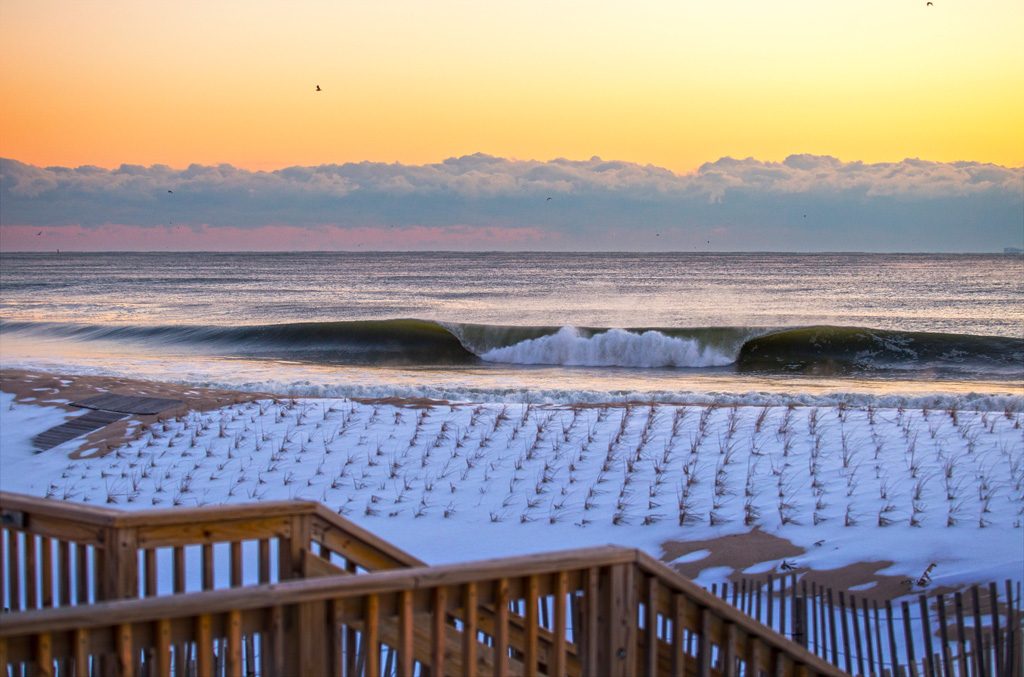 New Jersey. Photo: Zach Vincent
Fire, water, earth, air — what more do you need?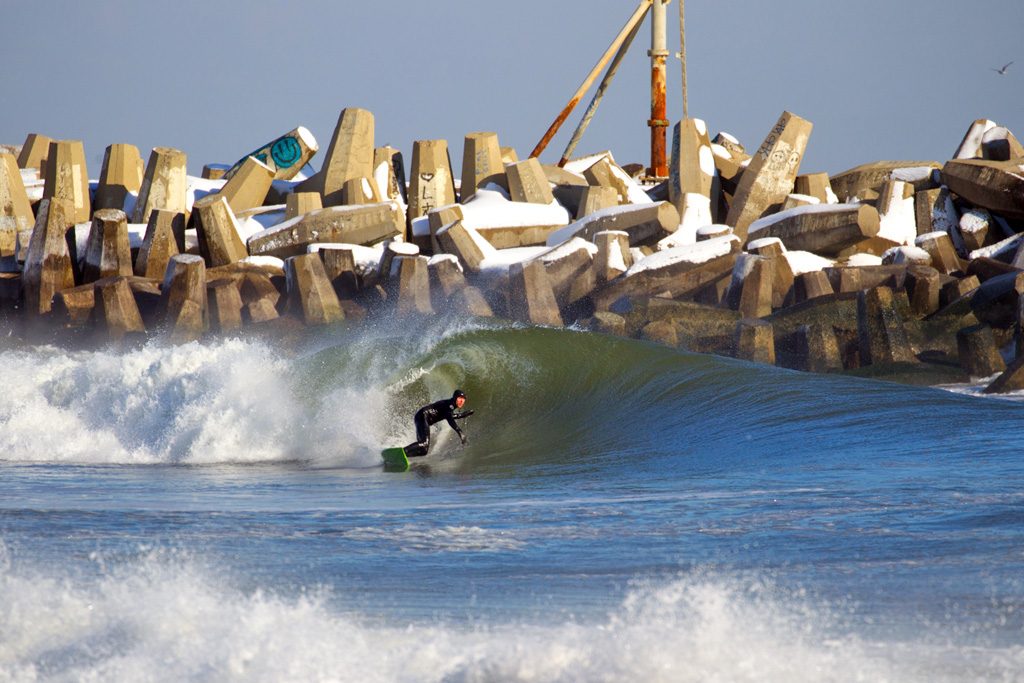 Matt Rooney, New Jersey. Photo: Ben Currie
One more from one of the most beautiful Garden State sights of the weekend — why the heck not?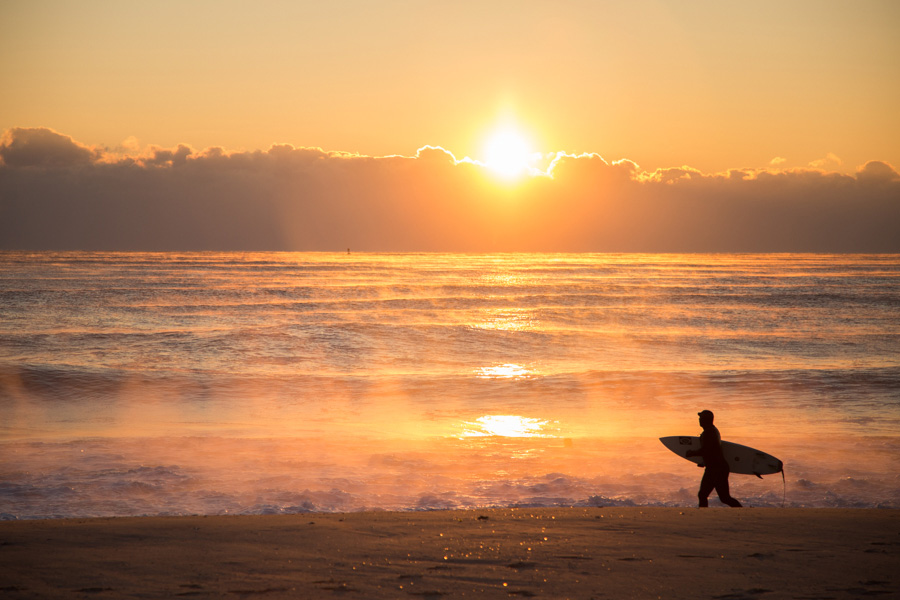 New Jersey. Photo: Michael Guccione
Warm those hands and feet up, friends, and get that wetsuit dry — Winter Storm Ira promises to bring another dose of winter wonderland joy later this week.
[hr]
More Swell Galleries