Good looking out, Gert! The strongest storm of the 2017 Atlantic Hurricane Season so far, Hurricane Gert formed as a tropical wave last week and delivered its first shot of fun swell to Florida over the weekend. Taking a classic curve a few hundred miles off the Eastern Seaboard, Gert quickly achieved tropical storm and then Category 1 hurricane status, producing the best kind of mid-August relief to the Mid-Atlantic and Northeast at different times in different windows on Monday, Tuesday, and Wednesday. East and south-facing spots welcomed Gert's energy with open arms first, while certain protected breaks in New England started pulling in a little long-distance juice on Thursday as Gert strengthened to Category 2 status and began curving faster off to the north/northeast on its way out of the picture. As the best Atlantic storms do, it even looks like Gert will send some swell to Europe and the United Kingdom as it transitions to extratropical status, turning this storm into a true transatlantic producer. (And there's more than a few potential swell-makers still to come behind it, including newly formed Harvey.) For now, let's revel in the beautiful shots below: sunny, light winds, warm water, medium-period swell, rippable lines, heavy barrels, and just about everything in between. G'day and goodbye, Gert — it sure was good knowing you!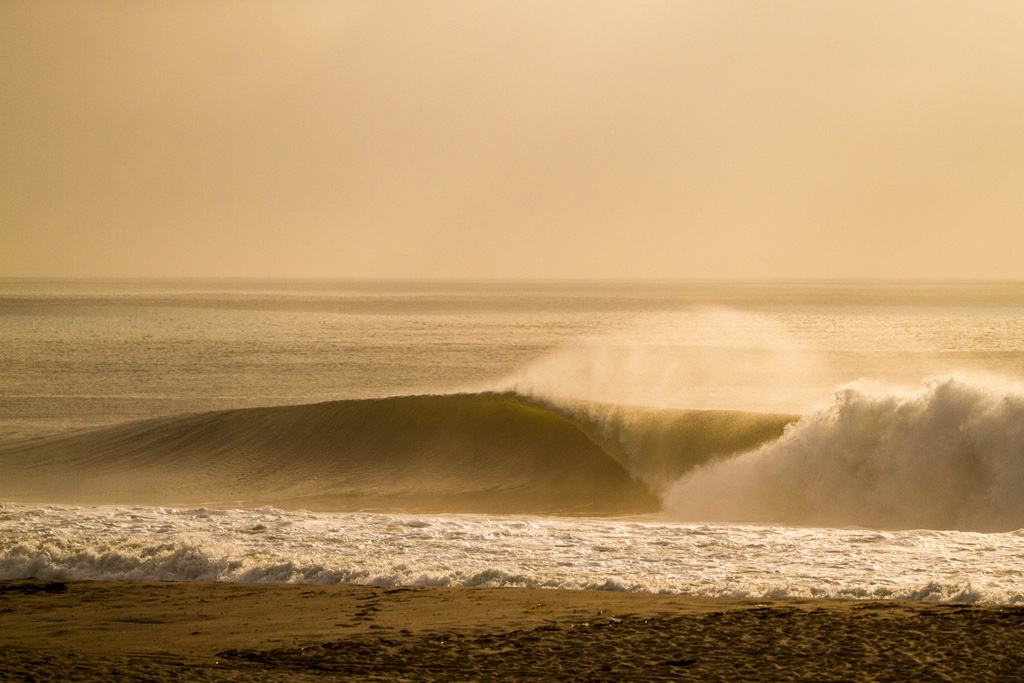 New Jersey. Photo: Christor Lukasiewicz
You can chase your tail when a swell like Hurricane Gert's materializes, or you can just follow the light. We recommend the latter.
---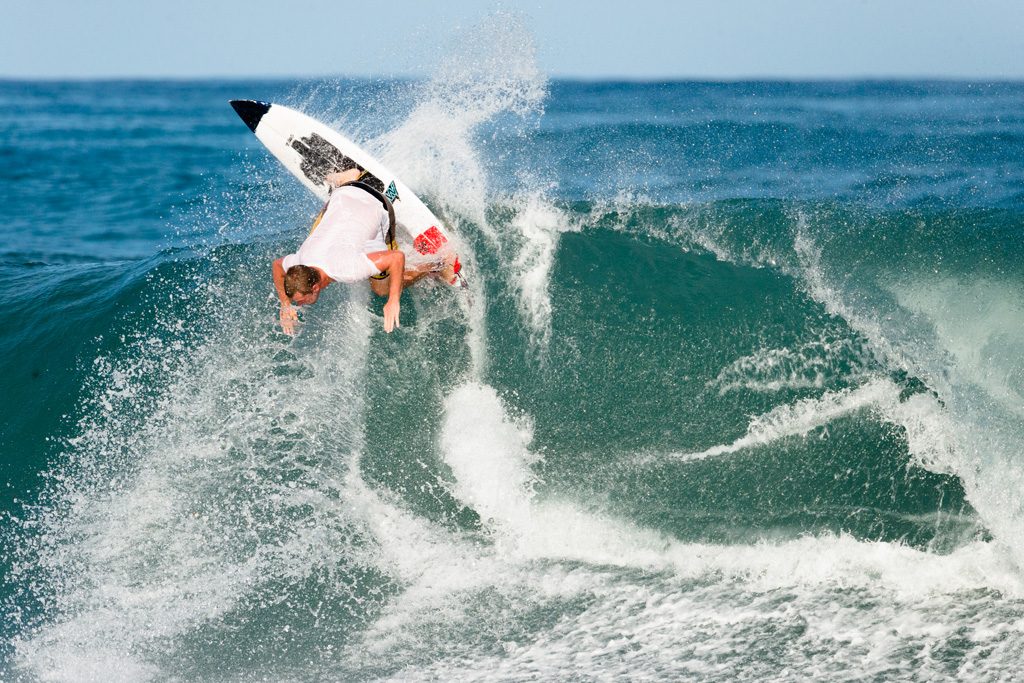 Fisher Heverly, North Carolina. Photo: Stephen Quick
A lot of East Coast swell galleries feature big barrel after big barrel after big barrel. Fisher Heverly is here to say that all that changes, here and through the rest of the following 35 photos.
---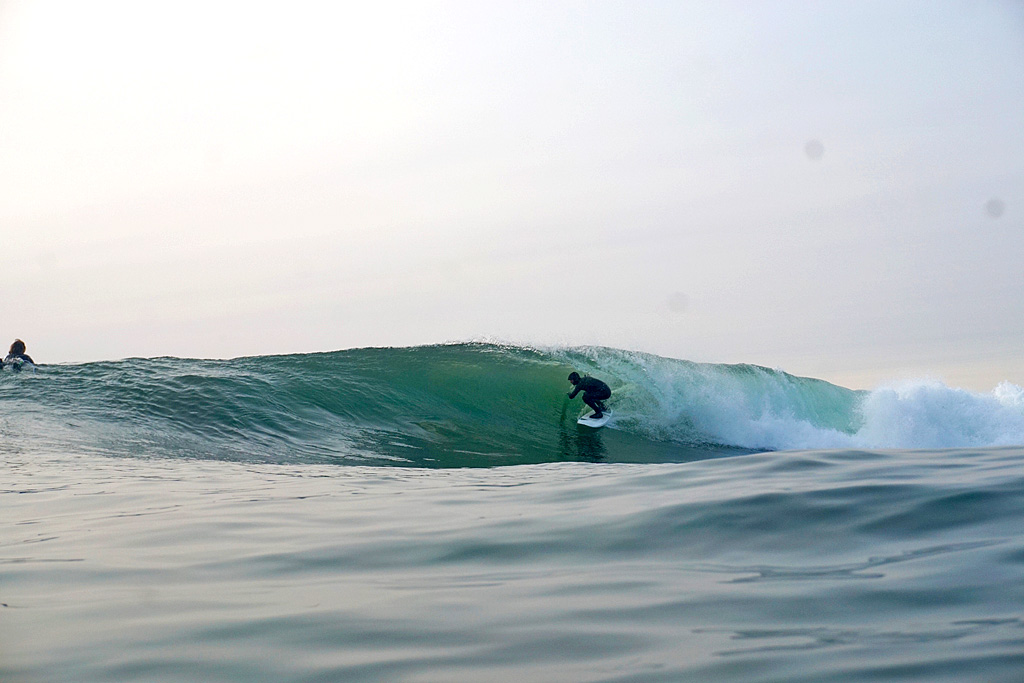 Joe Carter, New England. Photo: Matt Czuchra
We've been seeing a lot more of Joe Carter in front of the lens than behind it lately. And as long as we still get a few epic Get In The Van jams a year, we're totally fine with that.
---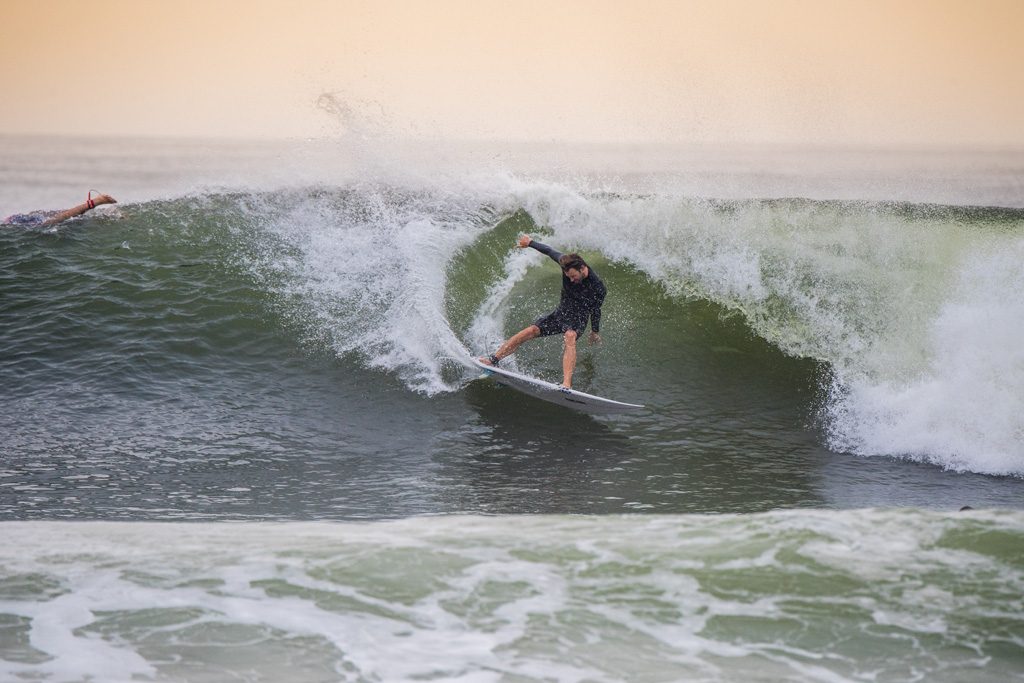 Austin Aronsson, New Jersey. Photo: Mike Cassella
Turns, remember? Austin Aronsson slices for what's right in New Jersey.
---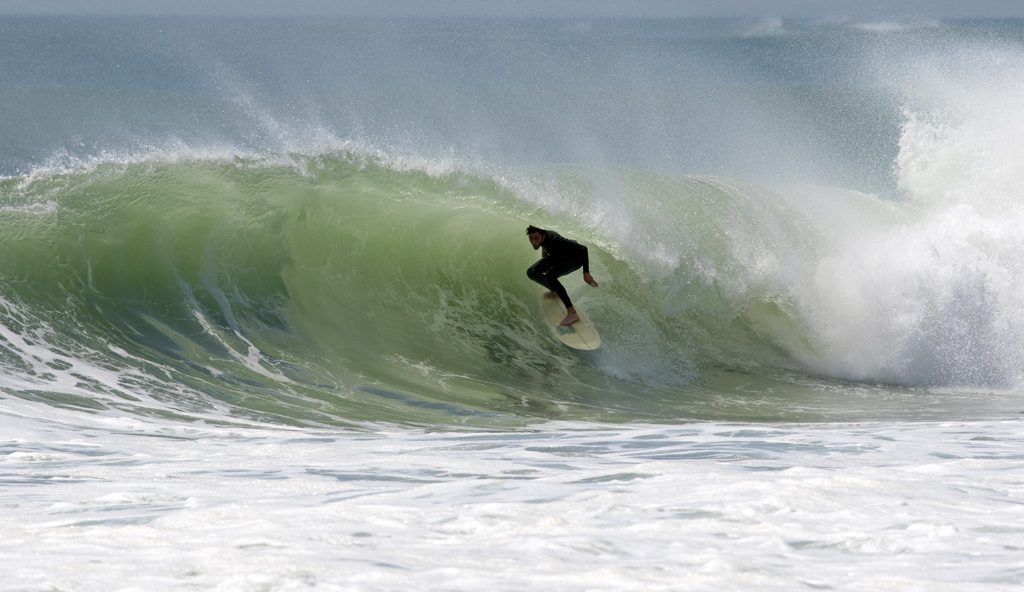 Drew Poff, New England. Photo: Tony Gately
This well-positioned New England spot gobbled up everything Gert had to offer, with fun-sized surf in the head-high to double-overhead range and offshore winds for most of the day.
---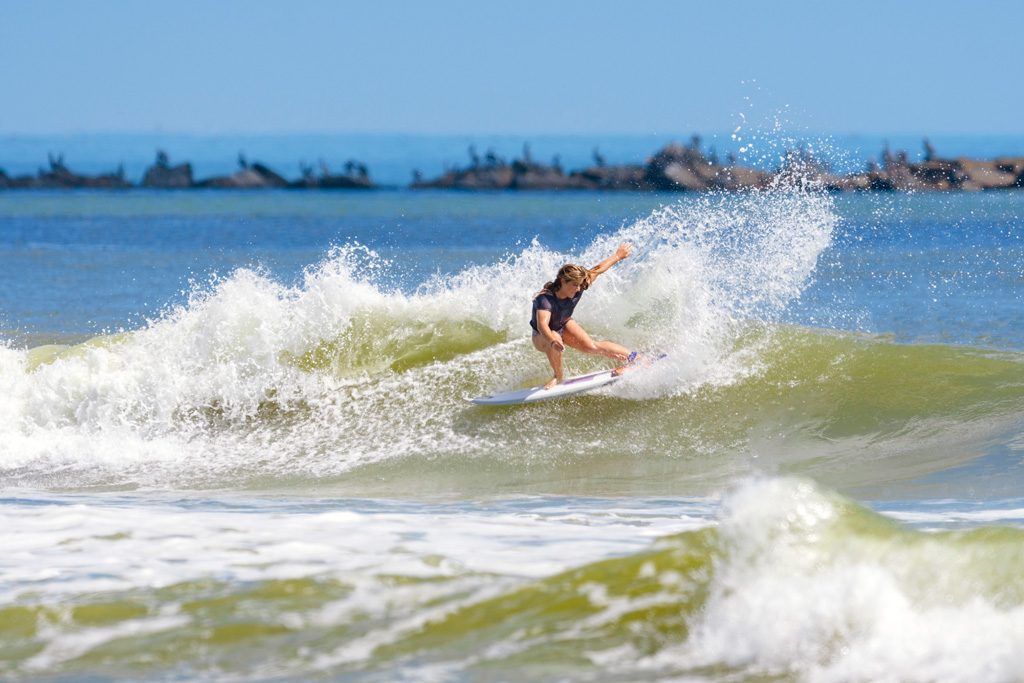 Caroline Marks, New Smyrna Beach, FL. Photo: Jason Obenauer
Not as big in NSB, but still plenty fun — especially for a surfer like Caroline Marks, who's coming off such an action-packed summer full of huge contest victories.
---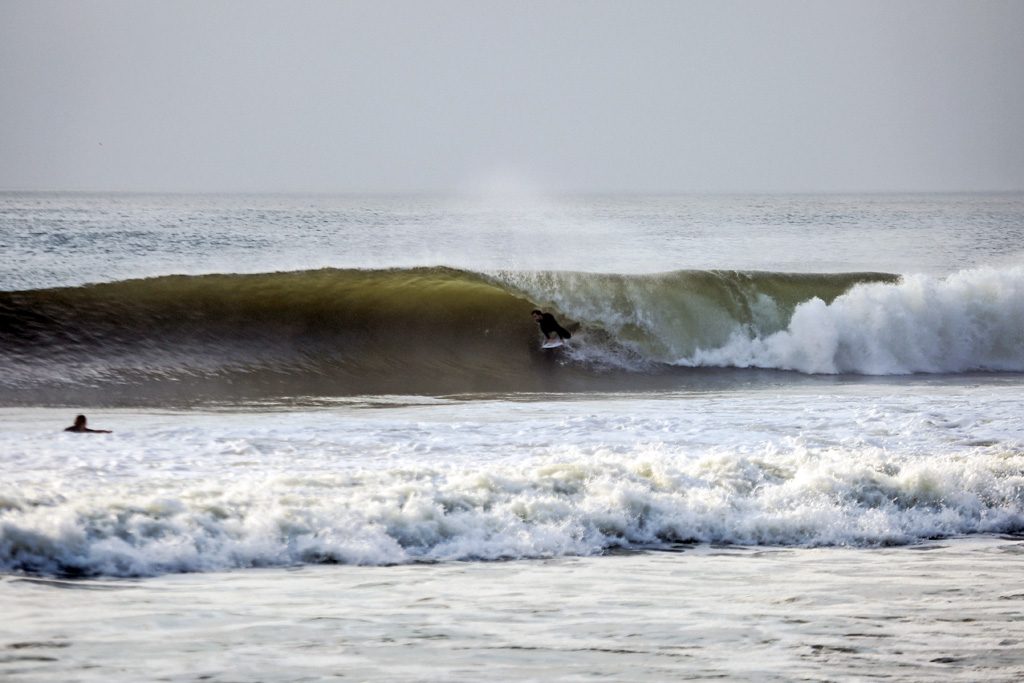 Seth Conboy, New Jersey. Photo: Russ Roe
Russ Roe wasn't the only photographer/filmer who led his Gert submission with something like "surfed more than I shot." And we can't blame him with rights this perfect in the water yesterday.
---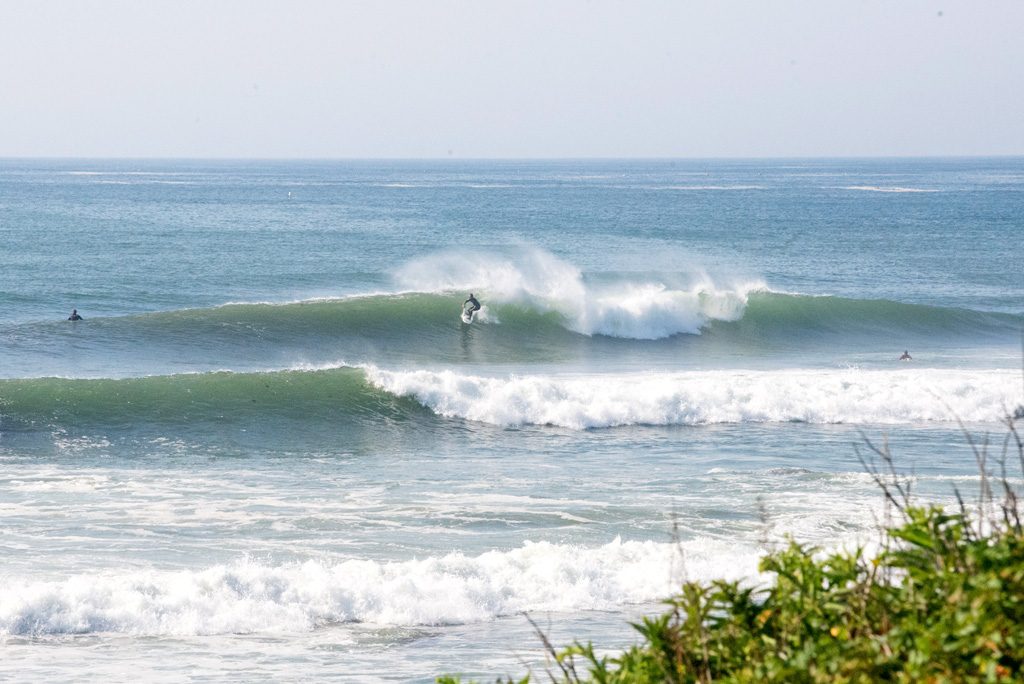 Rhode Island. Photo: Tim Fater
Meanwhile, a few hundred miles north, this fabled pointbreak looked downright paradasical.
---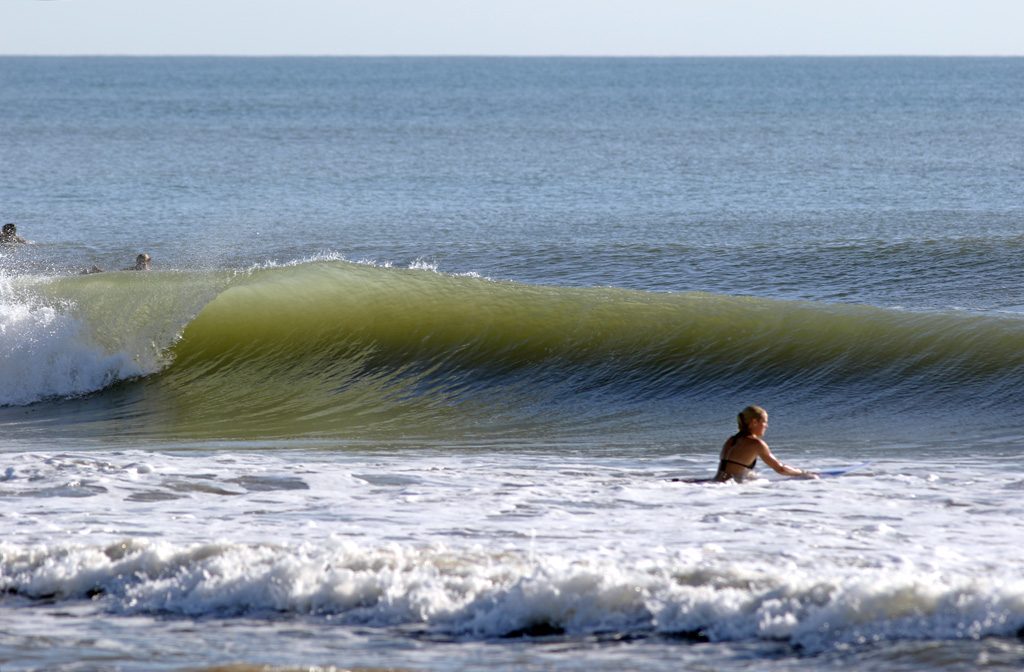 Central Florida. Photo: Dugan
The same ocean, the same wind-tickled ripples, the same stoke… Just a little smaller and a little less pristine, but no less inspiring if you're a Florida surfer trying to keep cool and carry on through the mid-August blues.
---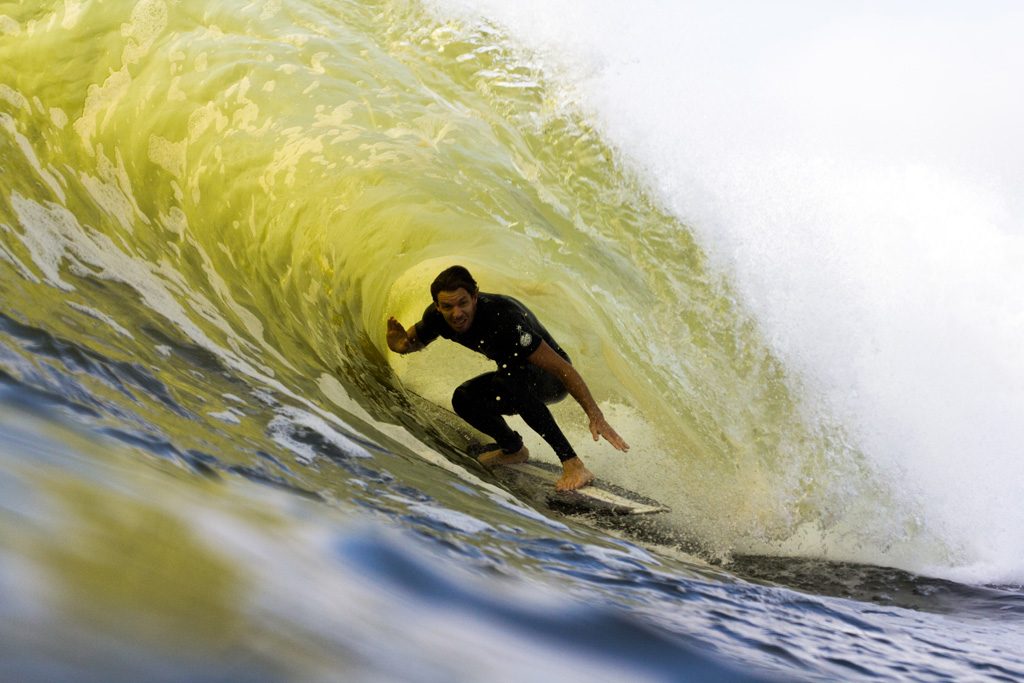 Mark Gilmartin, New Jersey. Photo: Alex Fatenko
Most of the photos we see of Mark Gilmartin feature him charging big waves, but looks like Gilly knows how to stuff himself inside of tighter spaces as well.
---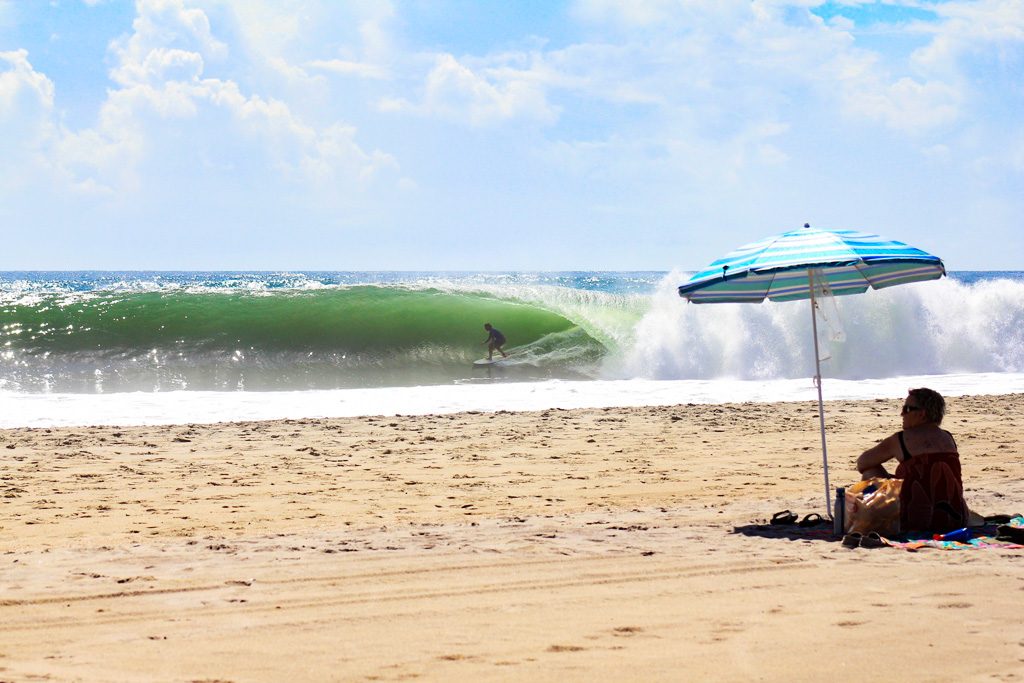 Grant Rosenblatt, North Carolina. Photo: Jason Pearce
Ocean City, MD's, Grant Rosenblatt had plenty of room to roam inside this kegging nearshore barrel down in North Carolina.
---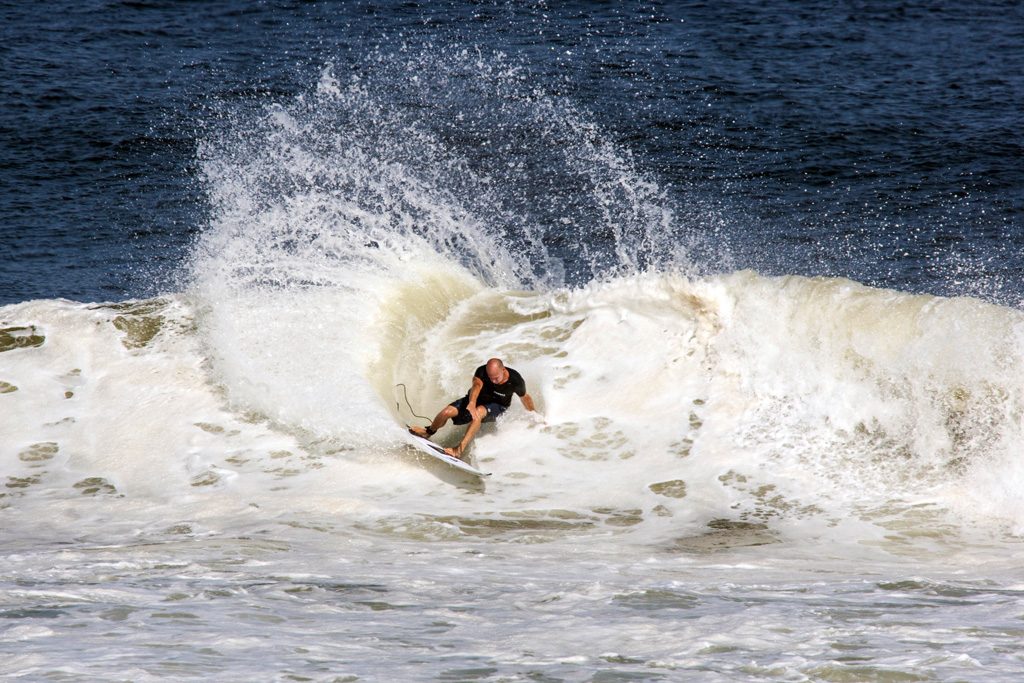 Sam Hammer, New Jersey. Photo: Mike Incitti
Sam Hammer doesn't always do turns, but when he does…
---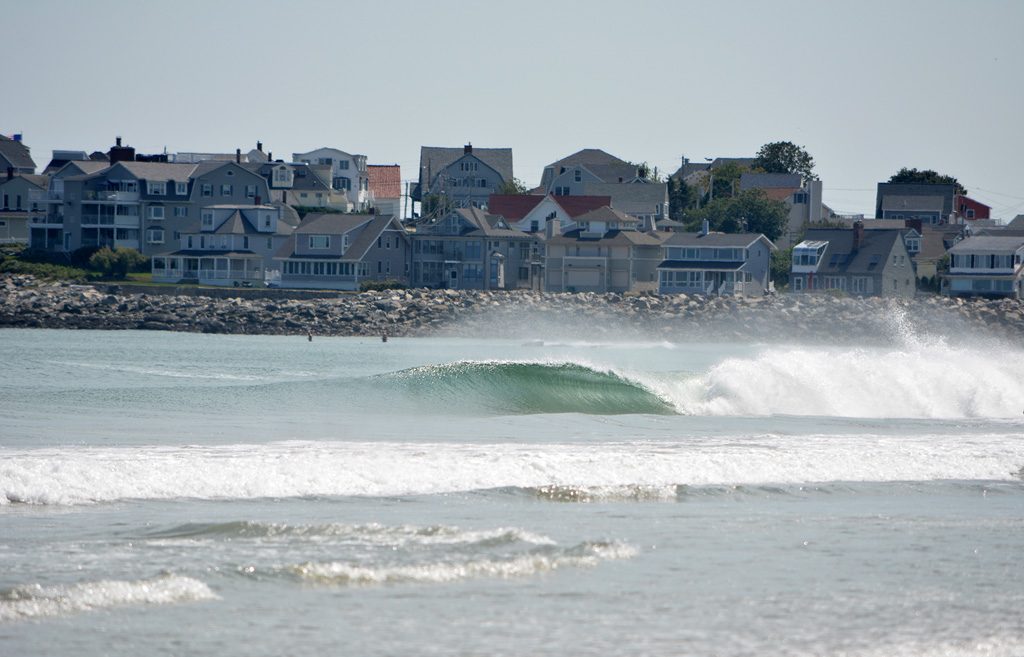 New Hampshire. Photo: Ralph Fatello
"A day late and a dollar short," Ralph Fatello said. "What swell there would be from Gert just started to fill in on Thursday. It's not anything like what the boys down south got — these southern swells are typically not good for us thanks to the long arm of Cape Cod. To add insult to injury, the water temp dropped a good 5º."
---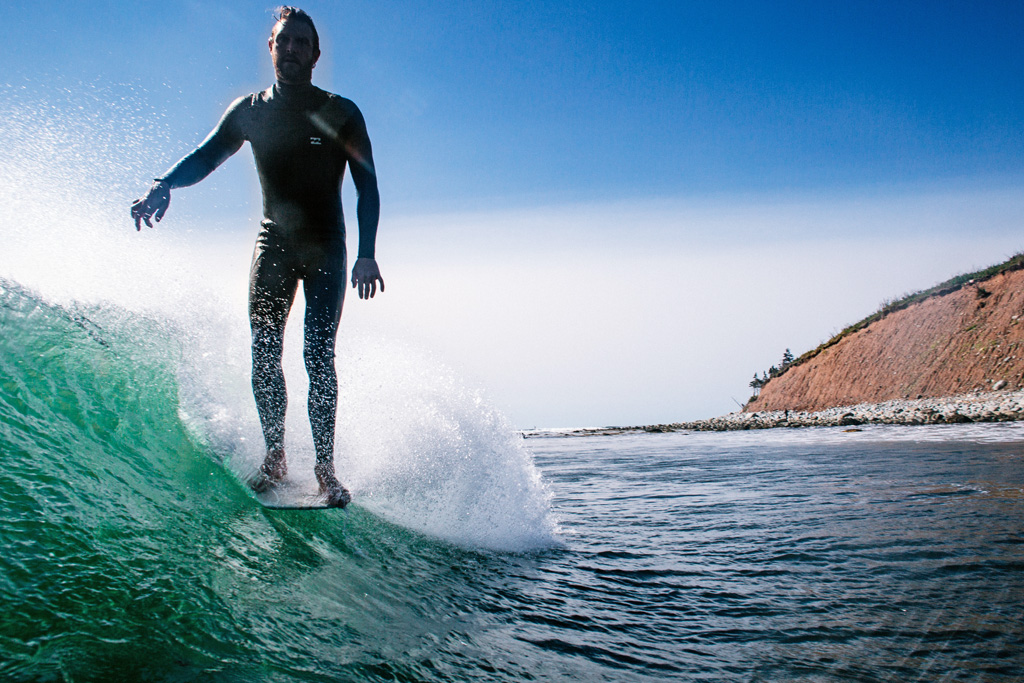 Dean Petty, Nova Scotia. Photo: Harrison Newman Jardine
"Gert was kind of a disappointment up here," Jardine says. "Not as forecasted, but then again it never is. Nonetheless, all the boys showed up at Dean's frothing and we had a great time in the sun catching some sliders."
---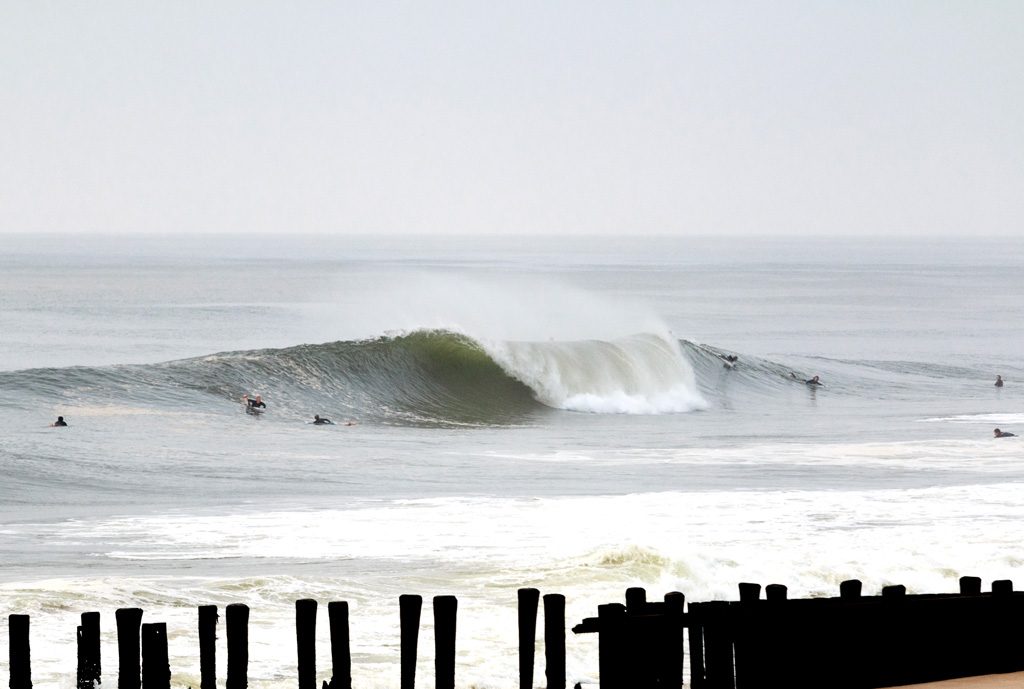 New Jersey. Photo: Sean Hoffman
Endless opportunities for fun — what more can we ask for from a hurricane swell?
---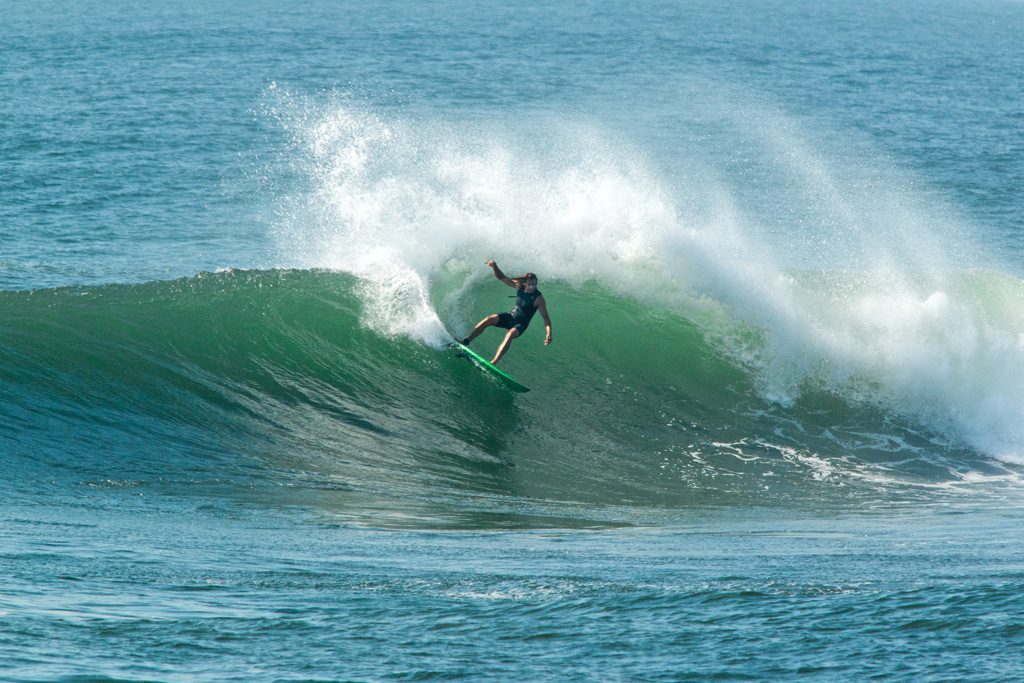 Shawn Casey, New England. Photo: Rick Adams
"Such light winds and pulsing energy!" Shawn Casey raved about his 28-hour strike mission to New England. "About as fun as it gets this time of year — haven't surfed such perfect waves in boardshorts in years! This one was probably my favorite from the outer reef bowl: the first of four turns in between speed lines I've been itching to lay down since the J-Bay contest. Rick and I went off the beaten path for this one, and although otherwise hairball venues were somewhat inviting, in between dodging bombs and packing pits it felt great to simply lay down some rail work on Gert's crispy canvases."
---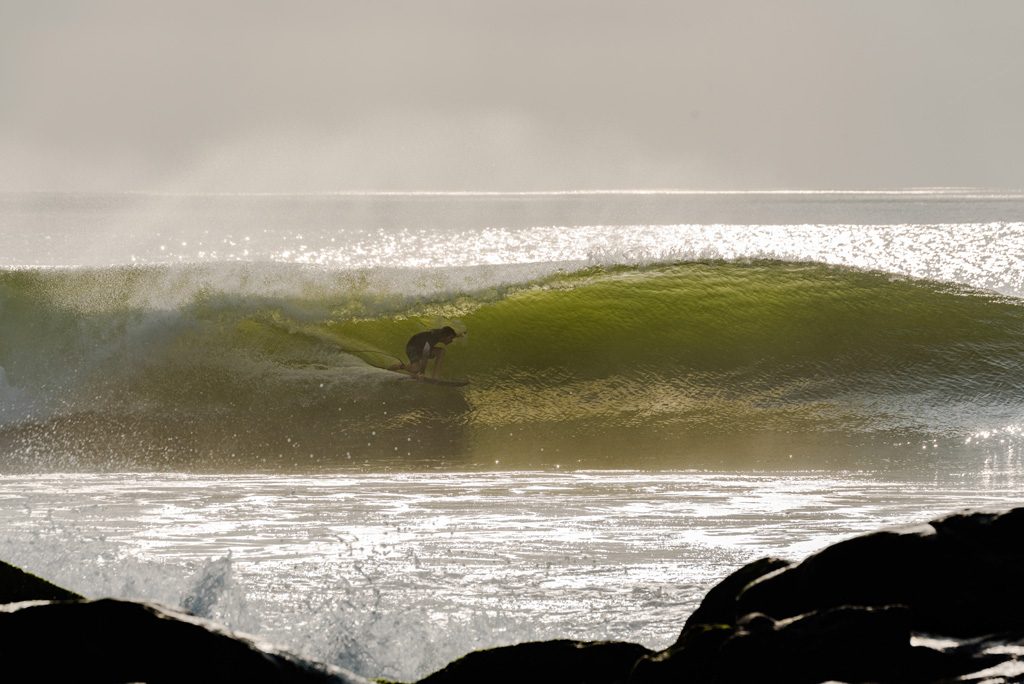 Brendan Tighe, New Jersey. Photo: Ryan Perillo
And the Internet comes through — after being unidentified for just a few hours, photographer Mike Cassella helped us out with an ID: Brendan Tighe, come on down!
---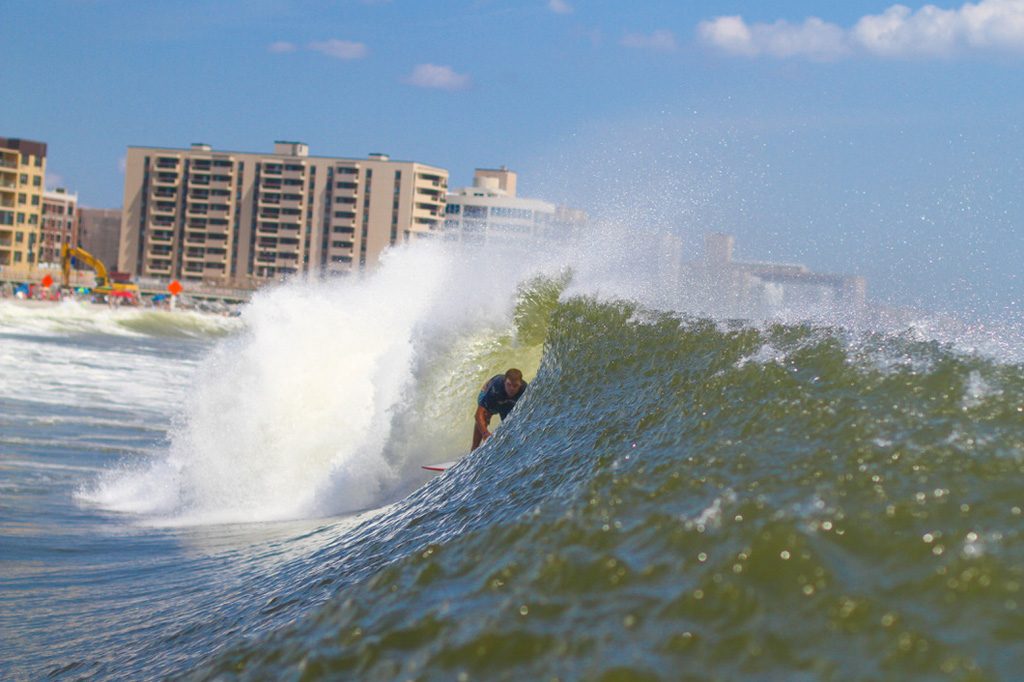 Cliff Skudin, New York. Photo: Will Skudin
Looks like the Skudin brothers have a new skill to add to their already-overflowing toolbox.
---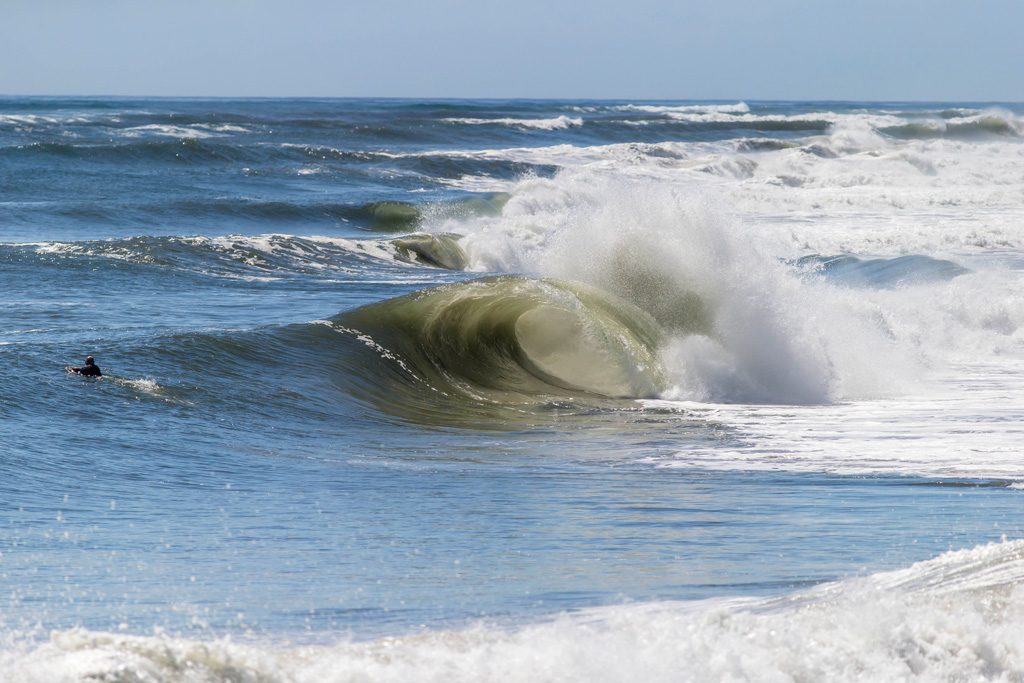 North Carolina. Photo: Adrian Dillenseger
Those lucky enough to savor this all-you-can-eat buffet in the Outer Banks this week can probably still taste the sand and still see the wider-than-they-were-tall mutant barrels enjoyed by a select few.
---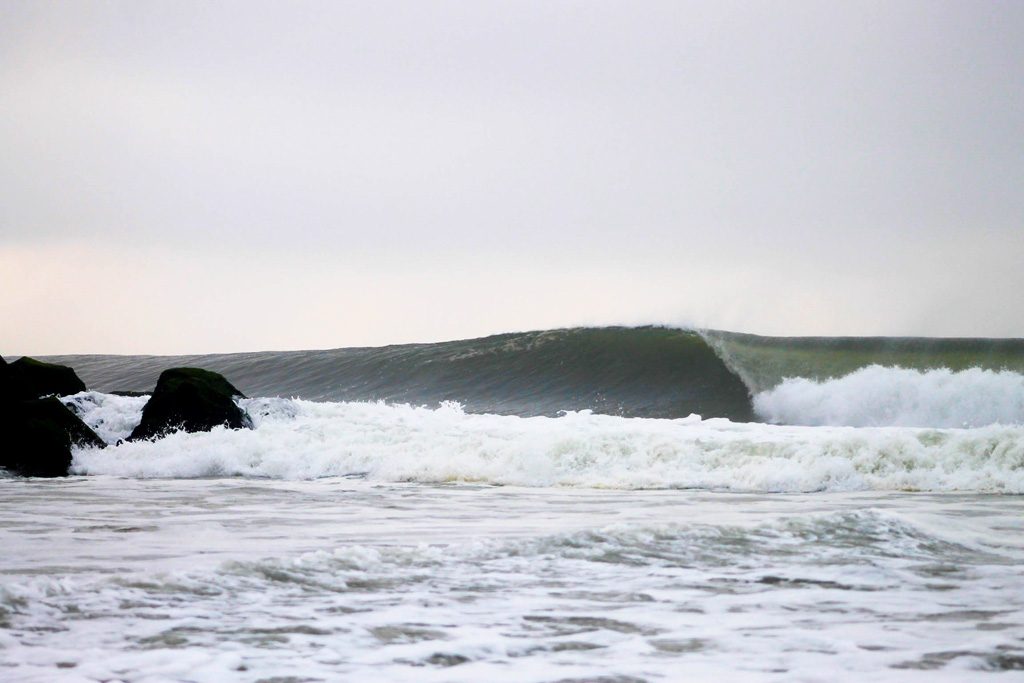 New Jersey. Photo: Andrew Mazza
Get out your ruler if you want — that's as close to razor-sharp perfection as we get on the East Coast.
---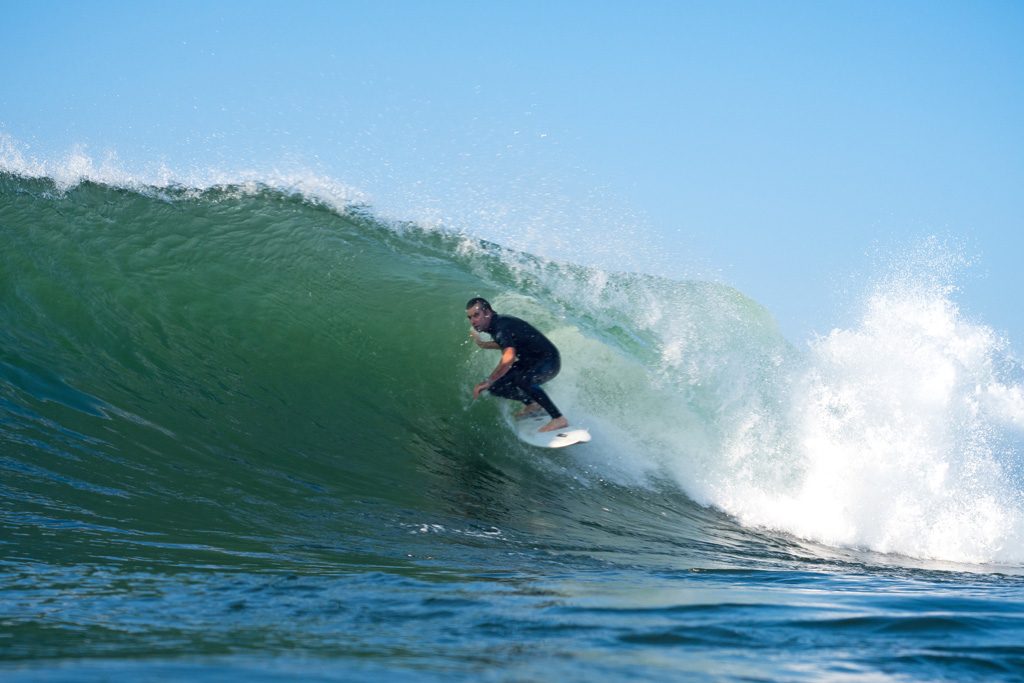 Jamie Risser, New England. Photo: Gus Potter
Our brethren in the north had to wait a wee bit longer to sample Gert's flavors, but the payoff was well worth it at this slab.
---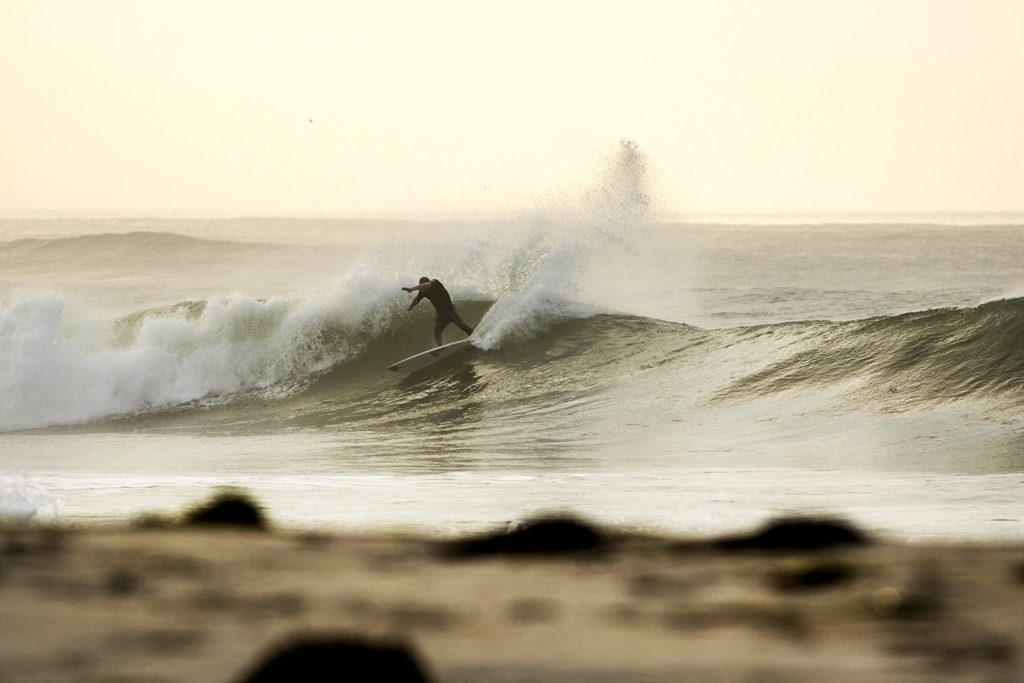 Conor Willem, New Jersey. Photo: Kyle Gronostajski
"We didn't get any pumping tubes from Gert," says LBI photographer Kyle Gronostajski. "But what was missing barrel-wise was certainly made up for with the rippable nature of the waves we got. Less hype than most tropical systems so lower expectations maybe? All in all, a good six hours shooting and surfing."
---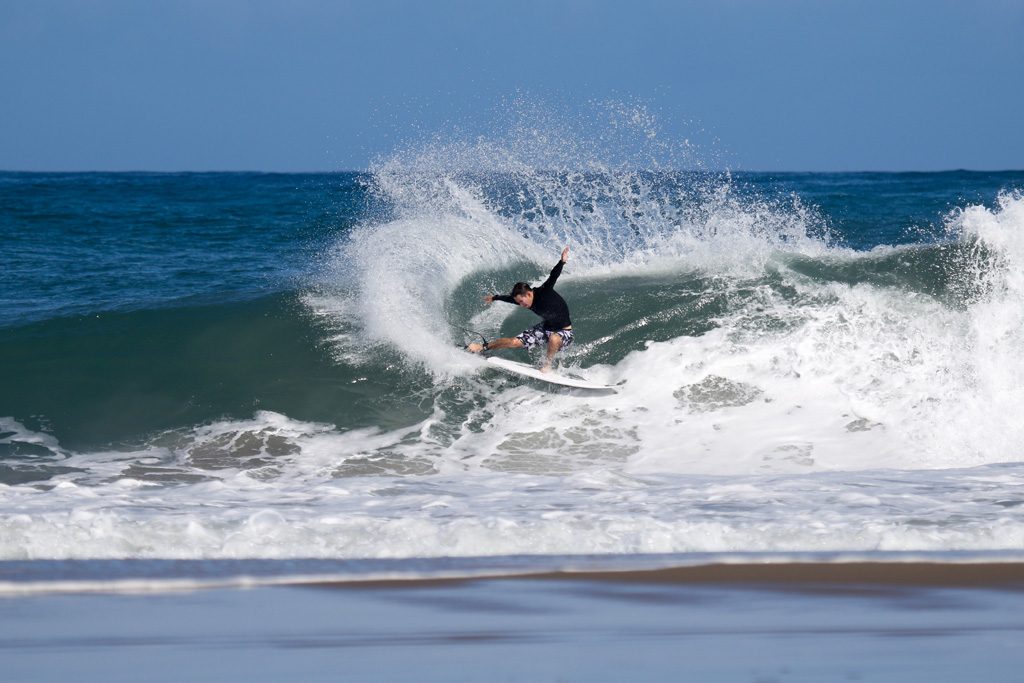 Michael Dunphy, North Carolina. Photo: Jordan Nason
"At first we drove all over, and although it seemed too stormy and walled out we found a secret bar in town with chest- to head-high sets and really glassy conditions," says Tar Heel photographer Jordan Nason. "Then we went down to the southern Outer Banks to find a sandbar going mental with the most insane barrels. Gert pushed in the blue Gulf Stream water and a crowd of spectators watched as some of the best surfers in our region like Michael Dunphy, Brett Barley, Fisher Heverly, and a bunch of core Outer Banks chargers took full advantage." 
---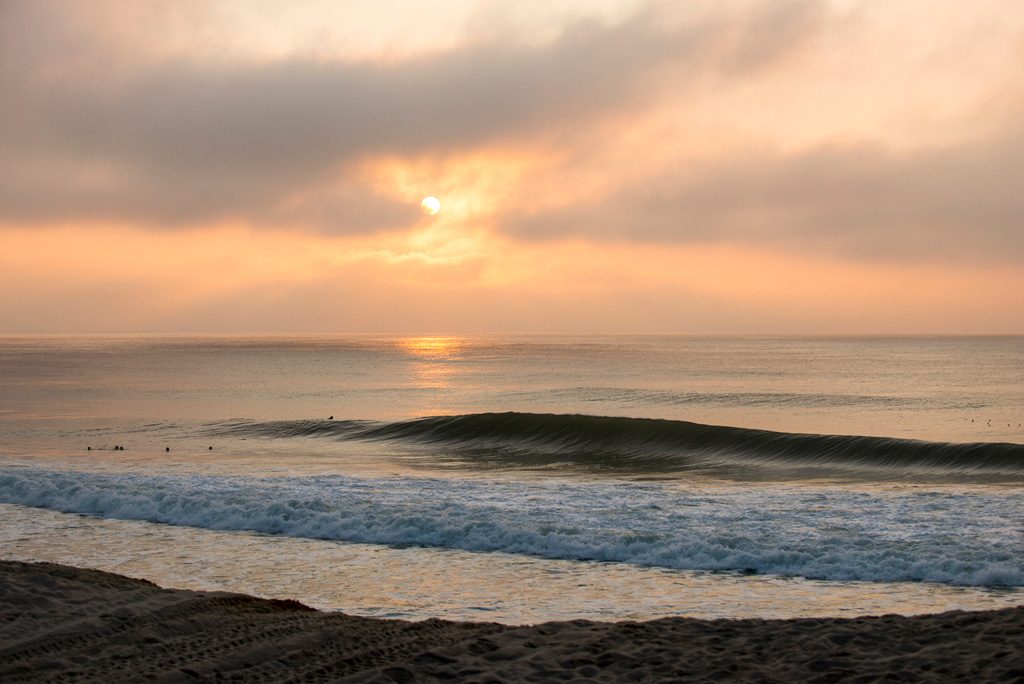 New Jersey. Photo: Dan Przygocki
No crowd, no death-defying barrels, no problem in New Jersey. Medium-sized, user-friendly waves ain't so bad, are they?
---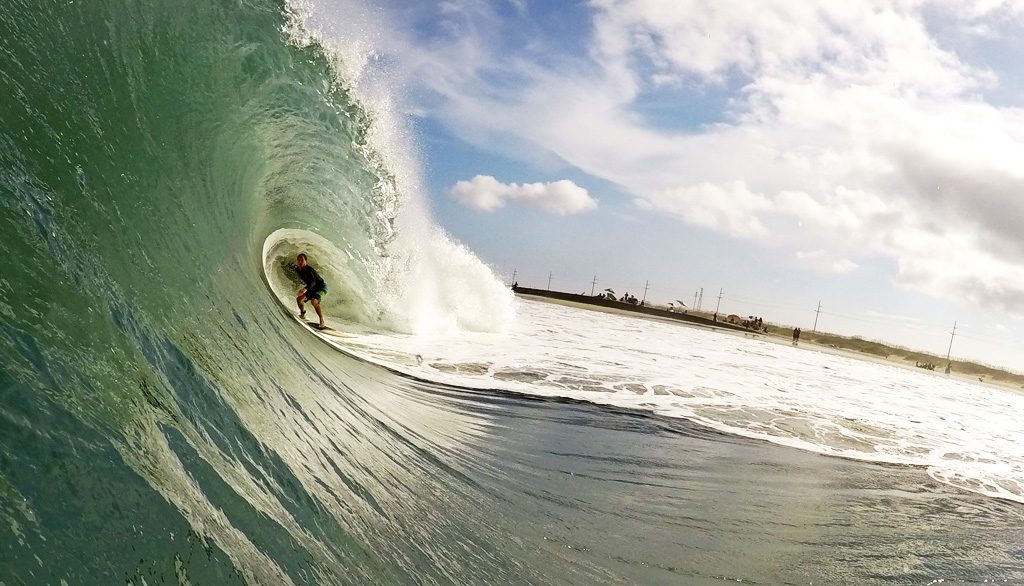 Brian MacArthur, North Carolina. Photo: Trey Brown
Hatteras Island local Brian MacArthur may not have the name recognition of bigger Tar Heel stars, but with a barrel this perfect, who cares? Bagging a wave like this in boardshorts is what surfing is all about.
---
New Jersey. Photo: Kyle Arcomano
Look, but don't touch. Touch, but don't feel. Feel, but don't break a sweat doing it. Oh, and don't drop that phone!
---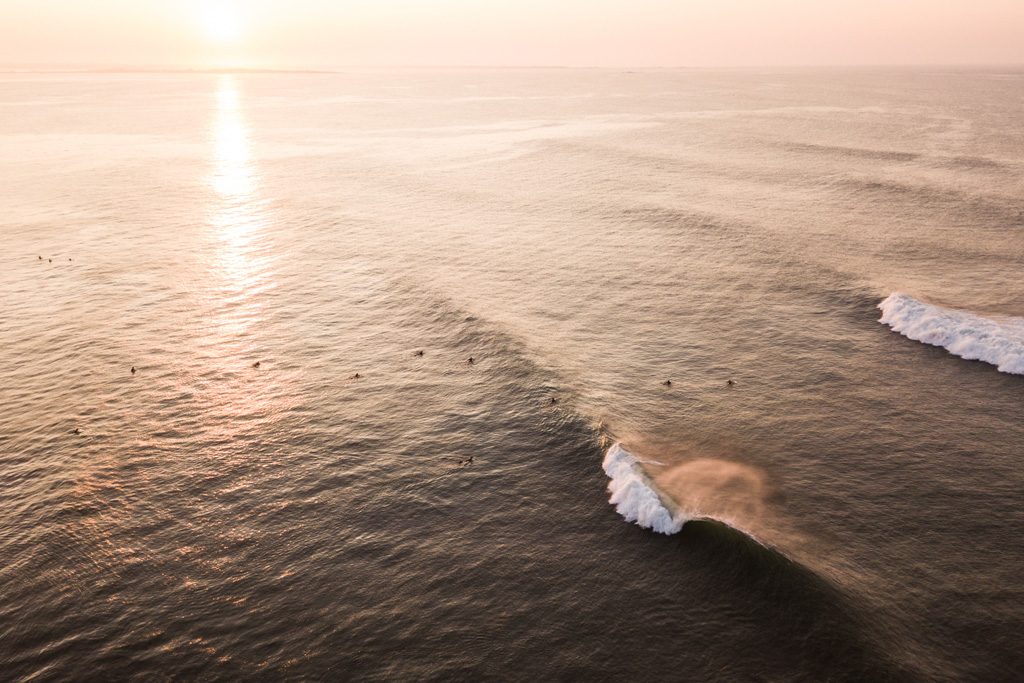 New England. Photo: Paul Girello
"Gert definitely delivered here," photographer Paul Girello said in the simplest and most succinct statement of the entire swell.
---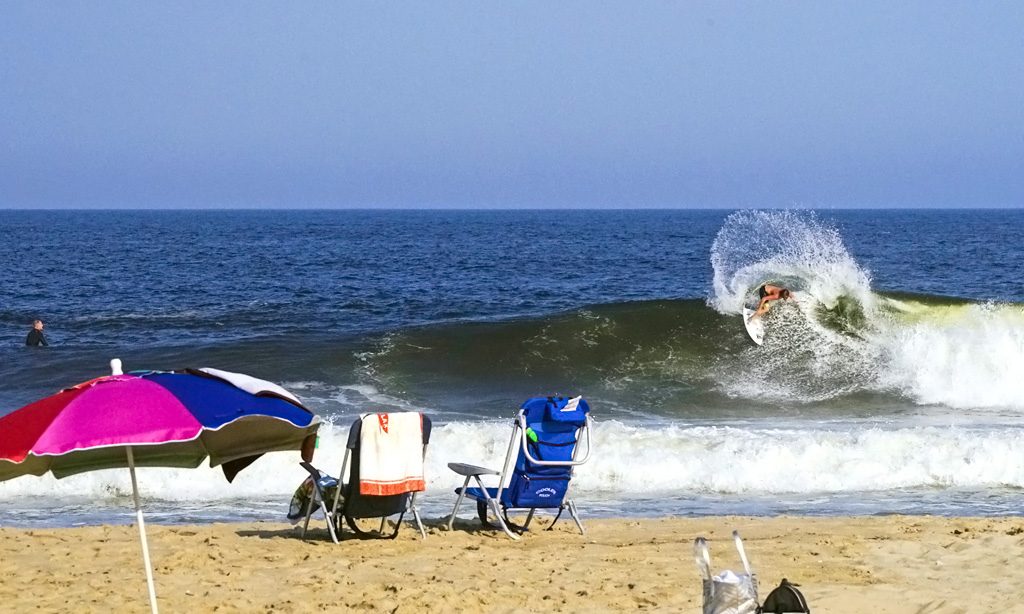 Alex Brooks, New Jersey. Photo: Joe Schondel
We received at least three different angles of this backside crack by Alex Brooks (and we hear there's even video!) But this perspective won out — it looks like Alex and his friend just hopped up out of their chairs for a quick shred session.
---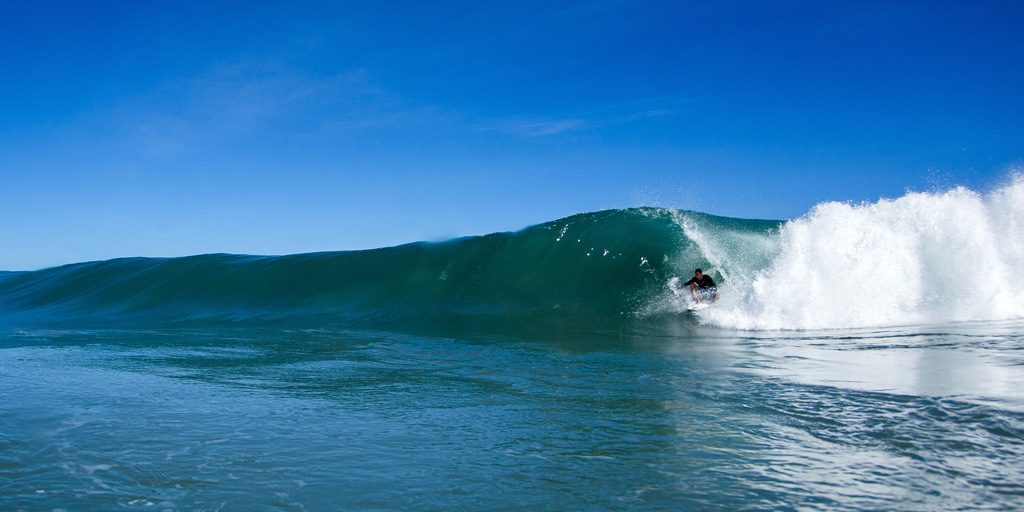 Brett Barley, North Carolina. Photo: Nick Steben
Buxton's most famous surfer parks it for an epic barrel in flawless conditions. As Brett said on Instagram, "Although not as big as we were expecting, it was as heavy as you could handle on the right ones #SawMoreWipeoutsTodayThanAllYear."
---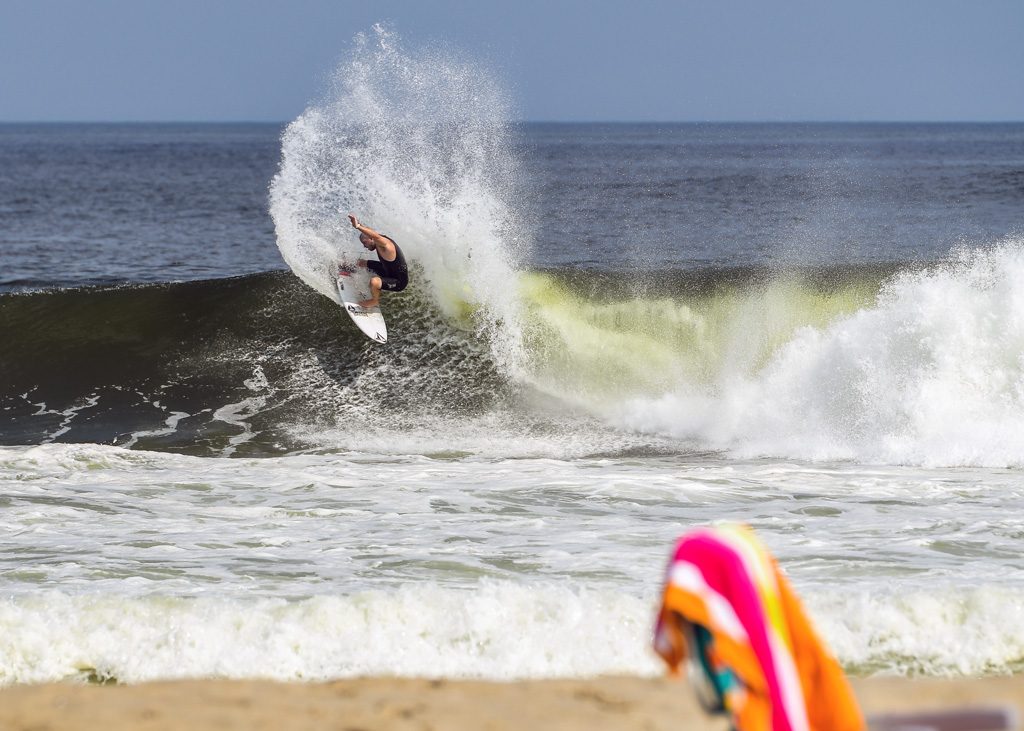 Mike Gleason, New Jersey. Photo: Tim Torchia
Remember when we said earlier we'd be showcasing more turns than normal in this gallery? When's the last time you can remember seeing both Mike Gleason and Sam Hammer in a feature NOT getting barreled and NOT in fullsuits? Good reminder, though, that these guys can lay it down harder than anyone in between packing pits.
---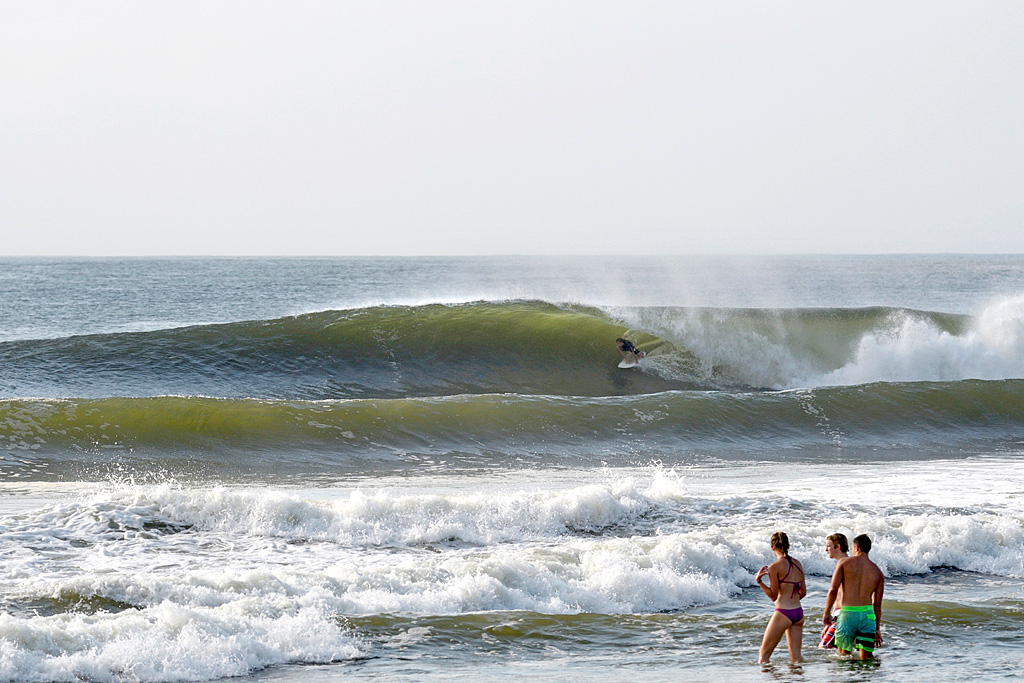 Jake DeMatteo, New Jersey. Photo: Mary Dunham
No doubt Gleason and Hammer would be thrilled to see the New Jersey's next generation stepping up and getting shacked. Here's Jake DeMatteo with one big step for the Garden State grom squad.
---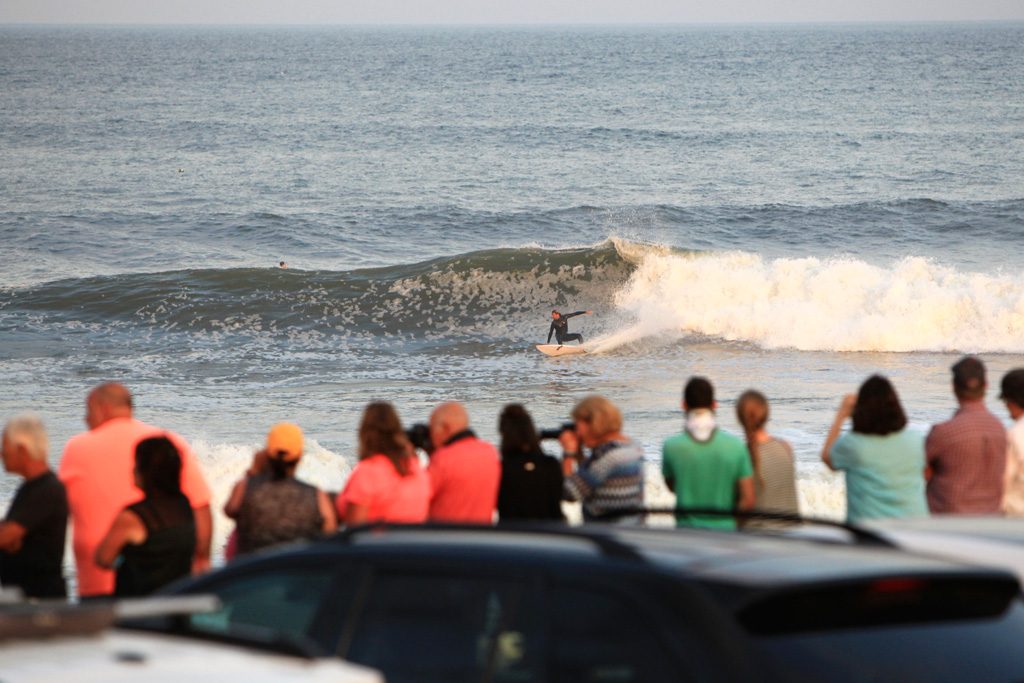 Unidentified, Rhode Island. Photo: Steve Melidossian
As photographer Steve Melidossian said, "Not the most extreme shot yet I can't put my finger on what I like about it." Maybe it's the spectators (Rhode Island has epic spectators), maybe it's the gentle tufts of foam in the face, or maybe it's the guy out the back about to turn and burn on the next one. Whatever it is, we're with you Steve.
---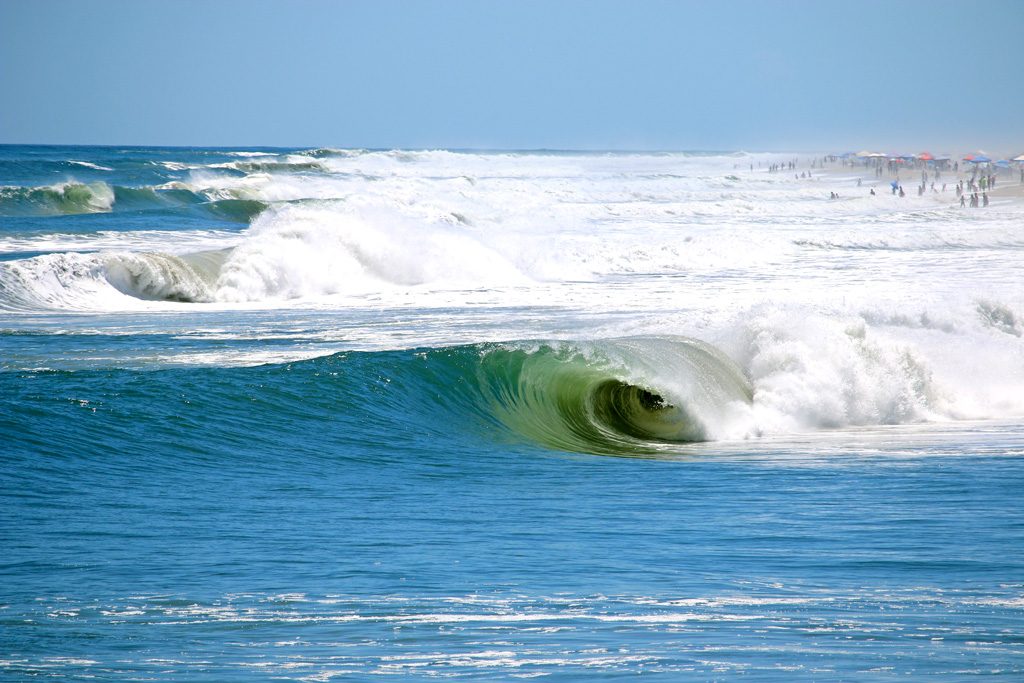 North Carolina. Photo: Ian Cross
As for this photo, well, there's no room for debate here — pure, unadulterated stoke bottled up in a 1024×683 digital image. If someone says they're not into it, they must not like surfing.
---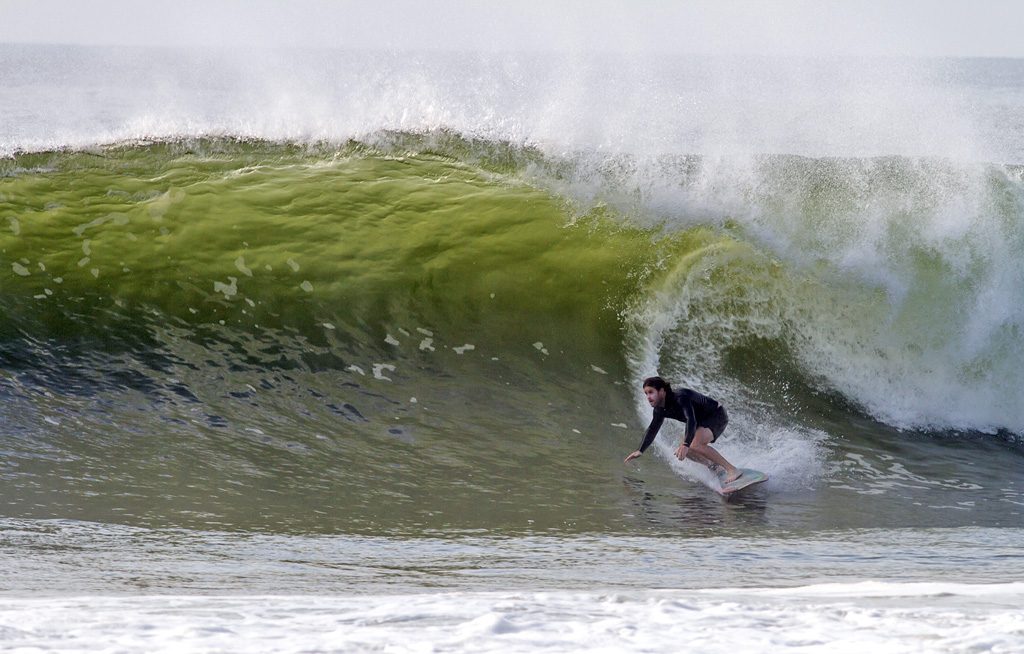 Matt Whitehead, New Jersey. Photo: Daniel Stockdale
Australia native Matt Whitehead is in our neck of the woods hanging with Phil Browne of Glide Surf Co., and it looks his timing was good — these are the kind of waves he can return home and rave about, adding one more brick to the East Coast's international tower of credibility.
---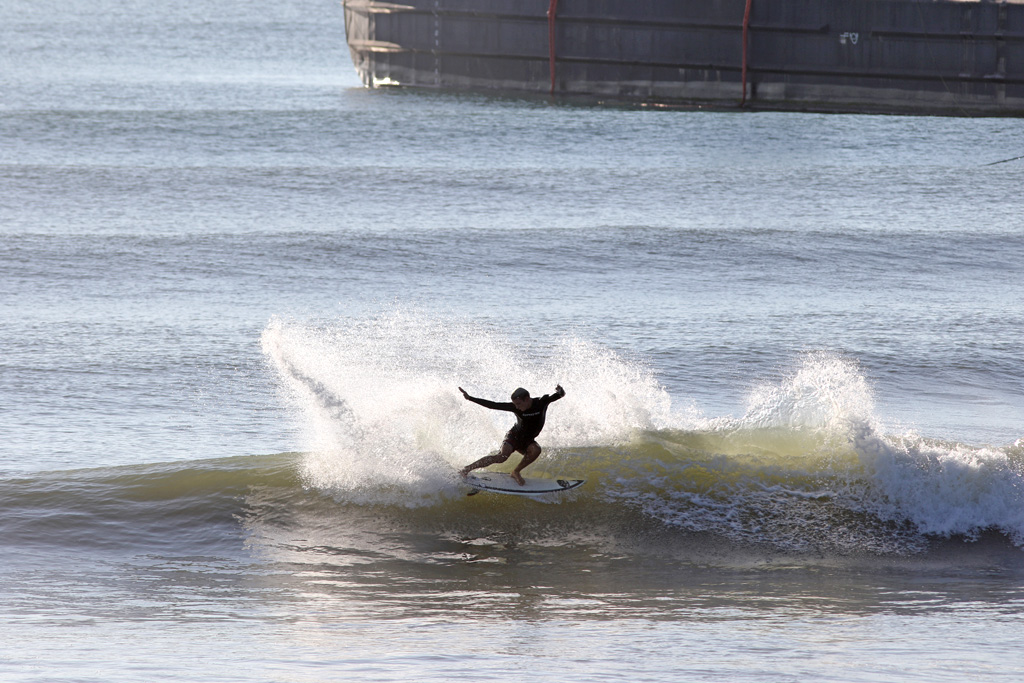 Chauncey Robinson, Satellite Beach, FL. Photo: Dugan
Would you believe us if we told you that that barge offshore is there to lay down an artificial reef in deeper waters to replace the natural nearshore wormrock reef that will be covered up with sand during a $42 million beach renourishment project in this Central Florida town? Strange but true.
---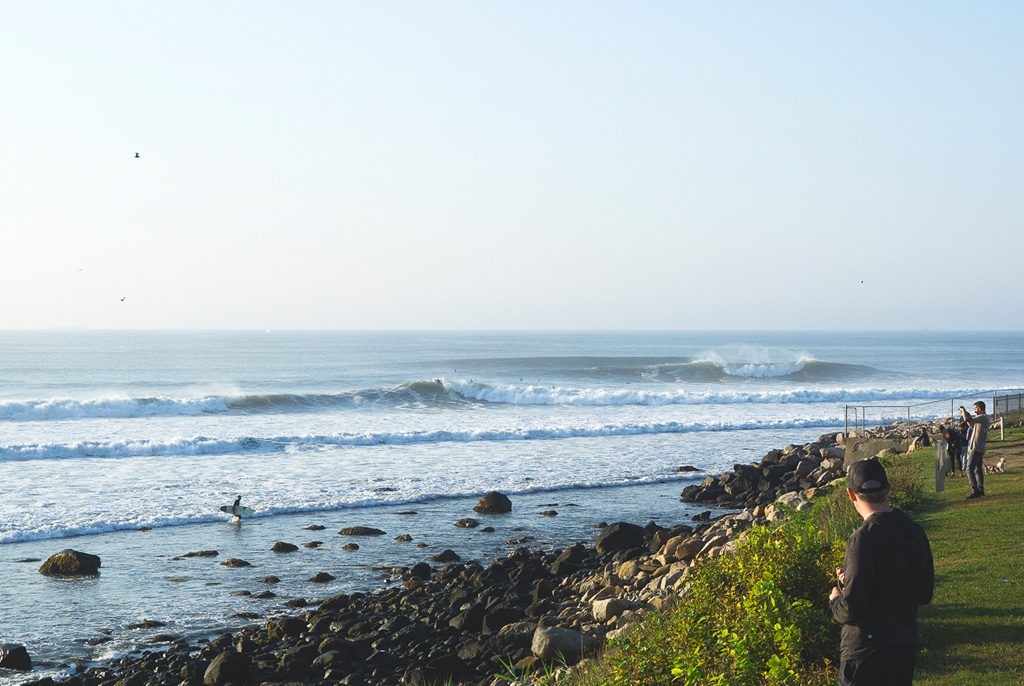 New England. Photo: Alexander Leo
Left, right, inside, outside, big, small… Gert gave south-facing spots in New England all they could handle.
---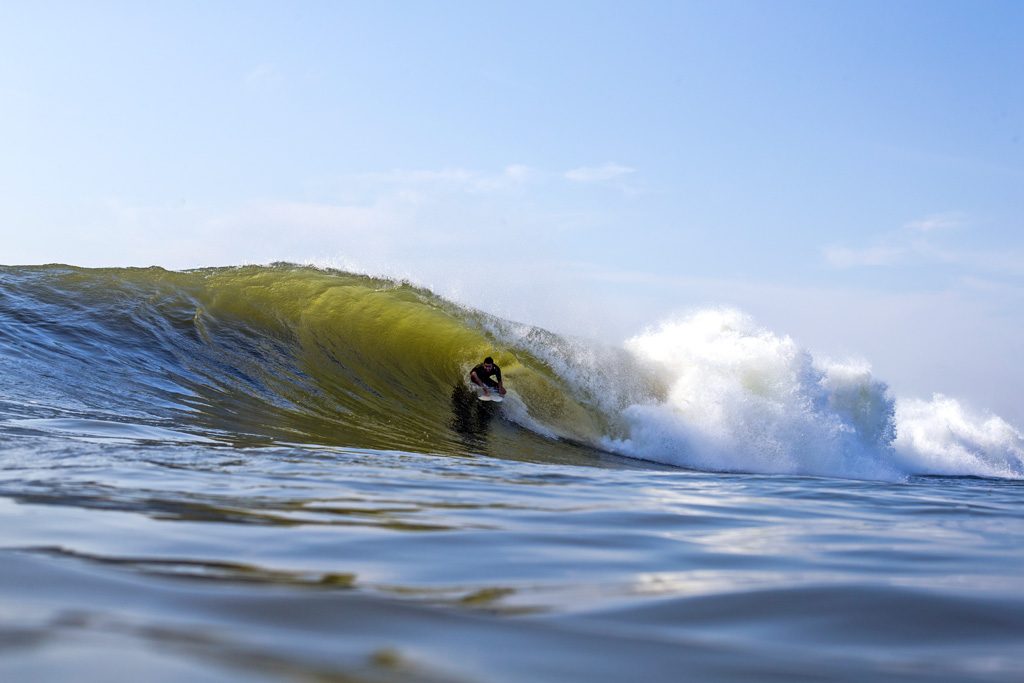 Jon Smythe, New Jersey. Photo: Hunter DeNicola
The view surfers always dream of — best enjoyed after you bag a barrel this good yourself, too.
---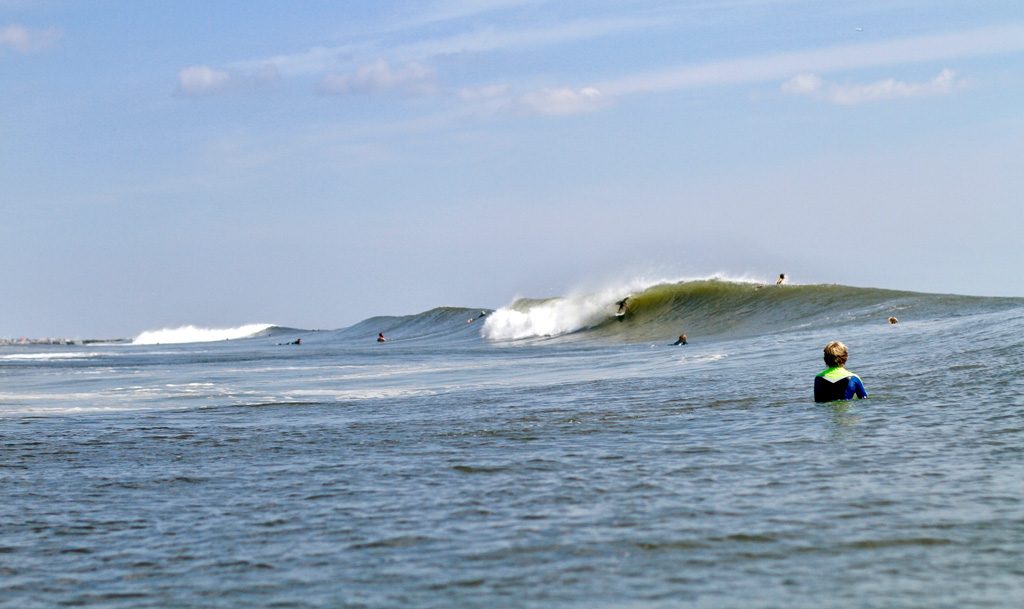 Adam Dufner, New York. Photo: Will Skudin
"It was a perfect day for the kids in our Skudin Surf performance program to really step it up and practice everything we have been working on," Will Skudin said. "They were smiling ear to ear like they went on a boat trip to Indo." Here's a few of them watching and learning as Coach Adam Dufner gets it done.
---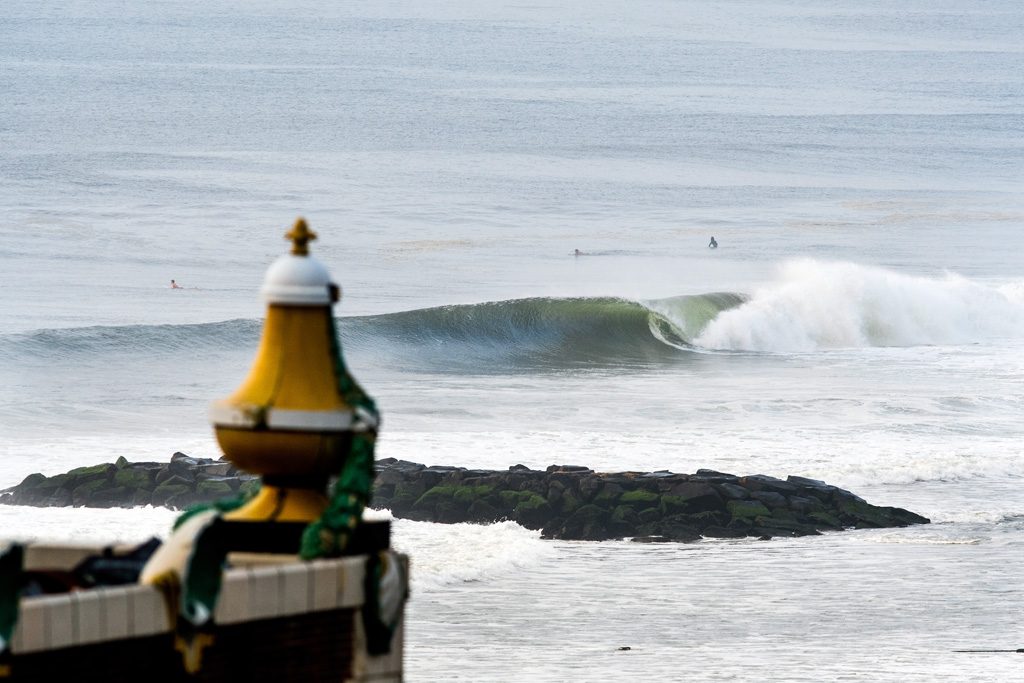 New Jersey. Photo: Bobby Siliato
A lonely peak rolls through unadorned by anything but the landmarks on the beach watching in silent solidarity.
---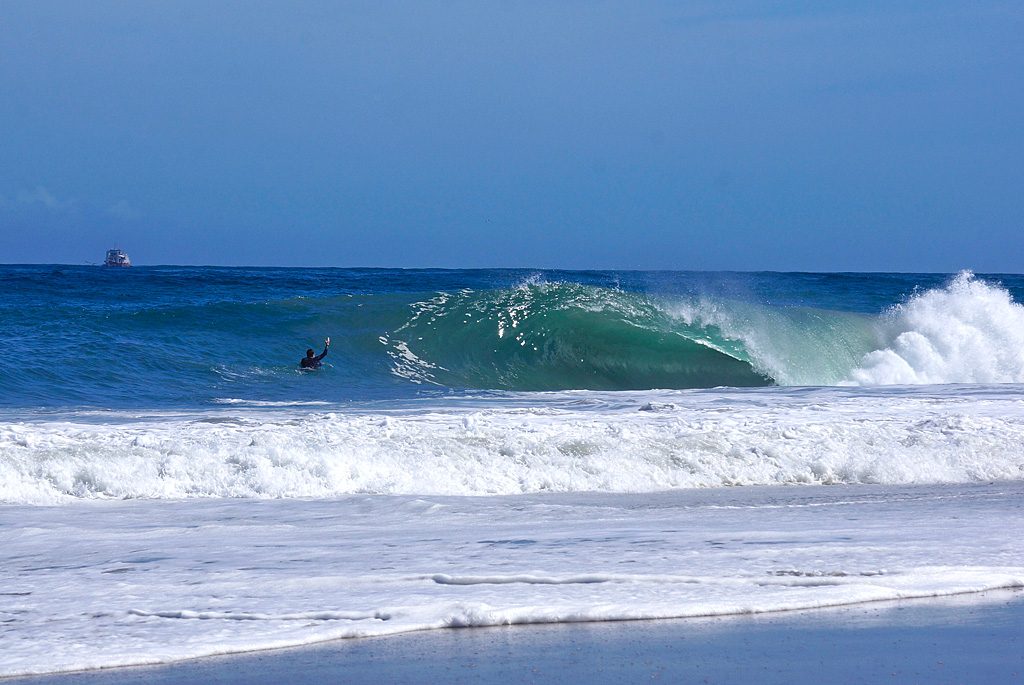 North Carolina. Photo: Mike Bain
Goodbye, Gert. You sure were good to the East Coast. Now, on to Harvey and the rest of the storms to follow…
---
---
More Swell Galleries
Tags: hurricane gert, photos, swell gallery, tropical storm