It was the best of times, it was the worst of times… Well, actually, it was mostly just the best of times in April 2017, with consistent, fun, and at times even epic waves blessing all corners of the East Coast, Gulf Coast, Great Lakes, and Caribbean. It'd take us all day to recount each individual swell and each region's particular highlights, but we'll let the following photos in our April 2017 Swell Gallery do the talking — if you want more, click here for a Central Florida Spring Break gallery and here for a quick strike from last week's beauty on the Outer Banks.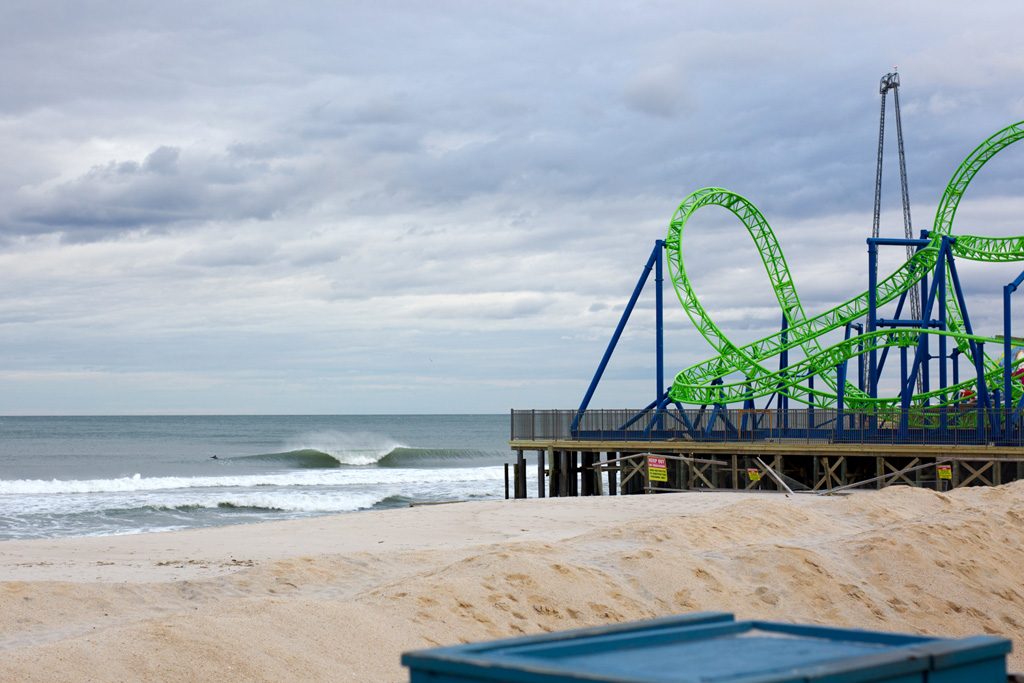 New Jersey. Photo: Ben Currie
It's only a matter of time until the Jersey Shore summer kicks back into high gear. Until then, surfers in the Garden State will laugh all the way to the bank with a view this lonely.
---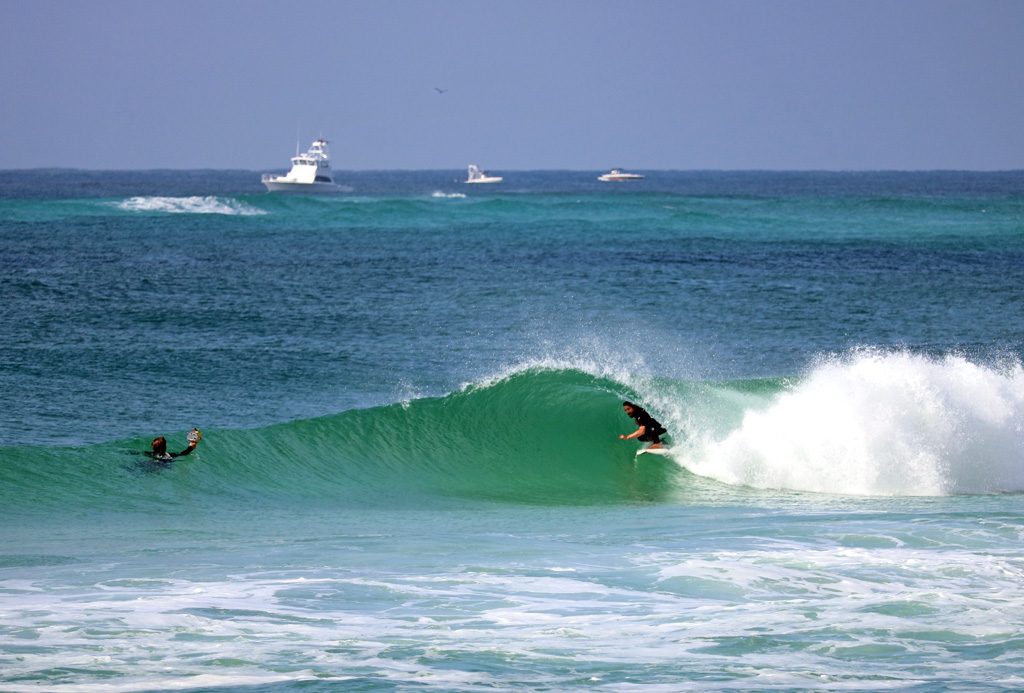 Dylan Sims, Florida Panhandle. Photo: Katelyn Smith
We know this from firsthand experience, but it's rad to show the world — when the Florida Panhandle gets good, it gets damn good. Dylan Sims with a little hallelujah.
---
Tom Hay, New England. Photo: Brian Thacker
Speaking of hallelujah, when the hoods come off in New England, surfers like Tom Hay can finally rejoice — warmer water and longer days are right around the corner.
---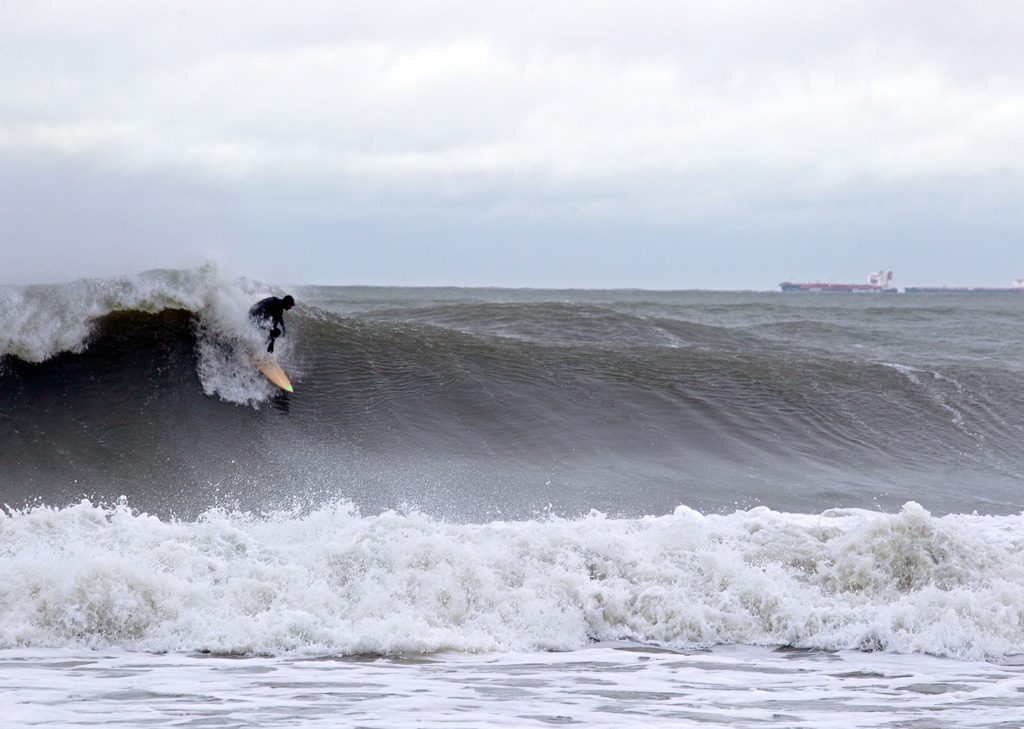 George Stella, New York. Photo: Jonathan Spector
But hey — those rare little tastes of winter that April periodically delivers are still divine.
---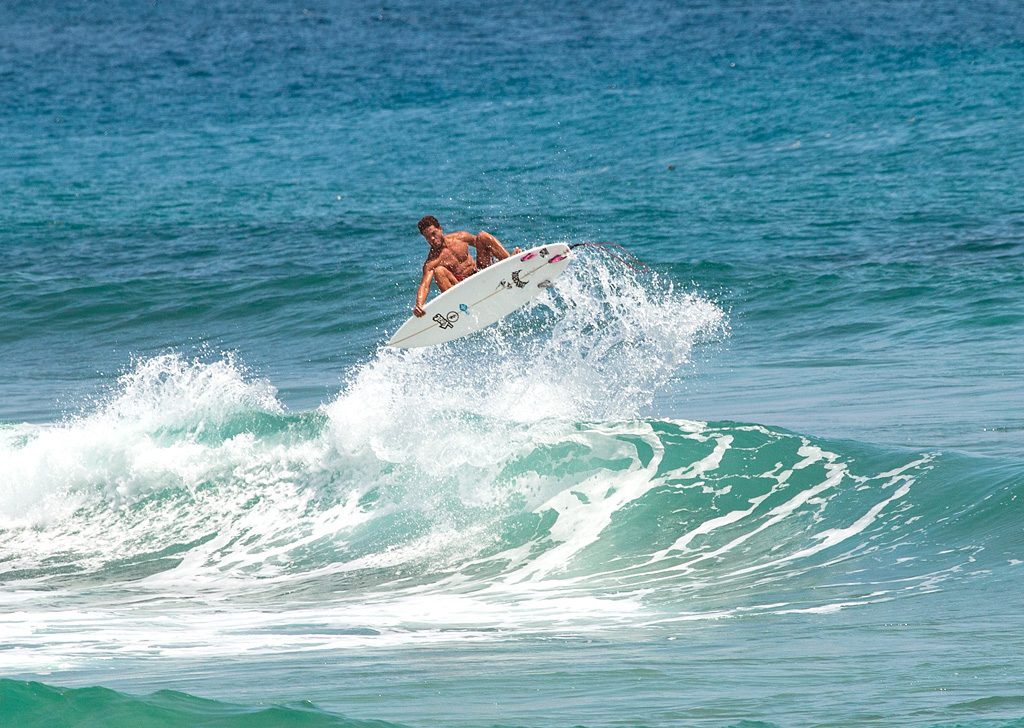 Pedro Fernandez, Dominican Republic. Photo: Jorge Mijares
If any part of the Eastside screams "endless summer," it's the Caribbean, where Pedro Fernandez can stay loose all year round.
---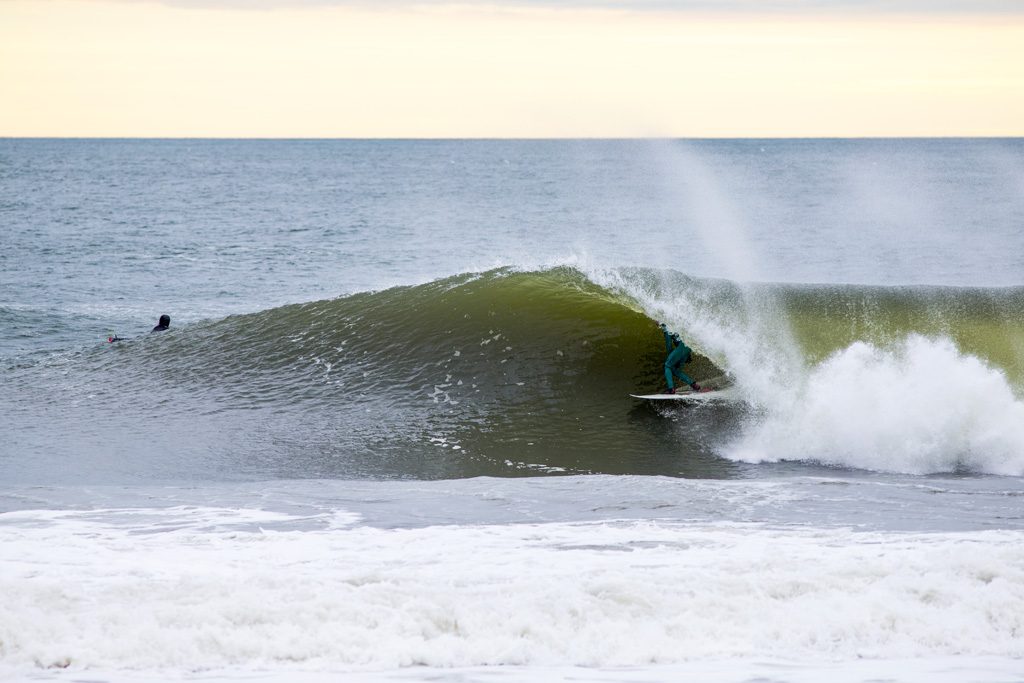 Luke Ditella, New Jersey. Photo: Hunter DeNicola
Luke Ditella always wears his heart on his sleeve, even when he's half hidden behind a tasty Jersey bowl.
---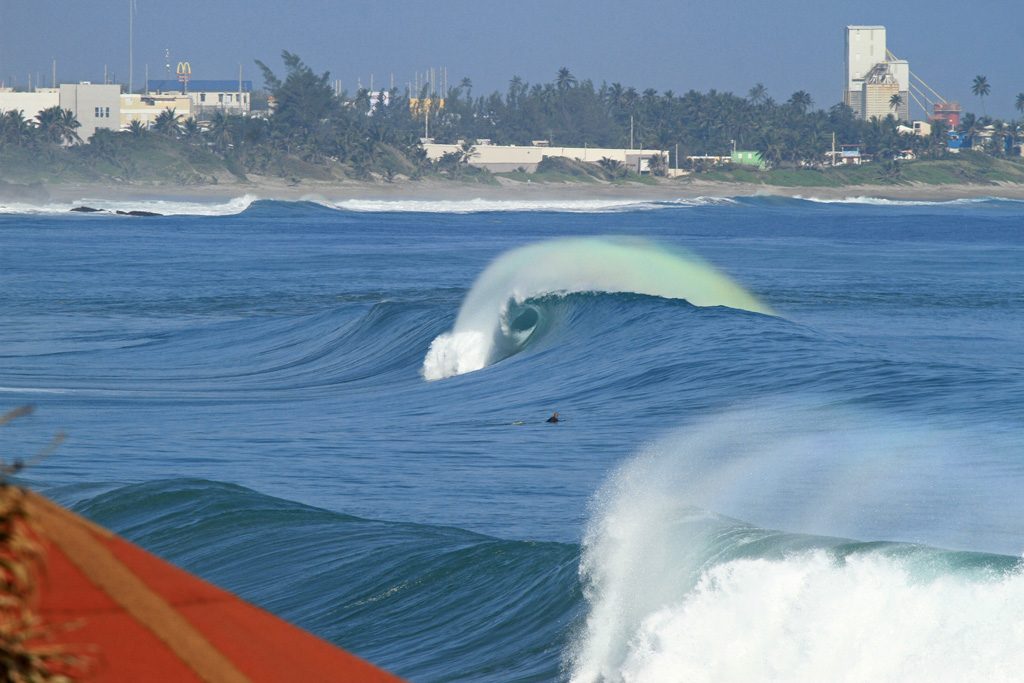 Puerto Rico. Photo: Cynthia Ale
Every East Coaster knows it, even if April is considered shoulder season in Puerto Rico — when a northwest swell cranks, there's still gold to be found in them there hills (and we're not talking about the Golden Arches).
---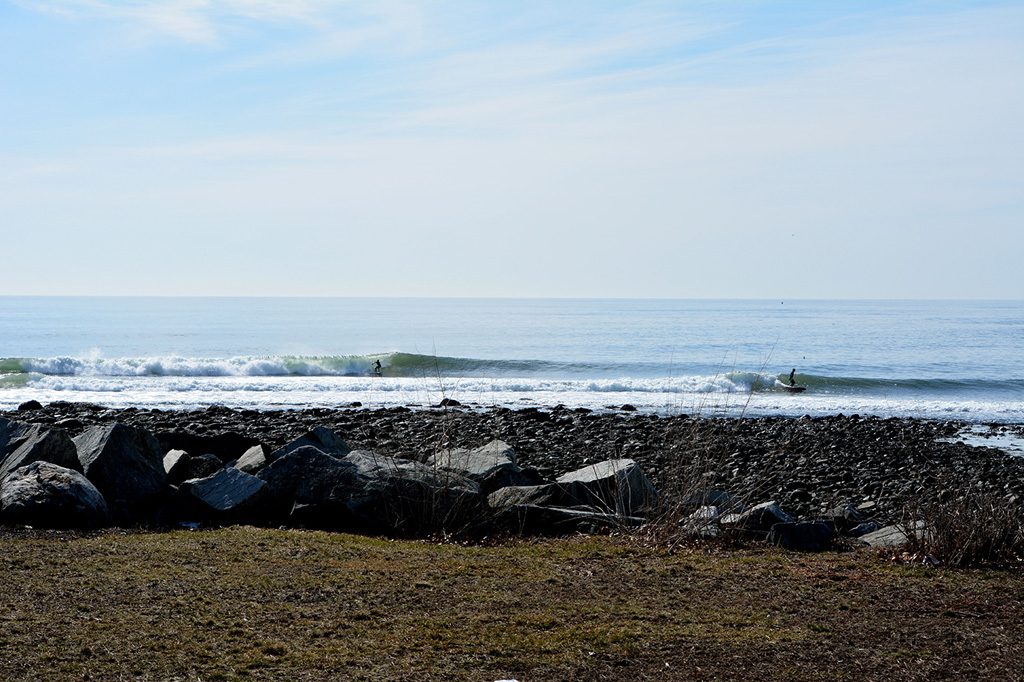 New Hampshire. Photo: Ralph Fatello
Not as big, not as heavy, not as mean, but still plenty damn fun.
---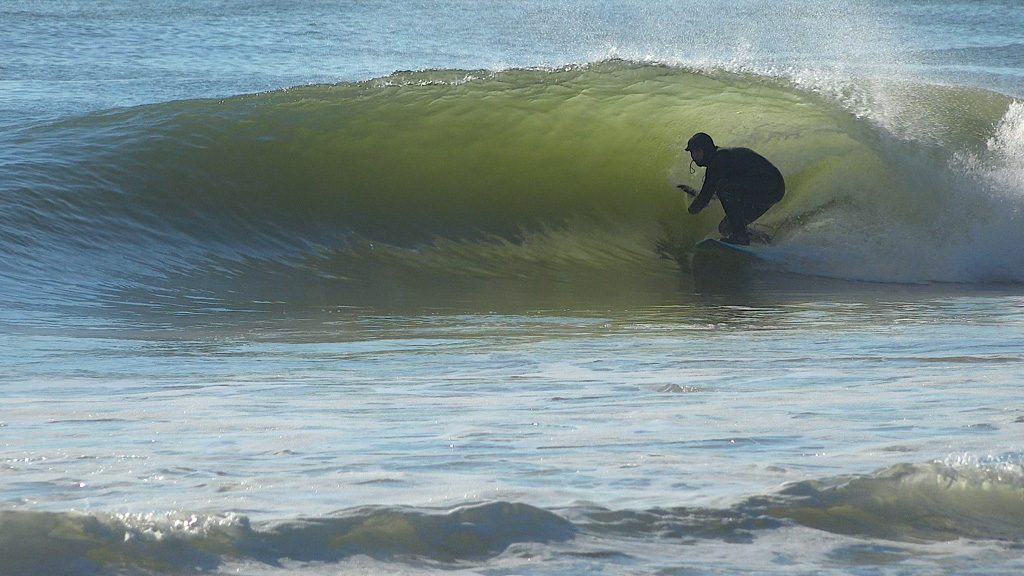 Dave Bracht, Delaware. Photo: Stan Bracht
See the caption above — Dave Bracht didn't blow any big-wave minds with this barrel. Bet he still enjoyed the hell out of it, though.
---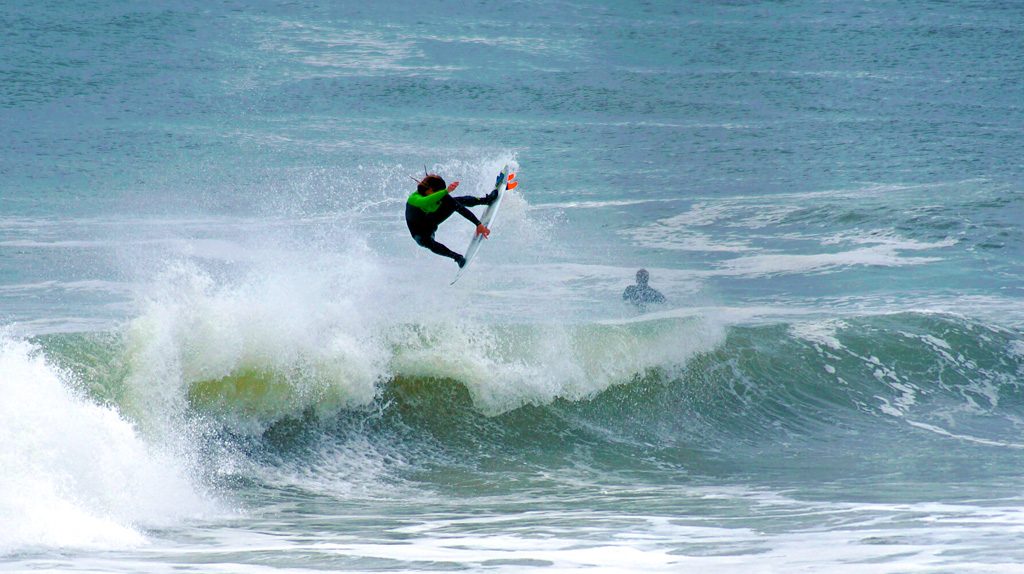 Lucas Rogers, North Carolina. Photo: Trey Brown
As photographer Trey Brown joked, "White men can't punt." But anyone who believes that cliché obviously hasn't seen Lucas Rogers in action.
---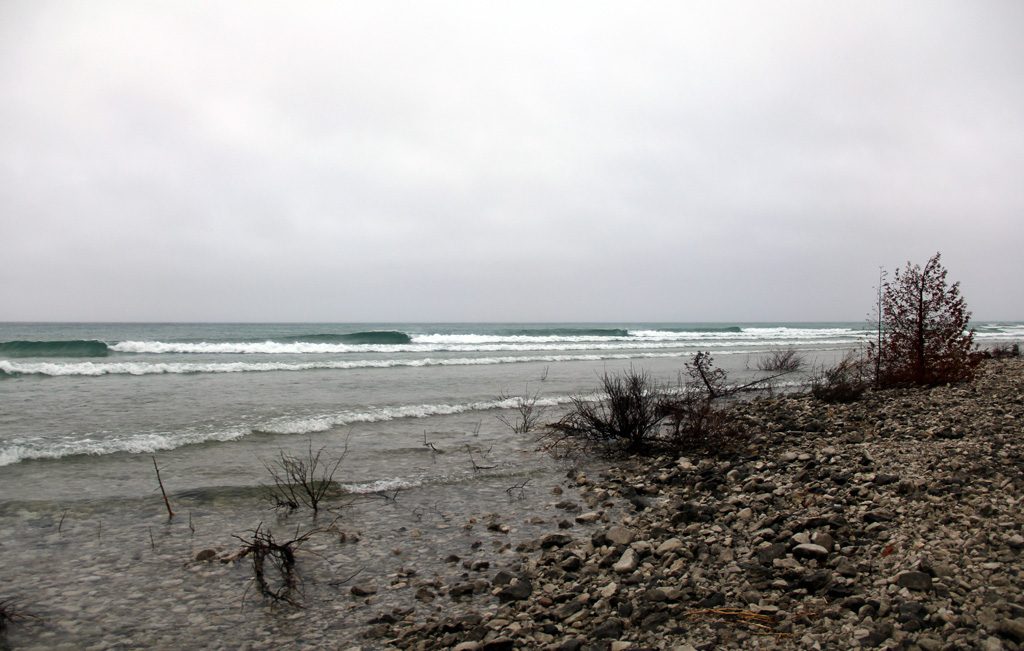 Great Lakes. Photo: Brian Tanis
Freshwater exploration is at an all-time high in 2017 — every time a storm presents itself on the Great Lakes, an intrepid crew or two goes on the hunt. Well worth the journey to be the first to surf a setup like this, don't you think?
---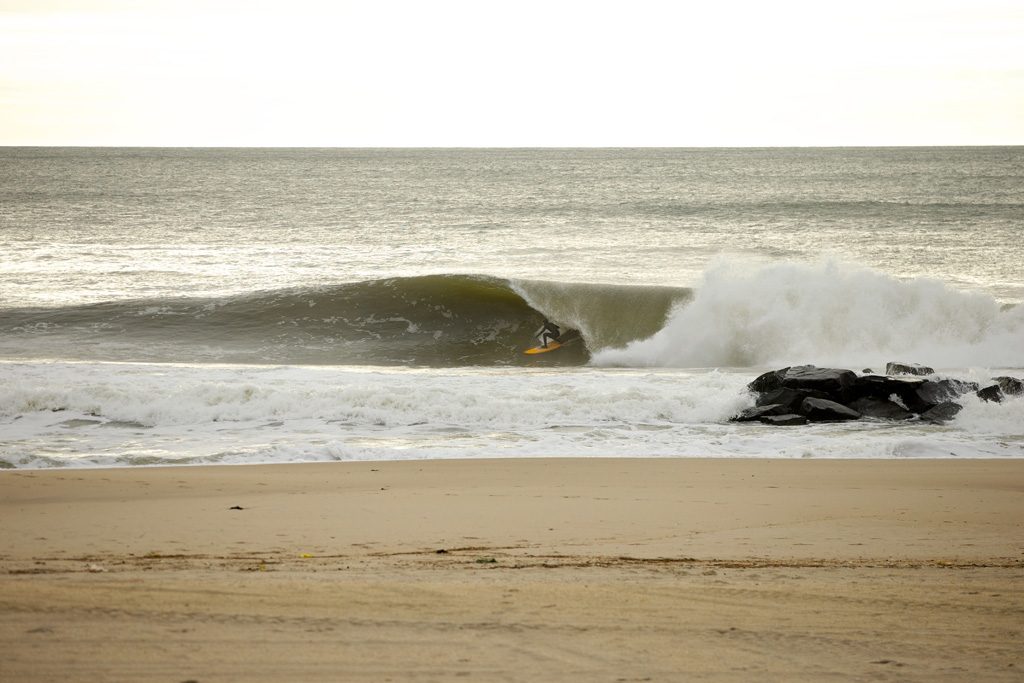 Mark Gilmartin, New Jersey. Photo: Carter McCoy
It's a known fact that Mark Gilmartin rides big boards and big waves. Which means this lonely macker measures up much better than it initially looks.
---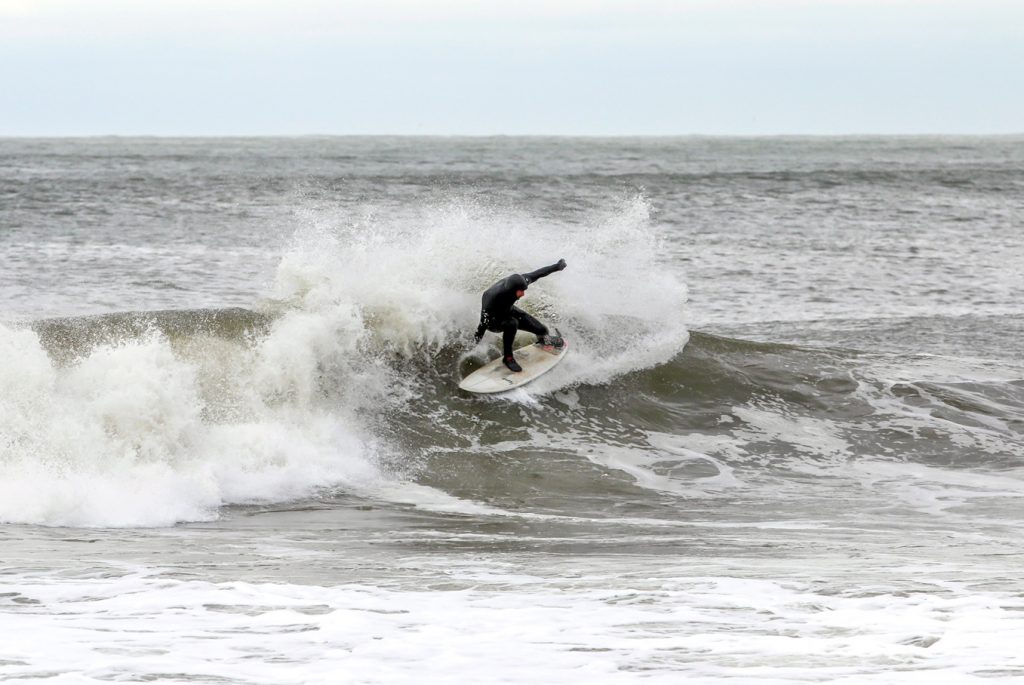 Michael Kololyan, New York. Photo: John Suhar
Not Long Beach, not Montauk, and not any other usual New York haunt. No, Michael Kololyan cranked this turn as close to city limits as he possibly could.
---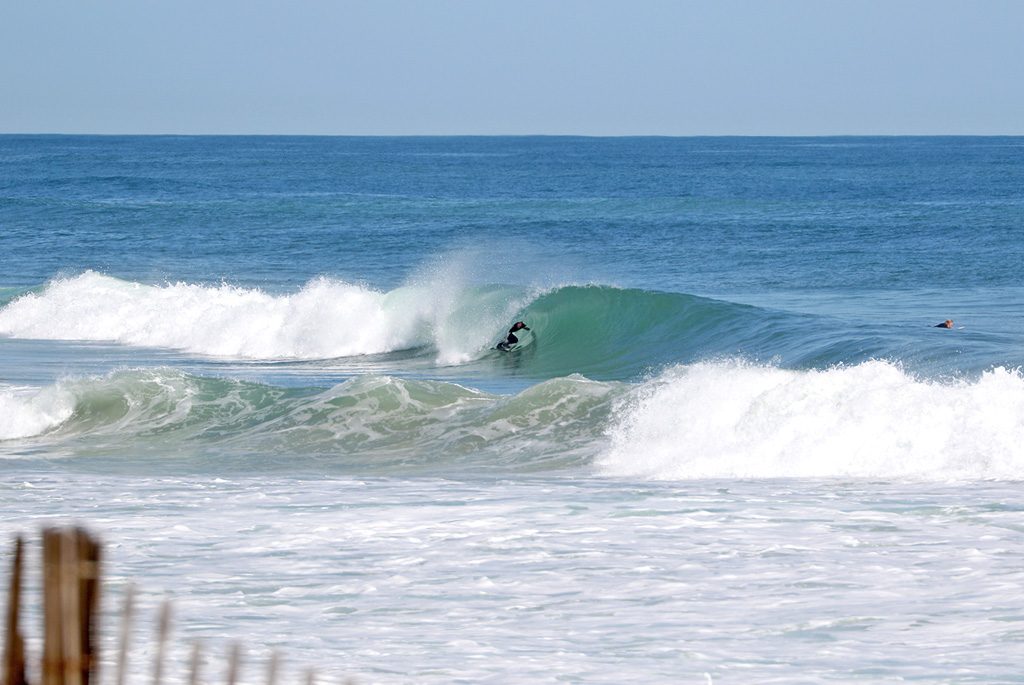 Dana Quinn, North Carolina. Photo: Woody Harris
If you know Dana Quinn, you know he probably made it out of this impossibly deep left.
---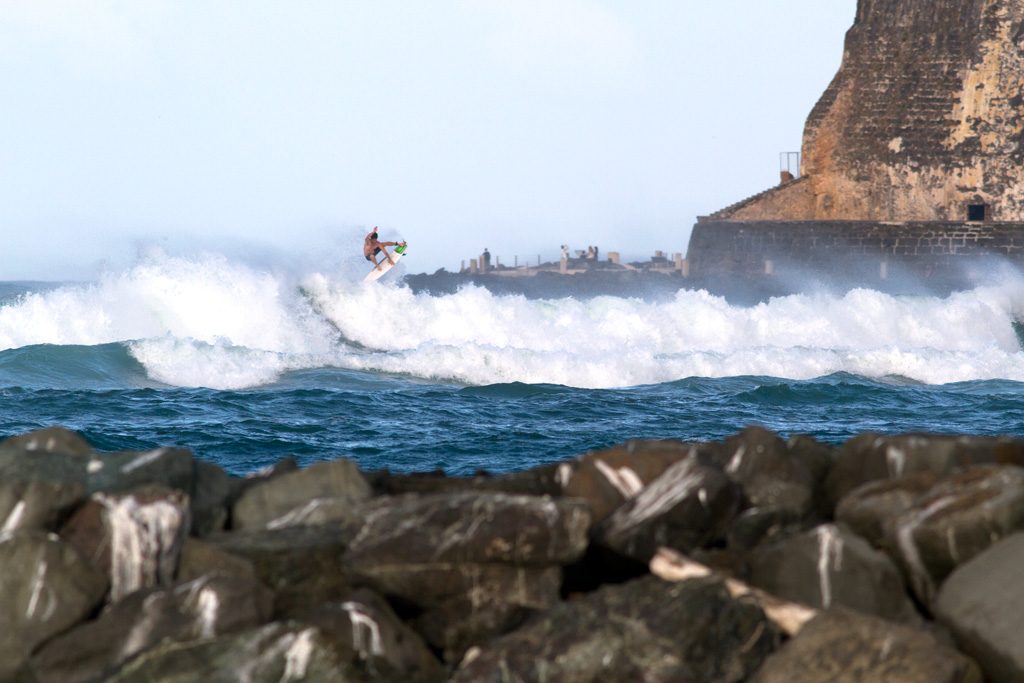 Tommy Bursian, Puerto Rico. Photo: @wilatty
Speaking of impossible, Tommy Bursian swore us to secrecy when it came to identifying this spot. But anyone with a hunger for history could easily track it down. Good luck scoring it like this again, though.
---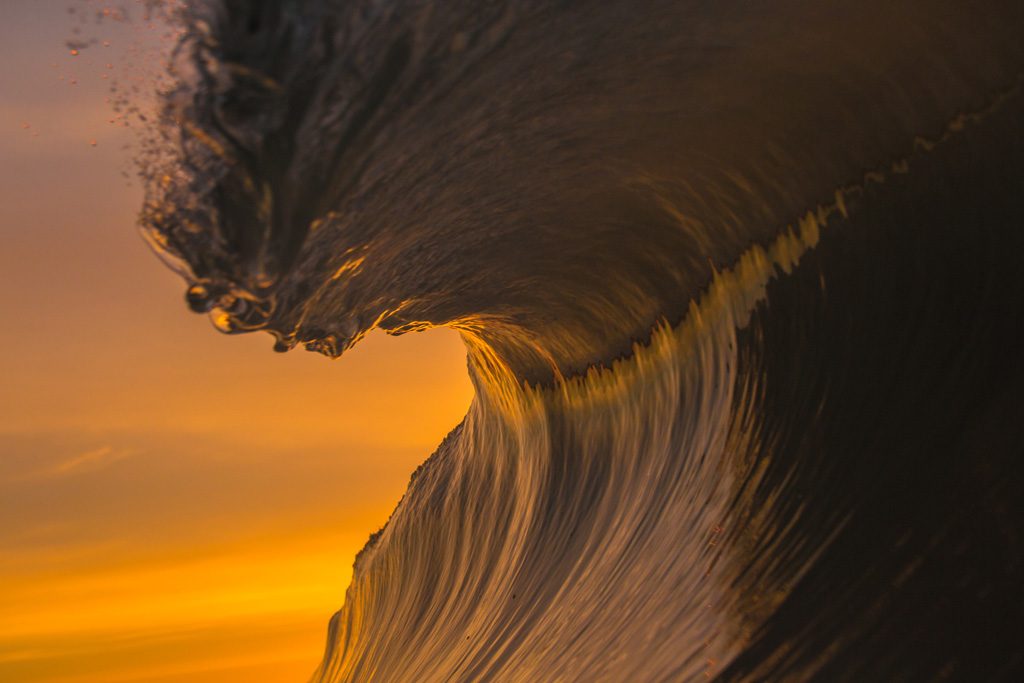 New England. Photo: Dave Sieczkiewicz
No. Caption. Necessary. Just enjoy the view.
---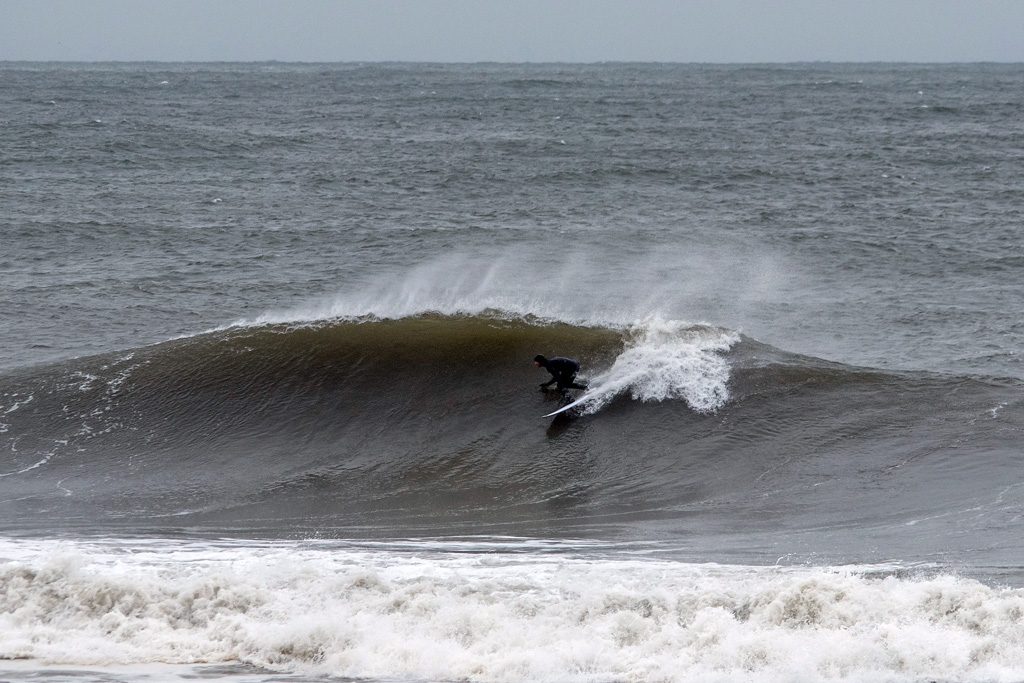 Sam Hammer, New Jersey. Photo: Adam Tormollan
Some of us like to think we charge hard. A very select few actually do. Here's Sam Hammer actually sending it, not just saying it.
---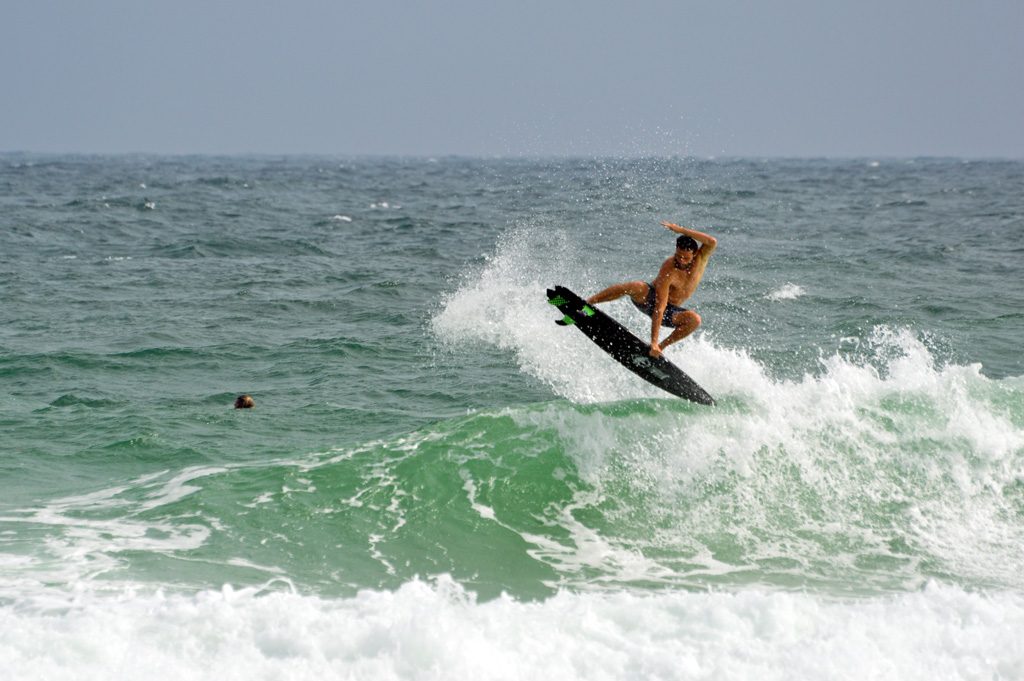 Sterling Spencer, Florida Panhandle. Photo: Alex Dantin
April was so fun that even up until the very last second of the month, Sterling Spencer was still scoring.
---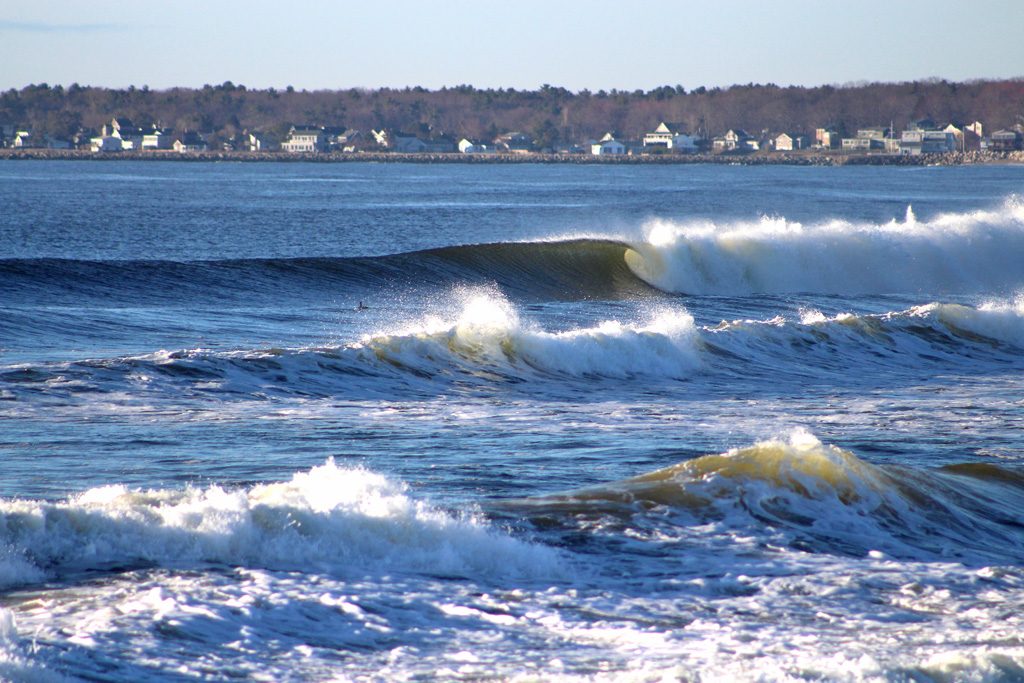 Maine. Photo: Tucker Grinnell
Meanwhile, in Maine…
---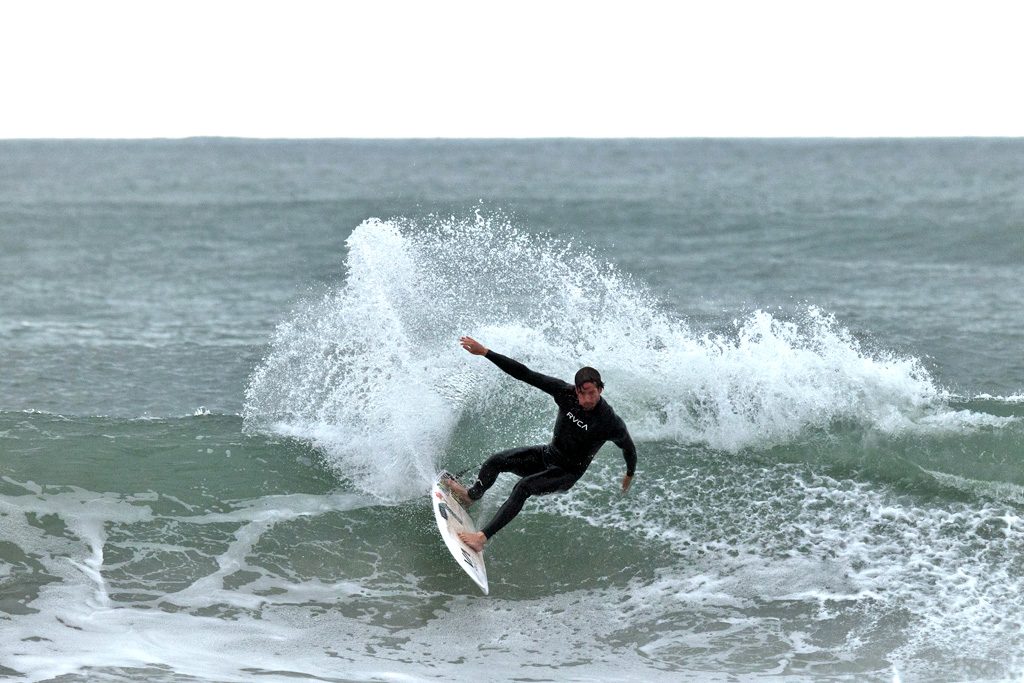 Philip Goold, North Carolina. Photo: Stephen Quick
Want to know the optimal angle and curvature required to crank a frontside carve? Just watch Philip Goold surf.
---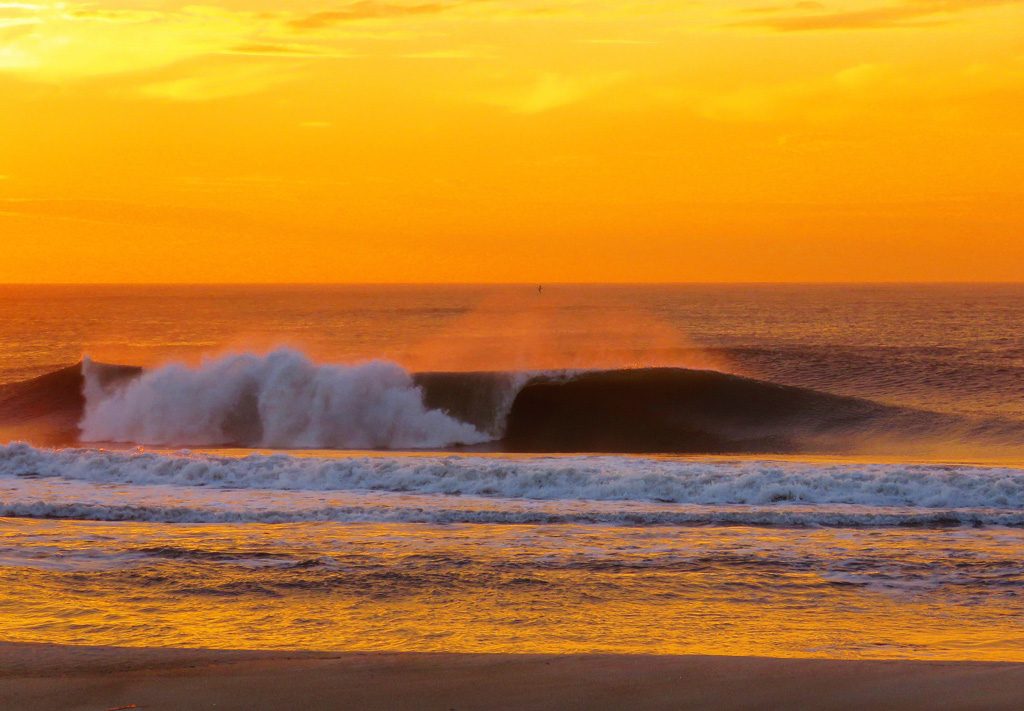 Virginia. Photo: Shane Whealton
While Phil was on a strike mission down in North Carolina, however, his ol' Virginny home offered up this rare sight.
---
Evan Brownell, North Florida. Photo: Cody Coleman
As long as you don't stare at the photographer or flash peace signs at the camera, you can wear the biggest damn grin you want when you get as piped as Evan Brownell.
---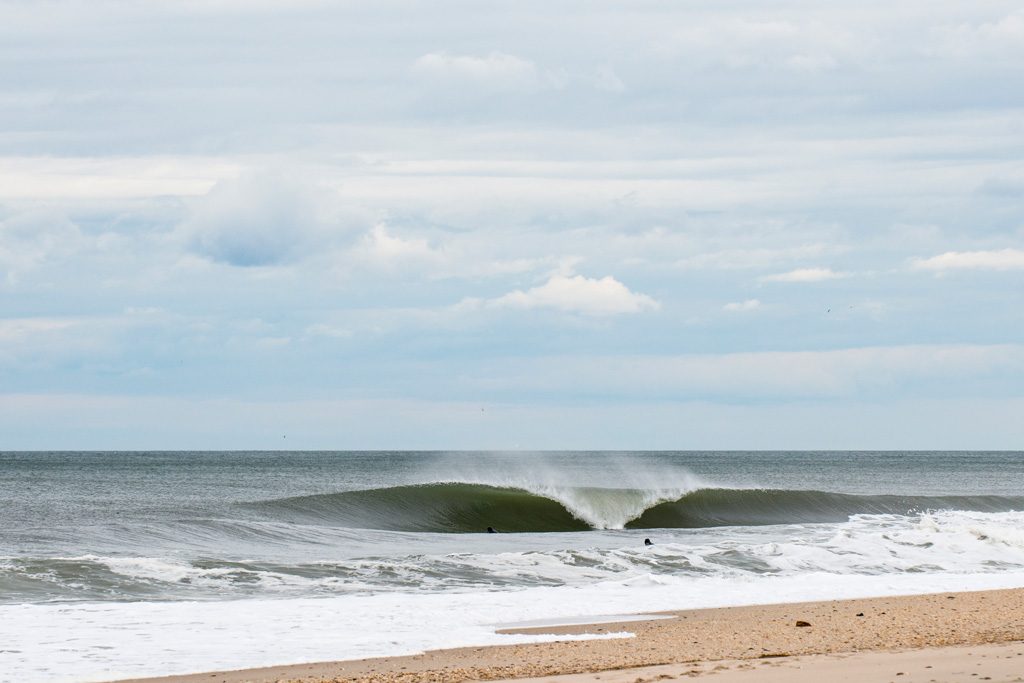 New Jersey. Photo: Dan Przygocki
Also, feel free to sprint as fast as you can toward the ocean when it looks this alluring. We won't judge.
---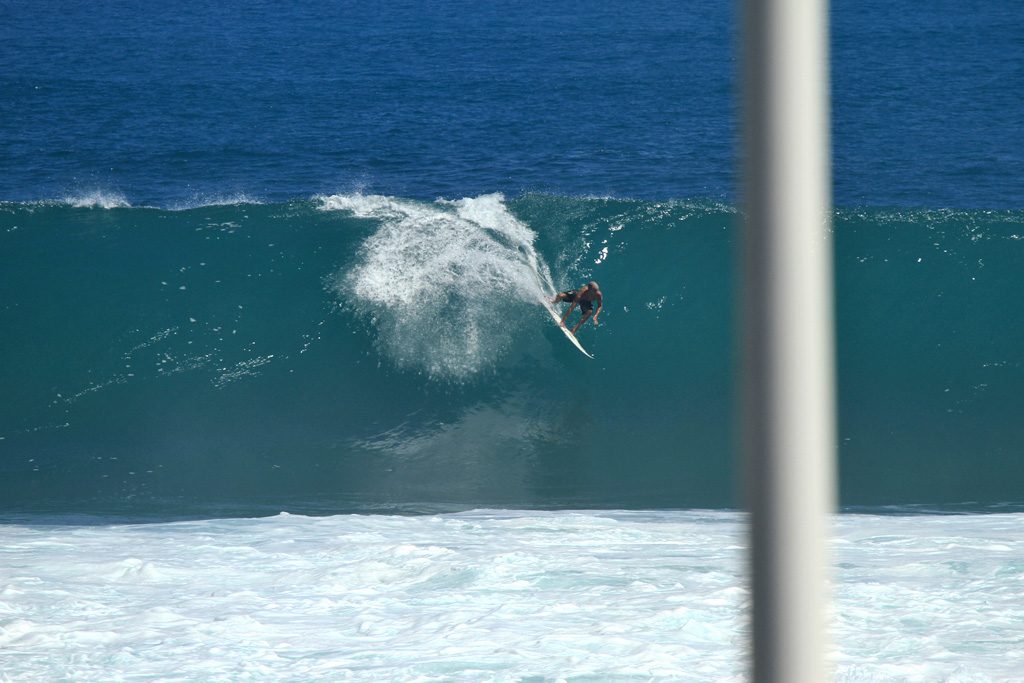 Magnum Martinez, Puerto Rico. Photo: Babby Quiñones
Magnum Martinez defines the word commitment and demonstrates what an early entry can do on this Puerto Rico grower.
---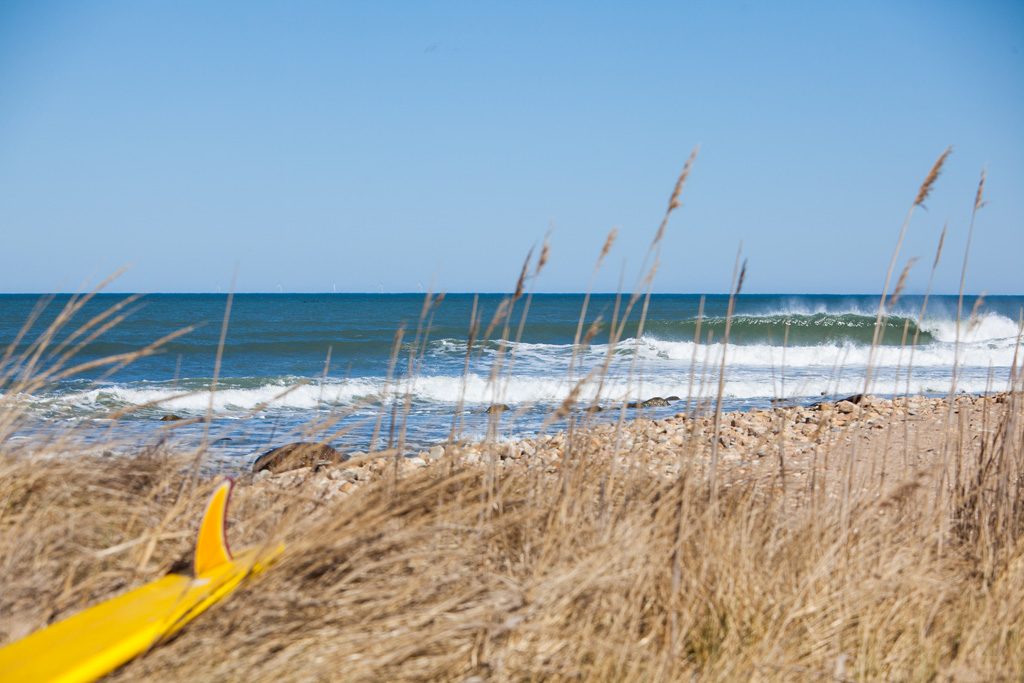 New York. Photo: Paul Brooke
"Now you're in New York, these lineups will make you feel brand new, long rights will inspire you…"
---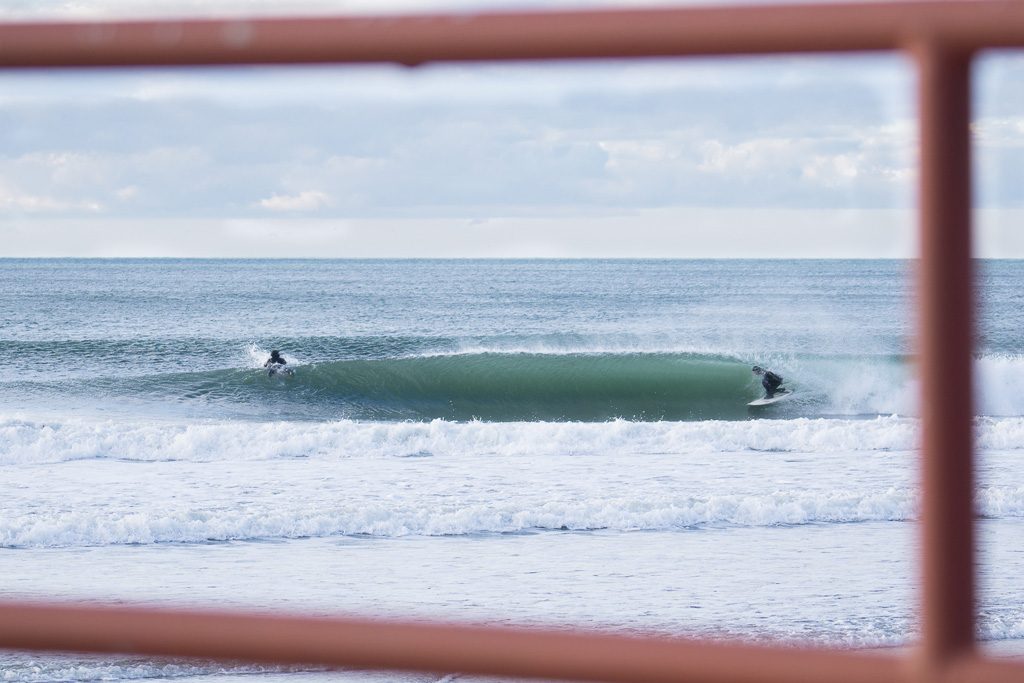 Unidentified, Rhode Island. Photo: Alexander Leo
Fit for framing in the Ocean State. Give us an ID if you have one, Internet!
---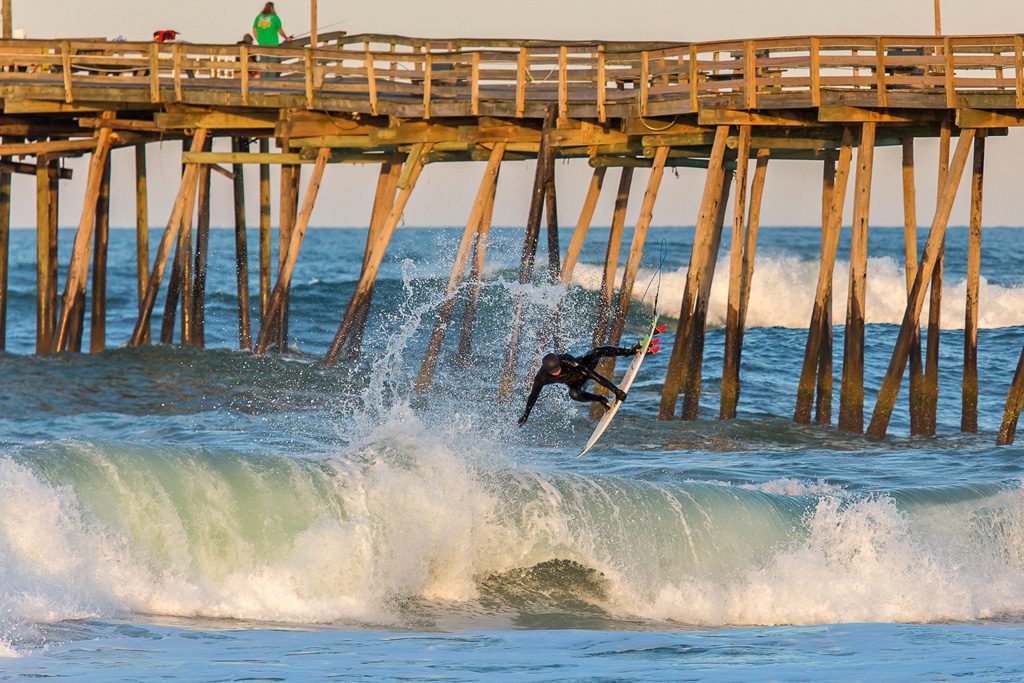 Quentin Turko, North Carolina. Photo: Jon Carter
Other than top dogs like Evan Geiselman, Michael Dunphy, and Balaram Stack, no one produced more sick shots in April than Quentin Turko. Here's one of a hundred he nabbed at one of his favorite Dare County haunts.
---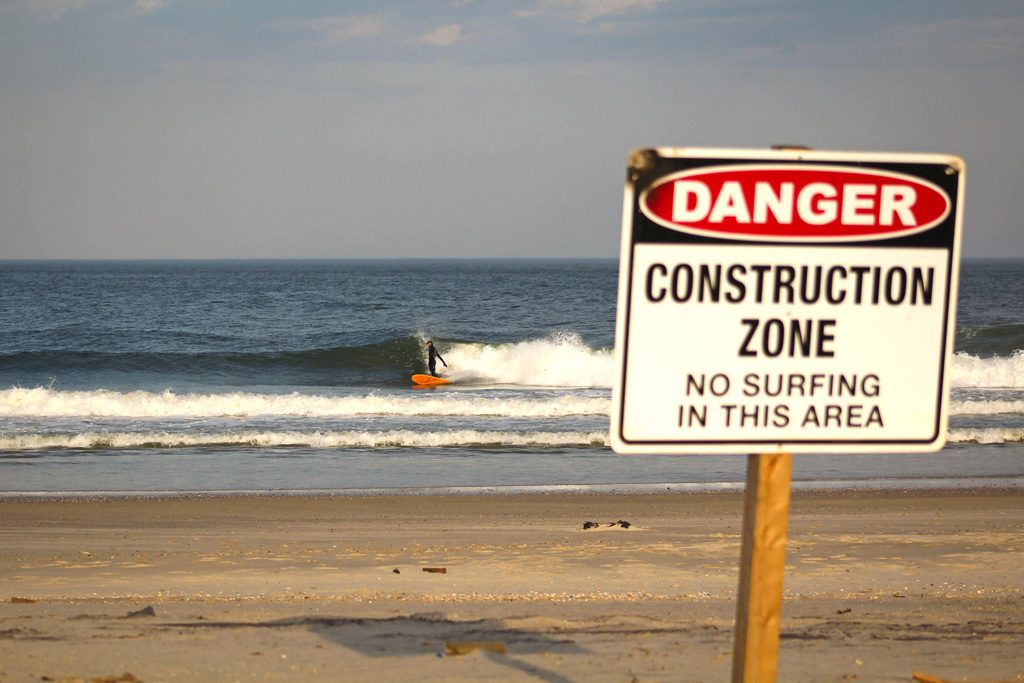 Shawn Zappo, New Jersey. Photo: Maggie Higgins
"Signs, signs, everywhere are signs, mucking up the scenery, breaking my mind, do this, don't do that, can't you read the signs?"
---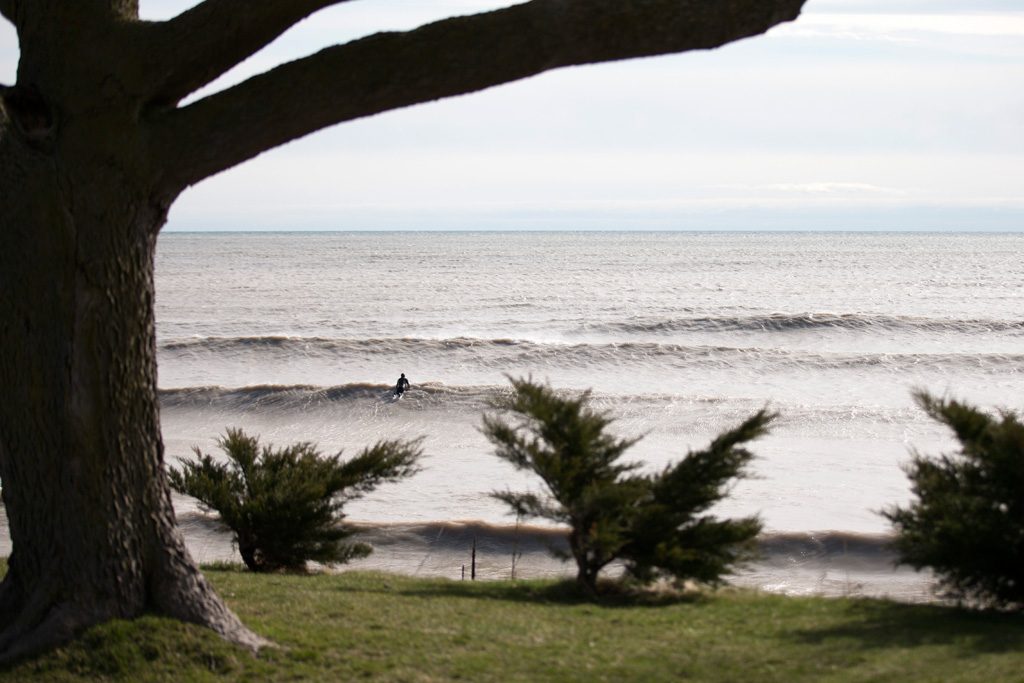 Burton Hathaway, Wisconsin. Photo: Mike McGinnis
Believe it or not, the Upper Midwest is holding. All you need is just a little patience.
---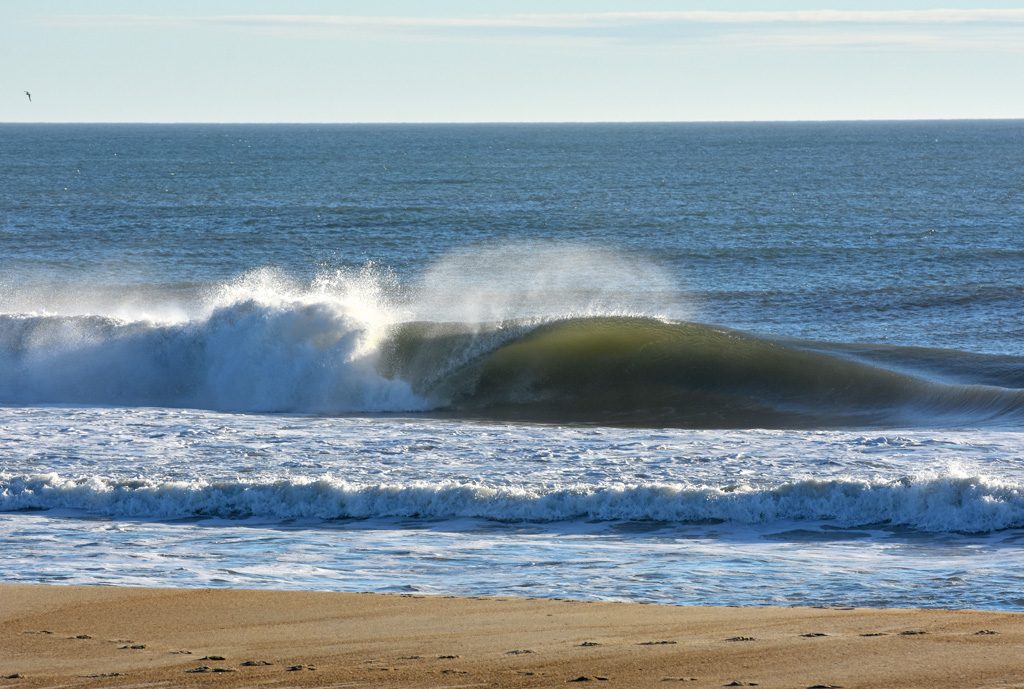 North Carolina. Photo: Cody Hammer
Old-school surfers used to draw perfect pointbreaks on their notebooks. Today's rippers froth over racey double-ups like this one, though.
---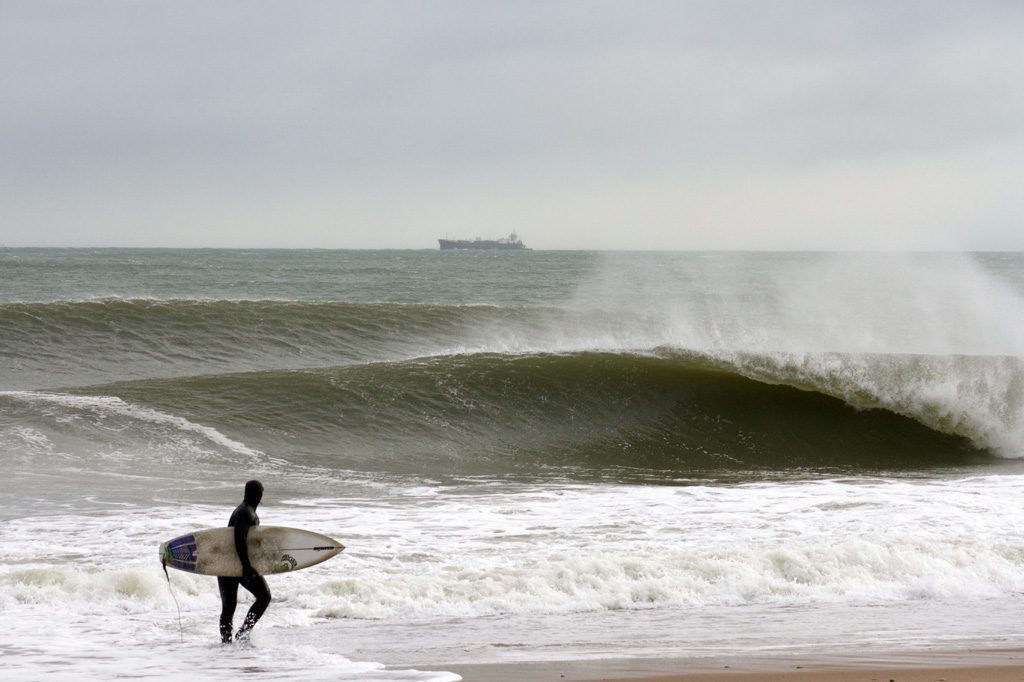 Travis Fitch, New England. Photo: Matt Czuchra
Or inside runners like this one…
---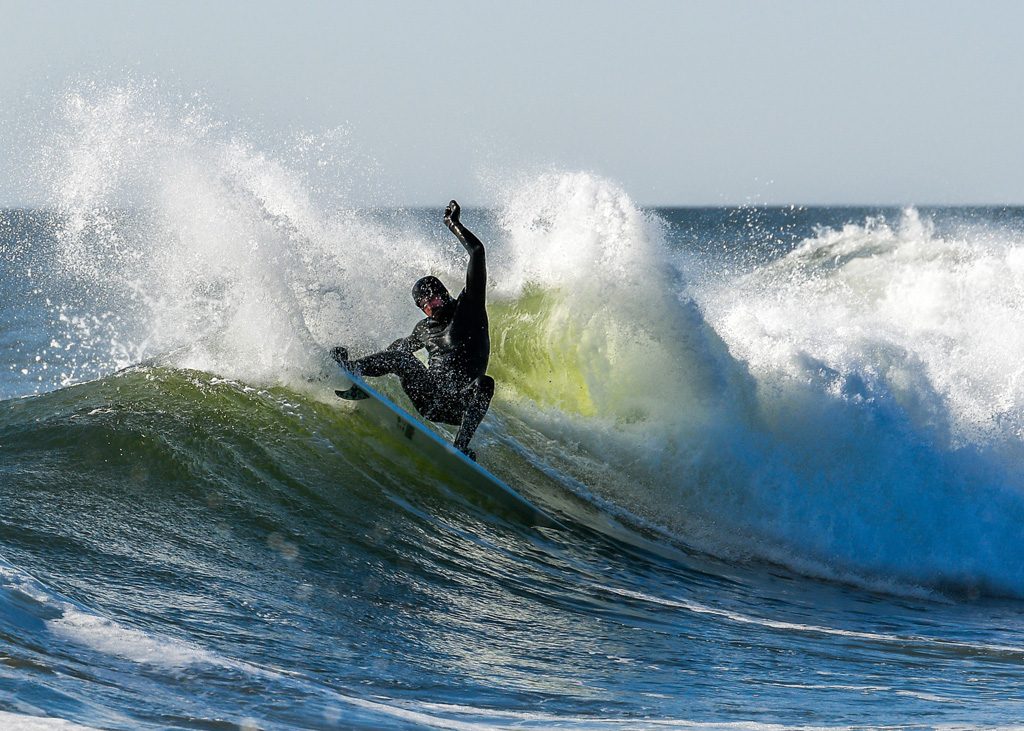 Ben McBrien, New Jersey. Photo: Tim Torchia
And if you can't find perfection? Well, just smash the daylights out of whatever the Atlantic Ocean throws at you. Ben McBrien, stress relief 101.
---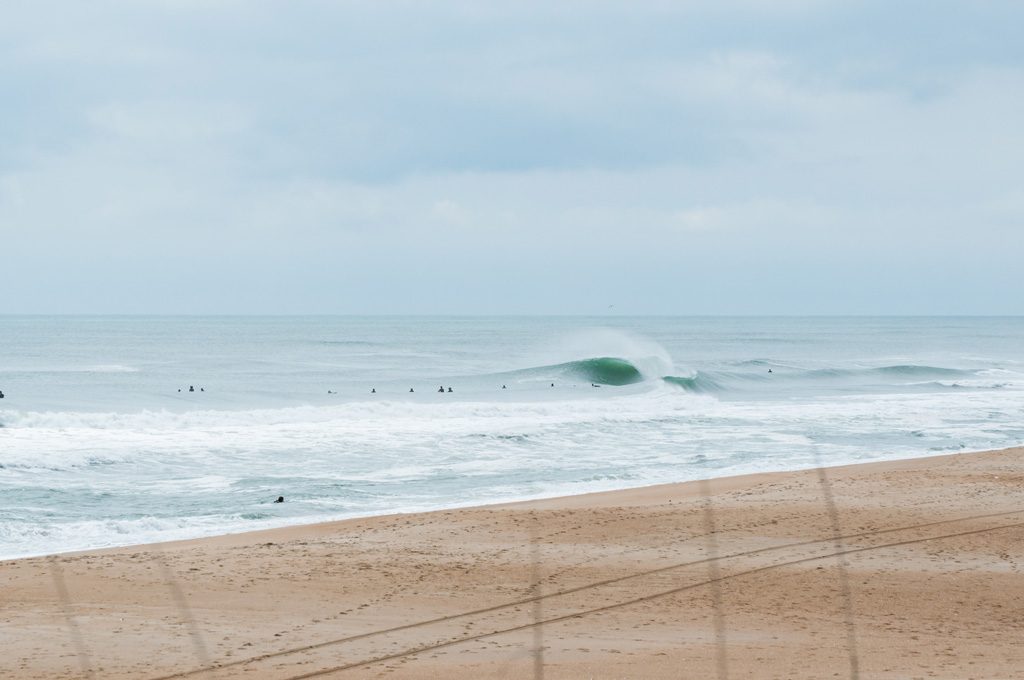 North Carolina. Photo: Patrick Duggan
Sometimes it's OK to let a set go by. We all need tranquil dreamscapes like this to salivate over.
---
New Jersey. Photo: Jules D'Arco
Wind have a little too much north in it? Take the long view and savor the in-between moments — good things always come to those who wait.
---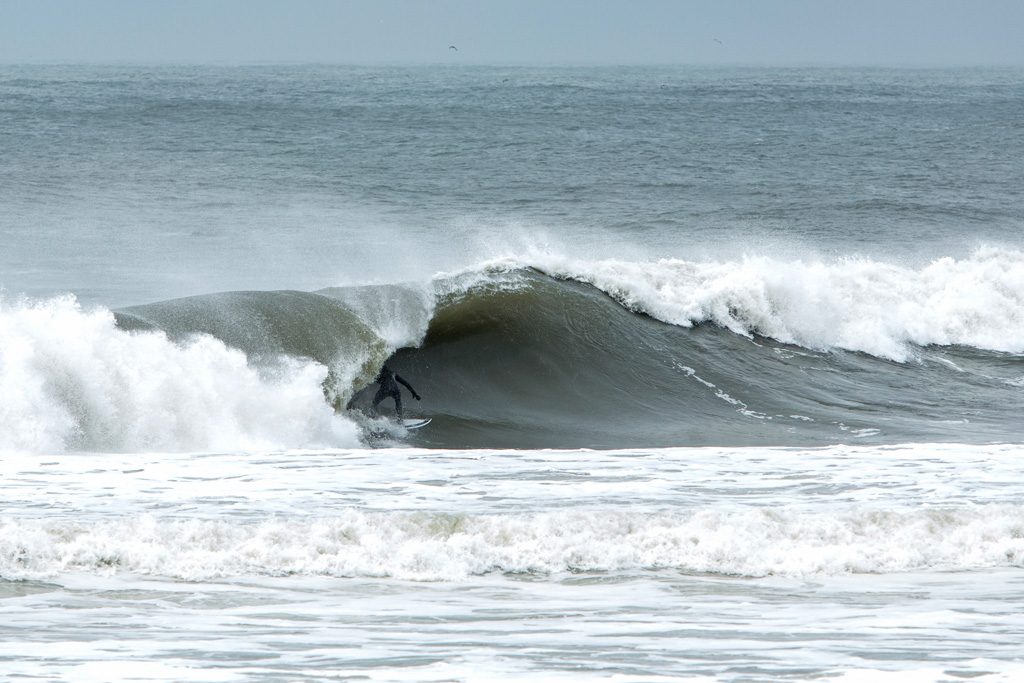 Alex Fawess, New York. Photo: Drew Maloney
And if you don't mind getting a little aggression, just paddle out and take a few on the head like Alex Fawess did last week while counting down the minutes until the stars align.
---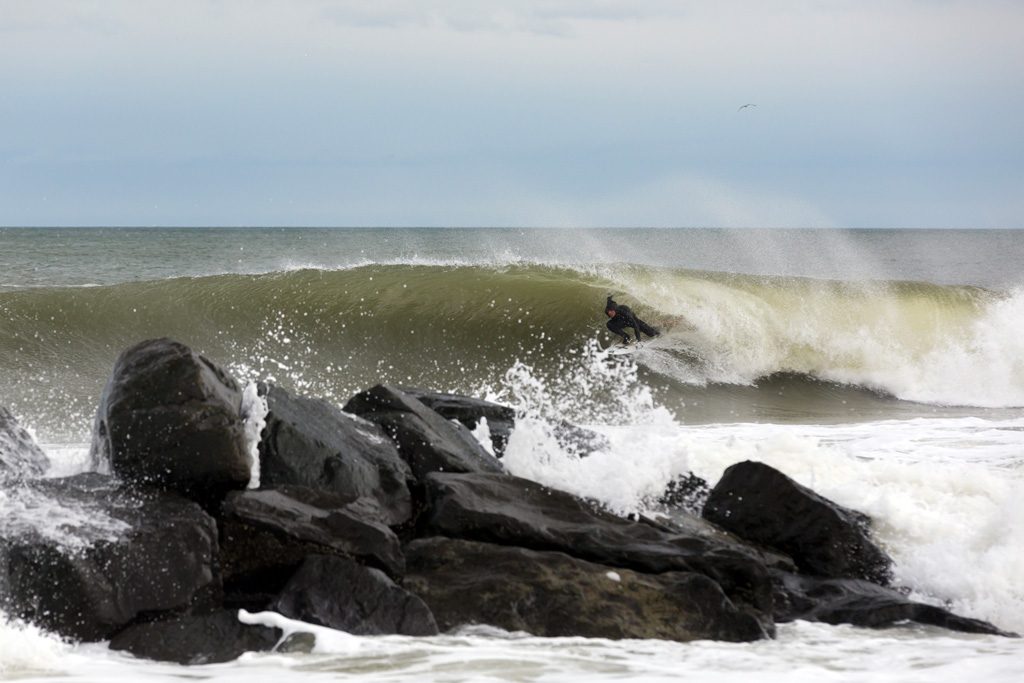 Jude Clark, New Jersey. Photo: Ryan Struck
Jude Clark had to get signed out of school early to ace this test. Well worth it, we'd say.
---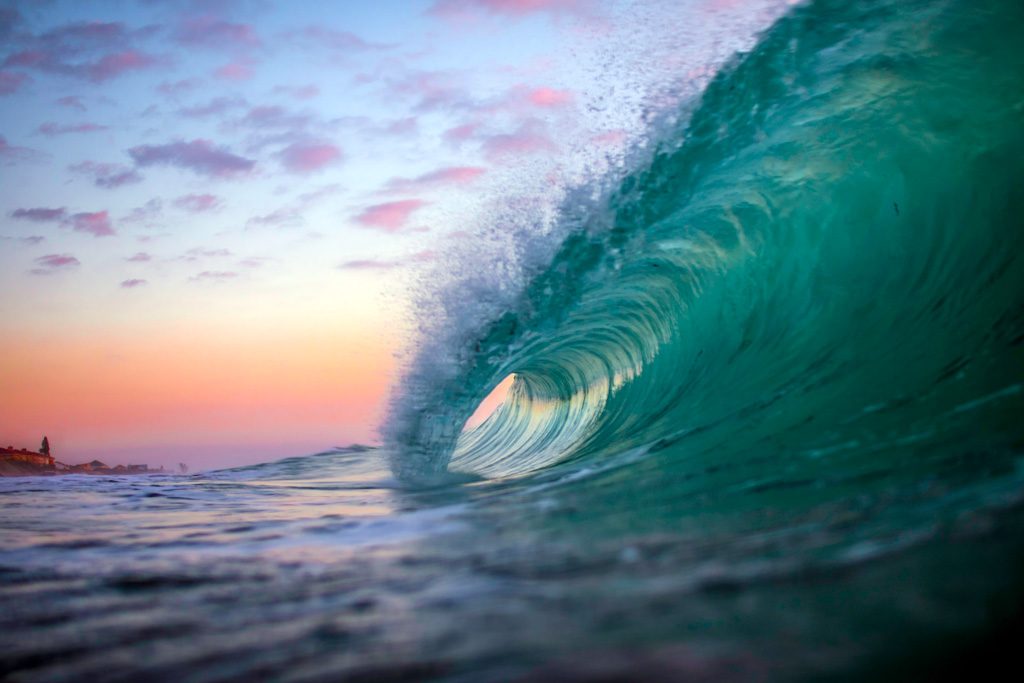 Central Florida. Photo: JJ Tondo
And finally, this. This is why we do what we do. One last wave before it's totally dark, we promise!
---
Tags: april 2017, swell gallery