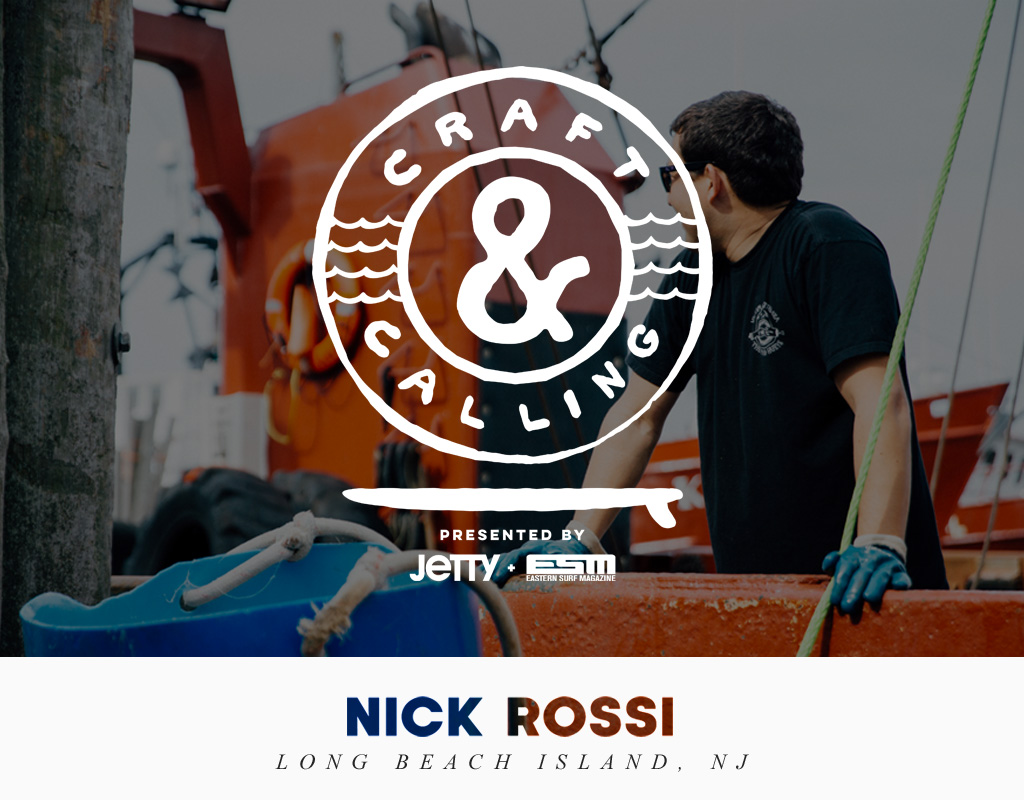 ---
Written by Jon Coen — Many folks have pleasant things to say about surfers. A willingness to commit is not one of them. In any coastal community, you'll find teachers, bosses, and fiancées that have seen waveriders with potential spend their teens and 20s (and 30s? And 40s?) drifting between jobs, responsibilities, and relationships. Can't commit to living anywhere away from the ocean. Can't commit to non-surf vacations. Can't commit to dinner, or lunch, or drinks, or anything — you never know when it's going to be firing. But Long Beach Island commercial scalloper Nick Rossi is not one of those surfers.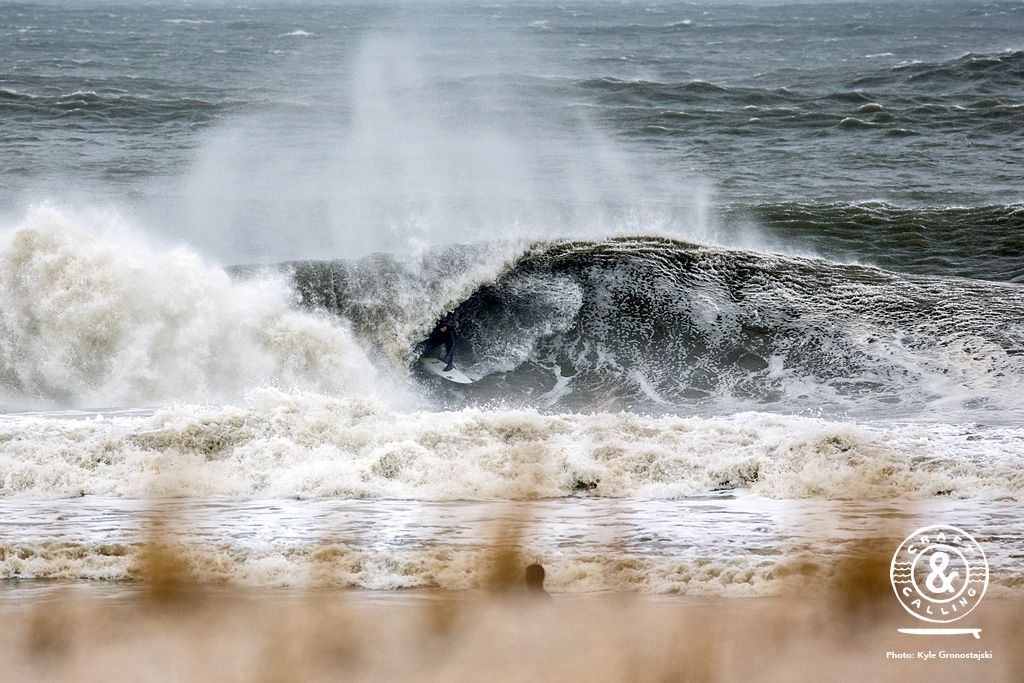 "You have to commit to living around here in general, and that speaks a lot about the people who have made their lives on Long Beach Island," Rossi says. "There are a lot of opportunities to make a good living and be happy doing it. Our area is very centered around tourism, and most everyone needs it to survive. I need people to eat seafood to sustain my job, restaurant workers need people to eat out, builders need people to re-invest in their homes, and so on."
This 30-year-old LBI boy takes his job aboard the Kathy Ann scallop vessel very seriously. Last year, he married the girl he's been with since junior high. This year, they sold and built a new home. And if Rossi misses a swell every now and then while out at sea for nine straight days, you certainly wouldn't know it from the way he surfs when he gets in.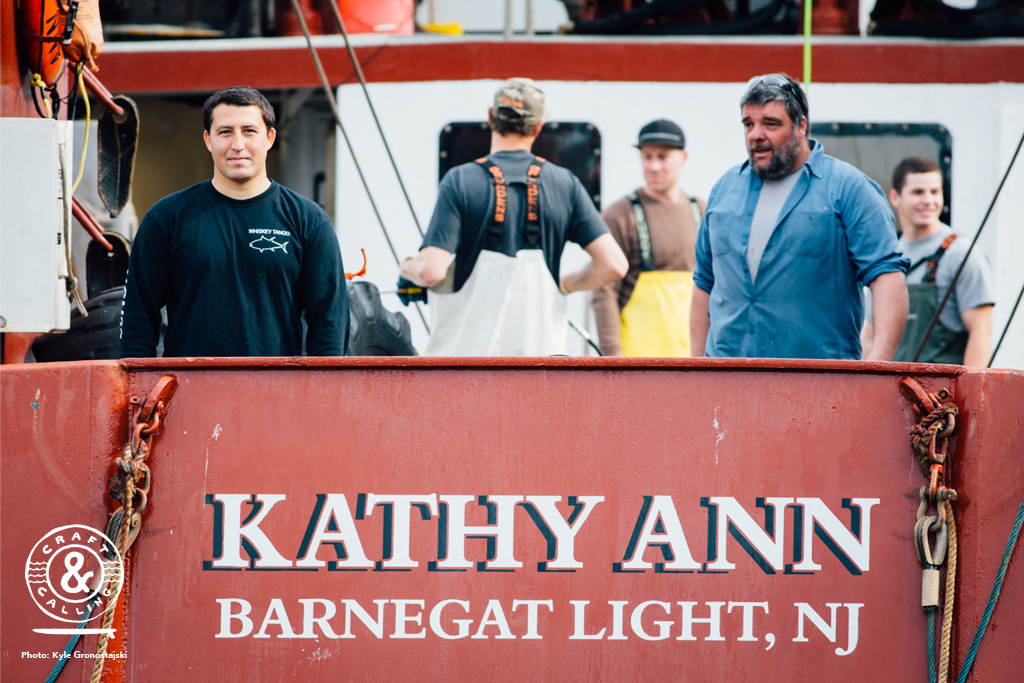 During every epic swell of the past decade, while LBI's A-listers take down their share of heavy barrels, there's always at least one deep dark cavern that belongs to Nick Rossi. And while the rest of the varsity squad — Randy Townsend, Conor Willem, Danny Mears, Dave Werner, Pete Machotka, etc. — do it facing the wave, Rossi is one of the few who always gets it done on his backhand. It's an additional challenge that regularfooters have to deal with, in addition to unpredictable pitching lips navigated while mummified in neoprene.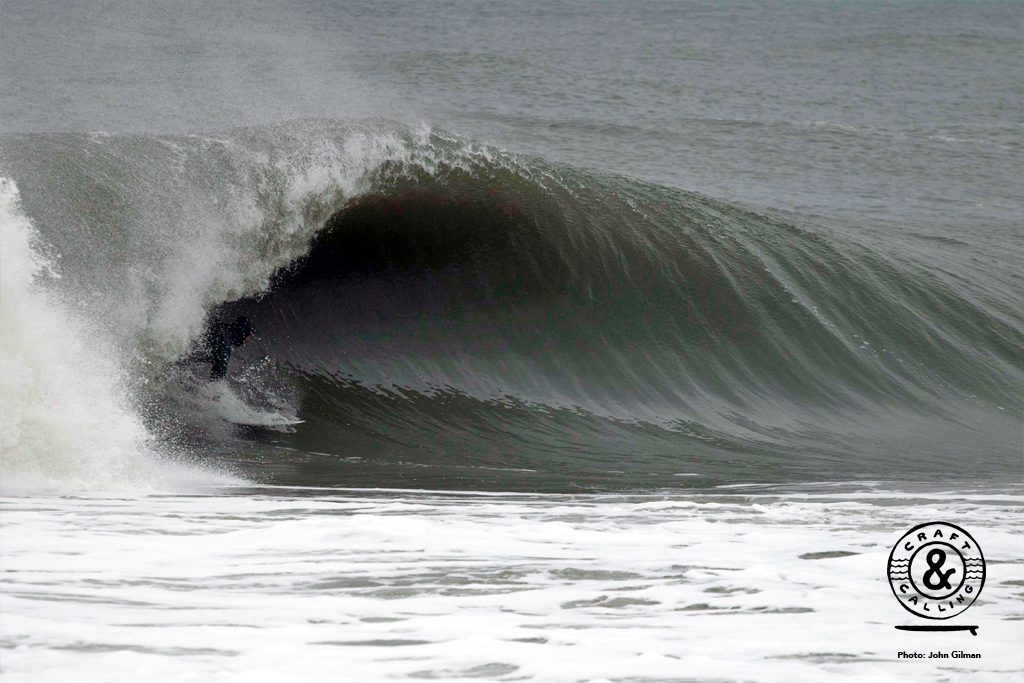 Rossi actually spent his childhood in Point Pleasant Beach surfing ESA and NSSA contests. But just a few days before high school started, he moved in with his father in Cedar Run, on the mainland adjacent to LBI, enrolling in Southern Regional. The two systems also happen to represent two of the strongest wrestling schools in the Shore Conference, and Rossi also grappled for the Rams. But one relationship played an even bigger part in his life.
"I knew Brendan Willem from doing ESA contests, and the late, great Jack Meyer introduced me to Randy [Townsend] straight away," Rossi says. "Lucky for me, high school surf team starts like the second day of school, and Brendan introduced me to all the guys who surfed. I went from being a Jenks/Bayhead grom to an Island grom in a couple days. Growing up on the mainland was a bit of an adjustment from Point, where we rode our bikes everywhere to surf. But I learned early on how supportive the surf community is around here, with the older guys always going out of their way to get us in the water and back home after school. My friend Luke Reynolds' mom, dad, and grandpa were the most supportive, giving us rides to the beach. We always surfed all day no matter what."
Rossi was a consistent finalist in amateur Boys and Juniors divisions, with Townsend and former ESA-Central New Jersey District Director Pat Emery driving him to contests. Often, he was the only local kid who competed with regularity, as LBI surfers were never particularly interested in wearing jerseys. "[Randy and Pat] were both great role models for how to love surfing and work hard when the waves are pumping to maximize your surf time," Nick says. "After high school, I gave the regional pro contests a shot but never had any success beyond advancing through a couple of rounds. I realized I had way more fun surfing with my friends at home all day then sitting around at a contest."
During high school, Nick Rossi worked on the Miss Barnegat Light, the 90-foot charter fishing operation that runs out of Long Beach Island's most northern borough. He was on a state championship wrestling team while preparing for graduation, and Rossi found himself tossing around the idea of going to Flagler College in St. Augustine, Florida. "When it came time to pull the trigger, I couldn't do it," Rossi remembers. "I was addicted to Jersey barrels."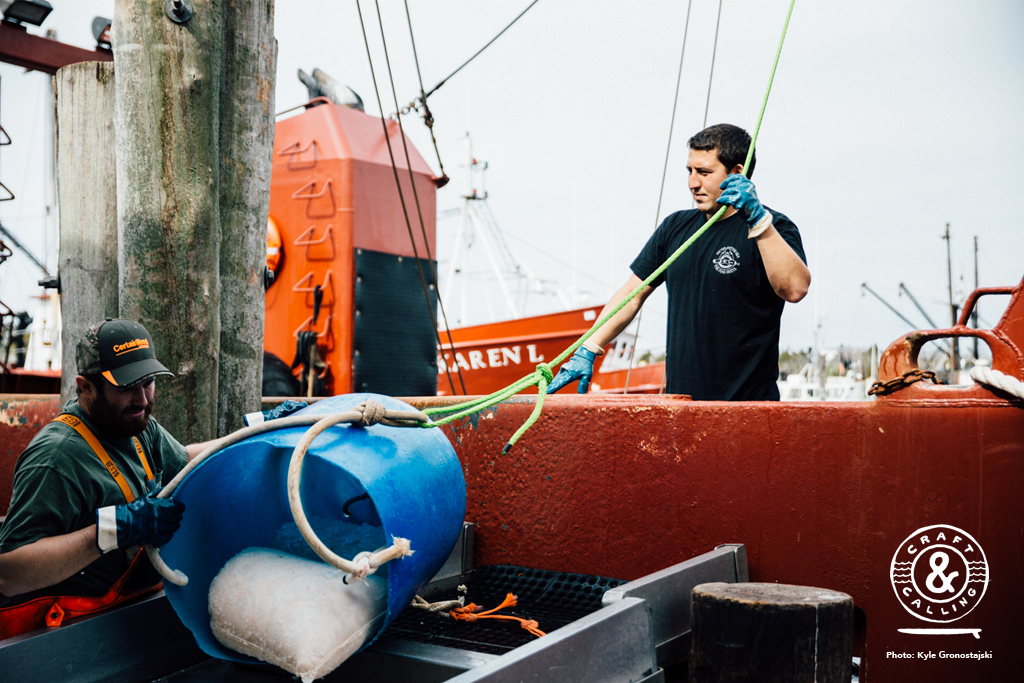 Instead, Nick chose Stockton College, an easy drive from home that allowed him to take as many night and online classes as he could to maximize water time. But during summers, he made the move from party boat to commercial vessels. "Brendan Willem started working on commercial boats after high school," Rossi says. "It really intrigued me how they would go out for a week or two during the spring and summer and have a few weeks off between trips, as well as fall and winter off. After high school, I transitioned from the charter boat to fishing commercially for scallops."
Rossi earned a bachelor's degree, but he wasn't particularly interested in using it. "After college, I chose to stick with fishing," he says. "I can work really hard for part of the year, make a good income, and maximize my surf time when the waves are the best in the fall and winter."
The Kathy Ann is a 97-foot scallop boat that starts in March and fishes the quota of days allowed, mostly April to July when the weather cooperates — that's seven to twelve-day trips at sea working eight hours on and four hours off. It's physically demanding, but it certainly pays.
"Nick Rossi is always 100% committed to every thing he does in life," offers longtime friend Randy Townsend, who was randomly picked as Rossi's partner at last year's Jetty Clam Jam, which they wound up winning on the same day Nick got back from a week on the water. "His steadfast demeanor is a product of his environment. He surrounds himself with like-minded people who won't hesitate to charge when it's on. We are all blessed to have Nick in our lives. It doesn't matter if he's standing on the back of the scallop boat shucking in 10-foot seas or air dropping at 25th Street — he's a pillar of our surf community."
---
Nick Rossi's vocational decision may seem unique — a guy with a degree who chooses manual labor in rugged conditions over an easier, more convenient career. But LBI doesn't have a ton of local options aside from the medical arts and teaching. That means you have to hustle. Rossi and his wife Kerry got married last year. She teaches chemistry at Southern Regional and waitresses in the summer.
"She's a super hard worker, a great teacher, and the most the supportive person ever," Nick beams. "She loves the beach, boating, paddleboarding in the bay, and hanging with our puppy, a Portuguese water dog named Mad Huey." Together, they just built their dream home on a lagoon in Beach Haven West. "We're both so happy with our marriage and our lives," Nick adds. "Kerry and I never thought we would be where we are today, and we have our friends and the area that shaped us to thank."
We all know our share of flaky surfers. But Nick Rossi is what you'd call a stand-up guy – stalwart in a demanding job, devoted to his wife, and never hesitating when during those blustery offshore winter swells. "As I keep getting older, I keep getting more amped for the next swell," he muses. "Right now, I have a really solid surf crew. We are all very different: younger, older, different jobs. We didn't all grow up and go to school together, but we have the same passion and addiction to getting as barreled as we can."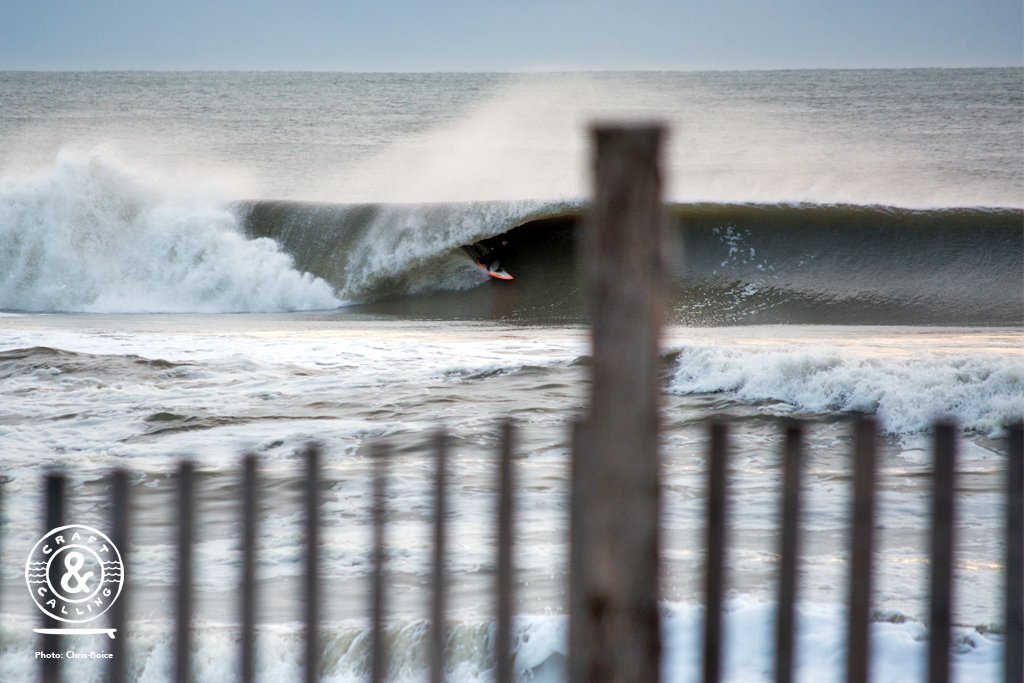 Check out Jetty's new Summer 2017 line at JettyLife.com