---
Written by Jon Coen — It was approaching dusk on the Gulf of Mexico. The Patuxent, a 96-foot tugboat towing a massive "double skin" barge, was 100 miles west of Tampa, headed to offload 50,000 barrels of fuel. The Gulf may not seem like the most threatening body of water, but on this evening, seas were six to eight feet with occasional 10-foot peaks. As a young deckhand and surfer, those are conditions you pay attention to — especially when the steel tow cable snaps. Erik Schub wasn't responsible for the incident, yet it fell on his shoulders to retrieve the 365-foot barge now adrift on angry seas.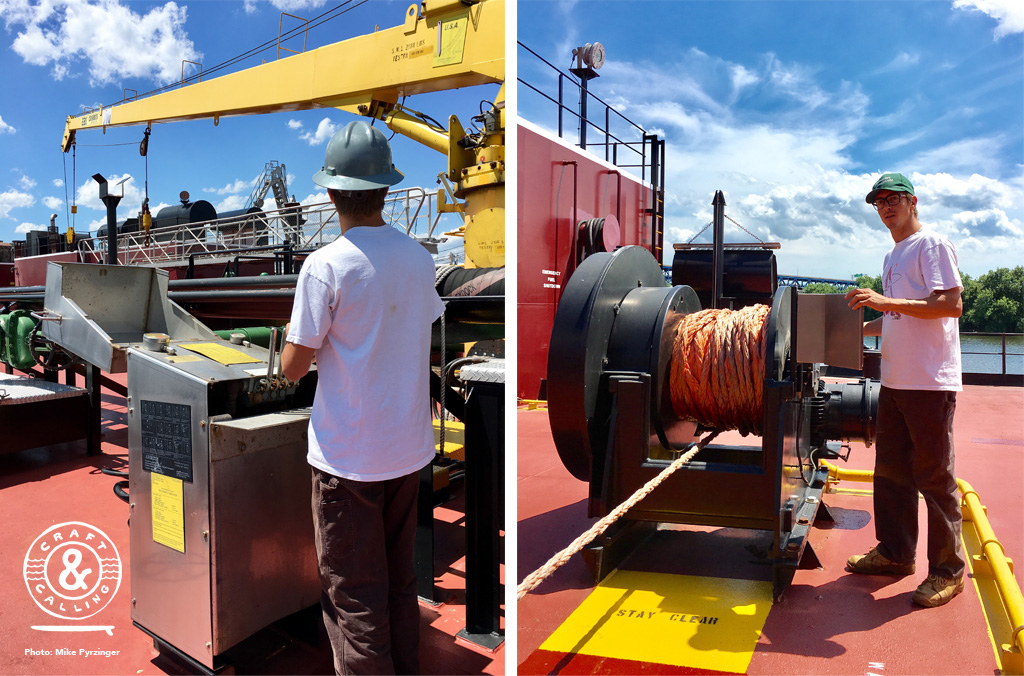 "It's never at a convenient time or in easy conditions when shit happens," Schub muses. "So we had to reel in the thousand feet of cable that was stretched out between us and the barge before turning abound and reconnecting the two." Since the barges aren't manned, the hairiest moment came when Schub had to physically leap from the tug to the barge to retrieve the emergency cable. "It was a leap of faith between the two vessels in these rolling seas," he says. "We waited for the right time to jump." The timing worked out and the actual hurdle turned out to be fairly simple. "But my heart was in my throat thinking about all the possible outcomes," he laughs.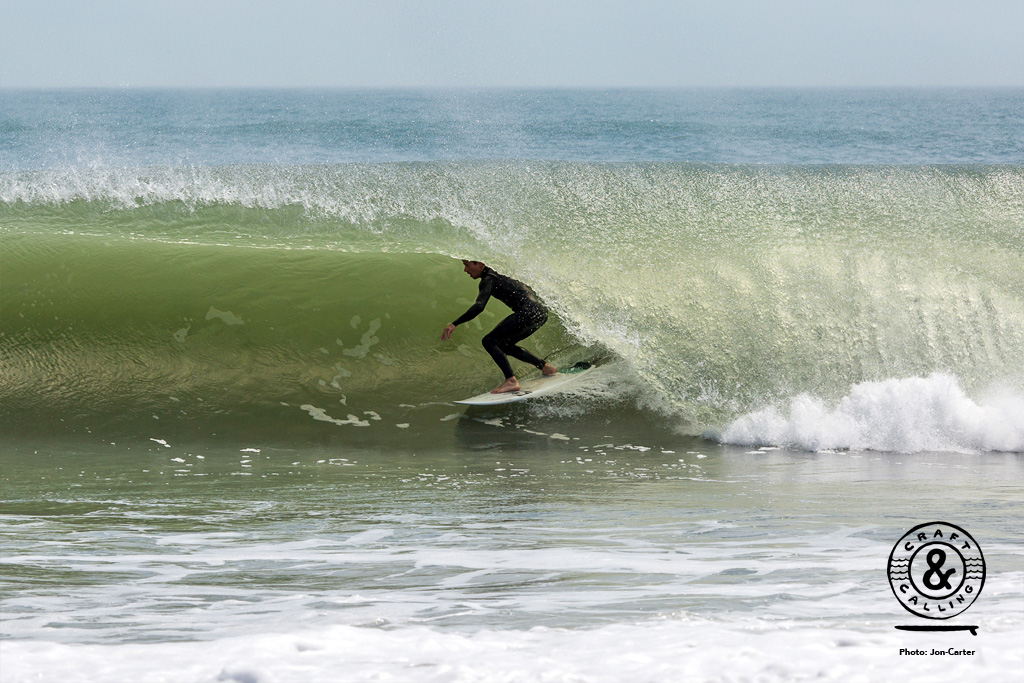 Today, Erik Schub, a standout among standouts in Outer Banks lineups, is a tankerman. "I'm like a floating gas station attendant," he says. "But instead of filling your car up with 20 gallons of fuel, I fill up my barge with 5 million gallons." Tankermen are responsible for connecting large industrial hoses to a refinery dock or storage facility, safely monitoring the transfer of cargo.
"Having a plan is crucial," Schub explains. "The way the cargo loads into each of our five sets of tanks can potentially have disastrous outcomes. So it's important to stay on top of things while the transfer is taking place. There are a million scenarios in which things can go bad. It's hard to say what to look out for without writing a whole book."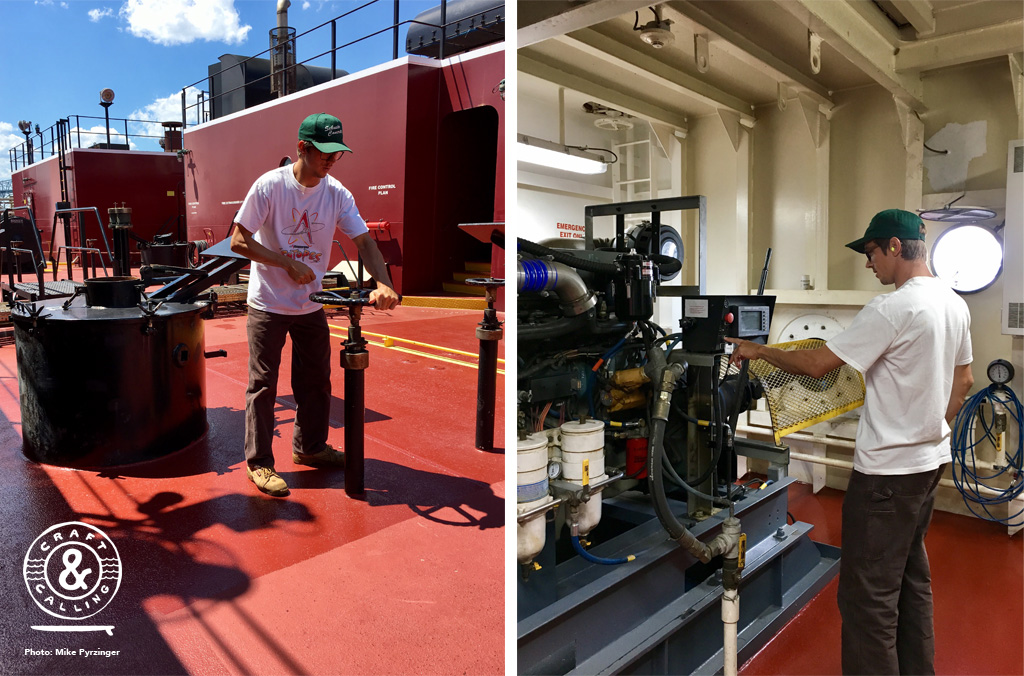 Before he was born, Schub's parents Beth and Greg were surfers in Amityville, New York, and teamriders for the historic Bunger Surf Shop. Looking to escape the faster pace of life spreading outward from New York City, they moved to the countryside of Pennsylvania. When Schub's grandparents bought a place in North Carolina, the family started visiting periodically, then spending summers, before finally moving to Emerald Isle in the early '90s. Within a few years, Erik and his older brother Justin were hot groms around town.
Beth became the ESA-Southern North Carolina District Director and a fixture in East Coast competition; earlier this year, she won Senior Women's Longboard at the Mid-Atlantic Regionals. Justin climbed the ladder to the tune of competing in the OP Juniors in Haleiwa, Hawaii, alongside guys like Dan Malloy and Taj Burrow. "Justin picked it up quicker, advanced faster, and started winning contests more than I ever did," Erik laughs. "He had the competitive spark, winning local, regional, and Eastern comps. I played the part of staying in the shadows like a boss. I might have made a round or two."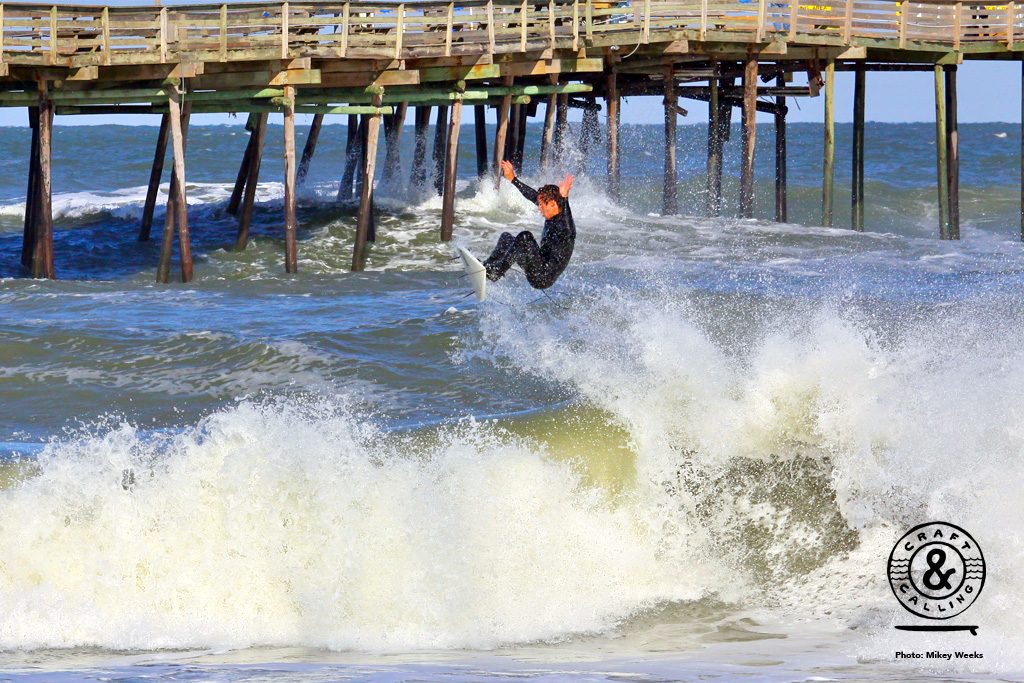 Of course, that's just Erik's insane modesty talking. In 1999, he won the East Coast Surfing Championships Junior Men's division in the most epic First Street Jetty conditions he ever remembered. Then he put on a few pounds. "Enough to lay into turns and throw some weight around," Schub laughs. "But eventually competition took its toll on me. I decided to take a break for a year and my surfing jumped a few pegs. The monotony of heats was replaced with enjoyment and no rules." When Erik returned, he aced most local and regional events, faring decently in pro contests. "But I couldn't get that damn Easterns title," he jokes.
Always one to keep a solid head on his shoulders, Schub began pursuing a degree in geology from UNCW. At the end of his junior year, his father came out of retirement as a tug captain and started working for The Vane Brothers Company out of Philadelphia. Originally founded in 1898, the company was growing, and Greg let his son know. "It sounded cool, but I was so close to finishing up school that I decided to hold out and get the degree, if for no other reason than to say I at least accomplished something," Erik explains.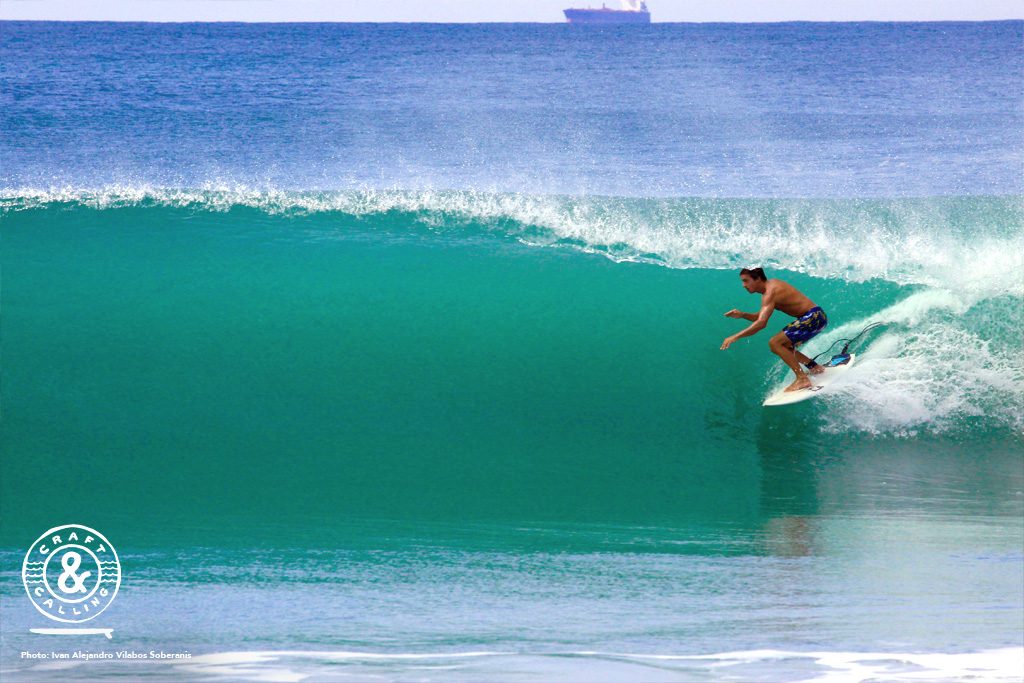 Upon graduation, he returned to Carteret County to work for surfer/marine geologist Chris Freeman at Geodynamics, which conducts coastal surveys and bathymetric maps for government agencies. "About then, I realized Carteret only had a few short windows to catch very good waves," Erik says. "And it was looking like I needed to go back to college to really be onboard with the company. But college kind of bummed me out." Meanwhile, Erik's father continued to mention the maritime opportunity, which would allow Schub to live on the Outer Banks, a world away from Emerald Isle in terms of surf. So he went for it.
There are two ways to become a merchant mariner: go to school or learn on the job. Schub was sick of classrooms and went in as green as they come. His father preferred the hard road, too. Even though they didn't work on the same boat, it wouldn't look like any kind of favoritism when he showed promise. "I was surfing more than I ever had," Erik says. "And for the most part I didn't have any obligations when I was home."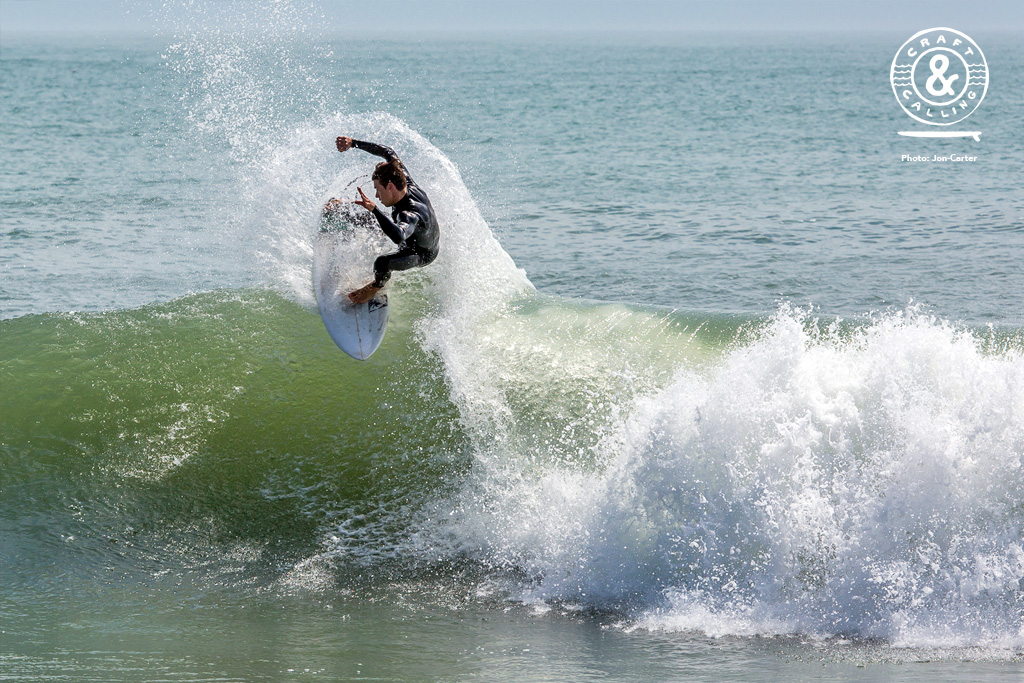 He eventually worked his way on to a barge as a tankerman with a few weeklong courses at local maritime academies. He now works for Moran Towing, which was founded in 1860 and today bills itself as "the leader in tug and barge services on the United States East and Gulf Coasts." Six-hour shifts — midnight to 6:00 AM, followed by noon to 6:00 PM — three weeks on and three weeks off. Schub recently bought a house in Kill Devil Hills. His brother Justin is also a captain.
Much of the year, when his hands aren't on the ship's wheel, Erik's jamming one of them into the face of an overhead wave, stalling for the tube on that most celebrated stretch of the East Coast. He surfs for WRV, and despite the fact that he's regularly responsible for two million gallons of combustion, he has his own board model. "With the work schedule, it's easy to travel and surf," he says. "I've done a month in Australia, a month in South Africa, and lately have found myself in Mexico down south at the points. My parents built a house in Isabela, Puerto Rico, about seven years ago, so that's always an easy trip for me. The girlfriend and I are planning a New Zealand trip this winter, too."
So even though life on a tugboat for three weeks at a time isn't always pretty, the payoff is solid.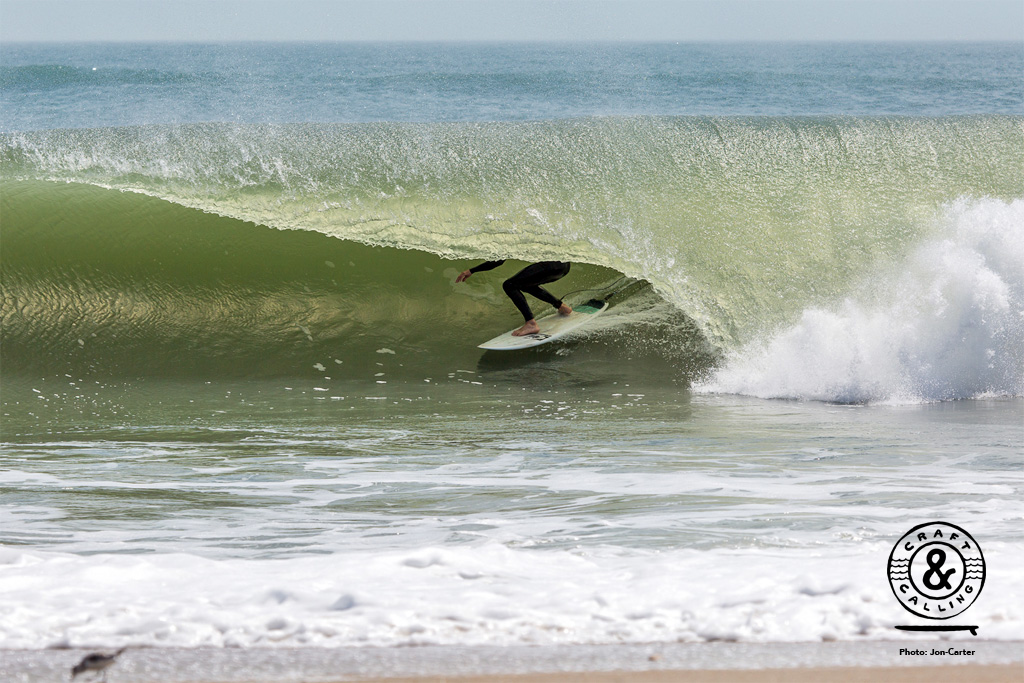 Check out Jetty's new Summer 2017 line at JettyLife.com

Tags: barge, craft & calling, erik schub, jetty, north carolina, tanker