Words and photos by Connor Tapscott — Our van bounced around the uneven streets of Managua, Nicaragua, as our driver attempted to communicate with us in broken English. It was 2:00 AM local time as I fought to keep my eyes open and take in the dimly lit scenery. My three friends seated next to me and I had been surfing together in Virginia since we moved close to the coast for college. Most of us had graduated a few days prior, and believed that blowing our savings on an exotic surf trip would be the most logical step towards avoiding the "So what's next?" question. So there we sat, four guys from Virginia, struggling to believe that we were now in the back of a van wandering through a foreign country in the middle of the night.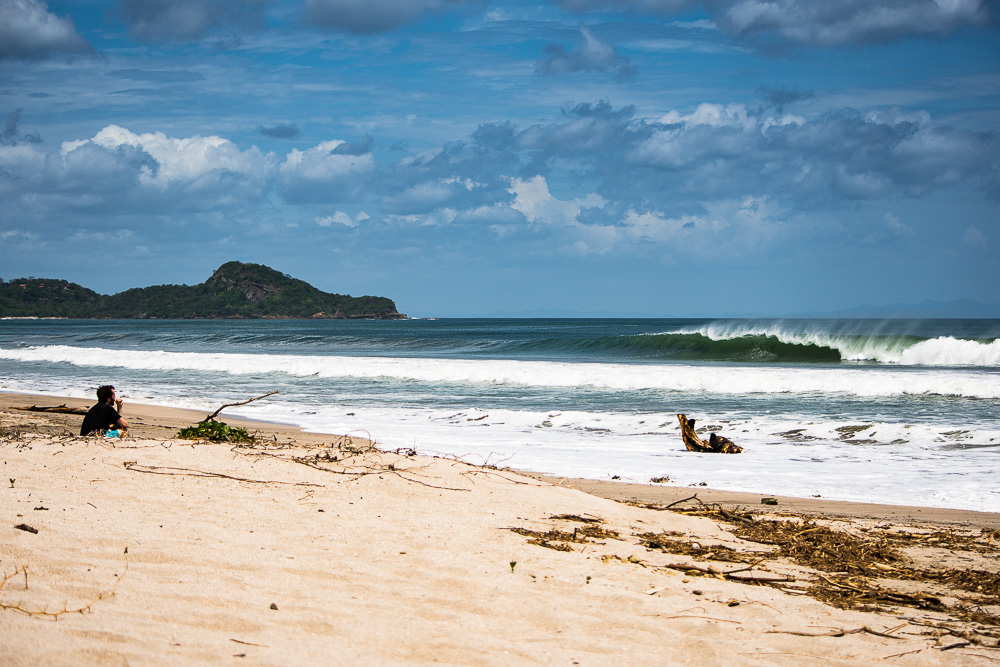 Eventually, after three hours of being involuntarily cultured on Nicaraguan music, the van's wheels stopped outside the small condo we would call home for the next week. After a quick game of rock-paper-scissors to determine who would be cuddling due to the lack of beds, we collapsed onto our assigned mattresses with images of riding perfect waves playing in our heads. These images, however, would take slightly more work than anticipated to bring to life. We had been in some pretty hefty hurricane swell on the East Coast, but nothing quite like this.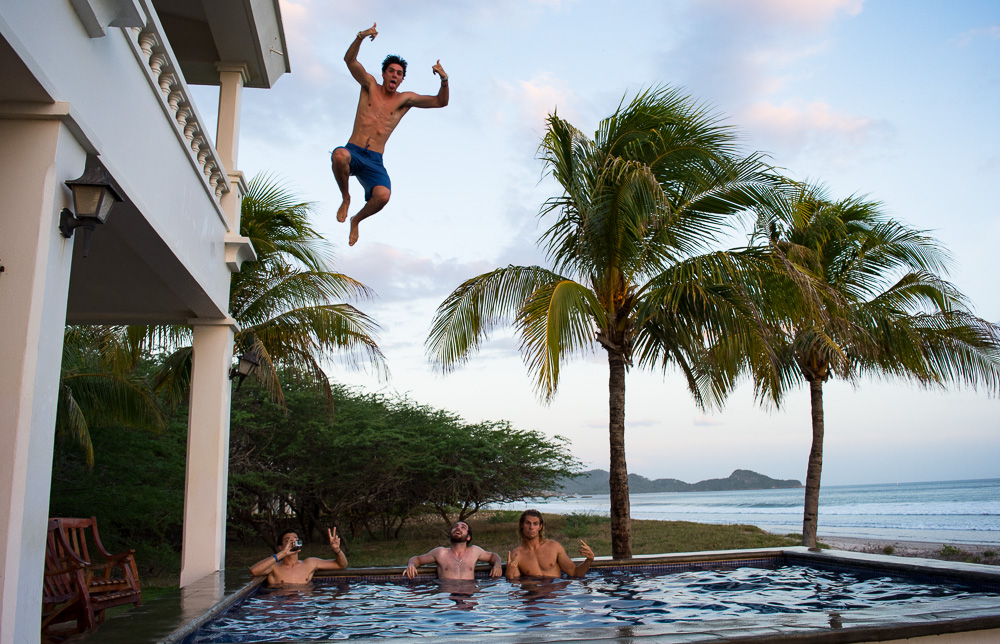 The bay-shaped beach, a five-minute walk down a dusty dirt road from our condo, was fairly unsheltered from swell coming in from the vast Pacific. These waves were almost as powerful as they were beautiful. Their shimmering green, almost transparent faces, would unfold invitingly toward us before violently swallowing us whole.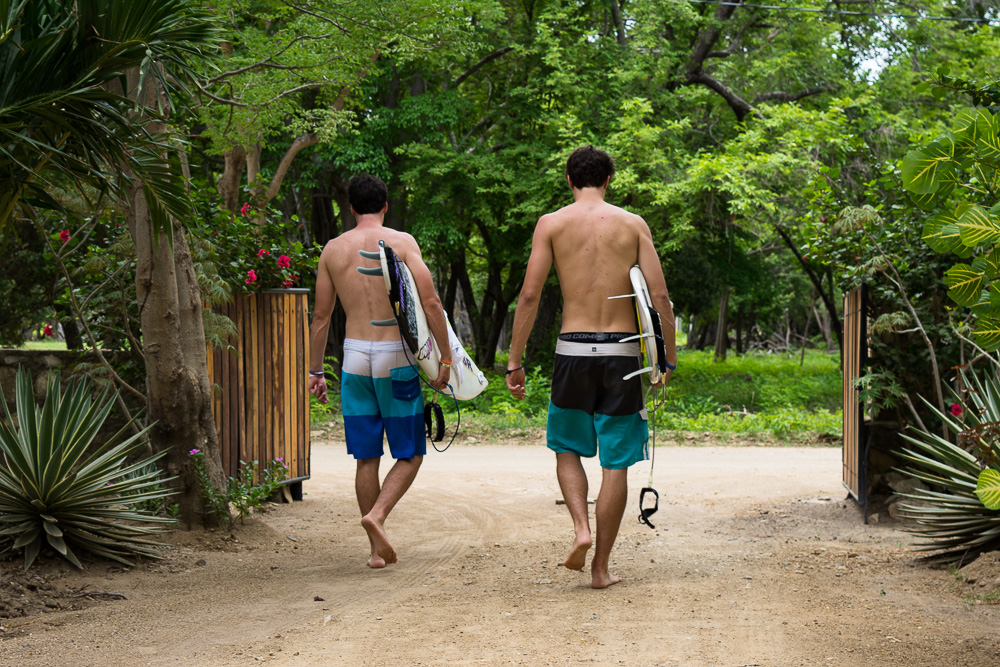 The first couple days were slow and the ride of a lifetime was avoiding me. I was, however, becoming an expert on wiping out, holding my breath, and getting sand in some unwelcomed places. Having to climb up my leash was a new experience, but we were happy to be in a new, tropical place far away from wetsuits.
Midway through the week, we decided to give our sore shoulders and rash-riddled stomachs a break and venture out to get a taste of Nicaraguan life. Being almost exclusively in the beautiful water had skewed our views of the country we were in. We had almost forgotten that a few miles from the beach was a poverty-stricken but culturally alive nation. Our tires kicked up dust and debris as we made our way down the trash-littered streets. The homes lining the road were simple squares constructed of cement or brick with a lack of windows and holes in the roof serving as their air conditioning. As sweat dripped from my face, I wondered how these people cope with such intense heat.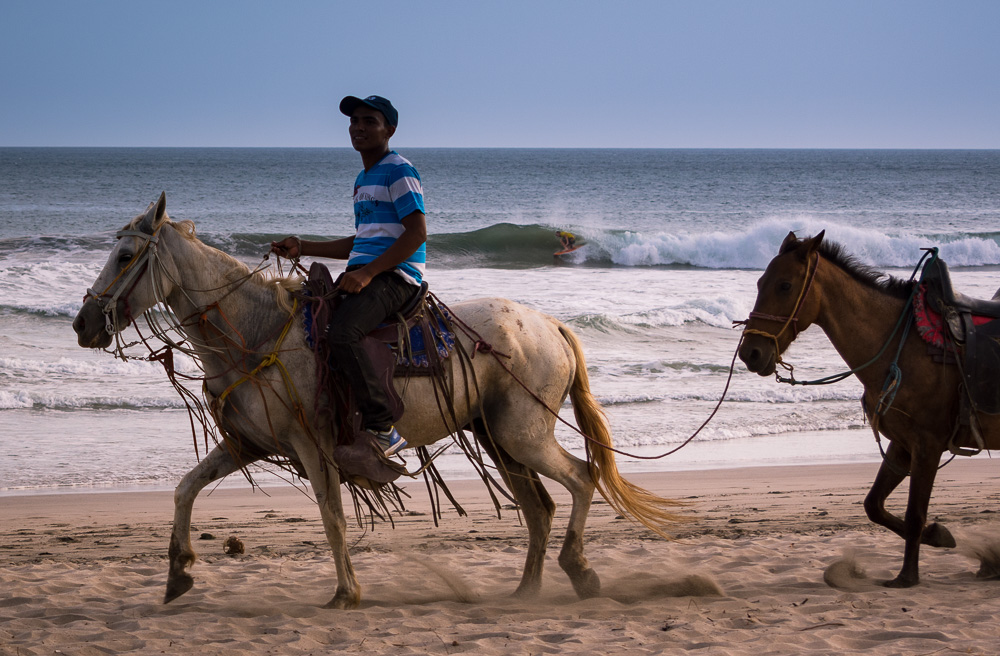 We left our rental truck to walk around a vibrantly colored town square and to purchase fruit from the local vendors in the market. I felt myself being immediately penetrated by every single eye in the crowded square. We became an exhibit for the locals. Being gringos standing over six feet tall with broad shoulders and bleached hair, my friends stuck out like a thorn bush wearing a push-up bra among the mostly five-foot-tall, dark-featured locals. Then, as if to further entertain our spectators, we proceeded to eat our newly purchased mangos in the most primitive way possible. Standing on the side of the road, we peeled them as best we could with our hands and shoved the golden goodness into our mouth, juice streaming down our faces and hands. We laughed at ourselves with pulp jutting out from our teeth in all directions.
Inevitably, our final day came more quickly than expected. Wanting to make the most of our last hours in Nicaragua, we paddled out as the first rays of sunlight emerged over the green hills. The previously turquoise water danced a fire red and golden yellow in the faint dawn light.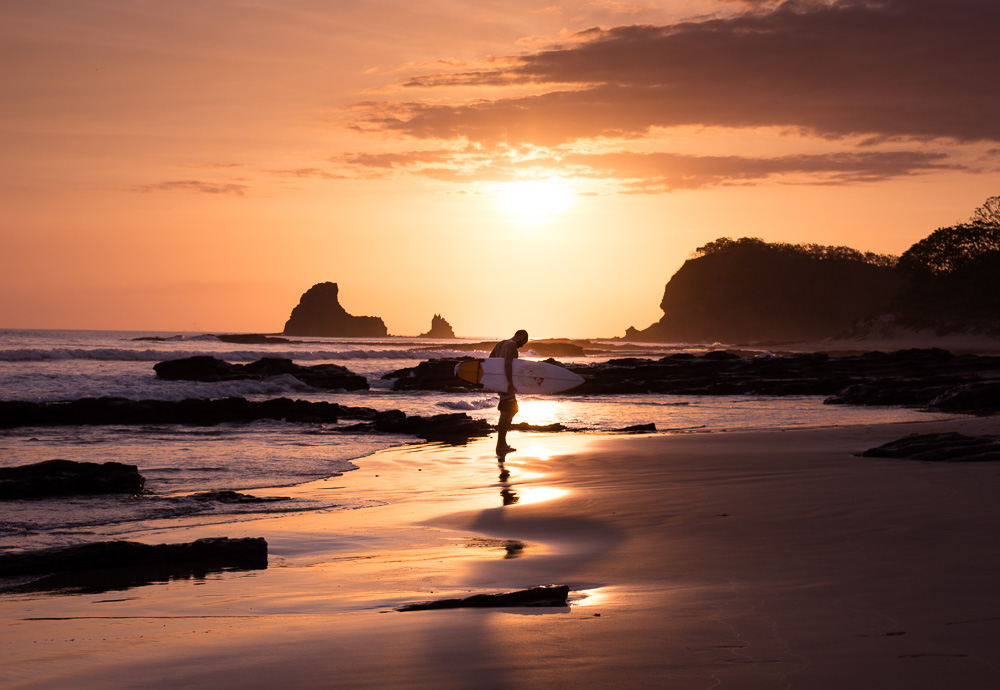 The waves had been gradually slowing down but still had enough substance to keep them fun. We surfed a new break with small left barrels until the sun rose higher and the crowd thickened. After a mid-day break consisting of naps and stray cat catching, we returned to the water a few hours before sunset to sneak in one last session before our taxi came to bring us to the airport.
So we paddled out for the last time on our Nicaraguan adventure. I sat out on a board I had shared some intimate, near-drowning moments with and thought about how this was my last chance to get that one special ride. I stared patiently off toward the endless blue until I saw something promising rise up on the horizon. I felt the water move beneath me as a peak began to form. I thrust my arms into the warm Pacific water and pulled my body through it as quickly as I could. I dropped in and looked out as the wave opened up perfectly on my toe side.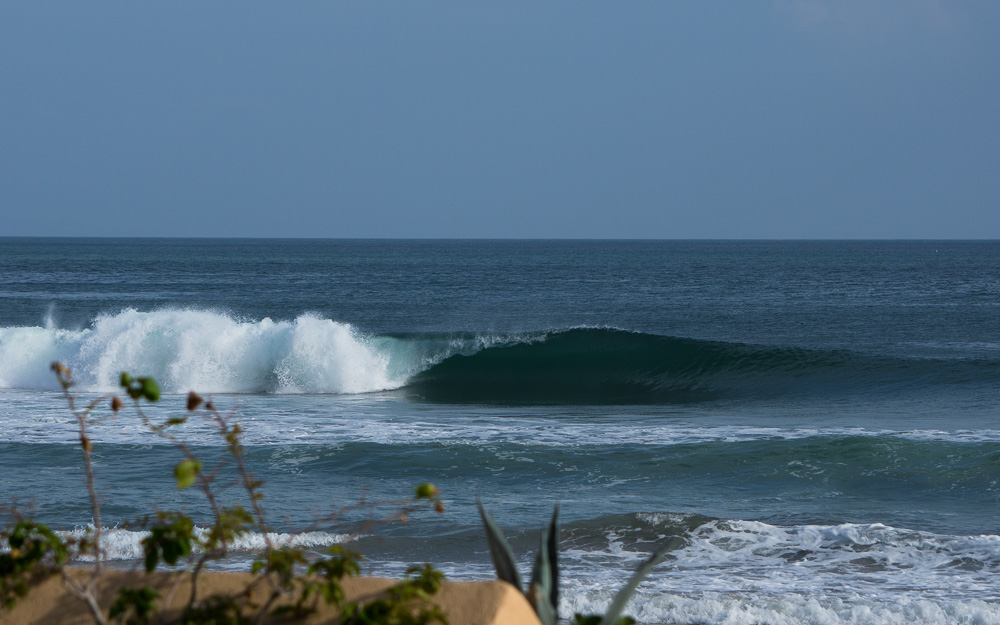 My feet dug the edge of my board into the wave and guided it smoothly up and down the face again and again. I reached up and tickled the wave with my fingers. A sigh of relief came over me as the wave ended. I had caught the wave I was looking for, the wave that made the trip worth it.
We stepped out of the water as the sun was going down and rushed to pack and eat in the short time we had before our taxi would arrive. Twenty-four long hours later, after a crammed taxi ride and missed flights, we were back in Virginia and Nicaragua seemed like a dream. So what's next, you may ask? We will be constantly looking out toward that next new adventure and remembering that life is short with much to experience. After all, the known is expected, but the unknown is extraordinary.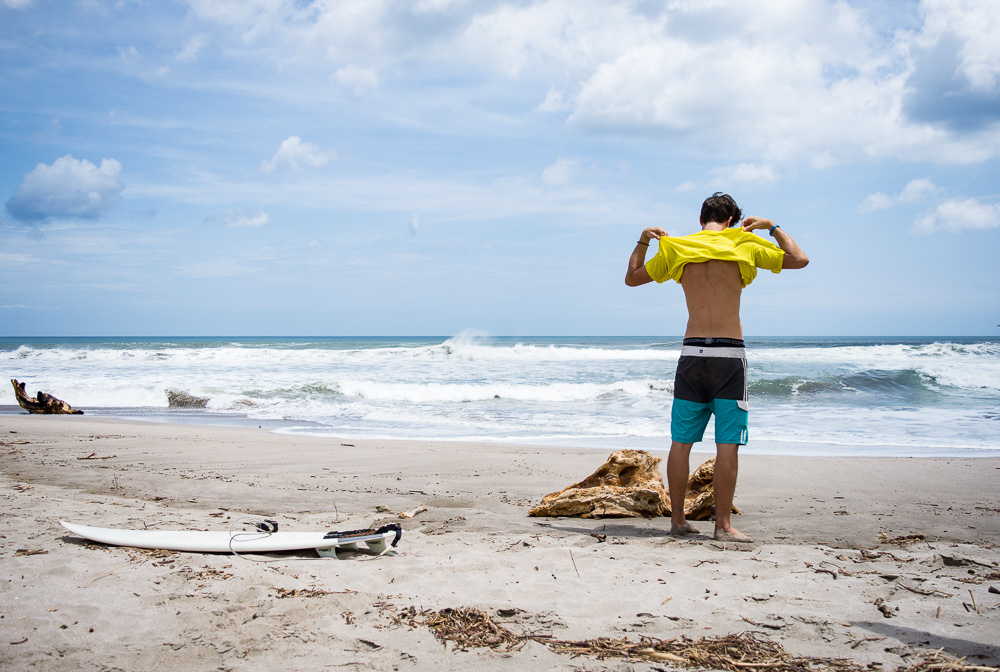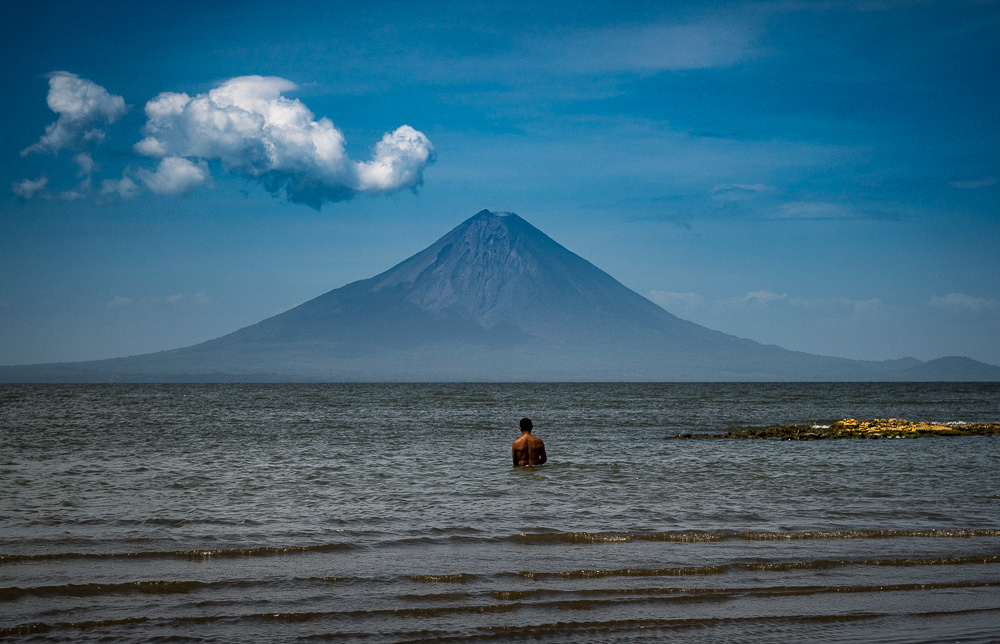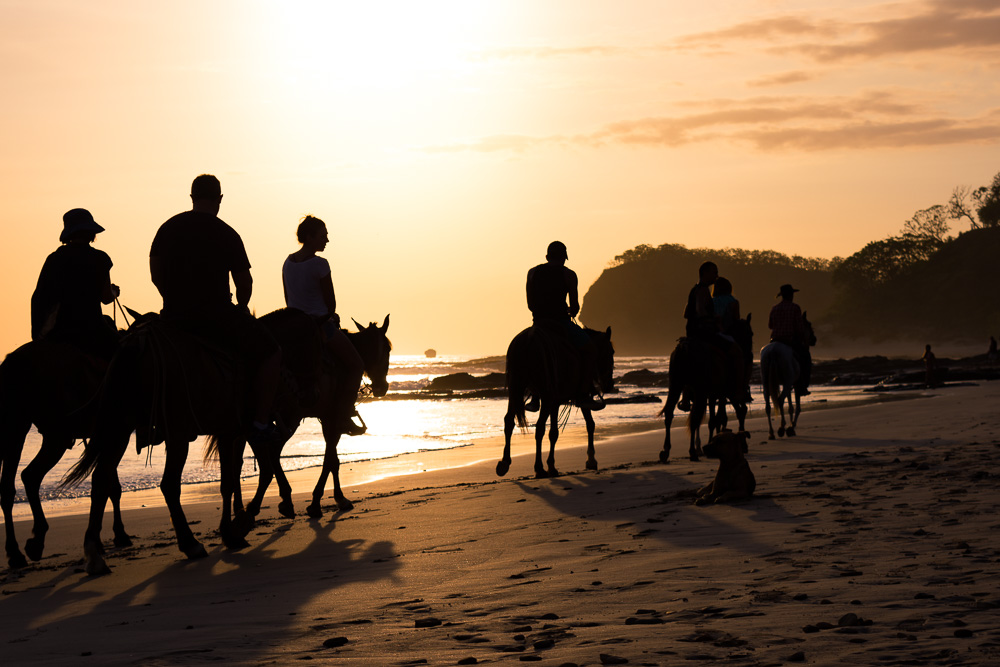 Tags: connor tapscott, nicaragua, parker hannahs, parker thompson