The Water Brothers Pro 2017 in Memory of Ryan Roberts hosted by Sid Abbruzzi is coming to Second Beach in Middletown, Rhode Island, this October! Scheduled with a four-date window to run as a one-day event, the Open Pro surf contest will be called ON or OFF 48 hours in advance on one of the following dates…
Saturday, October 14th or Sunday, October 15th
Saturday, October 21st or Sunday, October 22nd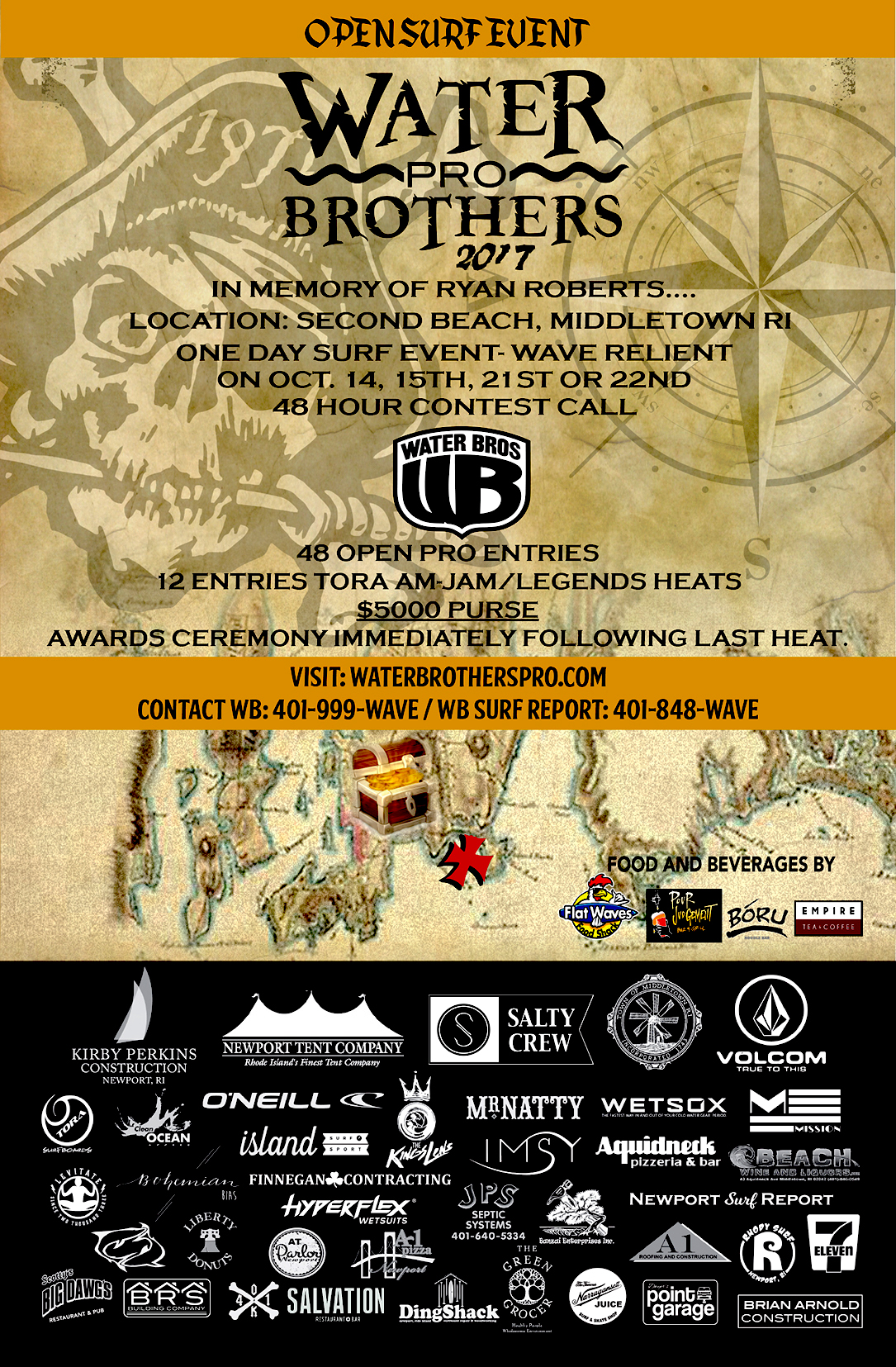 This year's highly anticipated event brings back Water Brothers Pro 2016 Champion, Billabong's Rob Kelly of New Jersey, to defend his title. Add in 47 additional surfers scaling the ship to seize a share of the $5,000 treasure, and four-man heats will begin at 7:00 AM till the final where one surfer will be crowned the Water Brothers Pro 2017 Champion. Six selected legends and Six selected amateurs will also compete in individual heats sponsored by Tora Surfboards for surfboard prizes.
Among a variety of sponsors throwing down to support this great community-driven event are Newport's own Kirby-Perkins Construction and Newport Tent Company, along with surf brand companies Salty Crew and Volcom. Local food and beverage favorites Flat Waves, Empire Tea & Coffee, Boru Noodle Bar, and Pour Judgement will join the event as on-site vendors, with many other participating vendors to add to the day's events. An awards ceremony will follow directly after the final heat on Second Beach with an afterparty to follow at Parlor Bar & Kitchen at 7:30PM.
In lieu of Water Brothers' Annual Charity Raffle, non-profit organization Clean Ocean Access has partnered with the Water Brothers Pro 2017 to donate 90% of funds collected on-site to go to direct hurricane relief efforts. A page on the Water Brothers Pro's event site is already collecting donations in advance. If the surf contest does not run due to no swell, Clean Ocean Access and Water Brothers Pro vendors will host a beach clean-up from 8:00 AM – 12:00 PM to collect donations and enjoy a day of gathering. Water Brothers would like to thank the Town of Middletown for their support.
Official contest call and updates will be posted on Water Brothers social media and event site:
https://www.instagram.com/waterbrothers/
WB Surf Report Line: 401-848-WAVE       WB: 401-999-WAVE
Tags: contest, october, rhode island, rob kelly, second beach, sid abbruzzi, water brothers pro