Picture Farm Gallery and It Doesn't Not Work IV is proud to present Two Moons: A New York Surf Photography Exhibit by Mike Nelson & Matt Clark. Both Mike and Matt are fixtures in the New York Surf scene, and both are recent SURFER Magazine cover photographers (and frequent contributors to ESM's Page One as well). They have been documenting almost every swell between the two of them since 1990. Two Moons' opening reception will take place Friday April 21sst, 2017 at Picture Farm Studios in Brooklyn, NY.
Two Moons highlights the two contrasting styles of both Matt Clark and Mike Nelson. They can both be shooting the same swell, at the same surf spot with the same surfers and will come up with completely different results and points of view. Few photographers have as great of access as Matt and Mike do to some of the best surfers and surf spots in the New York/New Jersey surf world.
Matt Clark's work explores his relationship with the ocean through intimate portraits of breaking surf with the intention of capturing something private, personal, and unique about each wave. His photographs are the delicate, yet powerful, and capture elements of moving water and reflections of light in churning surf.
Mike Nelson is a self-taught photographer that has been capturing images of the surfing world for the past 20 years. Mike's photographs have been featured in some of the largest editorial and advertising campaigns across the globe.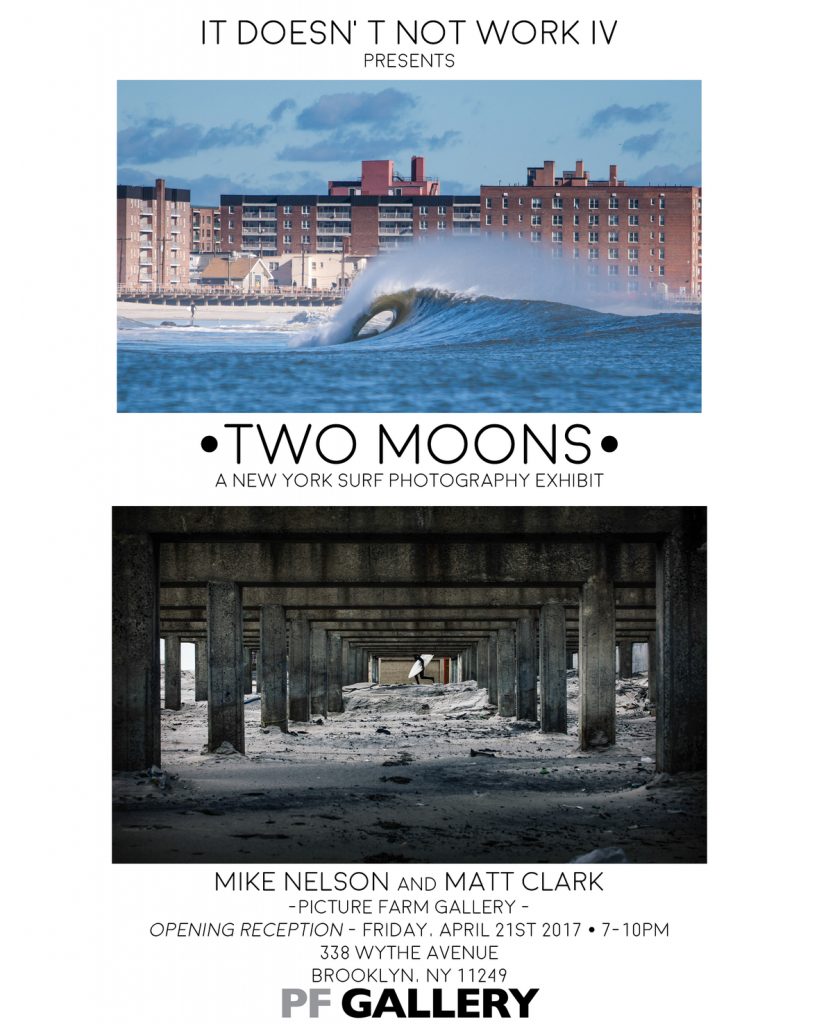 Two Moons: A New York Surf Photography Exhibit
Friday, April 21st, 2017 6PM-9PM
Picture Farm Gallery: 338 Wythe Ave, Brooklyn, NY 11249
It Doesn't Not Work is a surf craft design event that explores the process of the art & craft of surf-riding design and a presentation of experimental shapes, work- in-progress projects and tried-and-true formulas. Display your failed concepts and accidental discoveries. It Doesn't Not Work seeks to lift the hood on surfboard experimentation and design. Boards that are proven to work, boards that are proven to not work and the thought process that lead from one place to another.Libations will be provided by Austin Eastciders.
For more information go towww.ItDoesntNotWork.com. All queries and comments please contact: someone@itdoesntnotwork.com
Tags: it doesn't not work, matt clark, Mike Nelson, new york, photo, photography, picture farm gallery