Written by Willy Jones — You'd think by now they'd be done with trying new things. Legs that don't work, a voice that can't be heard, a life on the sidelines — with every struggle, you'd think they'd want to shut off. To take the biggest metaphorical dose of Novocaine and numb themselves.
Tucked into black rubber that always seems too big or too small, these kids and adults swarming Gooch's Beach in Kennebunk, Maine, live lives on a different plane than any "conventional" struggle facing any one of us. They don't have struggles – they live struggles.
But something incredible happened to them. They immersed themselves in the most thought-provoking, feeling-projecting, physically tolling, overwhelmingly stimulating activity in existence. Thanks to Maine's Special Surfers organization, they surf. They feel life at its best. At its purest form. Pushing, pulling, grabbing, kicking, thinking, feeling, doing.
Having the deepest mental duck-dive of them all gives these groms physical space and power, which scientists call proprioception — our sense of where our body is in space. Without it, they say, we'd trip going up the stairs because we wouldn't know where our feet were. When you're on a surfboard, you're no longer sitting in a chair, you're no longer on steady ground — you're moving in every way. Then you have this new sense going off in your head and you combine that with the sun, the sound of the water, the sound of the crowds, the feel of the water, its taste, the huge group of people on the beach, and all of a sudden you have an experience that these new surfers don't get all the time.
That experience, award-winning Portland film-maker Ben Keller says, is a deep Immersion. And Immersion has proven to be good for everybody, not just those in the water. "Surfing is this point of freedom, this point of joy, this point of being able to experience something that you cannot experience anywhere else in the world," Keller said at the Immersion premiere on May 25th. "Seriously, nowhere else in the world. They're having a great time obviously, but they are actually learning and growing. The science behind this, is that they are creating new pathways in their brain."
Segment from iMMeRSiON from Ben Keller on Vimeo.
Keller spent two seasons immersed with these Special Surfers, capturing the magical vibes that resonate over Gooch's Beach three times every summer (upcoming events will happen on July 18th and August 15th), which most people agree is not enough. Immersion tells the story of several Special Surfers and their families, highlighting why these experiences are so vital for the participants and the community. The documentary debuted in Kennebunkport on May 25th to a packed Special Surfer tribe of volunteers, supporters, surfer families, and the heart of the Special Surfers program, originator Nanci Boutet. For 14 years, she's been loading trucks, rinsing wetsuits, raising money, and getting these kids immersed – big time. And it's all free.
"Special needs participants are, in their everyday lives, outsiders," Boutet said. "Surfing immerses them into a mainstream world they don't often have the opportunity to experience. Total inclusion." On the third Tuesday of every summer month, Boutet hosts a surf party for people with disabilities. She begs for and borrows surfboards. She rinses and loads wetsuits. She checks in volunteers and warns of the dreaded whitewater fire-hose. She has assembled a small army to help her.
On these third Tuesdays, the world of these kids and adults is just the regular world that we all enjoy. It's right below their feet. They're immersed. And they've got the salt-dried hair and sandy eyelashes to prove it. Out there on the sand, covered in happy goosebumps for the past eight years, Samantha Battis has found what she's been looking for since her 13=year-old son Ben was born — a way for him to belong. "We're a big tribe," Battis said. "You're with your people. There's no judgements, only support. People smile. They get you. No words are needed and everyone is embraced with compassion and acceptance. We don't get that anywhere but here. It's incredible."
For his whole life, Immersion star Ben Battis has needed help with everything: dressing, showering, eating. But on those magical third Tuesday nights at Gooch's Beach, Samantha just steps back and lets Ben do his thing. "He doesn't need any help at all," she said. "It is awesome. It's breathtaking."
Ben hasn't been to school this year. His mom is fighting to keep him there, but 11 school programs have bounced him out. He never lasts longer than three months. When Samantha relives the battle she's fought to protect Ben's right to a good life, tears come to her eyes. "You know, we don't have school pictures," she said at the Immersion premiere. "He's not in school long enough to have them taken. So our house has five-year-old surfer Ben. Six-year-old surfer Ben. Seven-year-old surfer Ben. Every year, our house is littered with pictures of him surfing and the success that he's had. This is the Christmas concert that I never get to go to; this is the Little League practice that we'll never make; this is the Mothers' Day crafts that were never made in school and sent home. This is everything that every parent gets to experience daily that I don't get to experience. There are no words for that. That is priceless."
Now when he goes on school interviews, Ben has something big to say. "He'll say, 'Yeah, I'm a surfer!' very casually and they'll say 'What? You surf?'" Samantha said."'Yeah, I'm a surfer.' He can have that confidence. He belongs to a community. He belongs to a tribe of people who are like-minded. And he does it so well. He gets up every time."
The first time Immersion star Scotty Wentzell surfed, his dad missed it. The second time, though, his dad saw Scotty get immersed in the ocean — and the ocean got immersed in him. "My first time was his second time and something I'm going to talk about when I give my little remarks," Scotty's dad Scott said as he prepared to watch Immersion's debut back on May 25th. "But the surf that night was SO intense and he kept getting tossed off the board every time. You could tell he was taking in seawater but he still would get up, smile, laugh, and say he was having a blast. Eventually all that seawater came back up, and even then he still wanted to keep going."
Scotty has one of those voices no one can hear. But the look on Scotty's face tells more than any words could say. It's clear Scotty connects with the surf community in a way that even verbal surfers can't easily describe to non-surfers. "He went out there and the first wave that he caught, his face just lit up," Scotty's mom Lisa said. "And it was incredible. Something about when you're on that wave, there's some sort of connection that brings so much joy and happiness."
Besides being unable to talk, Scotty has developmental delays and some physical limitations that kept him from walking independently until he was 6. Now, just a few years later, he's out there on the board, mostly on his stomach, except when professional surfer and Special Surfer volunteer Raul Hernandez is around."A few years ago, when he was in Maine for the summer, Raul volunteered and ended up surfing with Scotty," Scott said while Scotty's mom pulled up the photos on her phone. "Because he's got the skills of an accomplished surfer, he actually was able to get Scotty standing up on the board. It's amazing. One of the best pictures ever is him and Raul surfing."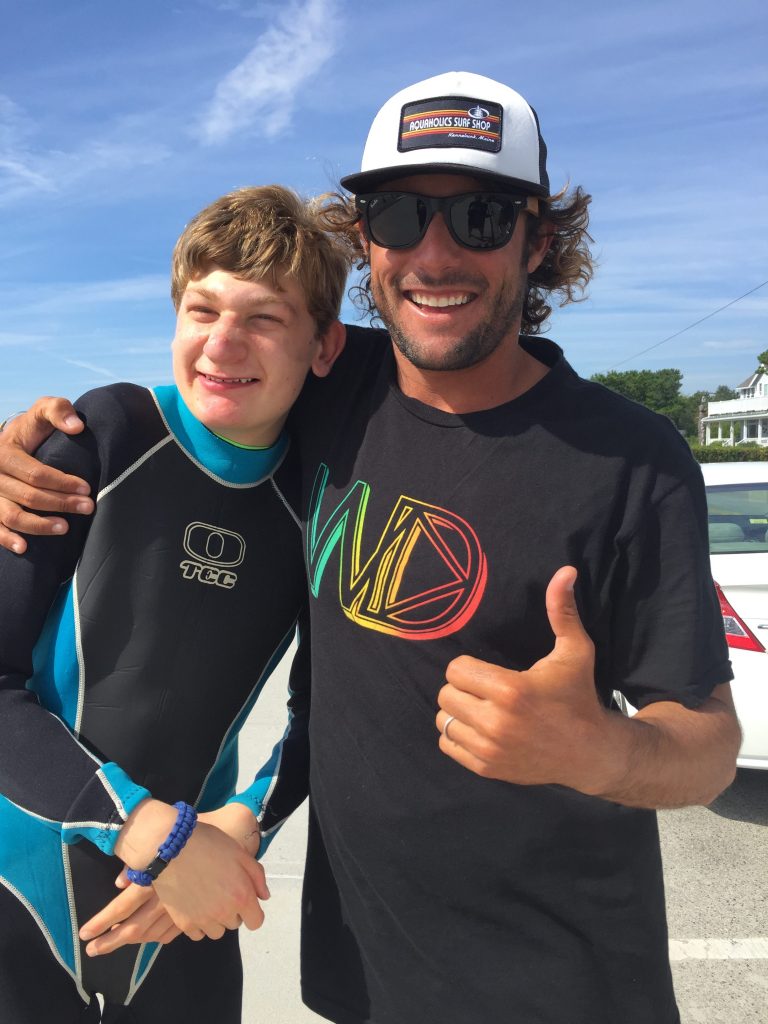 Like Hernandez, the Special Surfer volunteers get as much out of the program as the surfers and their families. Hundreds of volunteers show up every third Tuesday and pair up with a surfer in the water, or sometimes to help them into a wetsuit — whatever needs to be done. And there are many jobs. Many needs. As always though, the surf community comes through, so Boutet wants to go bigger — that way every Special Surfer who wants to be immersed gets immersed. Most event nights, some Special Surfers wait on the beach on standby hoping to get off the waiting list.
"We need more equipment," Boutet said. "We need donations for more equipment. Also, until we can buy more gear, if other surf shops bring gear and get involved, we can expand the program." Special Surfers nights are the most wonderful time of the year for Babett Law, who has volunteered for the program for the past ten years. She works at a center for children with autism and a psychiatric hospital, so for her, seeing "her kids" out surfing is a joy. "I spend all year looking forward to it," she said. "Some of my kids from those places where I work have come to surfing, and it's amazing to see what they are doing here after seeing what they were like elsewhere."
Law recruits new volunteers and has helped to grow the numbers. "I have as much fun as the kids do," she said. "I get just as much out of it. It's unbelievable and hard to explain, but I just tell people who are hesitant to volunteer, come and watch. You'll be blown away." Over in "special ops" for the past six years, volunteer surfer Jeff Ferris assists the surfers who need to be harnessed to the board for the rides of their life. Ferris was on hand for the Immersion debut and it brought a new understanding of the experience, even though he'd been in the water with the surfers.
"The film helped me understand further the excitement and enjoyment both the kids and their parents get out of the event, not only during it but building up to it as well," he said. "From the parents speaking here before the film and during the movie, it was clear the kids understood the event and were unbelievably excited about it." For Ferris, busy in the water with the most vulnerable surfers who sometimes capsize and come up laughing and wanting more waves, Immersion gave him an opportunity to hear firsthand the parents' stories of their daily routines and how special this event really is to the families.
"It's their surf night to have and enjoy," Ferris said. "And these surfers get the same surf high from racing down the waves as anyone else surfing – that's why they come back. They're hooked. They get the same stoke as all of us. The water is healing."
Tags: ben kweller, disabled, immersion, Maine, special surfers