We are honored to present three events this year: a family-friendly Movie Night, a Kids Surf Contest, and a Skateboard Contest at the new Long Beach Skate Park. Admission is free for all three of these events. Read more below!
Movie Night
The biggest night in New York surfing features new films by the best local filmmakers and surfers, including Thomas Brookin's "Fire & Water". "Jobless" by Natty Graham, Thor Larson and Brian Adamkiewicz. "The Surfing Samurai" by Brian Adamkiewicz and Surfer Magazine's short featuring Will Skudin — profile subject in their newly released collector's issue.
The night will also include Free Pizza from Ginos !  Kids' activities like dunk tanks, robo Surf, popcorn machines & big sponsorship raffles.
Yes, alcohol will be available for 21+.
Admission is free.
LOCATION: Bridgeview Yacht Club
80 Waterfront Blvd
Island Park, NY 11558
DATE: July 14, 2016
TIME: 6:00 pm – 10:30 pm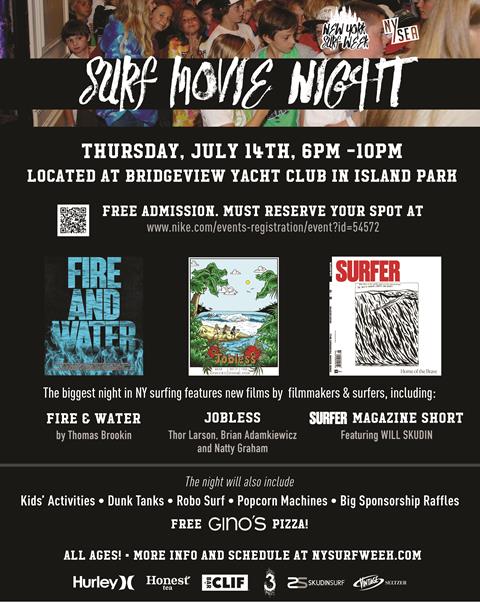 NYSEA Kids Surf Contest
Two Divisions: 17 and under boys / 17 and under girls
Only Requirement to Compete:  Child must be able to paddle into their own waves.
LOCATION: National Blvd. Beach
DATE: July 16, 2016 (Rain or Make up day July 17th)
TIME: 9:00 am – 5:00 pm (8am competitors beach check-in)
Bowl & Street Bash Skate Contest and Concert
Annual Concert & Skateboard contest will be moved to Long Beach, New York's new skate park.
Sign ups at site. No entry fee. Cash and sponsorship prizes.
The 1st Bowl & Street Bash will host a pro and kids division.
Accompanying the skateboarding will be a number of bands including local reggae standout Jahstix.
 LOCATION: Long Beach Recreation
700 Magnolia Blvd, Long Beach, NY
DATE: July 16, 2016
TIMES: 4pm-6pm  Free Skate
6pm-7:30pm ­ Kids division (All kids most include helmet to compete & signed in by parent or guardian)
8pm-9:30pm ­ Pro Division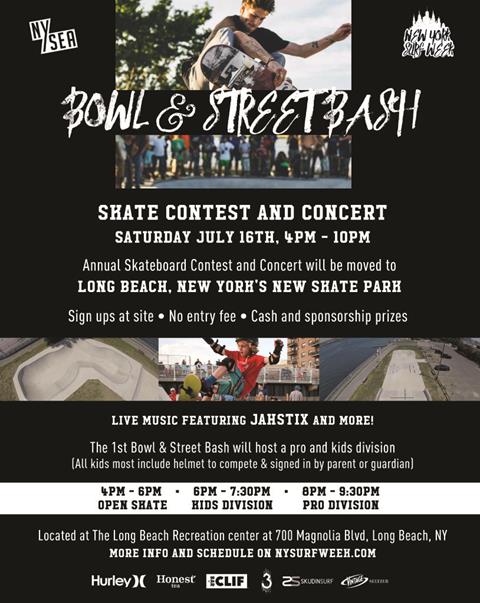 Don't forget to check out all our other New York Surf Week events including our NYSEA Open Surf Contest, the Boardwalk Vending Village, philanthropy events, a memorial paddle-out, and our annual Summer Surf Party!
NY Surf Week 2016 from NYsea Collective on Vimeo.
Tags: contest, kids, long beach, movie, new york surf week, party, skate, skudin, summer