Written by Ryan Gallagher
I drove past Dave "DaveySKY" Kaminsky's Manasquan, NJ, headquarters twice before figuring out where the hell I was going for our interview. As I finally parked my car and walked around the back of a large strip mall, I found my destination. The outside sign read "Stand Up Paddle Place," but conveniently tucked on the side door entry was a bright white sign for DaveySKY Surfboards. Compared to the large stature of the building, the operation looked like a hole in the wall. My knock elicited no response, and when I pushed the heavy door open, I saw a substantial amount of space that was completely gutted. As the door shut, a puzzled face peeked from down the hallway.
Kaminsky is expanding. The seemingly small, backdoor business is evolving into something bigger. Dave walked me through the shaping bay and glassing area in the rear section of his headquarters and, after wrestling to remove his respirator, explained that he would be moving his operation into the newly vacant front portion of the shop. Clearly Dave knows what he's doing.
With a background researching biological oceanography and underwater robotics for Rutgers University, Kaminsky is a board-building version of Emmett "Doc" Brown. Now, Dave isn't tinkering with plutonium (as far as I know), but the innovative surf crafts on display at DaveySKY headquarters look as if they could hit light speed. "New Jersey is one of the most difficult places to learn to surf and progress your surfing," he says. "Our waves here are so dynamic, and our winters, when we typically get big and hollow waves, require restrictive rubber and freezing conditions. Having the most dialed board possible for any given condition here is so critical to having fun, as well as progressing as quickly as possible."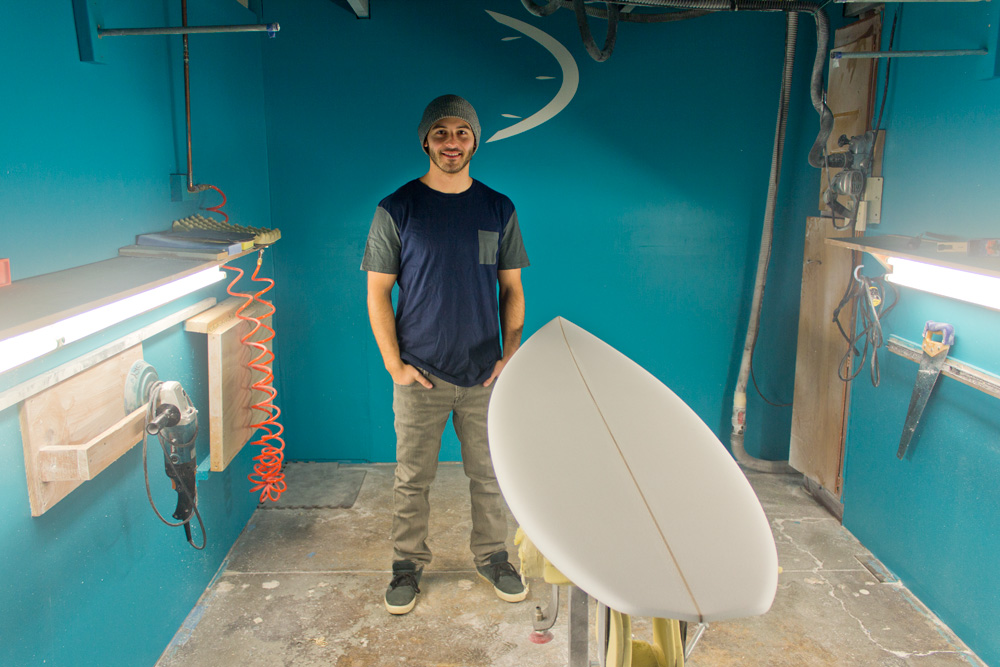 Photo: Ryan Gallagher
As we continued our conversation, I couldn't help but notice that this 29-year-old seemed like he had it all figured out. Which made me skeptical. A young guy with a growing operation and a pristine surfboard showroom? Something must be missing. But there isn't. "I was hired back at Rutgers to continue the research I had been doing while at school, but within the first year after shaping my first board, I was able to go full-time with it," Kaminsky says. "I loved the research I was doing — I've always had a passion for the ocean and science. So it was mixed emotions when I stopped doing that and started doing surfboards. But it was just something that I knew I had to do — or at least try."
Kaminsky recalled a time before he had one of his own custom surfboards under his feet. "Four years ago, I started shaping my first board," said Kaminsky. "The first day of my stay in Australia, I was frothing to get in the water and paddled out into waist-high waves. The board bumped into my leg, and after checking it out, the whole rail was shattered. That was the nail in the coffin for me."
Not many people make such a life-changing choice at such a young age — or actually emerge successful. However, Dave Kaminsky is not yet satisfied with his position in the surfing world. He wants to get his boards into the hands of surfers who have yet to hear about a DaveySKY shape. He wants to expand beyond selling via online orders, his own shop, and Breakwater Surf Company in Rockaway, NY. When I ask which shop he hopes to close a deal with next, Dave smiles cautiously. "I'm just looking to find a couple core shops that [take] good care [of] their customers," Kaminsky says. "If I do end up putting my boards in a good number of shops, I don't want my boards in any shop where an employee is ever going to sell a board to a customer because it's blue, ya know?"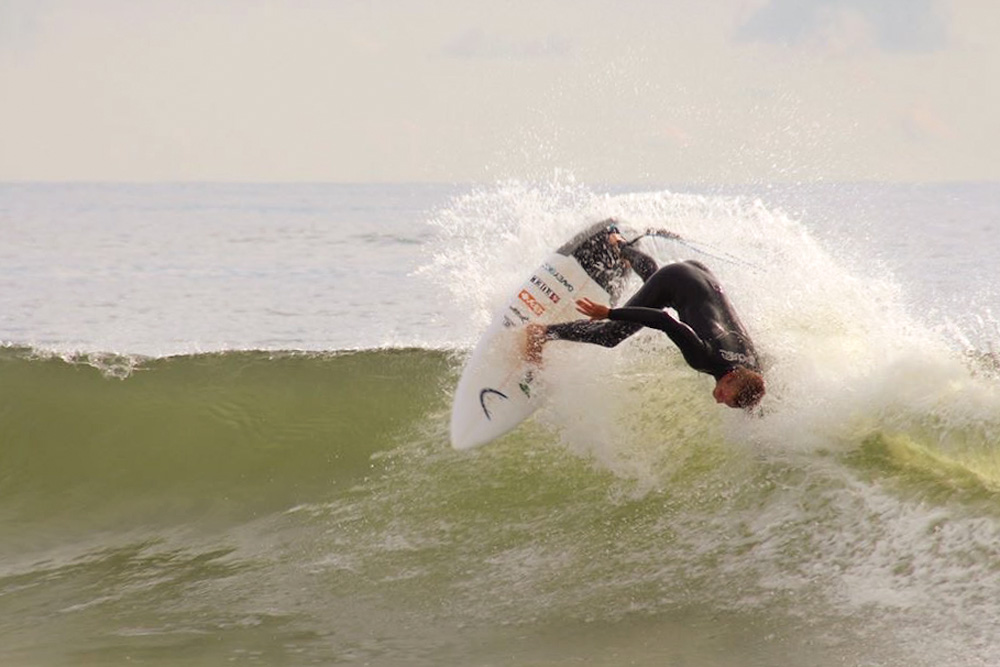 Photo: Lauren Sharkey
That kind of care is the mantra for Dave's company. It seems simple, but in reality this kind of attention to detail is hard to find. As I pick up and analyze board after board from the DaveySKY showroom, each shape tells a story. Dave recounts which of his customers ride which boards, what response they had to the board, and any tweaks that the shape took on to suit that customer. "To me, my job doesn't end when I hand the customer their board," he says. "I follow up, practically begging them to let me know how I did and how the board is doing for them."
Feedback for Kaminsky is everything. So nothing makes more sense than having good surfers ride his boards. "I currently have two main team riders," he says. "Brian Farrell is a competitive surfer currently training to attempt to qualify for the QS, and Matt Pereira is a freesurfer, though he may do ESA this year for fun." Kaminsky explains that his close attention to customer and rider feedback has paid off in more ways than one. "Every board I make is tweaked in some way for my customers," he says. "I like innovating, trying new things, new shapes, new construction methods… That's probably what I enjoy most at this point in the game."
Dave brought up strength, laying down a brand new board concave up with bubble wrap tucked underneath both nose and tail. Without any warning, he stepped on the bottom with both feet. I did a double take and held my breath as he bobbed up and down, flexing the surfboard almost down to the floor before finally stepping off.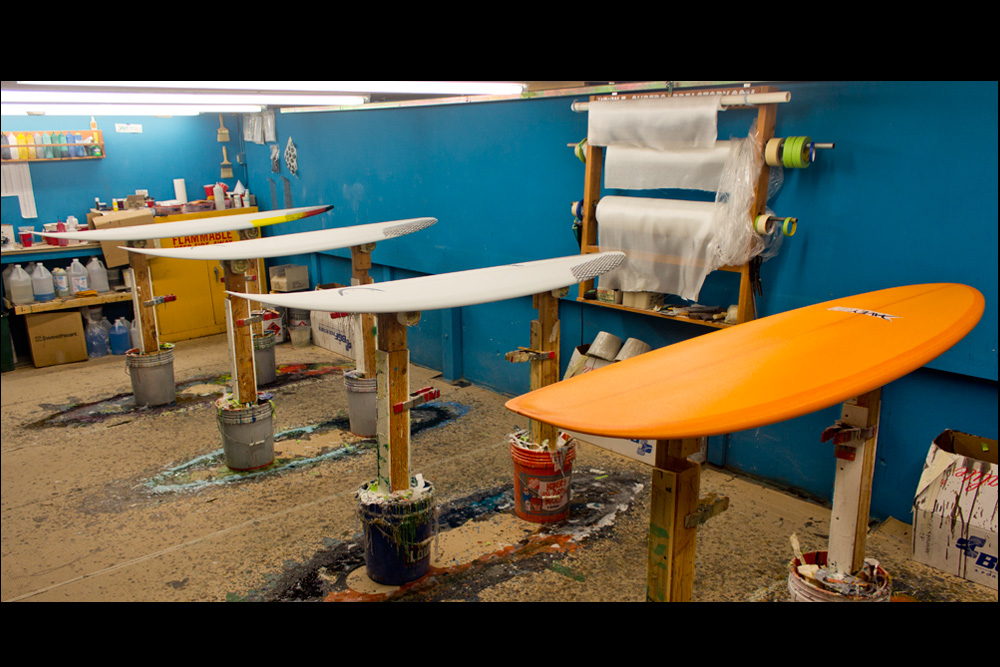 Photo: Gallagher
"This customer came in and wasn't really giving me the time of day, and I got frustrated," Kaminsy says. "So I grabbed a new board off the rack, flipped it upside down and jumped on it, just out of desperation trying to get this dude's attention. And then he bought a board. Being a shaper here means that I have the responsibility of providing the absolute best board possible for each and every individual customer."
At this point, Dave's inner "Doc" shone through. With DaveySKY, he's been doing heavy research and development on a proprietary new manufacturing method. "This first edition comprises a lot of already familiar materials, which will create a familiar ride and feel, but constructed in a manner to increase flex, decrease weight, and maximize buckle and break strength in an effort to create an extremely responsive and lively high performance ride," Kaminsky said. He even hinted that it would "also utilize a unique vibration-canceling material to further increase responsiveness while creating a smoother, more efficient ride."
My brain was doing backflips. Was this guy insane? Or a genius? Are Kaminsy's shapes radically changing surfboard production processes for years to come? I had no idea; I just knew that standing on an upside-down board was against the rules. And DaveySKY Surfboards is breaking those rules.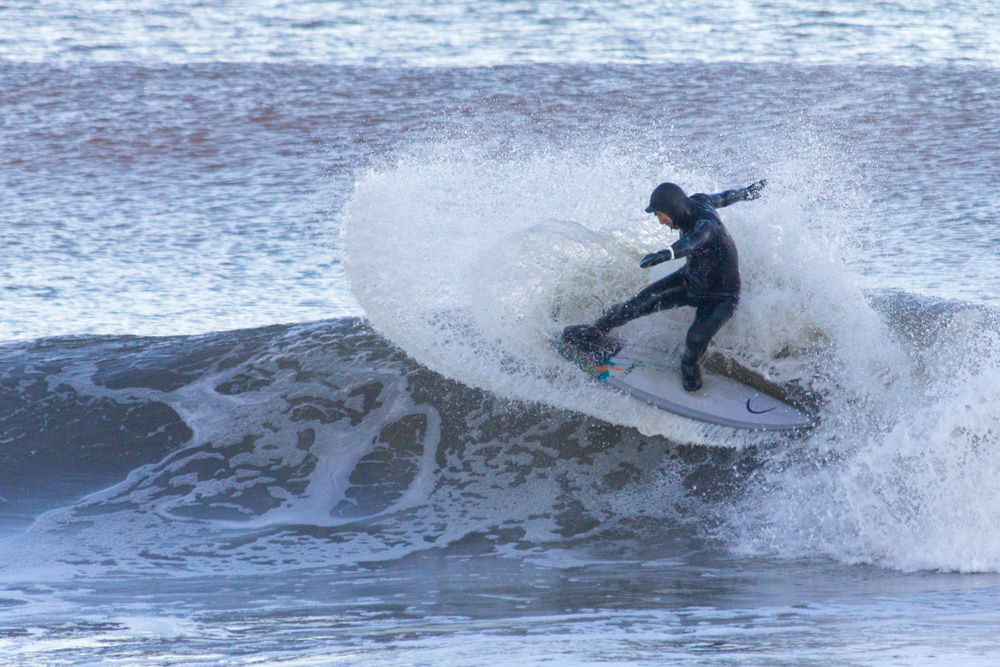 Photo: Sharkey