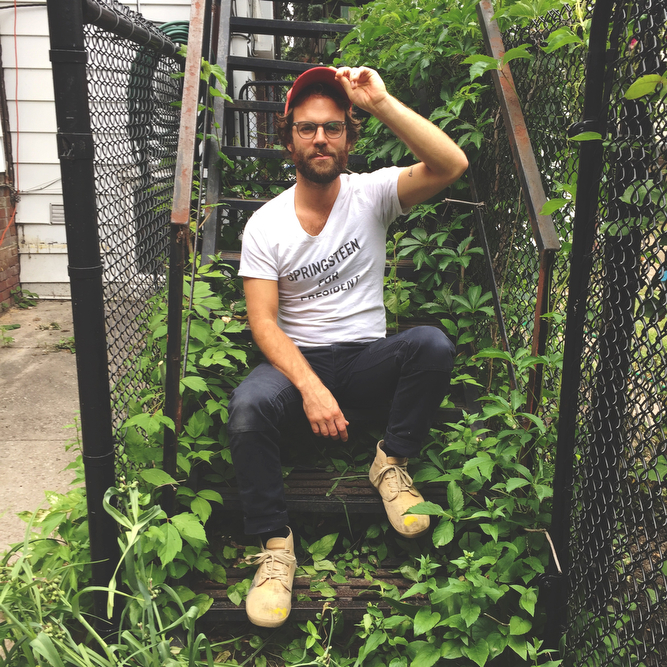 Sean Spellman is a nomad of the highest order: an artist, a musician, a surfer, and a free spirit who spent five years exploring the American West in his veggie oil-fuelled Ford van. In between writing songs for and touring with his bandQuiet Life and soaking in the sights and sounds of our great country, the New Jersey native and current Rhode Island resident also shot photos and maintained a notebook of illustrations. Most of them are as simple as it gets — black squiggles, basic lines, rudimentary shapes — yet also imbued with a whimsical sense of the sublime.
The limited-edition nature of A Short Strange Trip allows Spellman the space to highlight that esoteric nature on stark white backgrounds. The illustrations are grouped thematically — mountainscapes, wavescapes, treescapes — and interspersed by beautifully washed out photos as timeless as the American abstractions of Robert Frank. Even the little flourishes — a poem and a map of the United States at the beginning, elegant typography throughout — demonstrate the care and foresight Spellman put into A Short Strange Trip, which feels like a true keepsake as you flip carefully through its pages. As Spellman says in an acknowledgement to his mother, he was driven around endlessly as a toddler so he could stare out the car window. We asked him about that and much more:
ESM: What motivated you to collect all of these drawings into a book and what was your approach?
Sean Spellman: There wasn't an approach literally. 90% of those paintings and illustrations came out of my travel notebook. It was with me for the entire trip, sort of a visual travelogue.
ESM: You play music professionally — what kind of creative satisfaction do you get from drawing that you don't from performing?
Sean Spellman: When I can't play music, I like to paint or do anything else that allows me to feel the same way that writing or playing guitar does. Something repetitive or fun. Something to do that I can share with people.
ESM: Did any particular aesthetic motivate you to keep the drawings in the book very simple with bold lines and black ink?
Sean Spellman: I guess that's just my style. At the time, at least. I wasn't traveling with many supplies. Basically just small notebooks and a few pens, brushes, and ink/paint. I like to keep things simple because then anyone who looks at it can fill in the negative space with anything they like. Maybe bigger waves, or brighter sun… maybe a reef girl on the beach or a fresh coconut. If I put too much ink on the paper, there'd be no room for that.
ESM: You interspersed photos the book. How do you think they complement the drawings?
Sean Spellman: I tried to include photos of a few places that inspired the paintings. It's nice to have them in there. My favorite is of Coney Island covered in snow with a plastic palm tree on the beach.
ESM: How hard was it to deal with the business side of the book?
Sean Spellman: Printing a book is expensive! I never knew. My buddy Brian Everett had just laid out a book for Nat Geo and he helped tremendously. I couldn't have done it without him as well as all the folks that pre-ordered the book. I'd like to do a second edition if I can find a publisher. I have to say, doing it independently is really nice, but I'd love for the book to be seen by more people.
ESM: You include a quote about how you grew up looking out the window of the car as a child. So that yearning for travel is fundamental for you?
Sean Spellman: Yeah, my mom told me she used to put me in the car and just drive around so I could look out the window. I blame her for my indecisiveness and inability to settle.
ESM: As an adult, particularly one who makes a living touring and traveling, is it hard to capture that pure sense of possibility when you're on the road?
Sean Spellman: Traveling with a schedule is a job. Without one, the possibilities are endless.
ESM: Does your life as a touring musician make personal travel that much more special?
Sean Spellman: Absolutely. When you're on tour playing music, it's easy to take traveling for granted because it can be such a grind. So exhausting and you don't get to explore the towns you're in. Sometimes it's nice to get out of that routine and be on the road without a schedule, or even a route. We had a week off last month in the middle of a three-month tour, so I drove from LA to Seattle along the coast to remind myself what it's like.
ESM: Do you still have the same van you took all these trips in? What is it about travel vans that has such an allure, particularly for artists and surfers?
Sean Spellman: Oh yeah, she's still running like a dream. People like vans because you can live in them, you can fit longboards inside of them, you can build a bed. Some people think vans are creepy, but while they're checking into a Super 8, I'm pulling up under a tree near the beach for the night.
ESM: Do you still keep the same kind of journals? If so, why?
Sean Spellman: I'm always influenced by my surroundings, trying to interpret them in different ways, and attempting to encourage people's curiosity in places I've been to that maybe they haven't yet.
ESM: Favorite part of the country to drive through?
Sean Spellman: Well, that changes with the seasons. But my top five are the Smoky Mountains, San Juan Islands, Central California, Oregon, and recently I discovered how beautiful the Idaho panhandle is.
ESM: Favorite surf spot on the road?
Sean Spellman: Most of my favorites are well-known and easy to get to; Matunuck in Rhode Island, San O, Malibu, Campus Pt. I don't get to travel out of the country often, but I went to Popoyo, Nicaragua last winter, and that was real fun. I love the diversity in breaks in Rhode Island. I grew up in Jersey and everything is pretty much the same, so it's nice to surf in New England where you can get different types of waves.
ESM: Jersey, Rhode Island, California… you're all over the place.
Sean Spellman:  I was born in New London, CT, and grew up on the Jersey Shore. Right now home is in Westerly, RI, for the summer. Come check it out — we've got waves sometimes and Taylor Swift lives here.
ESM: Any future events related to the book coming up?
Sean Spellman: I've got a show up right now at The Montauk Beach House in Montauk, NY. The place is cool. You can surf at Ditch Plains and then come have a fancy drink and scope the book. Shout out to Walt for hooking it up!
ESM: Any part of the US you haven't visited yet that you want to?
Sean Spellman: Last state on my list is Hawaii. Gotta make it happen this winter. Anybody out there want to show a dude around?
ESM: How about internationally?
Sean Spellman: Oh man, I'd love to get to Portugal soon too.
To purchase a copy of A Short Strange Trip for $30, visit DesertRetreater.com
Tags: a short strange trip, artist, book release, montauk, musician, new jersey, quiet life, rhode island, sean spellman