SMASH Productions & Picture Farm Gallery is pleased to announce the run of shows for It Doesn't Not Work IV: Pushing The Outer Limits of Pure Surf Design. The Exhibit will kick off Saturday, May 20th, 4PM at Picture Farm Gallery (338 Wythe Ave, Brooklyn, NY). Local surfboard shapers, hobbyists, creative individuals and such will be on hand displaying their latest creations & oddities. The general public will have the opportunity to engage all these surfboard designers on their concepts and gain insight into the creative process of shaping surfboards. It Doesn't Not Work __is a surf craft design event that explores the process of the art & craft of surf-riding design and a presentation of experimental shapes, work-in-progress projects and tried-and-true formulas.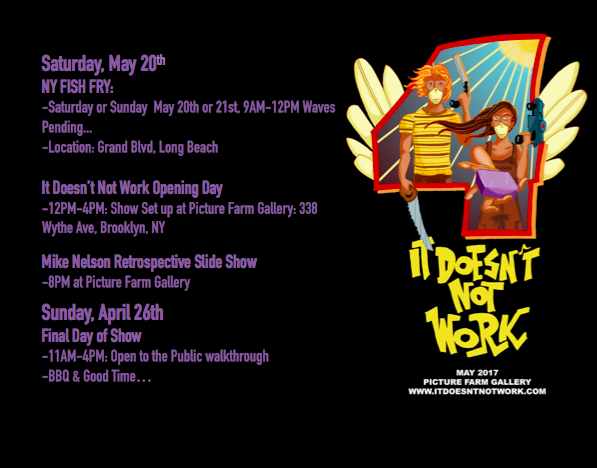 MIKE NELSON: A RETROSPECTIVE ON NY SURFING
We are pleased to announce on the Opening evening, Saturday May 20th at 8PM, we will have a Retrospective Slide Show from Local Legend Mike Nelson. The show will highlight over 30 years of surfing in NY. Mike has been documenting the New York surf culture for a long time and has incredible insight into the history and the characters who make up this rich community.
In addition to the surfboard exhibit, It Doesn't Not Work will run in conjunction with the NY Fish Fry (swell permitting) and will allow surfers and shapers to give these experimental designs a test ride. The NY Fish Fry will take place at Grand Street, Long Beach, NY during the weekend of IDNW, May 20-21st, 2017. The call will be made for which day the Fish Fry will run by Thursday May 18th. Go to www.pilgrimsurfsupply.com to find out!
The It Doesn't Not Work IV show is Free and Opened to the public. Below is a schedule of events and the shapers participating in this years show.
Location: Picture Farm Gallery: 338 Wythe Ave, Brooklyn, NY 11249
Dates: Saturday & Sunday, May 20th & 21st
Saturday or Sunday, May 20th or 21st
NY FISH FRY:
The NY Fish Fry has become a staple in NY surf culture over the last 10 years. It's a great time. Completely grass roots, no tents, no sponsors, no commercialism at all. Just a great opportunity for friends and like minded surfers to come together and try out new and old boards. It doesn't get much better than that.
Saturday or Sunday May 20th or 21st, 9AM-12PM.
Location: Grand Street, Long Beach, NY.
Saturday, May 20th
It Doesn't Not Work Opening Day
4PM-10PM: Show Opens to the Public
8PM: The Mike Nelson Retrospective Slideshow
10PM: After Party Drinks at a The Crown Victoria: 60 S 2nd St, Brooklyn, NY 11249
Sunday, May 21st
Final Day of Show
11AM: Show Opens
12PM: Shapers BBQ
4PM: Closing of It Doesn't Not Work
List of Participating Shapers: Johnny Borbone, Mike Lukens, Fernando Malcon, Kiernan Brtalik, Manuel Huth, Nathan Fish, Richard Dennis, William Beal, Chris Kern, Quinn Comer, Matthew Brazinski, Nick Razzano, Christopher Jones, Matt Dimler, Jacques Beriau, Dane Hantz, Andrew Zinicola, Ed Thompson, Christian Driggs, Andrew Saklas, Douglas Rella, Kyle Black, Jeremy Grosvenor, Jordan Griska, Billy Maker, Noel Miller, Todd Schuler, Paul Schmidt, J Scott Klossner, Sean Brewer, Tyler Jorgenson, Mica Connors, Patrick Keegan, Bryan Archbold.
It Doesn't Not Work is proudly supported by Clif Bar, The Surfrider Foundation NYC Chapter, Austin Eastciders, Zola Coconut Water & Ace Coffee. It Doesn't Not Work is pleased to be partnered with WAX Magazine and Boardporn.TV. For more information go to www.itdoesntnotwork.com or email: someone@itdoesntnotwork.com
Tags: alternative, it doesn't not work, new york fish fry, shapers, shaping