Written by Darren Meyer
For all of you old enough to remember carrying your own board to the beach back in the 1980s and '90s, reliving big surfing events from those days invariably brings up memories of Santa Barbara local and Rincon master Tom Curren. One of the most vivid memories for most is the infamous photo of Curren laying down a huge frontside cutback at Backdoor. The logo-less board he was riding at the time was shaped by Aussie native and then-French-resident Maurice Cole: a reverse vee shape, which at the time was revolutionary. Curren made a bold statement riding that logo-less board while taking a shot at the world title. Whatever Curren's actual reasons were behind "the business" of the event, the grassroots idea behind not selling your board to big corporate sponsors was something many core surfers respected.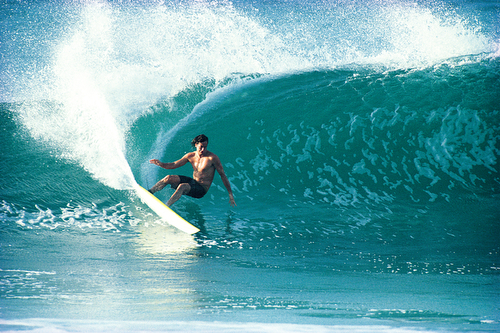 Photo: Tom Servais
The excitement from that incident was felt around the world and all the way to North Carolina. Wrightsville Beach local John Stevens felt some of that energy, as many of us did, and ended up ordering that exact board, hand-shaped by Maurice. The iconic board held its position in John's quiver for quite sometime until being passed onto his son. The board's influence was felt throughout Wrightsville Beach's surf community of Will Allison, Billy Curry, Phil Thompson, and Stewart McAthern, just to name a few — and even had an impact on Ben Bourgeois, widely considered the most successful professional surfer to emerge out of North Carolina. Qualifying for the WCT tour twice, then globetrotting for a good decade on the surf industry's dime legitimately justifies that kind of a reputation. And although Ben spends most of his time sniffing out secluded waves and planning strike missions, he's known to relish his time spent back in his hometown of Wrightsville Beach surfing with friends like Ross Stevens.
During one particular session during last hurricane season, Ben and Ross were surfing a spot located a couple hundred yards off the beach in deep, dark water, where long-period swell energy transforms into rideable waves when the conditions and stars align. Ben was on one of his more typical performance shortboards, and Ross was riding a board passed down from his dad. John was one of those guys who traveled with the Aloha spirit, and always made new friends feel like family, forming friendships as tight as family. When he passed away all too early back in 2011, he left more than just memories with everyone: he left his surfboards, some of the greatest sentimental story tellers. One of which was his Maurice Cole reverse vee model. The deeper water at the shoal Ben and Ross were surfing creates some challenges for shorter boards, and Ross's 6'10" Maurice Cole board had the edge over Ben's standard 5'10", gliding into the outside bombs, carving arcing turns, and connecting through to the inside, where the wave hits a shallower sandbar that pitches glass curtains for a sweet barrel section. It wasn't long before Ben had to ask the question that most of us have asked a close buddy on a good day: "Dude, can I try that thing?" So they swapped, and Ben lit up after his first wave.
A few days later, Ben showed up at the Ian Balding Paddle & Surf Co factory in Wilmington, NC, along with the sun-tanned reverse vee that had been shaped in France about 25 years prior. Like Ben, Ian is also a New Jersey native who joined the Wrightsville Beach surfing community almost two decades ago. Growing up in the same epoch of Curren's reign over the surfing world, Ben and Ian had discussed their shared Curren influences on a number of occasions. Both also had lived and surfed on the west coast, and even shared waves with Curren himself from time to time, further galvanizing his influence on them. More recently, Ben and Ian have developed somewhat of a synergistic surfer-shaper relationship. Ian has surfed with and observed Ben in both competition and free sessions locally and internationally, and although Ian builds custom boards for customers from Hawaii to the Caribbean, Ian feels strongly that if you have the opportunity to surf with the people you're building boards for and can get to know how they surf, there's no stronger catalyst for a successful shaping experience.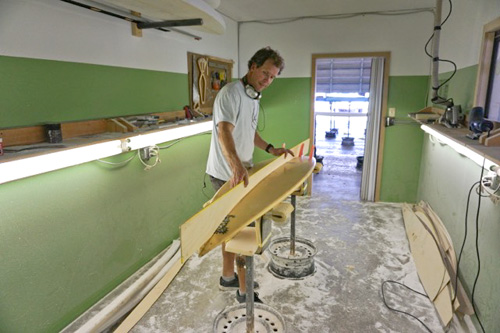 Photo: Meyer
Already having surfed a variety of Ian's designs with confidence, Ben wanted Ian to replicate the board and keep the overall "magic," with just a few tweaks here and there that catered to Ben's personal style. Ian narrowed some lines, thinned the rails a hair, and successfully blended the iconic board's shape into a custom replica. The next day, the board was on the glassing racks, where a few layers of glass and resin gave this pearl its hand-crafted hard candy shell. Both Ian and Ben are outspoken proponents of the mindset that understands the importance of the intimate surfer/shaper relationship. Ian said, "I'm a firm believer that there are no 'perfect' objects in this world, and that's the beauty of it. That's why there are 'magic' boards out there. Shaping machines have their legitimate place as a tool in production, but they will never replace the human connection in custom board building."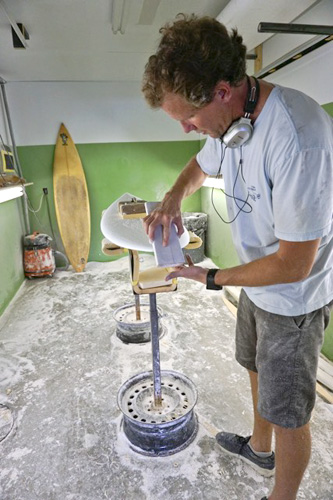 Photo: Meyer
He went on to explain the difficulties of a machine replicating identical boards: "After the shape is finished, there's still anywhere from 50-75% of the work left to be completed by hand. The board still needs to be laminated, finned, sanded out, etc. All of these things play a massive roll in the finished board's overall performance. We also make a lot of boards out of balsa that, without skilled hands and a thoughtful process, there's no way to replicate. I do utilize a CNC machine to replicate some stock boards and keep up during the high season." But since all of Ian's custom boardbuilding processes are kept in-house, every board isguaranteed to have gotten the final stamp of approval from Ian himself.
Photos: Meyer
So Ian was humbly pleased to see Ben so stoked to pick up the board for the first time and give it the old "under the arm test" with a grin. Before the board even saw North Carolina water, Ben slipped the new board into his arsenal for a trip south of the border. A few days later, Ian's phone lit up with text messages from Nicaragua confirming all of the high hopes and expectations. The old "magic" Maurice Cole soul had successfully transferred from the deck under Benny B's feet through the fingertips, eyes, and Ian's planer to the body of a brand new board. Ian later explained, "That's what keeps me going — that's what I do this for."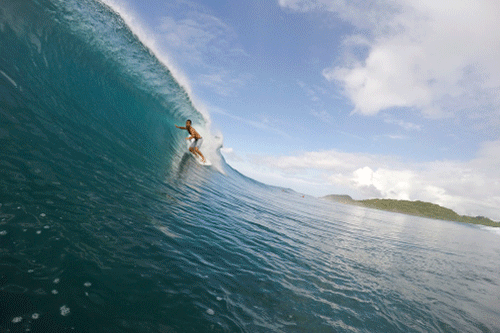 Sequence: GoPro
Do you believe in reincarnation? Originally shaped by an Australian in France for a Californian to ride in Hawaii, the first reverse vee was featured in nearly every surf publication in the early '90s before a replica made its way to a quiver in North Carolina, where it was passed on with a father's heel dents to his son, whose close friend had it replicated, and the new board successfully revived the stoke and soul that was undoubtedly built into the original. To this day, the reverse vee glides through steep drops, deep barrels, and wide wraps. And it's safe to say this shape will still be shredding for years to come.
Photo: Meyer
Note: Maurice Cole plans to shape 300 replicas of the reverse vee with identical dimensions and construction as the one Curren rode in that iconic photo to accompany a book telling the story of the board
[template id="26″]