CHARLESTON, SC (August 19, 2017) – In honor of National Honey Bee Day, Nectar Sunglasses is offering customers a 15% discount with the code HONEYBEE on all orders purchased today. For each item sold, Nectar is donating double its usual profits percentage (equating to 32 bees) to its partner, The Bee Cause. The organization repopulates endangered honeybees by building protected hives in schools across the United States and educates younger generations on the importance of honeybees.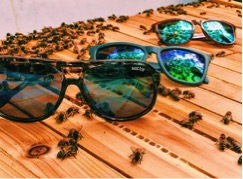 Nectar was founded in 2012 by two surfers whose vision was to design high quality, fashionable shades that could keep up with their lifestyles. At the time Nectar was born, eyewear brands in the $30-$50 price range that were considered desirable and durable enough for long-term use did not exist. Nectar seized this opportunity by designing a dynamic collection of unisex sunnies that could be taken on outdoor adventures and easily replaced if broken or lost. To make it easier for people to work and pursue their creative passions, Nectar launched its own specialty eyewear collection, available in prescription and non-prescription.
An important part of Nectar's company values involves protecting the environment and raising awareness of the honeybee decline, which remains an underrepresented cause. The existence of honeybees is vital for humans and livestock, as they pollinate 80% of the world's crops and their economic value reaches billions every year. Due to parasites and the mass use of pesticides, bee colonies have rapidly diminished in recent years. Since the launch of Nectar's partnership with The Bee Cause in June 2016, Nectar has helped build over 200 hives, housing millions of bees around the country.
ABOUT NECTAR SUNGLASSES
Our mission is to create dynamic eyewear fit for life's greatest adventures – without breaking the bank. Founded in 2012 by two surfers and longtime friends, Nectar is distributed globally with headquarters in Charleston, SC. Our brand represents our lifestyle – good vibes and a taste for the outdoors. Created in partnership with a team of talented designers and global manufacturers, our EuphoricHD polarized lenses provide ultimate UV protection and are featured in a variety of unique color combinations and styles. Each pair is handmade and comes with a lifetime warranty.
With each purchase, Nectar donates a portion of the profits to The Bee Cause, an organization that repopulates endangered honeybees across the United States. For more information, go to www.nectarsunglasses.com.