The Manasquan Board Riders Club (MBRC) is proud to announce a collaborative program with Surfers Environmental Alliance (SEA) in advancing our grassroots beach advocacy program. Leave Only Your Footprints is aimed at promoting public awareness and community inclusion in keeping New Jersey's beaches clean — all year round.
The MBRC has already implemented the LOYF program on Manasquan beaches with the overwhelming approval and support of the borough council and beach committee. The initial phase included the decaling of all garbage cans on the beach and beach walk and placement of small placard signs at all of the beach entrances. The non-obtrusive messaging is designed to be subliminal but repetitive in an effort to drive awareness without adding unsightly visual clutter.
The LOYF impact in Manasquan over the last year has been remarkable in that more people are driving the conversation and embracing the idea that a dirty beach is not beneficial to the community and keeping it clean takes minimal effort if everyone does their part.
SEA has pledged to financially support the LOYF Program with a grant that will be earmarked to procure LOYF signage to be offered to specific towns along the NJ Coastline. The materials will be distributed to the selected municipalities free of charge – all they need to do is install the signage elements at entry and usage points along the beach areas.
The MBRC would like to acknowledge the efforts of Richard Lee, President of SEA in his efforts to back this program effort. If you know of a beach community that could benefit from this program – the MBRC invites enquiries.
The program is outlined in detail on the MBRC website: www.MBRC.club and for more information please email us at info@mbrc.club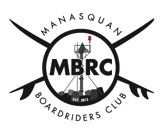 Tags: enviromental, leave only your footprints, manasquan boardriders club, new jersey