Friday, August 12th, 2016
Event Start Time: 6:00 p.m.
Opening Reception: 6:00 – 9:00 p.m.
Fran Miller's Prima Donna Photography Exhibition
Film screenings begin at 9:00 p.m.
Venue: Rockaway Beach Surf Club, New York, Free Event
Saturday, August 13th, 2016 Event Start Time: 7:00 p.m. Opening Talks: 8:00 p.m.
Film screenings begin at 8:30 p.m.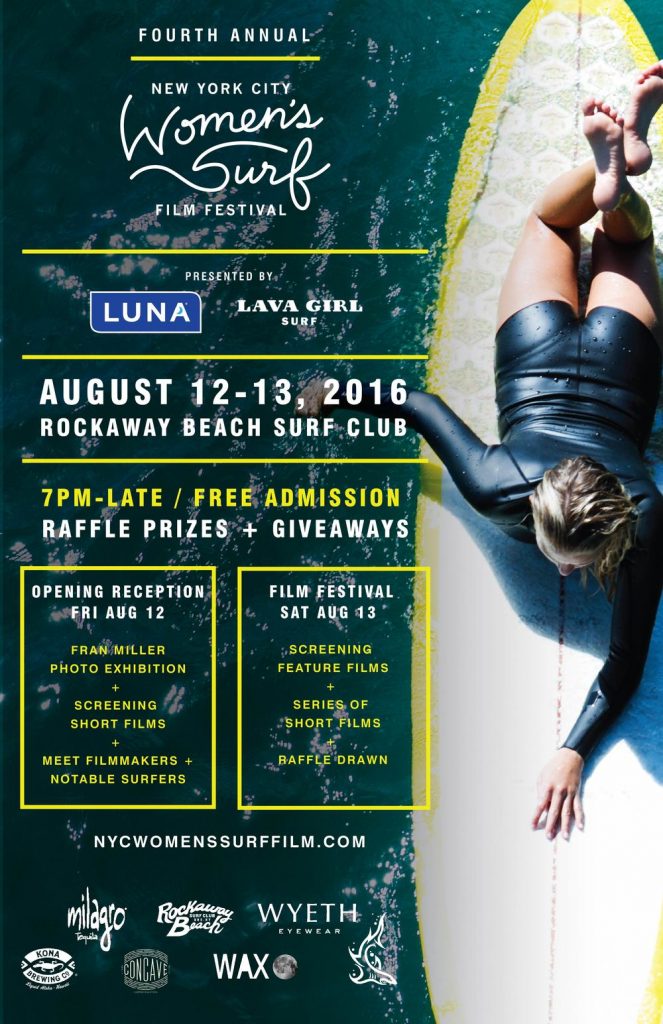 NEW YORK CITY – July 5th, 2016, – The 4th Annual NYC Women's Surf Film Festival (NYCWSFF), presented by Lava Girl Surf and LUNA, is proud to announce this year's film selection, partners and event program.
This year's festival, which has grown to a two-night event, will feature a photography show, two full-length films, and a variety of short films from established and emerging directors from around the world. The selections focus on the inspiring lives of women surfers, their unique journeys and passions, and their connections to the ocean.
Coinciding as it does with the growing recognition of surfing as a New York City pastime, the continued blossoming of the Rockaway community, and the recent accomplishments of female big wave surfing in particular, this festival marks a pivotal moment in the history of women's surfing.
The opening reception on Friday, August 12, will feature Prima Donna, a photography exhibit by Australian surfing photographer Frances 'Fran' Miller. Fran will be joined by several filmmakers and notable surfers featured in this year's films for an informal meet and greet followed by a screening of short films.
Saturday evening, August 13, will include screenings of this year's most anticipated contributions to the genre of women's surf films. Director Heather Hudson will present Women and the Waves 2, a documentary that celebrates women and the surfing lifestyle, examines the culture of surfing from a female perspective, and showcases six role models who share their love of life and nature both in and out of the water. It Ain't Pretty directed by Dayla Soul, is a documentary that follows the female big wave surfers as they battle sexism in the water, in competitions, in the media, and in the surf industry with hopes to empower a new generation of girls to live their dreams and overcome the barriers they face along the way. The film includes interviews with top female athletes and awe-inspiring big wave surf footage from the icy waters of Ocean Beach, San Francisco and the nearby Mavericks, one of the biggest waves on the planet.
Join Lava Girl Surf on Sunday, August 14, for a morning surf session and refreshments (7–11 a.m.) along with the filmmakers, notable surfers including Erin "Worm" Ashley, and other special guests. Coffee will be provided by Concave Coffee, along with refreshments provided by LUNA.
"LUNA Bar is proud, and so very fortunate, to be able to partner with the NYC Women's Surf Film Festival in 2016. This celebration of incredible women from around the world and their love of surfing (both behind the camera as well as in front of it) is a perfect match for LUNA. We look forward to supporting this year's festival, and to supporting its growth in 2017 and beyond," says Will Yandell, Regional Marketing Manager at LUNA.
Curated by Lava Girl Surf's co-founder Davina Grincevicius, a surfer and director herself, this year's programming will include films from the United Kingdom, Australia, Indonesia, Norway, United States, Spain and South Africa. Directors include Beth O'Rourke, Jeff Den Broeder, Simon Cotter, Stefan Jose, Tyler Haft, Steven Briand, Theresa Strack, Michael Veltman, The Inertia, 38 Productions, Mathias Kögel and Luca Meril's LUNAR presented by Seea. "I'm so excited to show these films because they offer a different take on female surfing. What you remember after watching are critical drops, gut-wrenching wipe outs and inspiring commitment, not what the ladies look like in a bikini which is the angle commercial media tends to perpetuate. These films are so refreshing and inspiring to the surf community," says Grincevicius.
There will be a raffle that includes surfboards by Natures Shapes and Wax Surf Co, a bike cruiser from Kona Brewing Co, sunglasses by Wyeth Eyewear and many other great prizes from Concave Coffee, Manda, De La Mer 1981, Seea, Salt Gypsy, Mamazoo, Goldie's, Zingara Vintage, Off Season NYC, Boarders Surf Shop, St. James, Grinder Girl and Scotty Bags.
For more information on the films and the NYC Women's Surf Film Festival visit www.nycwomenssurffilm.com.
Special thanks to our partners: Milagro Tequila, Wyeth Eyewear, Rockaway Beach Surf Club, Kona Brewing Co, Wax Surf Co, Natures Shapes, Concave Coffee, Tacoway Beach, Manda, De La Mer 1981, Salt Gypsy, Seea, Mamazoo, Goldie's, Zingara, Off Season, Boarders, St. James, Grinder Girl and Scotty Bags.
Media Partners: The Inertia, Eastern Surf Magazine, Boardporn, Surf Collective NYC, Pacific Longboard Magazine, Smash Surf, NYC Surf Chicas & Rockaway Summer.
Press Contact:
Davina Grincevicius / Lava Girl Surf Ph: (917) 697 1988
E: info@lavagirlsurf.com
Website: www.lavagirlsurf.com
www.nycwomenssurffilm.com
Admission: Free
Directions: The Rockaway Beach Surf Club (302 Beach 87th Street) is on the A train/shuttle to Beach 90th Street; bus service includes the Q22 and Q52. Parking is limited to on street. www.rockawaybeachsurfclub.com
Lava Girl Surf:
Lava Girl Surf was founded in 2012, with the first New York Women's Surf Workshop. It began as off-water workshops, along with engaged social events to encourage women to explore the fundamental elements of the sport. Lava Girl Surf has evolved to celebrate the art of filmmaking and the stories being told around the world of women surfers, their connections to the ocean, and love for their communities and those they discover. Through surfing, education, storytelling and art, Lava Girl Surf creates community and inspires women's lives.
LUNA:
LUNA®, The Whole Nutrition Bar for Women®, is the first nutrition bar that provides the nutrients women often lack, like folic acid, calcium, iron, vitamin D and other vitamins and minerals, which are essential to a woman's everyday needs. LUNA bar is gluten-free, made with 70 percent organic ingredients, contributes to women's nutrition and tastes amazing without any unnecessary additives. The perfect source of energy before or after you get in the water.
Rockaway Beach Surf Club:
Rockaway Beach Surf Club is a cultural event space, restaurant, and bar devoted to promoting the love of surfing, conserving the environment, and supporting its local neighborhood. Unique to Rockaway Beach is the convergence of surf and urban culture. Their mission is to inspire the community and its residents through surfing and to be a fun and positive destination for visitors to the peninsula.
Tags: free, new york city, nyc, rockaway beach surf club, women's surf film festival