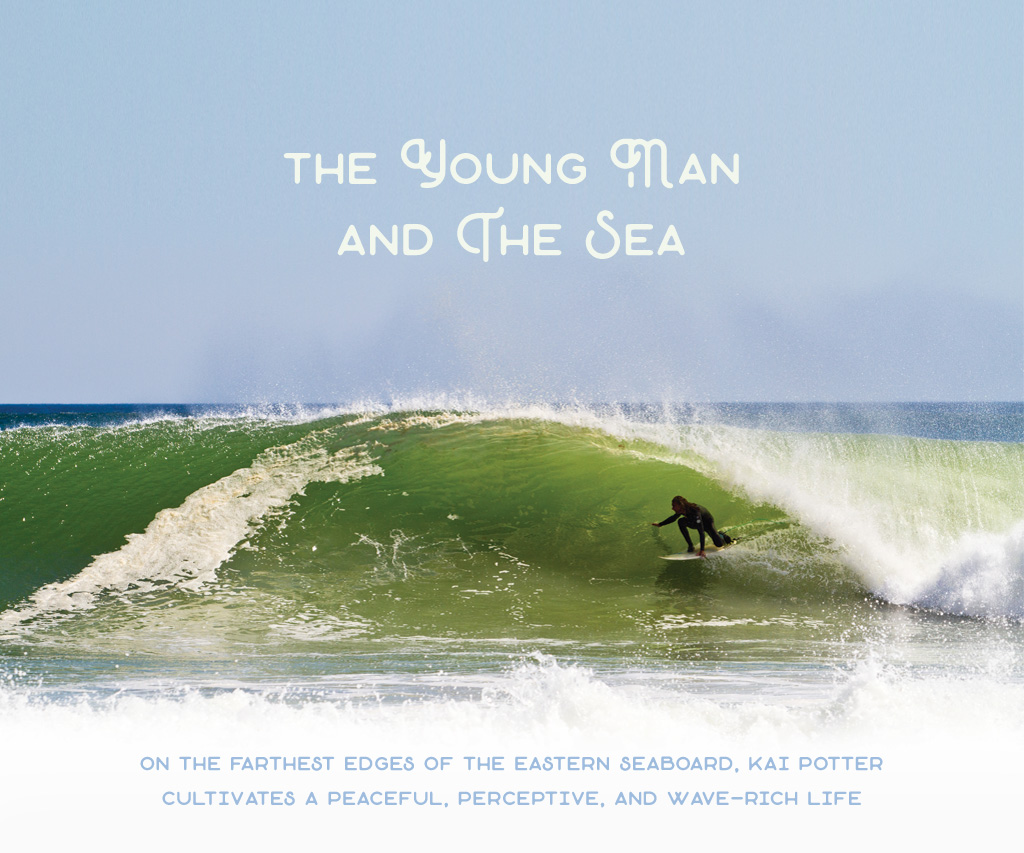 If you had to pinpoint one particular place that represents the purest form of salt-of-the-earth East Coast surfing, Wellfleet, MA, might just win. This scrub pine-dotted Cape Cod town is full of pool skaters, barrel riders, photographers, commercial fishermen, graffiti artists, and construction workers, all of whom peacefully co-mingle while following a fiercely enforced code of no-bullshit pride in their hard-fought independence.
Wellfleet's finest come by such an existence honestly: 400 years ago, just east of the town's sand dunes, "Black Sam" Bellamy went down in a storm alongside 143 of his men and 8,000 pounds of gold, ending a one-year, 53-ship run becoming the wealthiest pirate in recorded history. In 2017, Wellfleet's greatest saltwater bounty is its thick sand-bottom barrels, which detonate best when water temps hover in the high 30s and there's nary a tourist to be found. Ask any true Fleetian to identify one of wintertime's top performers and you'll hear the same name over and over: Kai Potter, a 32-year-old landscape designer who embodies all the best attributes of this unmatched slice of New England paradise.
To wit, the yarn that we asked Kai to spin himself for our August Who Da Guy issue came back in such beautiful, awe-inspiring form that we decided to hold it over for September and dedicate significant page space to it. Why? Because we believe that no surfer has ever captured the true grit of our lifestyle and the true depth of New England heart better. Yes, what you're about to read is long, but we think that people will remember the impact of Kai's words long after the ink on these pages has washed off your fingers — and long after the Wellfleet crew has returned to its hardy, heavy, heady lives, content to not have the outside world pry into their environs ever again. –Nick McGregor
---
My exposure to surfing was less of an introduction and more like osmosis — it's long been an integral part of our culture on the end of the Cape. My dad, Jan Potter, formally introduced me to it, putting my brothers and I on an old 40-pound longboard as soon as we could stand at low tide at Newcomb's. I still have the old sun-tanned beast, steeped in history and looking like it was steeped in actual tea.
Like any strong, passionate, lifelong relationship, you fall in love over and over again in ways you never could have foreseen. The first kiss would have to be those sunny summer days, feeling that moment where your heart just breaks open. The love grew stronger when I started surfing on my own and with a group of similarly love-struck friends — the sense of independence, the search and the reward, early mornings and sunsets where the waves are splashed with every color known and unknown. Then there was the first barrel, that moment I realized I've just been inside a wave, and I'm only beginning to comprehend this experience as it is coming to an end, and the feeling is the pure essence of life. I would fall in love again and again when I'd find myself somewhere far away, in a place that only the pursuit of surfing could take me. I think I fall in love again in some way every time I surf.
I started surfing winters once I could drive myself to the beach and, more importantly, home afterwards. I would wear two 3/2-mils and two pairs of boots, one of those useless bonnet–type hoods that lets frigid water flush your head every time you go under, and whatever gloves I could scrounge up. I remember a few times after short but intense sessions where I would be in that semi-hypothermia/nausea state, where you can't quite see or hear straight and certainly can't use your worthless little finger-nubs to open the car door. A real winter suit is a beautiful thing.
Surfing in Massachusetts isn't necessarily harder, but it requires more dedication, passion, and desire. Obsession, maybe? There's a barrier to getting started here and learning because of the waves and ever-shifting conditions, the seasonality, and how fickle it can be. I suppose it thins out those who approach it casually and rewards those who are hungry. There were all sorts of characters everywhere when I was growing up who were great people and great surfers: Michael "The Duke" Clements and Bruce Birchall and their wonderful families; Longboard Larry and his board "Kate Moss"; Chuck Cole on the kneeboard; various tanned wanderers who would breeze through and look cool as hell on a surfboard; all the various little salt- and sand-encrusted beach-rat children who would grab any board that was unattended and charge into the water.
As I got older, the locals who came before me were a source of inspiration and knowledge. Brendan McCray always pushing us to charge. Shaye Cavanaugh with the technique. Josh Clements with the epic speed. Ethan Esty doing weird kickflip-air-things on a 5'6" in knee-high waves. My older brother Caleb, simply because doing anything with him was an inspiring adventure. My younger brother Max, who only surfs when it's huge, standing on a kneeboard. Barney (both of them). Olaf Valli and Scotty B. Billy and the entire savage crew of Sullivans. There are just so many talented and great people that it's impossible to name them all… Eric, Al, Ian, Brendan, Adam, Katie, Rachel, Emma, Sonya, Mathias, Justin, Ryan, Andy, Ebbs, Cole, Alli, Richard ("Why postpone joy in your life?").
Everyone who shows up and gathers at the top of the dunes to tell stories, give hugs, share a beer and a laugh, recount tales of blown waves and narrowly survived barrels… I shouldn't even start because I'll leave so many essentials out. I'd need a few pages, but they all know who they are and I hope they all know how deeply I appreciate them. The excitement, the kindness, the motivation to go in when it might be a good idea not to. The "I'll go in if you will." The "Damn, that looks evil." "It's sooooo cold." "Get out of your truck, let's go."
As far as pros, I didn't really pay all that much attention to who was doing what in the pro world, which is kind of weird for someone who loves to surf so much. I guess once I started looking to professionals it was always the guy doing something unique, approaching their life in an interesting way, or the one having the most fun. Surfing in the Northeast demands a willingness to explore, to invest time and patience, to be willing to drop what you're doing and jump in, and to not be a surf snob and just get in the water, even if it's not going off. I look at the ocean nearly every day and would surf every day if conditions allowed. Again, it's sort of embedded into the culture and routine, permeating most areas of life in some way. Just as our population explodes in the summer, so too do the number of people in the water. It's a whole different story in the winter. You go from hunting for a place you can surf by yourself in the summer to calling people and scrounging up moral and emotional support partners in the winter. Surfing here, as I believe is true on the whole, has grown in popularity, so we see a lot more people in the water than in days past. But who can blame them — who doesn't want to surf?
I did some contests when I was younger through ESA, good local contests put on by people in the community to support and encourage kids. There was a strong level of support for younger surfers who wanted to get out there. Shop sponsors were a blessing, and to this day I'm sponsored by Sick Day — friends who would help you afford a winter suit, a new board, a bar of wax in February. The Cape is a seasonal place. Like any well-adapted animal, surfers from this area tend to migrate to warmer lands, where they can gorge on waves and put the memories into their surfing fat stores. I began traveling at a young age to places where I could surf and expand as a surfer and as a person. New surroundings, new waves, and new coastlines really do a lot for one's development as a surfer. This is a common pattern here — the question was not, "Are you going?" but "Where are you going?"
Cape Cod is a small place, so you have to get along. But the people here make that easy. Small communities tend to create a sense of closeness. Shared experience and struggle binds people together through the threads it creates in their lives. As surfers, we are an even smaller subculture within an already small community. We have to stay together and share in our experiences and struggles, joys and losses. There is a truly unique and special breed of people out here. We all stay pretty close in and out of the water, supporting each other as well as holding each other accountable.
On a very basic level, I think everyone just genuinely likes each other and feeds off each other's energy. When we're all in the water on a good day, everyone seems to be surfing vicariously through everyone else, screaming with joy when they drop into a big drainer and come flying out the end or letting out a collective cry of pain when someone is crushed by a two-foot thick lip of nearly frozen seawater. It's interesting that nearly everyone out here to some extent works for him or herself, or owns their own business. We all do a pretty good job of supporting each other, sending work each other's way, and helping one another out when needed. There is always encouragement, collaboration, and the lending of a helping hand if you need it.
My mom Sharyn has always been endlessly supportive of anything I pursue. She started Long Pond Landscaping a long time ago, and I worked for her for years. Although she doesn't surf, I learned a great deal from her. She taught me how to manage people, how to value my time, and how to trust my eye when it comes to design. I did a stint at Mass Art and followed that up with studies in landscape design and contracting at UMass. I was humbled in realizing how much I didn't know I didn't know. My family met with a series of tragedies and I was in a position to take over the company. It seemed the right move to support us.
My work season runs from early April until late December. I used to take off and travel as soon I could (and travel as long as possible). I would come home salt-crusted, wearing new scars, and behind on work. That got to be a bit much, so I give myself a little more time these days to settle things out before leaving for the winter — and some time to settle back in before work starts. I stayed on the Cape this past winter for the first time in a long while. It was actually really nice and relaxing: lots of reading in front of the wood stove, beach walks with the dogs, and dinners with friends and family.
The severity of the difference between summer and winter on Cape Cod can be a little intense. I liken it to a sort of manic-depressive state. The summer is old friends and new faces, madness on the highway, beach days and boats, long warm nights, longboards and long slow waves, everyone grinding to squirrel away enough for winter, barbecues, swimming, dancing, and astoundingly beautiful sights and moments. Winter is pulling friends close, empty streets, bundled-up beach walks, looking at docked boats, everyone eating through their squirrel stash, wood stoves, long cold nights, shortboards and heaving barrels, dreaming of swimming, dancing alone, and astoundingly beautiful sights and moments. The summer offers influences from the outside: new ideas, new blood. The winter really pulls you into yourself — you slow down like an animal in hibernation. This dynamic applies to working here as well. You hear it every day: "Make hay while the sun shines." Then, you have to be comfortable with yourself to survive the winter here.
The thing I love most about my job is the creativity I get to exercise. It's a pretty special thing to have someone offer his or her property as a canvas. Planting a garden is something you do with a forward-looking vision — and it's very rewarding to see it grow and develop over time. Plants are endlessly fascinating and can be the most beautiful medium to work in. I love that I can create a space that will be meaningful to people. I am also fortunate to work for really lovely people. It's nice when you're on a hugging basis with your clients. Schedule flexibility is a good thing too, you know, for board meetings.
The thing I love most about Cape Cod is the light. There's a light that exists here and nowhere else. It is why artists are drawn to this place. The ocean is the ever-present energy that completely surrounds us. It shapes the land and who we are; it gets into our veins and does not leave. The rawness, too. Summer is deceptive in its gentleness. The truth of this place is raw, shifting, churning, and abrasive — just look at the pines along the dunes and you'll see the story. I love the change of the season; the passage of time measured in color and light. The turning of things cannot be ignored because it surrounds you. You can smell it and feel it through some old animal sense that lingers in the bones.
Surfing reminds me to play. If you ask yourself why you surf, part of the answer should be, quite simply, to have fun. Achieving joy in one's life is the most worthy pursuit — in whatever form it takes. I love that through surfing you get little glimpses into absolute presence; moments where you are fully and completely present. When you're standing in the most momentary, intense, dynamic place a person can be, a spinning tube of water, or pushing through a big, deep bottom turn, it demands that you be completely in that crystalline moment with a clarity difficult to reach elsewhere. It allows for a chance to fully exist.
I love the community of friends I have found through surfing. I love that it has been an inspiration to go off on completely unplanned reckless beautiful journeys to the most distant and unlikely places. I love that surfing is something you do in the ocean. I love the shockingly beautiful things you see while sitting in the water. I love when a wave passes and sprays rain and rainbow's arc through the air, stinging your eyes. I love feeling terrified in the water. I love falling off the top of a huge wave, not penetrating the surface, and getting rag-dolled and beaten. I love running my fingers through the face of a wave. I love the exhaustion that only hours of paddling and sun and joy put into your bones. I love surfboards and the smell of wax and colorful reefs and views of mountains and huge smiles with white teeth or no teeth at all and palm trees and sudden violent rainstorms and white rice and broken flip-flops. I love jumping in my truck freezing cold, unable to pronounce words but tingling with the memory of giant brown-green tubes. I love running down the beach with friends and seeing waves spit. I love looking around the next corner and finding something that looks like the pictures I drew on my desk. I love crouching on a longboard and tickling the lip of a tiny perfect wave. I love saltiness and leaning forward hours after being in the water to tie my shoe and gushing salty snot-water out of my sinuses. I love the language, the ridiculous yet perfect terms surfers use to describe things. I love when people scream and hoot because they're so excited to be alive. I love that surfing pushes you to overcome challenges, that it teaches you to commit, that you get to stand on a little disk and fly through the water on giant masses of collapsing energy sent here by the sun.
I've had the good fortune of being able to travel a great deal, although it still never feels enough. Surfing has driven most of my travel, but there's always so much more to it than that. Surfing is the spark that sends you off to find so much more out there. It's hard to choose a favorite destination — I love them all for the different experiences I had and what they meant to me at that particular time in my life. Central America if you want to dirt-bag it and meet crazy Europeans. Europe if you want good food and wine and amazing history and culture between sessions. Indonesia if you want to stuff yourself into as many barrels and sharp reef caves as possible, having your mind completely blown by how vast and varied our world is. There are so many places to go that I can't choose a favorite because I may have not yet been there.
Five months in Central America at the age of 18 was pretty rife with crazy experiences: sleeping on strange, beautiful beaches, dancing all night around giant beach fires with my closest friends and strangers and soon-to-be-friends, my mom and I surrounded by giant bulls in the pitch black one night on a dusty street in Costa Rica, ready to be mauled and crushed at any moment. Having a good part of my ear ripped off on a reef in Bali — and the guy who put it back on laughing and mumbling something about Evander Holyfield. We almost died in a near plane crash in Sumatra helping to carry a dead man from the ocean. Exploring a remote Indonesian island, surfing unnamed reefs, and being woken every morning by a 10-year-old Russian princess demanding I play cards with her. Getting to know my friends in a way that only the savagery and successes of travel, days of diarrhea, and scoring perfect waves together can allow. Finding myself in the most unlikely places meeting some of the most interesting and wonderful people one could ever hope to know. Being stripped down to your most basic self and seeing who you really are. 
Back home, I absolutely love to read. There is a wealth of knowledge and adventure out there waiting to be read. There is a lot to gain from reading, and the things we read seep into us. I also grow Bonsai trees. Bonsai, being living sculpture, demand attention, patience, awareness, artistry, and quiet enjoyment. Just as with surfing, I find so many lessons and parallels between the practice of Bonsai and living. I like to draw as well. Drawing is more a way of letting things out than of taking things in. I like to draw in social situations. I tend to draw pretty weird stuff.
There is a history and a culture of art here on Cape Cod. When you see others around you, and those who came before you, make a life out of creativity, you see that it can and should be done. It is suddenly not so out of reach, and you see that there's reception for your ideas, that people welcome the weird and the strange and the inspiring. When you feel that your community is a safe place to let yourself be vulnerable, you allow it of yourself. Being vulnerable is an integral part of being creative. People have a strong sense of independence here. Not of the proud "I don't need any help" variety, but of the type that says, "I am going to do things my very own way." There is so much encouragement and outlet for everyone's various creative pursuits. I feel like so many people I know could be described in some way as an artist, whether it be in the lines they draw on a wave, on a canvas, on the landscape, on the buildings they construct, on the oysters they lovingly grow, on the pictures they make, on the pots they throw, in the stories they tell, or in the lines drawn on their faces that tell the story of their life.
I would encourage any young New England surfer to travel. Exposing yourself to new surroundings and conditions will inform you as a surfer and develop you as a well-rounded person. I would also encourage you to make sure that you pay due attention to and focus on the other aspects of your life — to see your life as a greater composition that should integrate all the vital parts: one's professional life, love, passion, health, family, self-care, growth, and learning. I would encourage you to make the whole picture work. At the same time, you should pursue your passion with ferocity and madness and sheer abandon and ignore anyone who tells you otherwise.
It is a unique and important thing to have a direct connection with the person building your wings, and I have that with Shawn "Vec" Vecchione. Without a surfboard beneath our feet, surfing is quite difficult. Having boards that are developed through testing, trial, tweaking, and redesigning is essential. It's really great to have boards made by someone who not only intimately knows the specific conditions they will be ridden in, but someone who actually knows your specific style of riding. Shawn is receptive to input and values feedback. It's great to stand in the shop and get into animated conversations with all the hand jive and wide eyes you see when two people are discussing something they're both passionate about. He's also really into what he does (another artist) and is a craftsman in his field. I've gotten the best waves of my life with his boards beneath my feet.
There is no long-term surfing if we don't take care of ourselves. Keeping healthy and fit and sound is an essential part of any goals I have. I would like to continue seeing the world through the lens of surfing. I want to go everywhere. I don't have any specific trips planned, but there are many swirling around that are calling. I haven't been to Africa. I must go to Japan. There are 72,000 islands I would like to visit. There's the constant conflict between being a responsible adult who maintains good credit, acquires assets with an eye toward the future, returns phone calls and emails, pays excise tax, and paints the bathroom when it needs it and the hungry animal within who wants to sell everything, tear off the clothes, rub mud on its face, cook fish over fires, and run off to surf every wave-drenched coastline in the world. So I guess my long-term surfing goals are to find a healthy balance between the adult and the animal — to feed both sufficiently and incorporate both their needs into a productive, meaningful, fun, loving, and surf-filled life.
I would like to be a father one day. I feel like being a really good, present, loving dad will be the most rewarding experience. The opportunity to teach and to be taught by a child must open the world in an entirely new way I could never imagine. I intend to make my creative pursuits a more meaningful part of my personal and professional life. I have always loved working with clay, metal, wood, paint, and drawing. My father was an amazingly talented artist who worked in clay, metal, paint, and wood. I think it simmers in the hands and needs out. When I was a kid, all I did was draw and make things with my hands and I would like to get back to that again.
I want to be a good friend, brother, and partner. I want to lead a full, colorful life that I am proud to call my own. I believe that when we look back on our lives, it will be the relationships, the love, the challenges overcome, and the moments of growth that give our lives meaning. Although I feel it's important to one's sense of self to take care of finances in a realistic and responsible way, doing so should be the result of pursuing meaningful and personal work. It should not come at the cost of your values and your soul. No one is counting their money on their deathbed.
[template id="411″]