As the scope and sustainability of surf journalism continues to splinter and shift, the focus of storytelling has swung away from the all-encompassing, the international, and the universal, and honed in on the single-minded, the hyper-localized, and the homegrown. Enter Jon Coen, esteemed for the last two decades as one of New Jersey's most celebrated, most incisive, and most fervently no-bullshit scribes. Across more than a decade of dedicate coverage, Coen has reported on everything from the rise and the fall of the Grudge Match to the explosion of New Jersey surf photographers to pressing environmental issues on LBI to Asbury Park's artistic renaissance.
Coen's style might seem like the epitome of New Jersey everyman, but even within that subculture there's a particular niche that he covers better than anyone: Long Beach Island. Tuned in to the nuances of every local sandbar thanks to an unwavering love of getting barreled and with his finger on the pulse of every ripple that washes over this 18-mile barrier island thanks to his role as a longtime columnist for The Sandpaper, Coen has dedicated his life to the ins and outs of LBI for the last 20 years.
And that's most evocatively represented in his new documentary film project, Just Beneath the Surface. Quietly conceived and humbly launched in between steady freelance assignments, the responsibility of fatherhood, and attending just about every hardcore punk show he can, Just Beneath the Surface is ready for its big 2017 moment, with several episodes set to launch this year and a committed mission statement attracting outside support. "It's all about showing the area through new eyes at the best possible times, in the best possible ways, with the best possible colors, represented by the best possible characters," Coen says."When you see that, you appreciate where you live over and over again."
ESM: Tell us about the formation of Just Beneath the Surface.
Jon Coen: I've been writing a column for The Sandpaper and covering local events in LBI for so long that I know all these people and their stories. I thought it was time to tell those stories more thoroughly and in a different medium. And that's video. If I can show people these visuals and tell these stories, I knew it'd be well received. People who come to LBI over and over again — whether they live there year-round or just go to their house in the summer — people have this pride in it and love learning about the local area. I've traveled so much, and I know that on our best day of surfing, fishing, diving, or paddling, LBI can look just as good as some of those other places look. So let's show this place at its very best.
ESM: Who has joined you in that mission?
Jon Coen: I've worked with the Southern Ocean County Chamber of Commerce for a few years. Jeremy DeFilippis of Jetty is on the Chamber, and so I got to know the executive director, Lori Pepenella. When I brought this idea to her, she was really excited about it. And the support I got from her was enough to get started. I hired Oak Leaf Media, three young guys from Tuckerton. Oak Leaf doesn't come from an action sports background. When you work with guys that care about surfing or fishing, all they care about is getting the action shot when the light is right and the waves are right and the weather's right. These guys are more concerned with the technical aspect — they're very, very good and very, very professional. They come at it from a 100% different perspective. It's funny, I always say I hate them — they annoy the hell out of me. But when they show me what they've shot and edited, I'm blown away by how technically sound it is.
ESM: In surfing, we don't always capture those interesting stories — especially if the people who live them aren't the best surfers. 
Jon Coen: Writing about surfing, a lot of the stories are written about the hot 20-year-old kid. But that hot 20-year-old kid isn't really that interesting. He doesn't have much in life besides surfing. But when you start talking about people who make a living doing something they live, they tend to be way more dynamic people. Those are the stories that I wanted to tell. These are the stories of the people that make LBI what it is. The title, Just Beneath the Surface, speaks to the actual footage — we've got really good underwater shots of striped bass running — but it also speaks to the idea of going just beneath the surface of what most people see when they come to Long Beach Island. It's more than just the bar night and cotton candy and swimming in the ocean. If we can show the characters who make LBI what it is, we're telling a deeper story and creating a deeper connection to the area. If you come to LBI, we want to give you more perspective.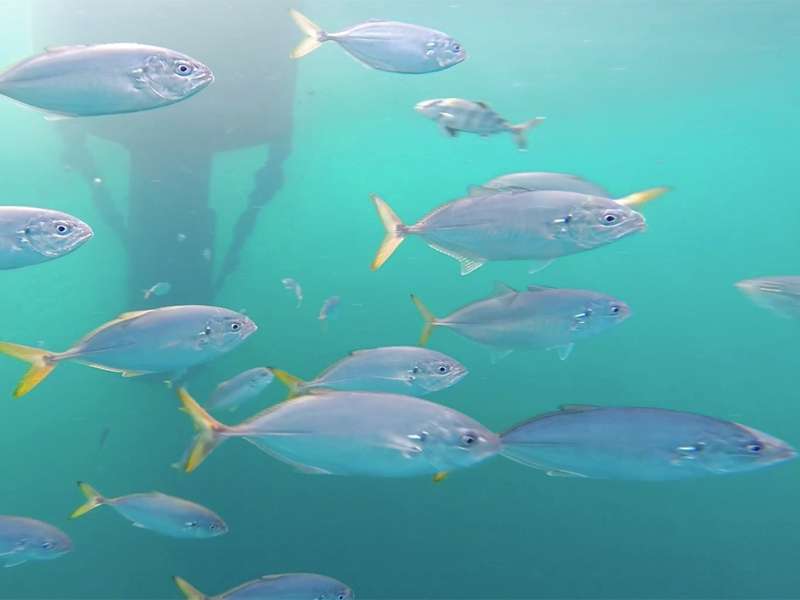 ESM: LBI stands out for its relatively laid-back, very un-Jersey Shore atmosphere. Is that reflected in the stories you're telling?
Jon Coen: There's two parts of that. There's the actual geography of LBI — you can't drive north to Island Beach State Park or south to Brigantine. When you come to LBI, you make a conscious decision to come here. It's a commitment when there's only one way on and one way off. That has also made it a very special place, and for a long time people had more of an isolationist attitude, which has changed drastically in the last 10-12 years. We've seen an incredible investment in arts and culture on LBI, which we did not traditionally have. A lot of that arts and culture is celebrating our own character and history.
ESM: What do you think has precipitated that change? Why is so much of the culture so interconnected?  
Jon Coen: We've always had surfers running businesses here. But now people find that charming — they don't have the stereotypes that they used to. When you see surfers looked up to in the community, that means a lot.
ESM: The first episode of JBTS came out last year.  
Jon Coen: That served as a pilot and allowed me to raise funding. I talked to a lot of blue-collar people who make LBI what it is. We wouldn't be what we are without these people working with their hands every day. There's a big emphasis on protecting our environment, whether just to protect it or to benefit our local economy. Without clean, safe waterways for recreation, we would fold and no one could live on this barrier island. Unless they hunted seagulls and ate clams. Even if you don't directly work in tourism, all of your customers work in tourism to some extent.
ESM: What's the production schedule for the rest of 2017?  
Jon Coen: There are four more ready to go for 2017, all of which have cultural elements and outdoor elements. We have a segment on surfing and tracking a swell; we have something on the history of shipwrecks. We're doing freediving and spearfishing — people have no idea how clear our water can get — and we have a segment on Pine Barrens culture and the people who have made their living for generations via traditional means. It's a really isolated culture, less than 90 miles from New York City. Then bartending, which is a vocation that a lot of surfers get into — you can make good money and build your own schedule if you're willing to bite the bullet and work those late nights and long hours during the summer. We have a segment on paddling on the bay — the Barnegat Bay is a jewel for recreation — and we have something on the homes of LBI. From the super elaborate LEED-certified trophy eco-homes on some of the most exclusive tracts of real estate on the East Coast to these small houses that people live on right on the bay, simply because they love the lifestyle.
ESM: You're really covering as many angles as an 18-mile barrier island can contain. 
Jon Coen: It's all about showing the area through new eyes at the best possible times, in the best possible way, with the best possible color, represented by the best possible characters. When you see that, you appreciate where you live over and over again. That's what I want to do.
ESM: As a longtime writer, is moving in this kind of multimedia direction necessary for survival?
Jon Coen: I really hope the written word never dies, but the way that magazines keep pulling themselves back, I want to be ready to move forward. It's also just exciting for me. When you do a premiere of one of these episodes — we did one at Old Causeway last winter, and we were accepted to the Lighthouse International Film Festival — people are blown away. The excitement of showing people your finished product in person is something you're never going to get with people reading your article. It's cool to get that immediate feedback.
ESM: Who's helped you the most with this project?
Jon Coen: Brian Farias from Farias Surf & Sport understands the importance of building up the community on LBI and surfers being a big part of it. Other sponsors include Dave's Electric, Old Causeway and Mud City Crabhouse, and Ship Bottom Brewery.
ESM: What else do we need to know?
Jon Coen: The next episode should be out in the spring, and New Jersey Monthly has agreed to put them all on their website, which is great for us. Then we'll be releasing more staggered through the summer and fall, with some actual premieres.
[template id="411″]