My name is Jeff Wilson. I am 46 years old. And I have an addiction. Here is my story:
I was floating above it all. Everything made sense and the voice of calm whispered through the breeze skipping over the long stretch of dunes, picking up sand specks along the way and tugging a strand of hair over my eyes. I let it hang in front of my face as I looked back at the sea — more specifically, the waters off of Borderia Beach in the Algarve region of Portugal. It is where I spent the last two hours surfing. What that means is roughly 118 minutes of floating and paddling on a six-foot slab of fiberglass-encased styrofoam, interrupted by perhaps 74 seconds of what most surf videos feature as "surfing." This may sound frustrating, and it can be — even maddeningly so. But those few seconds where everything comes together make it all worth it. Almost too worth it.
I was still holding my board, letting droplets of water fall on to my wife's towel as she squinted up at me.
"So fun," I said. "So fun."
"Oh good," she said, relieved that my mood would be high. For now.
"Much better than I thought it was gonna be."
I rested my board on the sand and reached for the fluttering strip of fabric connected to the zipper of my wetsuit. I pulled on it as I walked back to the water's edge. This is the sweet spot: body exhaustion, the invigorating charge of waves recently surfed. I felt joy for the other surfers out there. Yes, old man, walk to the nose. And you, plucky grommet, smack the lip again.  A generosity of spirit was flowing with the incoming tide. To borrow a cliche that is now a clothing line slogan: Life is good. I contorted and yanked my way out of my wetsuit and dragged it through the tidal pool for a rinse. The warmth of the sun on my back complemented the cool water rising up to my thighs. I passed two young boys and their father playing a game of soccer in the sand as I walked back up the beach. I smiled at them.
Once at our spot on the beach, the breeze began to overtake the warmth of the sun so I plopped down on my towel next to my wife and stretched out face up in sand-angel position. Sweet spot number 2: Deep breaths, closed eyes, sounds of waves, sea water evaporating off my skin, leaving a salty crust behind as a memento of time well spent. Nowhere else I'd rather be. My legs twitch in sleep. Then my arms. Then nothing.
I sit up, groggily, and squint out at the sea. A strand of hair drifts into my face. I push it aside. My legs feel too hot. I watch two surfers take off and ride the same wave — one left, one right. It looks like the tide is filling in, taking most of the punch out of the waves. I pull a magazine out of our bag and try to read. I continue reading an article that I had begun earlier about ex-convicts who have made their way into the University of California school system to earn degrees. After six sentences, I look out at the sea. There are still some waves pushing through the tide. Other surfers are catching them. Not me. That same old man is up again, this time as if to spite me. I read another eight sentences, then look up. More take-offs and other waves unridden. Maybe the punch is still there. I look at my watch. It is 3:15. It's our last day in Portugal and we need to meet our Airbnb host at 6:00 PM for checkout. We wanted to do a bit of shopping before we leave, too —handmade pottery as gifts for friends and cheddar cheese that's about as rare as waves in Italy, where we currently live and work as International School Teachers.
So, I should just dunk in the water to cool off and then get ready to go. Right? I should be more than content, especially considering my early morning session at Tonel. That was a gift. I surfed clean, chest-high waves by myself in the early morning sunshine for 30 minutes until a group of friendly Dutch folks paddled out. They were learning how to surf. I went from the only surfer in the lineup to the best one. Those are two things that may not happen again until I retire.
But yet, sitting on the beach in Bordeira, I feel anxious. Consciously, I realize that I am just being greedy. But that is what makes surfing more than just a frivolous hobby. It can consume you. It feeds off of itself. I've never done cocaine (no, really), but from what I have heard and read, the addictive phenomenon sounds quite similar to the cycle of dependence with surfing. The first few times may be scary, but the rush you feel at some point makes you want to do it again. And again. And again. Until you catch yourself neglecting relationships, sacrificing job opportunities, venturing into treacherous places, meeting people in parking lots to get the materials to score another rush.
Ultimately, I decide to bodysurf one last wave rather than consume at least another hour trying to "score." I keep telling myself that it is OK. That I surfed more today than I have in months living in Italy. What's more, I almost didn't surf at all on this trip. Our first day in Lagos, I tried to go for a run with my wife since we have been training for a marathon. But I couldn't run more than a quarter of a mile. A hamstring strain that I incurred on a speed run a few days prior flared up, forcing me to stop. That is when I walked up to a surf rental shop I had discovered online to rent a Rusty fish. The kind folks there recommended that I drive out to the west coast to surf Cordoama beach, which I did. I was jolted by a stabbing pain on my first take off. I had mistakenly thought that my hamstring strain was restricted to running. But it had seeped into the sacred realm of surfing. A dose of denial got me through the session but I paid the price afterward. Now, my hamstring sneered up at me with every walking step. I bought a beer at the beach shack-restaurant and hobbled out to a precipice on the dunes to reflect and write. I had the comforting body exhaustion, but it was infected by the realization that I may have ended my surfing for the remainder of our vacation.
I finished the beer, packed my gear into the rental car, and drove back to Lagos where I brought the board back to the surf rental shop. I woefully explained that I was going to take a few days to rest and, hopefully, be back to rent for our stretch of days in Sagres. They empathized and generously offered to deliver the board if needed. I thanked them and limped back out to the car, without a surf board.
I swam at the beach in Lagos the next day, which kept my body and mind at a sufficiently healthy level, but the following day brought intense winds rendering the ocean unswimmable. Uh-oh. No surfing. No running. No swimming. But…beer. And, our Airbnb was mercifully equipped with a nylon string guitar. I played a lot of Willie Nelson and worked on several unplugged versions of Clapton and Nirvana to keep me afloat. But I knew these were just stop gap measures; waves were breaking as I strummed. I sang louder, but anxiety still crept in. I kept close tabs on the pain in my leg with every step.
We made our way to Sagres by late afternoon on Thursday where I had planned to rest and perhaps swim for another day or two until the weekend before trying to surf. After checking into our place, we ventured out to find Beliche Beach — one of the only wind protected beaches at that time. On the walk down, I noticed a few figures bobbing in the ocean. Surfers. Its OK, I said to myself. The conditions are not great. You need another day of rest. Its OK. I repeated these type of things to myself as we unfurled our towels and sat beneath the startlingly beautiful cliffs. Appreciate the spectacular landscape, I urged. But my gaze always turned to the bobbing figures in the ocean who occasionally zipped along the face of a wave for a brief moment. I tried to take full, deep breaths but they seemed to be cut short. I pulled out a magazine and tried to read. I should be thankful to point of joy that I am not in solitary confinement, like these young men in the article. As pathetic as it sounds, that gratefulness lasted only as long as I kept my eyes off of the ocean, which wasn't long.
My wife sensed my restlessness. She implored me to stop watching. But that was about as effective as telling her 3 year old students to stop reaching for the colorful, sparkly animal figurines on the shelf. In my own adult way, I pouted just like them, fully aware of my smallness. I was Jesse Pinkman twitching in the corner of his barren living room, Walter White's voice echoing off the walls. Man up! Don't backslide! But its no use. I called my dealer. Or rather, I WhatsApped the surf rental shop in Lagos and asked if they could deliver that evening. They enabled me. In a few hours, I was shaking hands in a grocery store parking lot and loading gear into our car.
The next morning, I woke up at 7:00 AM, slung my wetsuit over my shoulder, picked up the board bag, grabbed the car keys off the dining room table and walked out the door. After sliding the board into the back of the car, I rubbed my right hamstring and said a silent, non-denominational prayer.
Tonel was working despite the aggressive wind. I paddled out into the scrum of already-stoked surfers and managed to catch a head high rumbler. I pushed off the board, slid my feet beneath me into a crouch. No pain. Bottom turn and go. Ah, that first hit. The world loosens its grip. The water feels warmer. The other surfers seem more friendly. And, I can smile. To myself for now. But later, for my wife who is my true enabler. Although she is an ocean-lover as well, her graciousness in traveling to another somewhat far-flung place for me to float around off the coast and take hits off the pipe of mother ocean is special. Yes, it is an addiction. But I cannot think of an addiction more noble than surfing.
So, I look out at the Bordeira line up and the cliffs beyond. I take a full, grateful breath and turn with my wife to walk back to the car, board bag strapped over one shoulder and wetsuit draped over the other. We make our way back to Sagres, stopping at the pottery shop along the way. After, we pick up two cold, local micro-brews at our favorite eatery and drive out to the light house at the southern-most point of Portugal to watch the sunset. We nestle into a section of the cliff like barnacles on a frigate. Seagulls provide movement and song for the dynamic painting changing color and shape on the horizon. My wife takes a sip of the pale ale and hands it to me with one hand, the other resting on my chest. For the moment, I am at peace. Obrigado, Portugal. We will return.
Wow, Jeff — what a compelling story. For your efforts at placing us on the beach with you in Portugal, we award you our Letter of the Month prize pack, a FUSION STEREOACTIVE, the world's first purpose-built portable watersports stereo (FusionEntertainment.com). Bring your soundtrack with you thanks to built-in Bluetooth streaming, AM/FM radio, and USB audio playback, along with an ACTIVESAFE system to securely house phones, keys, bank cards, or loose change.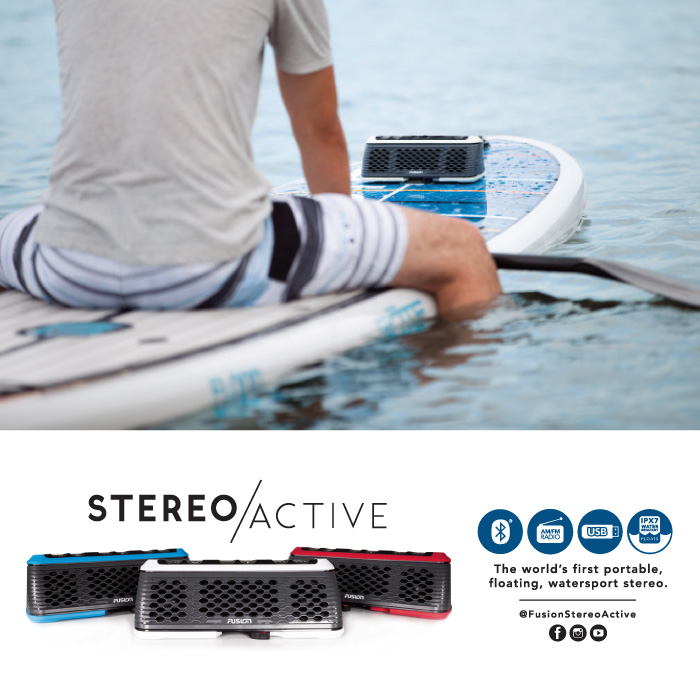 [template id="411″]