On Thursday, July 27th at 8:00 PM, celebrated author Jamie Brisick talks "A Life In Surfing" at the Leonard Nimoy Thalia at Peter Norton Symphony Space, located at 2537 Broadway and 95th Street in New York City. Brisick, a prolific contributor to the culture of surfing, will talk for the evening about surf literature, film, and photography.
Jamie has spent more than four decades deeply immersed in surfing, first as a professional surfer in the '80s and '90s, and since then as a writer, photographer, and filmmaker. An author of several books, an editor of international surf magazines, and a Fulbright scholar, he is an astute observer of the culture.
In conversation with Chris Gentile, founder of Pilgrim Surf + Supply, and through a selection of his photographs, Jamie will discuss his life in surfing at Symphony Space, as well as show excerpts from a few of his favorite surf films, which include Jack McCoy's Stormriders, Greg Schell's Chasing the Lotus, and Alby Falzon's Morning of the Earth.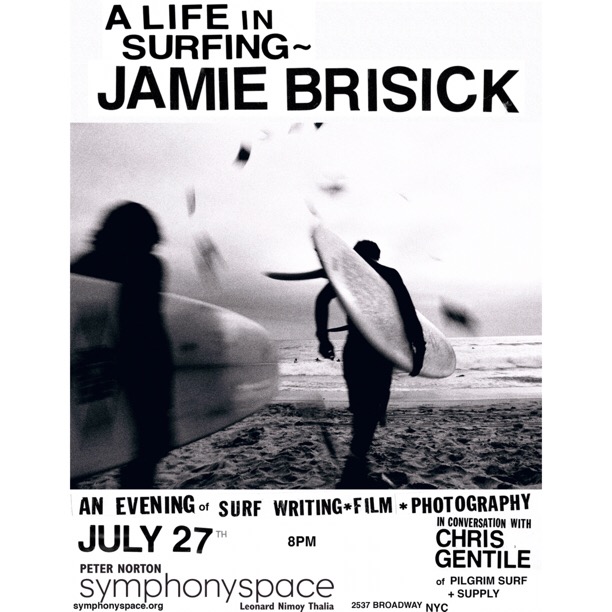 Jamie surfed on the ASP World Tour from 1986 to 1991. He has since documented surf culture extensively. His books include Becoming Westerly: Surf Champion Peter Drouyn's Transformation into Westerly Windina, Roman & Williams: Things We Made, We Approach Our Martinis With Such High Expectations, Have Board, Will Travel: The Definitive History of Surf, Skate, and Snow, and The Eighties at Echo Beach.
Jamie's writings and photographs have appeared in The Surfer's Journal, The New York Times, and The Guardian. He was the editor of Surfing magazine from 1998-2000, and is presently the global editor of Huck. In 2008 he was awarded a Fulbright Fellowship. He lives in Los Angeles.
For more information and tickets, please click the Symphony Space website here.
Tags: jamie brisick, new york city