Grain Surfboards HQ has had perhaps the best location that owners Mike LaVecchia and Brad Anderson could ever imagine: a sweet, eighteen-acre farm owned and operated by a friendly family that loved to see the young company coming of age in one of their barns.  After more than ten years renting from the farmers, Grain's recently been told that their shop and offices are needed for other purposes.  Grain's being forced to vacate in only a few months. "We were totally blown away with last month's sudden news that we have to move off the farm where we've been for over ten years," LaVecchia and Anderson said. "We've come to love the place, and most of our customers and friends think of the farm as part of their experience of Grain. Many people have woken in their tents to the sound of the cows lowing nearby (#graincows), and the smell of freshly mown hay. So all that will be missed."
Grain Surfboards is Homeless from Brad Anderson on Vimeo.
Uprooted and with few other choices, LaVecchia and Anderson are reaching out to the thousands of friends, fans, and followers that have been drawn to the brand's unique and earnest ethos built on community, sustainability, and fun. An Indiegogo campaign launched last week is asking to raise $200,000 towards the purchase and renovation of a site that LaVecchia describes as the perfect spot. "We've been left with very little time to not only find a new home, and in which to do all the dozens and dozens of tasks necessary to make the move," LaVecchia says. "But we're rising to the challenge, and we think we've found the perfect permanent home for Grain. We realized that, in order to continue to be the Grain Surfboards that people have come to love, renting would never work. We need a location that we can own so we can have the latitude to support the Grain community's unique needs."
In the event that Grain Surfboards exceeds its funding targets, alternative energy and other sustainability features are planned. Grain's hope is that an event that at first felt wrenching and disastrous can be turned into an opportunity for the entire Grain community to share a future that includes more surfboard-building classes, more events, and more opportunities to build products sustainably.
Details: Indiegogo campaign page:  http://igg.me/at/helpGrain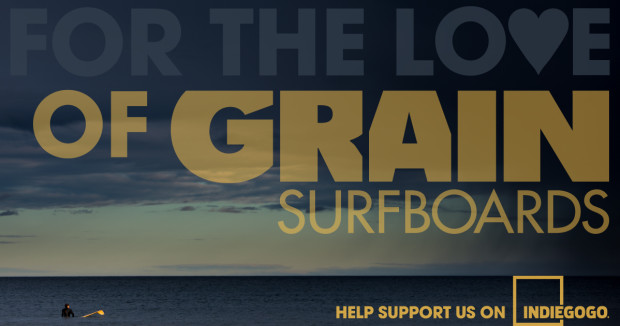 About Grain Surfboards    
Grain Surfboards is committed to promoting the benefits of building and surfing wooden surfboards and believes that wooden surfboards can have more impact on the surfing experience and less impact on the environment. All of the wood products used in Grain surfboards and kits are sourced from local mills and forestlands in Maine that practice sustainable harvesting. All wood waste from the production of Grain's boards and kits is actively reduced and creatively recycled. Grain ships surfboards and complete surfboard kits worldwide and hosts workshops in which anyone can learn to handcraft their own wood surfboard.   Maintaining personal connections with their customers has kept workshops a very personal experience for both instructors and students as is evidenced by the intentional eschewing of certifications or any "professional" training focus in their offerings as well as the frequency of returning students and a steady flow of unsolicited warm testimonials. Grain is co-owned and managed by Mike LaVecchia and Brad Anderson.  For more information, please visit grainsurfboards.com.
About Grain-NY
The Grain Surfboards ethos is happily embodied at Grain-NY and workshops and products offered there carry the same guarantee of quality and commitment to sustainability that customers have come to expect from Grain. Grain – New York services Northern New Jersey, coastal Connecticut, and the boroughs of New York City from a former livery stable/art school that's been renovated to a clean, comfortable, permanent workshop in the heart of Amagansett Village, just outside of Montauk, NY. Grain-NY is managed by Brian Schopfer and Patrick Fleury. For more information, please visit grainsurfboards.com/ny.
Tags: crowdfunding, grain surfboards, indiegogo, Maine, mike lavecchia