Following a wildly successful Hop Sauce Festival in 2016 that saw some 6,000 lovers of craft beer, art, flavor, and music flock to Long Beach Island, locally-based Jetty, Spice It Up and Shore Point Distributing are again proud to present this exciting community event on June 3, 2017. The event has grown steadily in both scope and attendance since 2013. This year will be marked with a renewed focus on quality and originality, spotlighting the amazing brews, tasty local food, creative hot sauces, inspired art, acclaimed original music, and incredible people that make this community event what it is.

For 2017, Lee Fields & the Expressions will headline the Toms River Volkswagen Music Stage. Fields is a celebrated soul and funk artist who has been making music since the 1960s, touring the world with the likes of Hip Huggers, and, O.V. Wright. In recent years, Fields' music has caught the attention of younger audiences at popular venues like Philly's Union Transfer, reigniting the career of this soulful crooner. His style will bring all the generations together at Hop Sauce Fest's crescendo. NPR's Songs We Love described Fields' latest release, Never Be Another You, as "a standout amid strong company, a first among equals. The excellent production aside, Fields is at the peak of his emotive craft. He uses a subtle rasp at the back of his throat to sand his notes down to a piercing point, and for someone who's been professionally singing for over 45 years, he's seemingly lost none of his power."
Fields will be supported by Charleston's eclectic SUSTO, Nashville-based world-pop ELEL, Philly's cutting edge hip hop outfit Hardwork Movement, and LBI's young and inspired Double Negatives, to create a well-rounded and contemporary day of music. "Growing up on the island has taught me that people somehow never get tired of hearing 'Brown Eyed Girl' or any Bruce Springsteen song, ever," says Dan O'Hara of the Double Negatives. "It's an almost inescapable here, which is why Hop Sauce Festival was pretty groundbreaking in my opinion. It immediately gave some hope and excitement for an emerging scene of talented musicians, artists and business owners right in our area. The whole band is unbelievably stoked to play this years festival, allowing us an opportunity to ditch the nostalgic covers and finally play some of our own tunes to our hometown."
"Every year, we've grown this event, but at the end of the day we don't mark our success by the amount of people who come through that gate," says Regina Lotito, owner of Spice It Up in Bay Village, Beach Haven and Hop Sauce Fest event coordinator. "From the start, our goal was to curate an exceptionally good time for regular people who appreciate quality food, drink and culture. Of course we can't wait to see all of Beach Haven dancing to Lee Fields and the Expressions, but this year we are really just concentrating on a well-run festival, great partners, and the stories behind it all."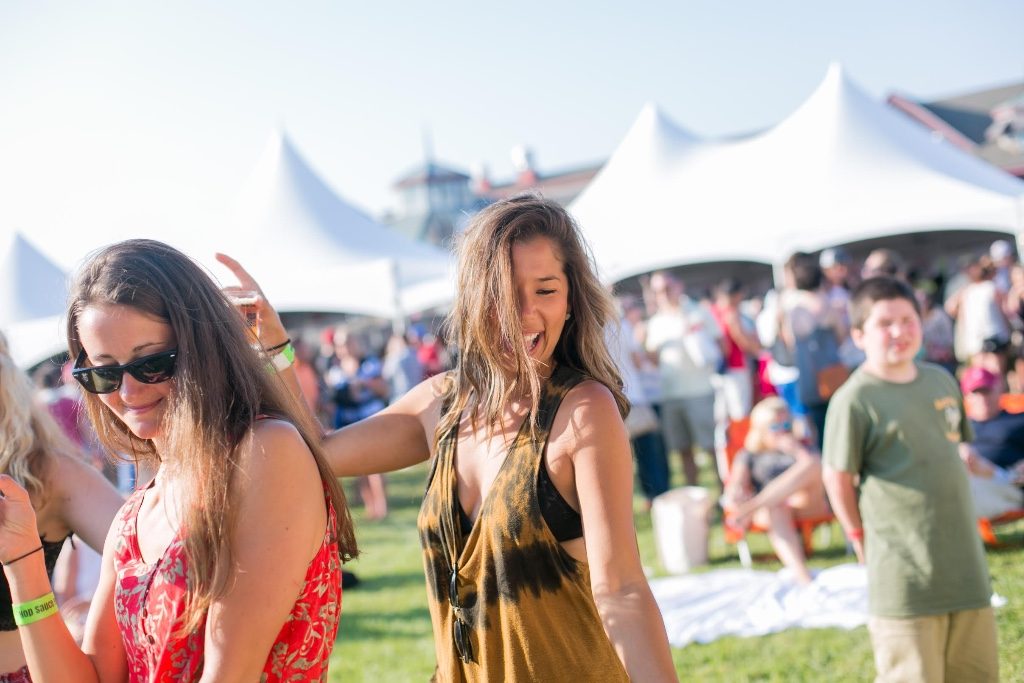 Hop Sauce will again partner with Shore Point Distributing, the area's largest distributor of imported and craft beers, who will have over a dozen different breweries offerings on tap. Shore Point has been a tireless supporter of Hop Sauce and the growing craft beer scene in the area. The festival will also prop up a host of independent brewers from around the state at the Indy Craft Beer tent, particularly Ship Bottom Brewery and ManaFirkin Brewing Company, the two breweries that have opened in the LBI area this year. Beer lovers can taste their way through exciting offerings from North Carolina's 3rd Rock, Brooklyn's Sixpoint, Jersey's own Flying Fish & Asbury Park Breweries, and plenty more.
Once again, the LBI region's most creative restaurants will offer reasonably priced fare for pairing with the heat. Festival goers can try The Chicken or the Egg, El Swell, The Woo Hoo, Shore Fire Grille, Tucker's Tavern, Living on the Veg, Country Kettle Chowder, The Black Whale, Barry's Do Me a Flavor, with spice from Born to Hula, Deception Salsa, Habarita Fiery Fusion, Pilsudski Mustard, Defcon Sauces, Righteous Felon Jerky Cartel, Bonfatto's, Gemini Crow, World Famous Hot Sauce, Jersey Bonfire, Voodoo Chile, High River Sauces, Hank Sauce, Red Hawk Premium Peppers, Whitehouse Station, and JakJeckel Pepper Sauce. For the most up to date information, please visit Hopsaucefest.com and follow the official social outlets: facebook.com/hopsaucefest and @hopsaucefest on Instagram and Twitter.
About Jetty:
Jetty is a lifestyle apparel company born of its East coast roots. Producing a majority of their apparel at their NJ-based headquarters, they also offer design and screen printing services. After Superstorm Sandy, they formed the Jetty Rock Foundation, an approved 501(C)3 charitable organization which operates as the brand's nonprofit arm. Jetty uses its existing branding as a marketing vehicle to build events with a knack for fundraising. For more information on Jetty: Phone: 800.900.6435 or fax: 928.438.6825 or email: info@jettylife.com.
About Spice It Up:
Spice It Up is located on Long Beach Island, NJ in Beach Haven, and is part of the Bay Village family of shops. Our mission is to provide our community and visitors with the ingredients necessary to make every meal or dessert special. We will offer a global experience at the beach, while inviting you to be part of our extended family. Spice It Up believes in community, and we know that working together is fundamental to sharing a good meal. Social: facebook.com/spiceituplbi Phone: 609.492.1240 or email: store@spiceituplbi.com.
For further event information contact: The Hop Sauce Committee at info@jettylife.com
Tags: hop sauce festival, jetty, lbi, lee fields, long beach island, new jerseys