By Matthew Fuentes
We live the truth. The bare bones existence of banality and mediocrity. Sprinkled in are moments of euphoria that bring us above the surface and allow for deep life-giving breaths. Most of us operate on a schedule of work, family, and some play in between. If we are lucky, we suit up and surf mediocre waves on used boards with a watch dangling from our wrists or wetsuits, a reminder that the other part of our life is beckoning always.
We all have our own stories. Stories that delineate us from each other. However, while bobbing up and down in the ocean we seem stuck in the same waltz. Outside of the water, the dizzying variousness of our lives are as unique as the pieces of sand strewn across the beach parking lot, intermingled with loose gravel and wax remnants. I'm talking about the average surfer. The average man or woman who strives to attain prowess among their fellow surfers as a seeker of stoke. Strives to maintain a level of time in the water that keeps the taste — keeps them wanting more.
Each month, the average surfer reads about the few pros who jump from plane to plane around the world, garnishing stories, photos, and countless "experiences." We read about "finding the local bar," "speaking with the locals," and "staying out till dawn, watching the sunrise over tropical waters." Though the stories provide release and some inspiration for a possible surf trip, the recycled nature of the storyline becomes apparent. Instagram, blogs, and countless edits from around the globe are but a Google search away. Too often we are bombarded by fantastical stories of adventure and bacchanalian revelry. Stale stories, moldy and beyond their shelf life.
Is there anything yet to be discovered? We strive to find the pearl within situations that to most of us are not only unattainable, but completely foreign to our everyday surfing lives. Don't misunderstand me — watching pros drop into giant waves and preform superhero-like tricks within the glossy pages is magical. Their skill when it comes to such a tough craft is astounding. But the freshness of surfing also lies within the ordinary. Within the stories and faces of the average locals who charge thigh-high windswell in 5-mil suits, shivering in the winter while changing into sweats and heading off to work. Their faces bear the tales of countless average sessions amongst friends, where laughs are shared, boundaries pushed, and, just maybe, the stress of life is blown away amongst the spray from the light offshore winds.
Here in Long Beach, NY, Surf Club began with two ordinary strangers striking up a conversation at our local break. They shared the love of the ocean and soon a friendship sprouted. Conversations in the water turned into an invitation: "You want to hang out one night?" The courtship was chivalrous and innocent. Soon two grew to four and four into more, with a few outsiders floating in and out of the group. I was first invited by my friend Ace. His name isn't Ace, but he called himself that in the water. The type of self-deprecating humor with such a nickname always gave surf sessions a light feel and led to more laughs than waves. I balked at first, feeling that this meeting of surfers would go down as a typical carbon copy story found within countless other stories of surfers meeting. He pleaded with me: "I promise, this is different — trust me."
My wife urged me to go; it was summer and as a teacher I had the time to go for a few beers on a Tuesday night. I arrived on my bike as the purple glow of the summer evening waned away. A slight onshore breeze pushed in from the ocean, bringing with it the smell of low tide. The apartment was on the first floor of a ramshackle apartment complex right off the beach. It gave off that Mission Beach, CA, feel, but dropped onto Pacific Blvd. in Long Beach, NY. The small broken concrete walkway led past old cruiser bikes rusting away, a few dumpsters, and randomly strewn construction debris.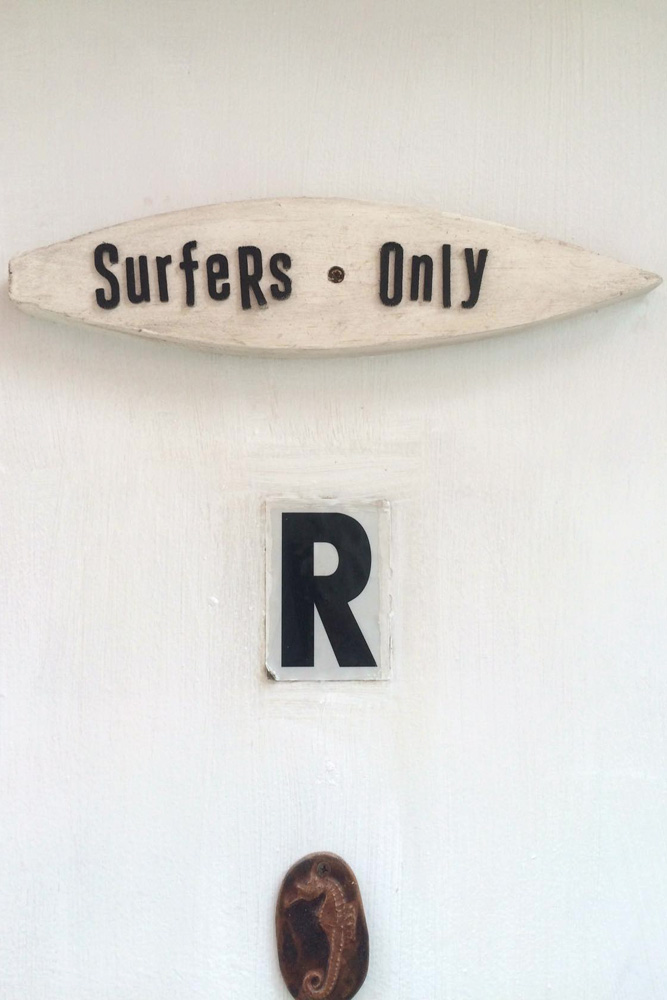 Photo: Glenn Bachmann
I found the apartment number and opened the screen door. It creaked with age and I heard voices inside. It seemed like people were having fun and my initial trepidation faded. Craig opened the door and greeted me with a huge smile. "What's up man! Your Ace's friend! Come on in." He grabbed my hand and gave me half a hug. Not one of those "bro" hugs, but an actual hug. He was my height, average with darkly tanned skin, a direct result of surfing all the time, in all conditions, all year long. His dark Brillo pad hair contrasted off his skin and his ripped brown T-shirt. Khaki shorts and sandals rounded out the man. "Feel free to grab anything from the fridge. I'm cooking some popcorn and have chips on the table."
The popcorn roasted on top of a small hot plate by the tiny rust-stained kitchenette. The chips on the small wood table table consisted of one of those 48-bag school specials just plopped right on the table, chips still inside the large rectangular cardboard box. The others guys in the room munched on tiny bags and sipped beers. The apartment was a studio and constituted a properly made mattress on the floor, where a large grey carpet covered most of the grey tile. Pictures of Craig surfing, family portraits, and some creased pictures that seemed to be drawn by a young child were hung up through the apartment among the cracked sheetrock. The TV at the center of the apartment was connected to a computer and streamed an old surf video since there was no cable. A small dining room table nestled by the window looked out to the walkway. Its two chairs were neatly pushed underneath. An old wall-mounted AC unit hummed in the background, and a used milk carton sat underneath it, catching the drips of water.
I was introduced to all as Ace brought me around. They called the group "Surf Club" — a horribly bland name, but it stuck and just made sense. The group consisted of the following: A French-Mexican doctor completing his residency at a local hospital. He sat cross-legged, laughing loudly at a story being told. His tall, wiry frame could throw turns and launch spray high into the air. His name was Damian. To Damian's left in a rocking chair sat an inquisitive brown-haired guidance counselor who was finishing his master's degree. He waxed poetically across the room about the nuances of the current high pressure system moving into the area and how it would affect the waves. His name was Phil. Across the room on the couch, a wily-eyed guy shook his head in agreement with Phil. He worked long hours as a manager at a local fast-food burrito chain. He hoped to eventually own his own store. His tired eyes bore the pain of long hours working on his feet, followed by a quick surf before passing out from exhaustion. His name was Kieran.
Phil's brother Glenn was working on a board in the far corner of the apartment. His small frame hunched over the board as he methodically worked over the freely applied patch. He was a carpenter and the photographer of the group. His eye for surf shots still astounds me to this day. He shook my hand quickly and went immediately back to work. Justin sat on the couch next to Kieran. His wire-rimmed glasses perched above greying curly black hair glistened in the dim light given off by the hanging ceiling fan. He was a social studies teacher and lived across the street. He shared a one-room apartment with his wife, son, and about 10 surfboards.
A blond guy named Kevin paced around the room drinking a beer and writing in a notebook. I soon discovered he notated and referenced every beer he had ever tried within that notebook. He was a graphic designer bouncing between jobs. Later we spoke about the value of concave shapes and the art of Alex Grey. All of these people interested me and presented such a cross section of East Coast personality and humanity that I just sat and listened for most of that night, existing in a time and place where judgements had no place — an Eden of irrefutable realness. In time, I established myself within the fabric of the group. We shared good times and bad, births and deaths, laughter and tears, secrets and problems, all the while connected by our love for the ocean and the art of surfing.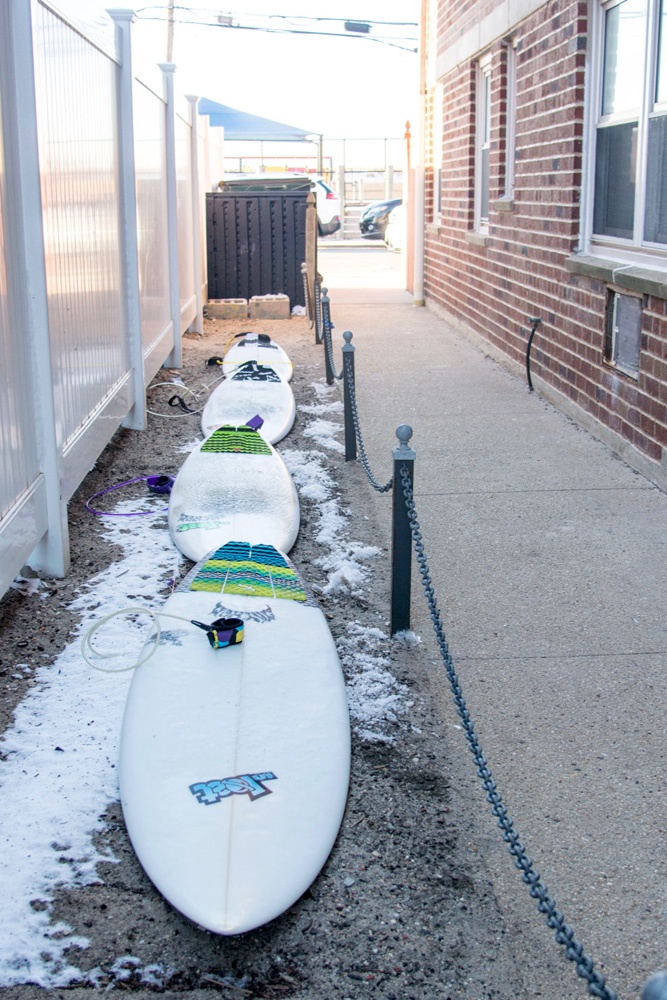 Surf Club. Photo: Glenn Bachmann
When in the water, all else subsided and we existed on a simpler plane of consciousness — we moved together, cosmically connected brothers. We had no time for epic trips and time spent among "locals." We strayed away from flat stories of wallowing away in a tropical party-themed atmosphere mixed in with some surfing. We had no time for a contrived understanding of how we should be living. This was the marrow. This was the epicenter, the pulse. Group mind existing among various characters all playing their own roles out within the world. Within this rundown studio apartment, we shared ourselves. Equals, peers, comrades. An amalgamation worthy of any alchemic mixture.
We were living the truth and it needed to be told.
Tags: ace, craig fisher, damien fernandez, kieran metkiff, long beach, matthew fuentes, new york, surf club