Red Bull Media House and iconic Rhode Island shop Water Brothers have teamed up with Newport's Jane Pickens Theatre to screen Distance Between Dreams, big-wave superstar Ian Walsh's new documentary, on Saturday February 18th. Even better, Walsh will fly in to his old family's home — dad Peter Walsh grew up in Newport in the '60s with East Coast legend Sid Abbruzzi and the rest of the Original Water Brothers crew before moving to Hawaii in the '70s, and Sid is Ian's godfather — for the night, a special trip home for Ian and his family, especially in the heart of the winter surf season.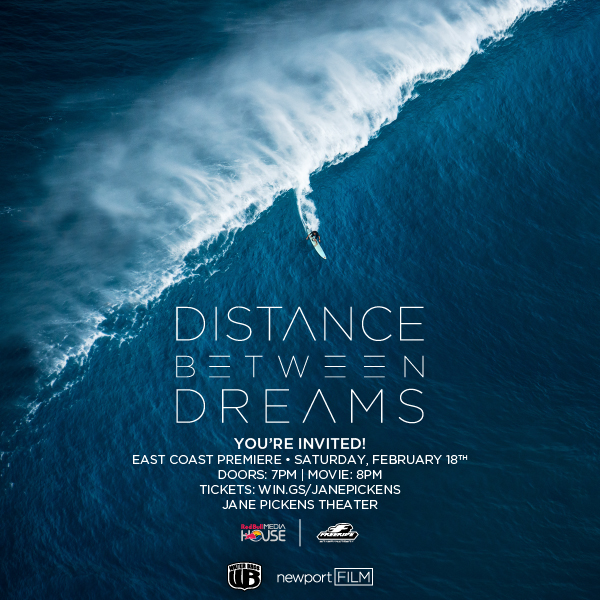 The night starts at 7:00 with a red carpet cocktail reception, and the movie begins screening at 8:00 PM. As Red Bull says, "In Distance Between Dreams, the most historic year in big-wave surfing comes to life through the eyes of iconic surfer Ian Walsh, as he sets mind and body in motion to redefine the upper limits of what's considered rideable. With massive El Niño-powered swells building across the Pacific, Ian, Shaun, DK, and Luke Walsh band together in a way that only brothers can to progress surfing to unimaginable heights.
Big-wave surfing's transition from Jet Ski assists to paddling in raises the stakes, putting Walsh's intense physical and mental training, the latest technology, swell modeling, safety team, and his brothers to the ultimate test. Surfers John John Florence, Greg Long, Shane Dorian, and more link up with Walsh as he rides an emotional rollercoaster through this momentous winter.
Purchase tickets by clicking here and stay tuned for the recap of what's sure to be an epic weekend.
Tags: distance between dreams, ian walsh, jane pickens theater, newport, rhode island, water brothers