An Asbury Park action sports weekend is set for March 4th-5th, starting with the Asbury Ice Bowl skate contest on Saturday and the beginning of the waiting period for the coldwater surfing contest, the Cold War, on March 5th. The rosters for the inaugural Asbury Ice Bowl skate contest are set and the skaters are ready to take on the Forth Union bowl in a jam session format. Doors for the March 4th skate contest are set for 12:00 PM with the competition starting at 1:00 PM.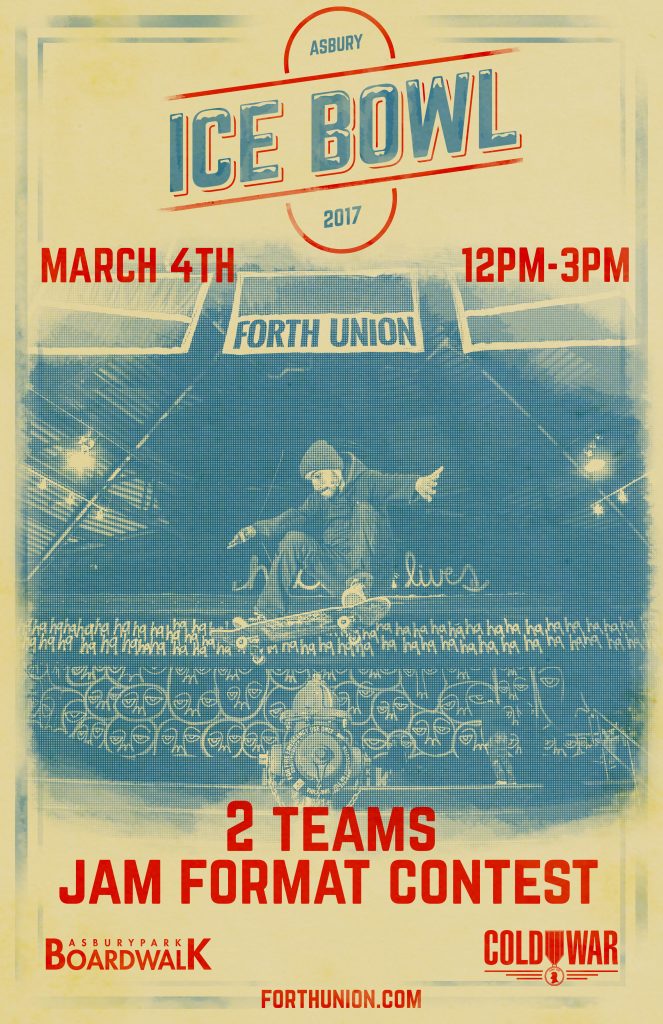 The age range for the skaters involved the Asbury Ice Bowl is unprecedented,  from 8-year-olds Luca Affa and Sonny Pechillo to 40-something team captains Lou Metal and Derek Rinaldi. The teams will be picked on the spot, schoolyard style. "This is contest is the way I want to go skating to be begin with," Metal says. "Skate with my friends, no matter what their age — that's what this is. The weather is supposed to be cold in the low 40s with a wind so it will be the Asbury Ice Bowl for sure. Skaters will pair up against other skaters they match up with. It's going to be real fun seeing these guys who are friends go against each other with the new generation of Asbury skaters and the old schoolers."
Confirmed 2017 Ice Bowl Participants:
Luca Affa, 8, Toms River
Dave Bohack, 22, Howell
Richie Blackishaw, 21, Carteret
Geoff Glandt, 27, Fair Haven
Danny Janosko, 25, Rumson
Griffin Laszlow, 14, Sea Girt
Blake Mahon, 24, Mars
Dan Mercuro, 45, Point Pleasant Beach
Lou Metal, 41, Bradley Beach
Sammy Nicolas, 15, Rumson
Dan Mercuro, 45, Point Pleasant Beach
Sonny Pechillo, 8, Wall Township
Nick Ricciardi, 27, Spring Lake Heights
Derek Rinaldi, 46, Neptune
Morgan Tunney, 45, Ocean Grove
(More skaters to be announced up to contest time.)
Later that night, Saturday March 4th at the Wonder Bar will be the Cold War Kickoff Party with doors opening at 7:00 PM. DJ SARA M will spin at 8:00 PM followed by Black Flamingos, the picking of the Cold War teams via a special video presentation featuring team captains Andrew Gesler and Sam Hammer, and  two special sets by The Battery Electric. The night is hosted by Taylor Allen. The waiting period for the 2017 Cold War begins on Sunday, March 5th and wraps up on March 31st. The call as to when to hold the contest will come 48 to 72 hours prior to when the surf is predicted to be optimal. "We are already looking at weather patterns with Surfline and our resident forecast guru Sam Hammer," says Tim Donnelly, Cold War co-director ."We are excited about something brewing and having our own version of March Madness on the beach in Asbury Park."
Confirmed 2017 Cold War Participants
Brett Barley, Buxton, NC
Travis Beckmann, Montauk, NY
Ben Bourgeois, Wrightsville Beach, NC
Vince Boulanger, Ocean City, MD
Leif Engstrom, Montauk, NY
Andrew Gesler, Ocean City, NJ
Mike Gleason, Long Branch, NJ
Sam Hammer, Lavallette, NJ
Zack Humphreys, Margate, NJ
Tommy Ihnken, Asbury Park, NJ
Rob Kelly, Ocean City, NJ
Ben McBrien, Ocean Grove, NJ
Pete Mendia, Palm Beach, FL
Clay Pollioni, Ortley Beach, NJ
Cam Richards, Garden City Beach, SC
Pat Schmidt, Manasquan, NJ
Balaram Stack, Point Lookout, NY
Brendan Tighe, Point Pleasant, NJ
Randy Townsend, Surf City, NJ
Conor Willem, Surf City, NJ
THE COLD WAR is made possible by Surf Taco with Surfline, Smith Optics, Reef, Nixon, Da Kine, O'Neill, Fire Wire, Clif Bar, Traeger Grills, Richer Poorer, Surfers Environmental Alliance, Blazing Visuals, Asbury Park Brewery, Eastern Surf Magazine, Whalebone Magazine, and The Asbury Park Boardwalk. Follow THE COLD WAR at coldwarsurf.com and on social media at @coldwarsurf and Facebook.com/coldwarsurf.
Tags: asbury ice bowl, asbury park, cold war, tim donnelly