From May 27 – June 10, East Coast surf photographer Jonathan Clancy will exhibit selections from his Cloudbreak series at the Grain Surfboards NY Gallery in Amagansett, NY.
The Cloudbreak series is a collection of abstract cloud/surf photography captured over the past winter that portray reflections of oceanic themes in the sky. Nine framed prints will be displayed in the gallery, six of which are larger format on canvas. A total of 17 images will be available for purchase.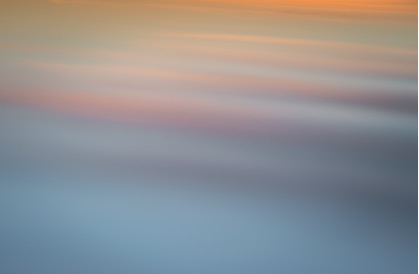 Opening Reception will be Saturday, May 27 from 6:00 – 9:00 PM at the Grain Surfboards NY Gallery, 11 Indian Wells Hwy., Amagansett, NY. Boasting a fine evening of art, music, and friends, attendees can enter a $5 raffle to win a signed print. Proceeds will be donated to "Surf For All," a non-profit organization run by Cliff and Will Skudin out of Long Beach, NY, that helps individuals with disabilities discover the healing power of the ocean.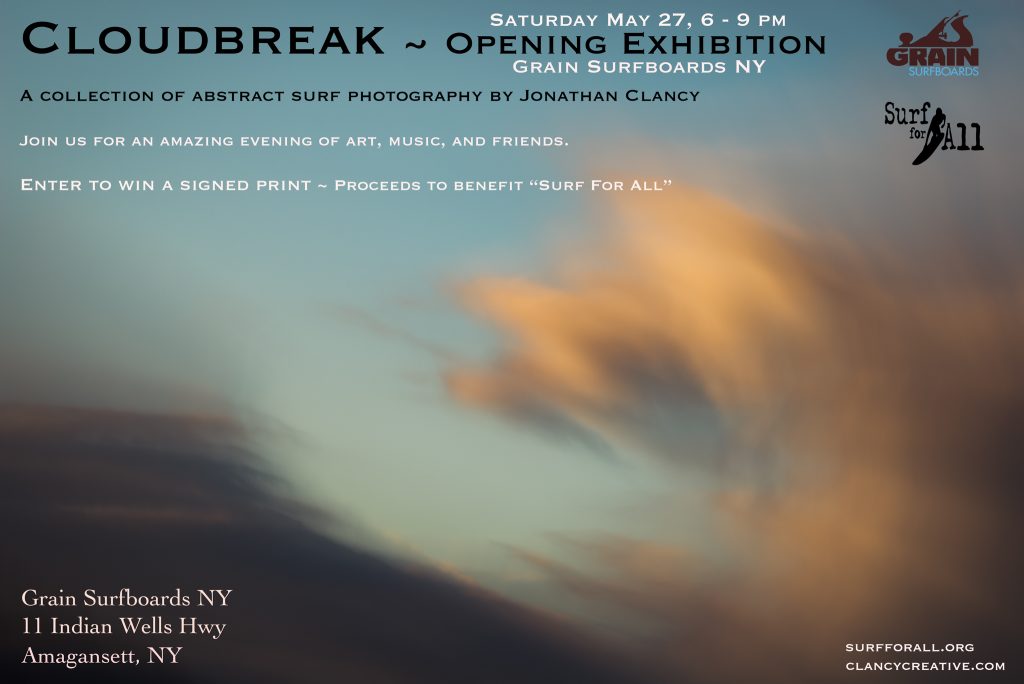 Light refreshments will be served, including Alchemist Brewing "Heady Topper" Ale smuggled in from Vermont, along with other local wine and brew selections.
Relevant Websites
Clancycreative.com
SurfForAll.org
GrainSurfboards.com/stories/info/grainsurfboards-ny/
Facebook.com/Grain-Surfboards-NY-1136201003099383/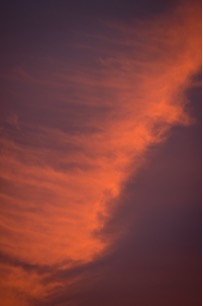 Jonathan Clancy Artist Bio
Whether behind a camera or a pen, I seek the soul of my subject. To convey its hidden beauty or reveal its unknown story is my passion. Capturing that perfect moment in just the right light is what fuels my creativity.
I grew up west of Boston but moved to southern Rhode Island in 2008, mainly so I could spend more time by the ocean. Currently residing near-lakeside with my wife, Abbe, daughter, Evelyn, and our border collie, Tori, I work as a photographer and writer, capturing various subjects in each discipline. My favorite is surf.
The Cloudbreak series began with an image of a cloud I captured during a late-November sunset last year. Evelyn was in her stroller laughing at me as I raked leaves and was coincidentally missing yet another swell. I took a break to watch the light reflect off the clouds and my jaw hit the ground. There was this cloud that looked like a massive wave detonating over a reef, as if from the perspective of a helicopter hovering over the ocean. The image stirred my imagination and I was curious to see how far I could take this concept of finding surf in the sky, so I kept looking up. Using long exposures and camera movement, I can create certain environments that I envision. When I scan the sky, I'm looking for depth, power, emotion, subtlety, drama, and detail. The goal is for the image to be beautiful, as well as reflective.
Tags: art exhibit, grain surfboards ny, jonathan clancy, memorial day weekend, new york, opening, photo