---
The East Coast Surfing Hall of Fame Board of Directors has announced its unanimous election of Gary Germain as President effective May 13, 2017.  Germain is currently President of the New Jersey Surfing Hall of Fame, a position he will hold through its 2017 Induction Ceremony on Friday, May 12.  Germain, who hails from Rumson, New Jersey, has been serving in this capacity since July 2015.
Germain will succeed Cecil Lear, the only President of the East Coast Surfing Hall of Fame during its 21 years.  Lear has served brilliantly since he founded the organization in 1996 with big wave pioneer Greg Noll.  Lear is well known and beloved throughout the East Coast for his dedication to the development of surfing through the Hall of Fame and as co-founder of the Eastern Surfing Association 50 years ago.  Lear will remain on the voting Board as President Emeritus.
"I am absolutely thrilled with the Board's selection of Gary Germain, whom I have known for many years," commented Lear, who then continued, "In addition to being a great surfer, tremendous athlete and a fine person, Gary has done a terrific job organizing and leading the New Jersey group while building tremendous public awareness and industry support for the New Jersey Surfing Hall of Fame.  I am confident that Gary will bring his passion and dedication for the sport, his vision, leadership skills and talents to achieving the mission we established for the East Coast Surfing Hall of Fame years ago."
Germain began surfing in 1967, and in 1972 he won the first surf contest he ever entered.  He continued to develop his talents and surfing competitively in Eastern Surfing Association (ESA) events while shaping and building surfboards under his G-Force label, before getting involved with the ESA as director for the North New Jersey district in 1980.  Germain's business career has taken him outside the sport but never away from surfing.  He continues to surf today and travels to warm water surfing destinations as frequently as possible.  In 2015 Germain was not only elected President of the New Jersey Surfing Hall of Fame but he was also selected as an Inductee.  During his two-year term, he built a strong Board of Directors, established transparent induction policies, and developed fundraising, working with the Board to set the course for the organization to continue to develop well beyond his term.
"I am humbled and honored to have been elected by the Board of Directors to follow in Cecil Lear's huge footprints as the second President of the ECSHOF," Germain remarked with a lot of emotion.  "I understand there is a lot of work to do, and with Cecil's help, I plan to hit the ground running in May as we have the 2018 Induction Ceremony taking place at Surf Expo next January."  Germain also plans to work closely with the Board, improve the organization's communications through its website and social media platforms; expand awareness and appreciation of the Hall of Fame brand, and develop a fundraising platform.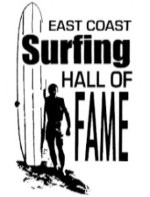 ABOUT THE EAST COAST SURFING HALL OF FAME
Founded in 1996 The East Coast Surfing Hall of Fame is a 501(c)(3) non-profit organization dedicated to the preservation of the history of East Coast Surfing and to enshrine forever the people who have been responsible for its development and growth; and to preserve, protect and record the legacy and historically valuable lore of East Coast Surfing.
For more information on the East Coast Surfing Hall of Fame, visit its website,
www.eastcoastsurfinghalloffame.com.