Life will humble you. It will often leave you lying in a ditch somewhere in the fetal position, bewildered and adrift. Once in a while, it will wrap you up in her arms, softly kiss the nape of your neck and cheekbones, and let you know that this ride is beyond sacred, to be cherished every moment, no matter the tumult and whirl of it all. Writer Jaimal Yogis knows this as well as anyone. He spends the early part of his new book, "All Our Waves Are Water: Stumbling Toward Enlightenment and the Perfect Ride," abroad navigating the loss of a treasured yet complicated relationship, and uses this experience to dissect his upcoming path.
We've been fortunate enough to follow that path with Yogis as we read his first two uniquely stellar books, but his latest offering, "All Our Waves Are Water: Stumbling Toward Enlightenment and the Perfect Ride," is as fine a collection of candid, humble, raw, bare-it-all human wisdom as we have seen in quite some time. From scaling the Himalayan Mountains to barreling through Mexican beachbreaks to belting out John Denver ballads with a sagely monk, it's remarkable how Yogis lands on his feet and always finds a way to make sense of this earth. Through all of the roads, waters, peaks, and valleys Jaimal Yogis has traversed on his heart's journey, with this work of shimmering prose, he and publisher Harper Wave have given us an immeasurably beautiful gift, which you can pre-order here before its July 4th release. Read on below for more words on enlightenment from Yogis himself. –Review and interview by Nathaniel Riverhorse Nakadate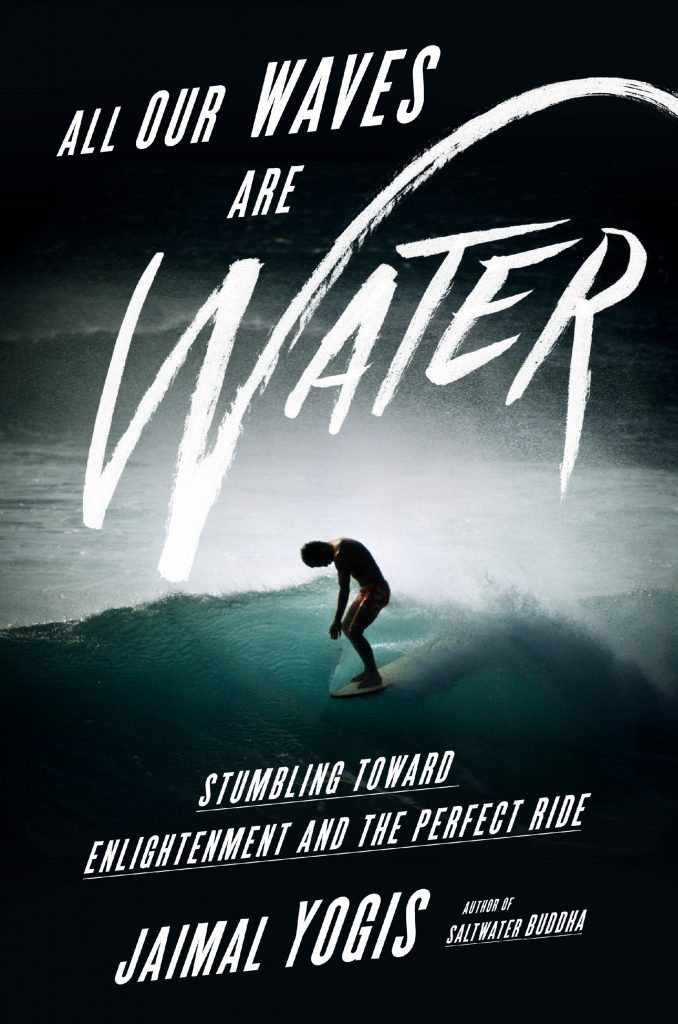 ESM: As the title of your new book says, all our waves are water. Tell us about two or three moments on the water that you will always remember.
Jaimal Yogis: So much of real enjoyment, I think, is relative to expectation. A session that always sticks in my head is one on Gili Air, the tiny island off Lombok. Gili Air doesn't have any cars on it and you can walk around it in an hour — watch the sun rise out of the ocean and set into the ocean with just a 20-minute stroll. The water is clearer than anywhere I've seen in the Indian Ocean. But Gili Air is protected by Lombok so there often aren't any waves (or surfers), unless you get a huge swell that wraps in. Even then, it's usually only head high. Anyhow, my then-girlfriend and I had been on the island for about a week, and I was trying to be in the moment. But I was also starting to get the itch for a surf (here we were in Indo, after all). So, our last day there some whitewater appears on the horizon. The break is about a half-mile out and we didn't even know if it was anything ridable, but some locals told us where the break was more or less. This hilarious guy from San Diego we'd met randomly named Ryan, a Christian missionary who was a never-ending stream of one-liners, and I paddled out there, thinking we might not find a single wave. But as we paddled closer, it turned out to be about shoulder-high, a little hollow, and pretty perfect. The reef out there, still largely undamaged by fishing, is psychedelic with colors, and the waves each looked like little rainbows through the bending light. We surfed for a few hours and probably got 30 or 40 waves apiece under Mount Rinjani, the 14,000-foot volcano across the strait on Lombok. Between waves, we had a little interfaith dialogue about Buddha and Jesus, lighthearted. We laughed a ton and pretty much felt like we'd both gone to heaven.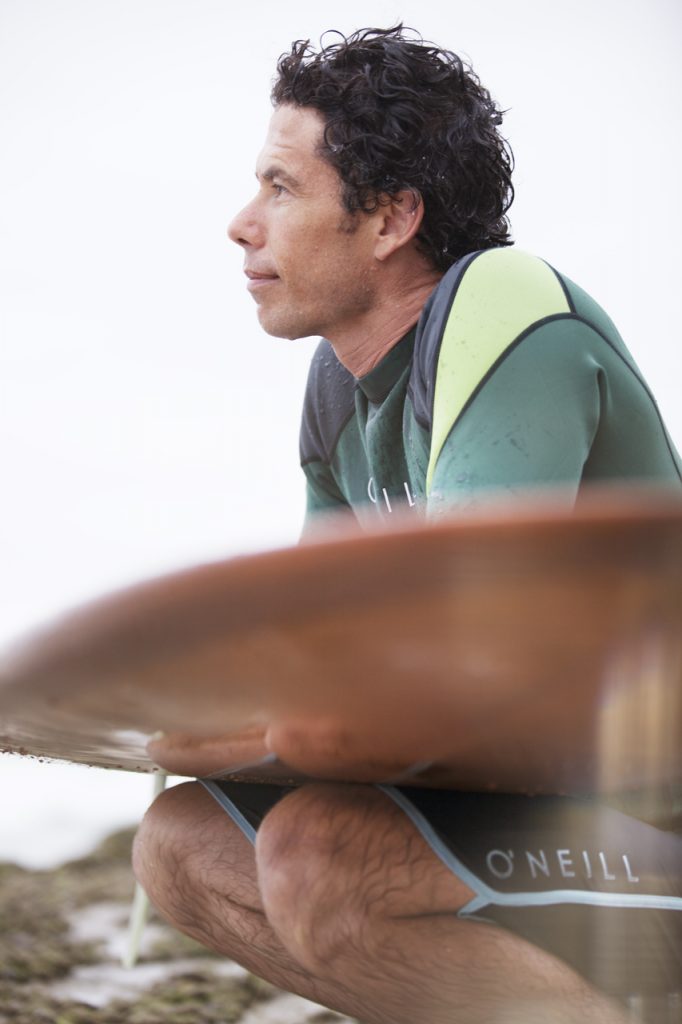 ESM: One of the only things I feel I have learned in  life is that love is all that matters. What are a handful of truths you feel you have realized are valid for yourself?
Jaimal Yogis: That sums it up pretty well. I'm just learning how you can take that fundamental insight into anything, like paddling out at Ocean Beach. There are those days it's so grueling and such a beatdown, and then maybe you snap your board on your first wave. But if you remember how much you love the sport and love the challenge, it can shift your state pretty immediately. After all, those days are part of what makes surfing so fun. If you just had a wave pool of perfection, it wouldn't be interesting. I'm working on bringing that attitude onto land. There are so many challenges, but ultimately love is a big enough sea that it can hold everything and transform everything.
ESM: I once surfed Ocean Beach in San Francisco for 19 days straight in the winter and caught some of the sweetest emerald sandbar waves imaginable, along with some of the most amusing beatings and hold-downs of my life. How is the scene there these days, holding steady or changing?
Jaimal Yogis: The waves are definitely holding steady — still beating us up and surprising us with the occasional gem. The quality and size varies hugely year-to-year, which keeps you guessing. I like that. There are lots of changes though. The fog seems increasingly non-existent (a climate thing, I hear from the scientists), and the price of living, of course, has gone up. A lot of people have been pushed out, which sucks. But there are also a lot of little boutique cafes and art galleries and such — things people never thought they'd see on the western fringe. Some people long for the days when it was more foggy, gritty, and unattractive to tourists. Others love the new coffee, food, and art scene that has developed. I guess I find myself right in the middle — missing the old days, but also enjoying the new stuff (I like good coffee a lot). Like most change, it's good and bad, and what is good or bad depends on who you ask. End of the day, there are a lot of good people here, and we're next to the ocean and a world-class city. It's a lucky place to live.
ESM: Can you share a few favorite quotes, passages, or books that you find memorably poignant and relative to the surfing life?
There are so many, but here are a few that I bring up in All Our Waves Are Water: 
"Fear is the cheapest room in the house. I'd like to see you living in better conditions." –Hafiz
"You are not a drop in the ocean. You are the entire ocean in a single drop." –Rumi
"We asked the captain what course / of action he proposed to take toward / a beast so large, terrifying, and / unpredictable. He hesitated to / answer, and then said judiciously: / 'I think I shall praise it.'" –Robert Haas
ESM: "All Our Waves Are Water" will take you up and down the west and East Coasts this summer. Beyond that, what lies ahead for you as a seafaring writer?                                                                
Jaimal Yogis: I've never been a good planner. All I know is that I'll be on book tour for this one all through July (dates below). Trying to keep track of my flights is all my brain can handle at once, but I do have a fantasy novel I'm tinkering with that's pretty oceanic. We'll see. I just feel blessed to be able to contemplate another one.
Saturday July 1, The Avid Reader Bookstore, Sacramento, CA.  7:00 PM
Sunday July 2, Point Reyes Books, Point Reyes, CA 
Wednesday July 5, Powell's Books (Burnside location), Portland, OR 
Thursday July 6, Pegasus Books and Clif Bar, Emeryville, CA (fundraiser for SurfForLife.org)
Friday July 7, Copperfields Books, Sebastopol, CA
Saturday July 8, Green Apple Books, San Francisco, CA
Sunday July 9, Book Passage, Corte Madera, CA
Tuesday July 11, Warwick's Books, San Diego, CA
Wednesday July 12, The Last Bookstore, Los Angeles, CA
Thursday July 13, Orinda Books, Orinda CA
Friday July 14, Book Shop Santa Cruz (location pending)
Saturday July 15, Henry Miller Memorial Library, Carmel CA
Tuesday July 18, Boulder Bookstore, Boulder, CO
Wednesday July 19, Rubin Museum, New York, NY
Thursday July 20, Phoenix Books, Burlington, VT
Saturday July 22, Northshire Books, Manchester, VT
Sunday, July 23, Ohana Rising Yoga Studio, Asbury Park, NJ (yoga and meditation included)
Tuesday, July 25, RiverRun Books, Portsmouth, NH
Wednesday July 26, Park Road Books, Charlotte, NC
Thursday July 27, Books and Books, Miami, FL
Friday July 28, Jack Kerouac House, Orlando, FL
Sunday August 13, Sacramento Buddhist Meditation Group, Sacramento, CA (Dharma Talk plus book signing)
Wednesday August  16, Diesel Books, Larkspur, CA ("Saltwater Buddha" screening plus "All Our Waves Are Water" signing
Thursday August 24, Books Inc., Palo Alto (Panel discussion for memoirists, including Jaimal Yogis, Mark Lukach, and Lee Kravetz)
[template id="1199″]