The Big Andrew Foundation and Grain Surfboards have partnered to offer our incredible community a once-in-a-lifetime experience!
For only $20, enter for a chance to build your very own handmade, wooden surfboard alongside Mike LaVecchia, expert craftsman and Grain Surfboards founder, at his shop in beautiful York Beach, Maine. The board-building workshop is a completely custom class, designed to help you pick and build the board that matches your surfing style best.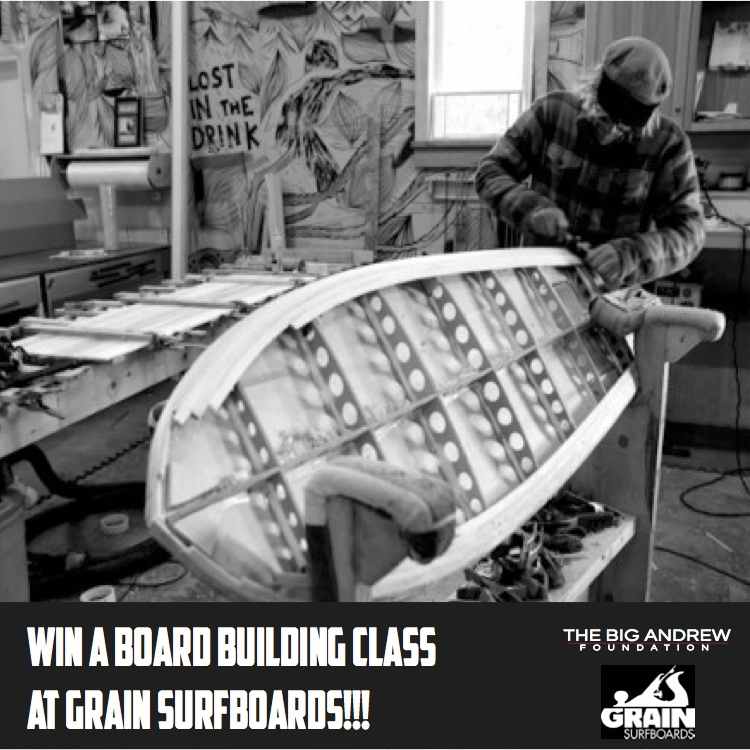 If you aren't a surfer, but know someone who is, take a chance and support the cause! If you win, this prize will make an incredible gift for friends and family that love to surf.
Grain Surfboards is based out of York Beach, Maine, right down the street from The Big Andrew Foundation. Our organizations have spent many a-night sharing waves together at our home break of Long Sands Beach, just a stone's throw away from both of our headquarters.
All funds raised from this giveaway benefit The Big Andrew Foundation, a bi-coastal non-profit focused on initiatives that support individual well-being, ocean/water conservation and cancer patient care. Buying a ticket for an opportunity to win your very own handmade, Grain Surfboard, while donating to a great cause is a real WIN-WIN!
Best of luck! We look forward to seeing you down at the shop!
To signup, visit the Eventbrite page at bit.ly/2vt3nX5. To learn more, please visit us at: www.thebigandrew.com
The winner will be announced on October 15th at 5:00 p.m EST