Written by Ashley Norris — I am part of a family of North Carolina surfers. Dad, sisters, husband, brother-in-law, we are all bonded by this love of saltwater and the thrills you get from the ocean. So it was understood that one day when we had kids, they would surf too. My husband and I always talked about when our kids would get their first surfboard as an honorary rite of passage (like learning to ride without training wheels). So when we had our daughters, surfing became what they knew and watched us enjoying. We have countless pictures of naked babies and toddlers on surf/skateboards — we just couldn't help ourselves.
My oldest daughter turned 5 and asked for a pink surfboard. My husband and I exchanged some proud side glances. It was all she wanted for Christmas so we obliged willingly (more like enthusiastically). And then the day came to test it out. She looked at the ocean and at me and said, "Umm. Maybe when I'm 6." She is an anxious and cautious child, so this wasn't too surprising, but a little heartbreaking. I knew she was wrestling with an internal conflict between something that scared her and something she wanted to do. After some reassurance that we were not going far and it would be fun, she decided to give it a try, had a blast, and then I had my mommy epiphany.
I had realized something really important. My daughter knew we loved surfing and she enjoyed being a part of that with us. But there wasn't a lot of media or books that portrayed girls like her in surf culture. Little girls that are nervous and have to find their inner bravery, but who do not want to miss out on the fun. I knew the story that needed to be written. I decided that day, if I can't find toys and books that reflect the life we live, I'll make my own. So I did. Queenie Wahine: Little Surfer Girl, the first part of the Tribe of Daughters series, was officially in the works.
Here was my dilemma, though — I can't draw. But my sister Jess Lowcher is a great artist. She was living in New Zealand, traveling, and surfing for the past year. I emailed her my idea and a few verses. She responded immediately: "I'm in." Jess knew what Queenie should look like… everyone. That's tricky to pull off, but it was so important. We wanted little girls to see themselves and the lives that they live in the book that we were creating. Our characters shouldn't be spitting images of us or the children in our lives. We played with different ideas and sketches, starting with the thought to leave the characters in black and white and the background in water color. But that looked unfinished. Then Jess spilled the purple paint over the characters, creating this aura around them. It was perfect.
We spent the next year researching, editing, sketching, and talking about our vision. We would bring surfing to the bookshelves of little girls around the world. Little girls would see the grace, beauty, and athleticism that women bring to our sport. We had a story to tell — one that made it okay to be nervous or scared, but showed girls that bravery comes from within. And perseverance when something is hard is the greatest reward. The Queenie Wahine book would be a treasured item that would sit by a bedside, thrown into a bookbag to accompany your adventures, or an heirloom that could be shared with the next generation of surfer girls.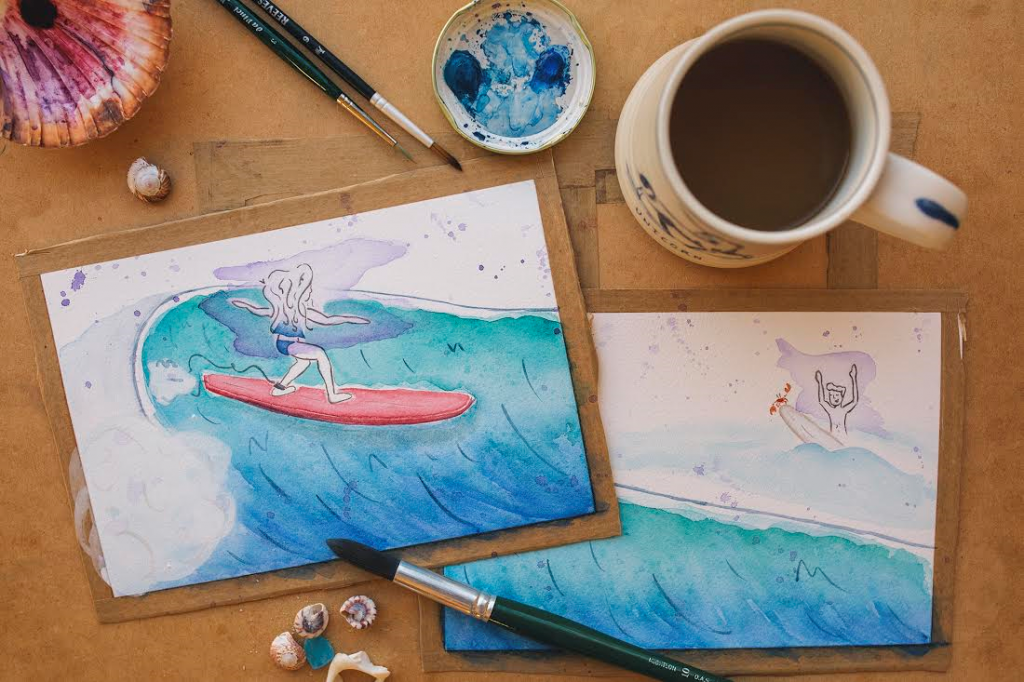 To find out more about "Queenie Wahine" and the Tribe of Daughters series, visit TribeofDaughters.com or Instagram.com/TribeofDaughters
Tags: ashley norris, book, girls, jess lowcher, north carolina, queenie wahine, tribe of daughters, women