The Cold War is coming back — and we're not talking politics. On Friday,  contest co-director and Asbury Park renaissance man Tim Donnelly announced the second annual winter surfing contest, returning with a March 5th – 31st on-call window and a big twist: returning team captains Andrew Gesler and Sam Hammer, who have almost 20 years of experience competing against each other and a rivalry for the ages, will get to select their team from a widened and deepened talent pool. That includes 18 surfers, including 5 new invitees from Florida, South Carolina, North Carolina, and Maryland joining New Jersey and New York's finest.
"This year, for the second Cold War, we decided to expand to five people outside of NJ/NY who are kinda familiar with cold water," said Hammer, Lavallette native and Cold War co-director. "The goal has always been to have more outside participation. Get the best surfers we can get in touch with and in our best conditions."
The waiting period for the contest runs from March 5th – March 31st, and the call to hold the contest will be made at least 48 hours in advance, when forecasting partner Surfline predicts that conditions will be optimal to hold the contest.
Last year's winning team captain Andrew Gesler feels the uniqueness of Cold War sets it apart from other surfing events. "Bringing a team aspect amidst the wintry elements makes for a one of a kind experience not only for the athletes, but for the crowd too," said Gesler, who hails from Ocean City, NJ and won last year with Mike Gleason and other team members. "I'm excited to defend the title in year two with an even deeper talent pool to choose from as contest directors have opened up the East Coast. It will be a blast!"
The contest will be again be held at the Asbury Avenue Beach, situated behind the famed Casino building and brought to you by Surf Taco and the Asbury Park Boardwalk. Worldwide leader in surf forecasting and the leading surf content provider, Surfline.com, has come onboard to make help contest organizers make the call to when the conditions will be best.
Surfline's East Coast forecast team, consisting of professionally trained meteorologists on the East Coast, will provide decision support during the waiting period to ensure the Cold War is held in the best possible conditions. "Surfline's historical swell database suggests that March is statistically one of if not the best time to see appreciable S/SE swell for New Jersey," said Mark Willis, Chief Meteorologist from Surfline. "Water temps are typically in the upper 30s to low 40s during the waiting period on average, which sets the perfect stage for this unique cold water event."
The Surfer's Environmental Alliance in commitment to the preservation and protection of the environmental and cultural elements that are inherent to the sport of surfing, has also thrown their support behind the Cold War.
In 2017, the Cold War will expand its imprint to Forth Union, of the most unique skate spots in America, to present the cold condition skate contest Asbury Ice Bowl. On March 4th, this new skate portion of the Cold War will feature a similar format: two teams featuring captains Derek Rinaldi and Lou Cuccaro will bring together nationally recognized amateur skaters, local rippers, groms, and girls. "The format will be extremely loose as they navigate through the newly added features of the bowl in a jam format," said Jersey skate legend Derek Rinaldi.
The Cold War's kick-off party and team selection event will take place on March 4th at The Wonder Bar, featuring two of the best rock bands from the burgeoning Asbury Park music scene, The Battery Electric and special guests. The evening will be hosted by Taylor Allen with DJ Sara M.
2017 Cold War invitees:
Brett Barley, Buxton, NC
Travis Beckmann, Montauk, NY
Ben Bourgeois, Wrightsville Beach, NC
Vince Boulanger, Ocean City, MD
Andrew Gesler, Ocean City, NJ
Mike Gleason, Long Branch, NJ
Sam Hammer, Lavallette, NJ
Zack Humphreys, Margate, NJ
Tommy Ihnken, Asbury Park, NJ
Rob Kelly, Ocean City, NJ
Ben McBrien, Ocean Grove, NJ
Pete Mendia, Palm Beach, FL
Clay Pollioni, Ortley Beach, NJ
Cam Richards, Garden City Beach, SC
Pat Schmidt, Manasquan, NJ
Balaram Stack, Point Lookout, NY
Randy Townsend, Surf City, NJ
Conor Willem, Surf City ,NJ
Alternates
Brendan Tighe, Point Pleasant, NJ
Zack Dayton, East Hampton, NY 
The Cold War is made possible by Surf Taco with Surfline, Smith Optics, Reef, Nixon, Da Kine, Traeger Grills, Richer Poorer, Surfers Environmental Alliance, Blazing Visuals, Asbury Park Brewery, Eastern Surf Magazine, Whalebone Magazine and The Asbury Park Boardwalk.
Follow the Cold War at coldwarsurf.com and on social media at
Instagram: @ColdWarSurf
Facebook: facebook.com/coldwarsurf
#coldwar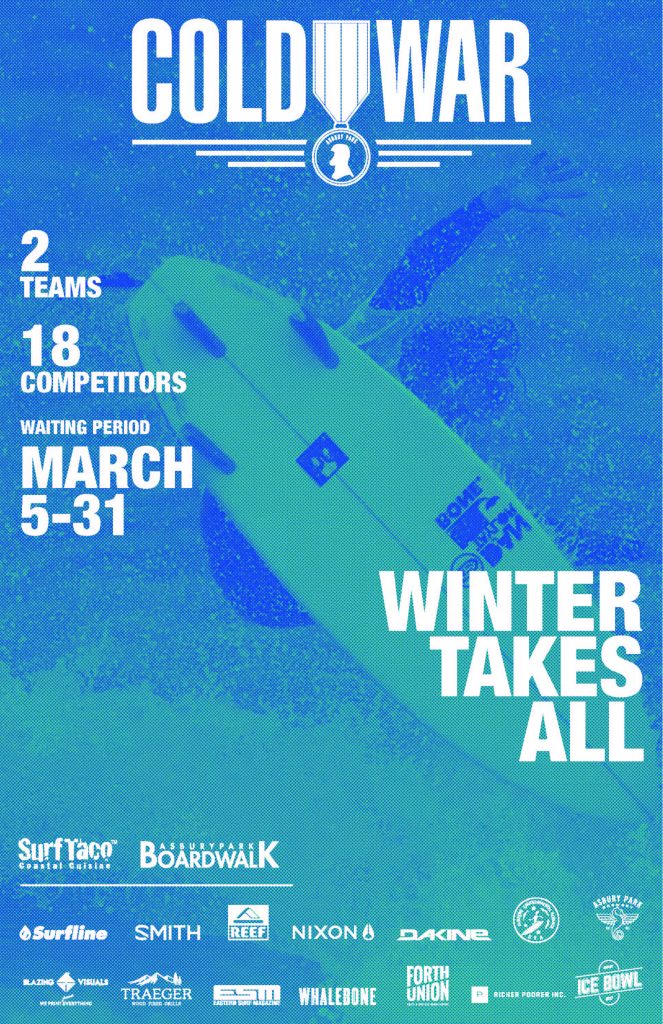 Tags: andrew gesler, asbury park, cold war, new jersey, new york, sam hammer, surf contest, tim donnelly, winter