2016 FINS Belmar Invitational, Brought to you by Eastern Lines Surf Shop. September 9-11, 2016: After a decision to take a break from the longstanding and successful Belmar Pro to re-coordinate a new and better main event for 2017, we are very stoked to officially announce that we will still be producing an event for 2016. The 2016 FINS Belmar Invitational, Brought to you by Eastern Lines Surf Shop, between 16th & 18th aves, Belmar, NJ, September 9th – 11th.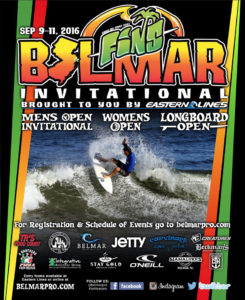 2016 FINS Belmar Invitational will be composed of 3 event divisions: A Mens Pro Invitational/Open, the Womens Open and the Longboard Open. With the Mens Pro Invitational/Open the initial invites have been sent out to the invitees, with the remaining slots available as an "Open". The Invitational slots remain active till the competitor confirmation deadline of August 10th, in which from the 11th – on, any Invitational slots not confirmed and filled, will be switched to "Open" availability until all slots are filled. The Womens and Longboard events are full "Open" events. Heat structure will be following WSL-CT format, with an experienced, qualified judging panel.
Stay tuned for more details including event and after party schedule and more!! Registration is now open, for Women and Longboard as well, hurry and get your slot before they are taken!!
Cheers and see you soon!
Previous statement on the 2016 Belmar Pro:
After a stellar decade and a half, the Belmar Pro will be taking a break in 2016 to restructure and build a better event for 2017!
So far it has been an event with rich history, great luck with waves, and was a great jump off point for many talented surfers who went on to make superstar surf careers, some of which have and are still competing at the top level on the WCT!
Contest Director Don Tarrant, owner of Eastern Lines Surfshop and all the rest of the Belmar Pro staff would like to extend their most grateful thanks to everyone involved over the years including the sponsors, the WSL, the help, entertainment, and most importantly the surfers!
We will post updates as they happen, including some new announcements towards the end of the year. In the meantime, please feel free to browse our site to see all the past winners, information about the event and our history, and great photos and videos of our surfers in action by the areas top photographers.
Hang in there and we'll see you in the lineup! Until next year! . . .
~ Belmar Pro
2016 FINS Belmar Invitational brought to you by:

Tags: belmar invitational, belmar pro, competition, contest, eastern lines surf shop, FINS, new jersey