Surf Austin, in collaboration with Deep Eddy Records, is proud to release the 2017 Local Surf Music CD sampler. This Surf Austin & Deep Eddy Records inaugural disk features singles from each of 13 local Austin surf bands. A bonus 14th track, "Surf Ohio," by the Miss Molly Band of Columbus, Ohio, is included as a musical homage to the Surf Ohio concept originally founded in 1978 by Columbus artist Ron Kaplan, and that spawned Surf Austin.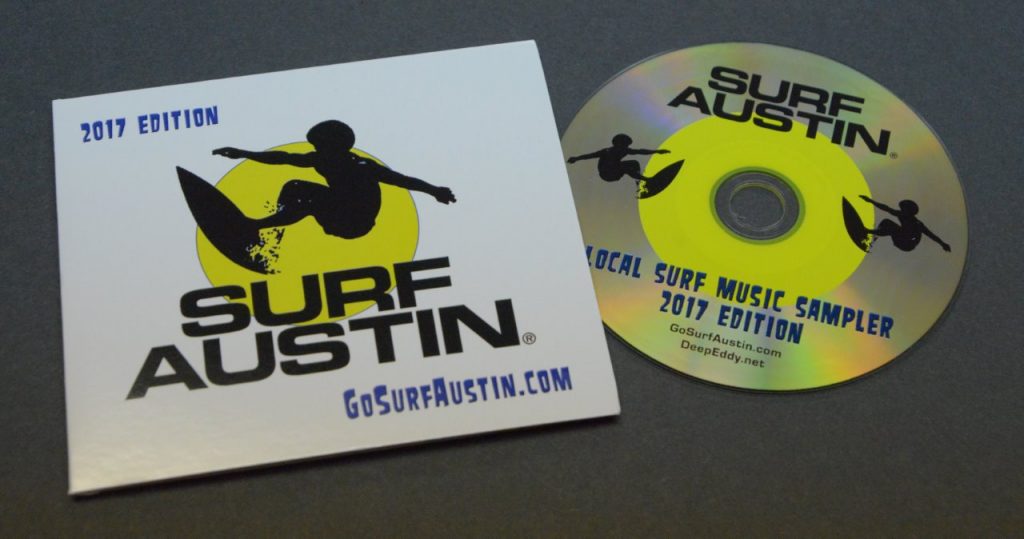 Deep Eddy Records is an Austin-based independent record label specializing in surf, instrumental rock, and garage rock. Deep Eddy Records was created in the summer of 1996 by Austin musician Ted James as a way to promote his band, Squid Vicious, and many other great modern surf and instrumental bands that he believed deserved broader exposure.
Since its founding, Deep Eddy Records has released more than 50 CDs featuring such prominent Texas bands as Ted's own Squid Vicious, his current band, The Nematoads, plus 3 Balls of Fire, Danger*Cakes, The Spoils, Los SuperAvengers, King Pelican and The Neptones. National bands included Mister Neutron (NJ), Kill, Baby…Kill! (AL), The Derangers (MA), and The Surf Zombies (IA) and international bands Dirty Fuse (Greece), and The Dead Rocks (Brazil). Deep Eddy has also released a number of popular multi-band compilation CDs featuring surf and instrumental combos from all over the world.
Surf Austin, Austin's Surf Lifestyle apparel brand, is proud to partner with Deep Eddy Records in promoting local Austin talent and plans to release a new compilation CD annually. Also in development are Austin-area surf music festivals similar to the legendary Surf Ohio Festiki concert events held in Dayton, Ohio in 2009 and 2010. A portion of the proceeds from the sale of this CD will benefit the Health Alliance for Austin Musicians, which provides affordable health care to the city's low-income working musicians.  http://myhaam.org
For more information visit www.gosurfaustin.com  and  www.deepeddy.net
[template id="6179″]