Big Freedia and Deerhunter added to the lineup; Charles Bradley and Mac DeMarco Canceled; Single-Day & Weekend Sound on Sound Fest (November 4th-6th in McDade, TX) Passes on Sale Now!
AUSTIN, TX (October 19, 2016) — Sound On Sound Fest (SOS Fest) is excited to partner with creative modern lifestyle brand Volcom to host the SOS Fest Will Call Station pick-up and programming at the newly-created Volcom Garden at 1209 E. 6th Street, Austin, Texas 78702. Designed to bring Volcom's 'True To This' spirit to life in new and exciting ways, the space will eventually be home to an art gallery, live music events, a skate ramp, and an innovative retail experience, but will be utilized as the pre-fest Will Call venue for SOS Fest from October 28 to November 2, 2016. In additional to the Will Call Station news, Sound On Sound Fest is also excited to add New Orleans bounce pioneer Big Freedia to the lineup on Sunday, November 6 and indie rock band Deerhunter to the lineup on Saturday, November 5.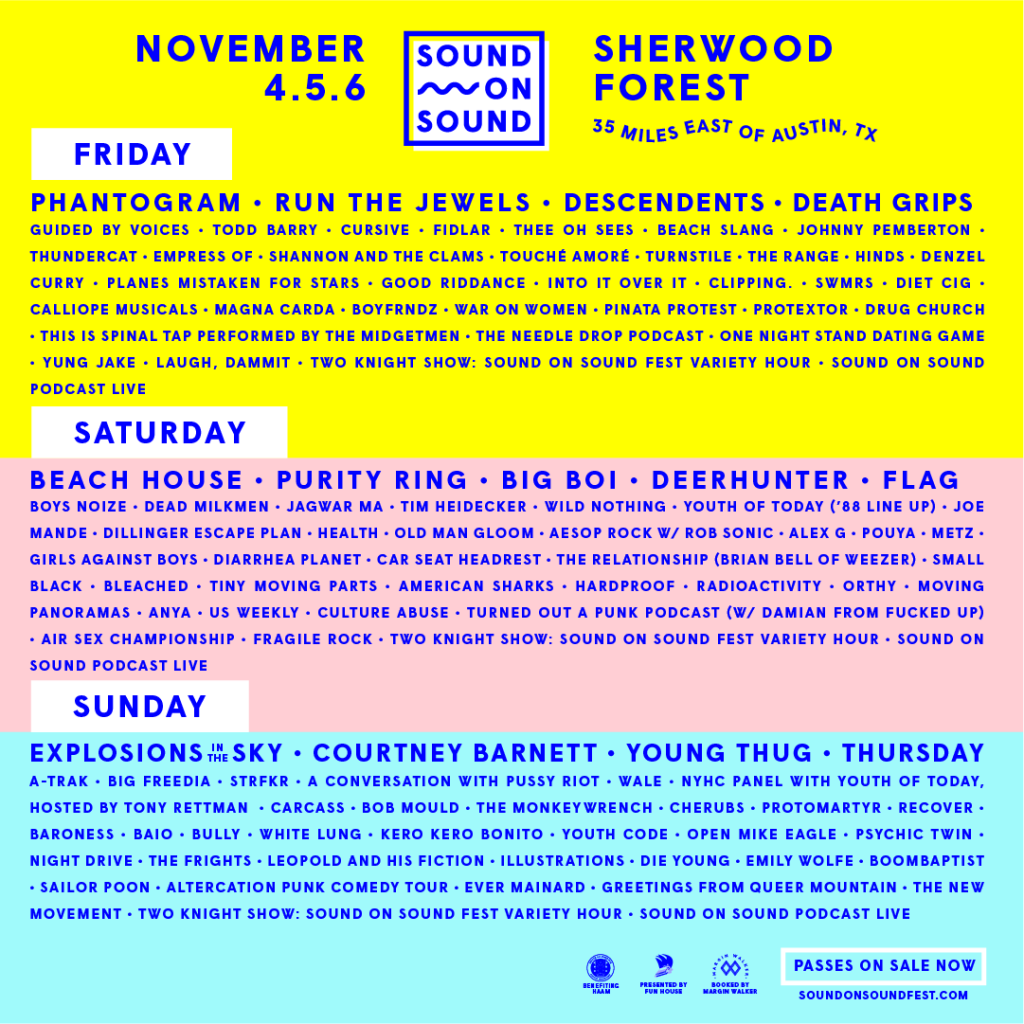 Big Freedia will replace Charles Bradley and His Extraordinaires on the SOS Fest lineup, as Bradley recently announced the cancelation of the remainder of his 2016 tour due to health issues. Deerhunter will take the performance spot of Mac DeMarco, who unfortunately can no longer perform at the festival due to a family health issue. The SOS Fest team would like to extend best wishes to both Charles Bradley and Mac DeMarco, and the festival can't wait to have both acts back to perform in the future when the time is right. All set times for SOS Fest will be available on October 25, 2016.
SOS Fest pass holders may pick up their festival day or weekend passes at the Volcom Garden daily from 5 p.m. to 9 p.m. beginning October 28 until Wednesday, November 2. Festival passes will be available for purchase at the Volcom Garden and existing pass holders may upgrade their SOS Fest passes to the VIP Treat Thyself Pass, purchase camping passes, or purchase festival shuttle passes.
The SOS Fest Will Call Station at the Volcom Garden is the first opportunity for locals and visitors to preview the unique space, and it provides festivalgoers a great location to pick up their passes without a wait. Volcom will later fully open the Volcom Garden, a new retail and creative space concept from the brand, on a to-be-announced date. Details regarding Volcom Garden operating hours and schedule will be available at volcom.com.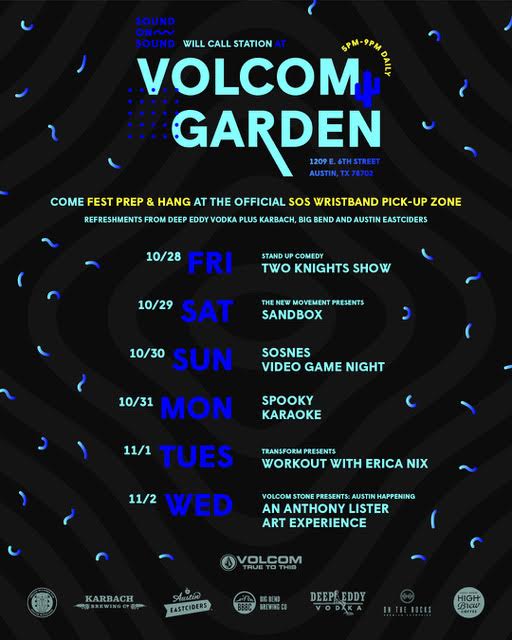 "Volcom has an amazing history of supporting people who are passionate about what they do, and the Volcom Garden is the perfect way to embody that ideology," said Volcom global creative director Mike Aho. "It's also a long-term commitment to Austin and its creative spirit and we're excited to share our future plans for this historic location."
To celebrate the opening of Volcom Garden and the inaugural SOS Fest, the venue will host a series of free events open to the public from October 28 to November 2 as part of Will Call festival pick-up. Events include Halloween-themed karaoke, comedy shows, a video game night, and more. All events include refreshments from High Brew Coffee, On The Rocks Cocktails, Deep Eddy Vodka, Karbach Brewing, Big Bend Brewing, and Austin Eastciders. All events run from nightly from 5 p.m. to 9 p.m.
Sound On Sound Fest Will Call Station at the Volcom Garden Schedule:
FRIDAY, OCTOBER 28: Two Knights Show: stand-up comedy Hosted By JT Kelley
SATURDAY, OCTOBER 29: Sandbox with Rob Gagnon Presented by The New Movement
SUNDAY, OCTOBER 30: SOSNES Video Game Night
MONDAY, OCTOBER 31: Spooky Karaoke Night
TUESDAY, NOVEMBER 1: Transform presents Workout with Erica Nix
WEDNESDAY, NOVEMBER 2: Volcom Presents Anthony Lister Art Happening
For the Wednesday, November 2 event, Volcom is excited to announce the Anthony Lister Art Experience tour presented by Volcom. Coinciding with his collaborative Volcom X Lister apparel collection, the modern street impressionist's stop in Austin will see him exhibiting new pieces of work created specifically for the event.
"Anthony approaches street art like no one else, with a looseness that's hard to get even in a studio. I've been a fan for over a decade and excited to merge the endless creative exploration of Volcom with the vibrant brilliance of this fine individual," said Aho.
Sound on Sound Fest is a brand new festival that will feature 75+ music acts, comedy performances, panel sessions, on-site camping, and more for three-days in the heart of Central Texas at the Sherwood Forest Faire, a 23-arce renaissance village just east of Austin, Texas. Key performers at the inaugural event will include Beach House, Explosions in the Sky, and Phantogram, as well as a wide range of indie, hip-hop, and EDM talent from Run The Jewels, Big Boi, Death Grips, Purity Ring, Courtney Barnett, FIDLAR, Descendents, Thursday, FLAG, A-Trak, Boys Noize, Aesop Rock, Thundercat, and many more diverse acts. The festival camping grounds will also host nightly shows, including the SOS Knights: Comedy Club and the Disco Dungeon, a late night outdoor dance club open from 12:30 a.m. to 3 a.m. The festival is open to all ages and will host the SOS Fest Kids' Kingdom presented by Do512 Family with kid-friendly activities and music. Full details for all events happening at SOS Fest can be found at soundonsoundfest.com.
Three-day GA tickets are on sale now at soundonsoundfest.com for $169 plus tax and fees. Additionally, three-day VIP Treat Thy Self passes are also available for purchase for $445 plus tax and fees. Single day GA passes are $85 plus tax and fees, and weekend camping passes are available for $75 plus tax and fees. Festival attendees are invited to ride the festival shuttle from Mohawk Austin (912 Red River) provided by Austin Tour Company to the grounds for $10 for a weekend pass.
Sound On Sound Fest thanks our 2016 partners Dark Horse Wine, Karbach Brewing, Big Bend Brewing, Austin Eastciders, Zumiez, Tequila Don Julio, Volcom, Deep Eddy Vodka, Thunderbird, CRSHR, High Brew Coffee, JuiceLand, and Fasten. SOS Fest is proud to support the Health Alliance for Austin Musicians (HAAM).
Additional festival set time information, festival vendors, and more will be announced in the coming weeks.
For more information on the festival, please visit soundonsoundfest.com. Follow Sound On Sound Fest on Facebook at facebook.com/SOSFestTX, on Twitter at @SOSFestTX, and Instagram at @SOSFestTX for updates and special promotions. The festival's official hashtag is #SOSFest.
ABOUT THE VOLCOM GARDEN:
The Volcom Garden represents the brand's new evolution and creative vision.  Designed to bring Volcom's 'True To This' spirit to life in new and exciting ways, the space will eventually be home to an art gallery, live music events, a skate ramp, and an innovative retail experience.  It will also function as an inspiration hub for Volcom's designers and artists world-wide. Volcom global creative director, Mike Aho, who lives in Austin, Texas, spearheads the Volcom Garden project. The Volcom Garden takes its name from the brand's iconic 1993 feature film 'The Garden.' The Volcom Garden is located at 1209 E. 6th Street Austin, Texas 78702, and the venue is the official Sound On Sound Fest (SOS Fest) Will Call Station pick-up running from 5 p.m. to 9 p.m. daily from October 28 to November 2, 2016.
ABOUT VOLCOM:
Volcom was founded in 1991 on the belief that there is a higher level of consciousness to be found within one's self through the internal and external journeys that board-sports, music, art and film provide. The company prides itself on making quality apparel, outerwear, footwear and accessories that not only exemplify the lifestyle, but also enhance the ability to live it. By being the first to combine surfing, skating, and snowboarding under one brand from inception a new future was forged and a generation of liberation was born. For over two decades Volcom has been TRUE TO THIS… the quest for Spiritual Intoxication. For more information, please visit http://www.volcom.com. Volcom is part of the Kering Group, a world leader in apparel and accessories, which develops an ensemble of powerful Luxury and Sport & Lifestyle brands. http://www.kering.com
ABOUT SOUND ON SOUND FEST:
Sound On Sound Fest (SOS Fest) is a brand new festival based in Central Texas and founded by Fun House Services. SOS Fest is also managed, designed, and curated by a close-knit circle of friends from various corners of the independent music and creative world, with over 20 years of booking, festival, and production experience. SOS Fest aims to transform the typical festival experience for their fans, hyper-focusing on stellar bookings of indie, punk, hip hop, metal, dance music, comedy, and live panel discussions. With a fan-first approach to the on-site experience, all are welcome as we move into the future. Visit www.soundonsoundfest.com for more information.
ABOUT MARGIN WALKER PRESENTS:
Margin Walker Presents is a truly independent, boutique promotions, marketing, and production agency with offices in Austin and Dallas serving clients and venues throughout Texas. In Austin, Margin Walker works closely with the following venues: Mohawk, Sidewinder, ACL Live at The Moody Theater, Barracuda, and more. In the DFW area, the team fills the calendars at nearly 18 venues including The Bomb Factory, Trees, and Three Links. In San Antonio, the company is partners with Paper Tiger. For more information, as well as a full list of shows and events, please visit www.marginwalkerpresents.com.
Tags: austin, festival, music, sound on sound fest, texas, Volcom