Written by Jon Coen — "When I was in high school, I had a picture of a New Jersey barrel taped to my notebook," says Mark Stern, drummer of Youth Brigade/BYO Records and co-founder of Punk Rock Bowling, which is coming back to Asbury Park for a second year on June 9th-11th. Now, we all had surf mag cutouts on our books, along with perfect wave doodles and logos of our favorite bands. But considering that he grew up in California in the '70s, it's odd that Stern fixated on a Garden State shack.
Apparently, the image was still in the back of his head when he brought this bowling and music fest to The Stone Pony Summerstage last year. Actually, the idea had been percolating for some time. "We played the Holiday in the Sun Festival in the late '90s, when it was just a stage in the parking lot," Stern remembers."Asbury was so sketchy. There was nowhere for anyone to stay and punks were sleeping on the beach. But I grew up in Venice, which was so similar – the only ghetto town on the whole coast. It was awesome because you had it to yourself. And the wave is similar too — hollow little peaky beachbreak."
Today, Mark and his brother Shawn Stern live on the beach in Venice. They surf in front of their house because it's generally uncrowded and gets good depending on the sandbars. Like its East Coast counterpart, Venice saw a renewal sparked in part by punks, surfers, and other miscellaneous creatives. The brothers still play in Youth Brigade but now have their hands full with Punk Rock Bowling, which enters its 19th year  in Las Vegas and second back in Asbury. This year, the festival has outdone itself, nailing down a fascinating lineup to include The Specials, Charles Bradley & His Extraordinaires, NOFX, The Buzzcocks, Pup, Darkbuster, and a bunch of punk staples.
"We're so happy to be doing this on the East Coast now," Stern explains. "We really diversified the lineup this year. People were telling me that the some of the bands don't really fit. I caught some shit when I booked The English Beat in Vegas because they generally just play party bars in coastal towns. But punks remember all those great songs, and once they played it went off amazing." Stern specifically refers to Charles Bradley & His Extraordinaires, a 68-year-old soul artist who's enjoyed a late life career and gets warm receptions at all manner of music fests like Sasquatch Festival, Wanderlust, and Burton Snowboard's "Friendly Gathering."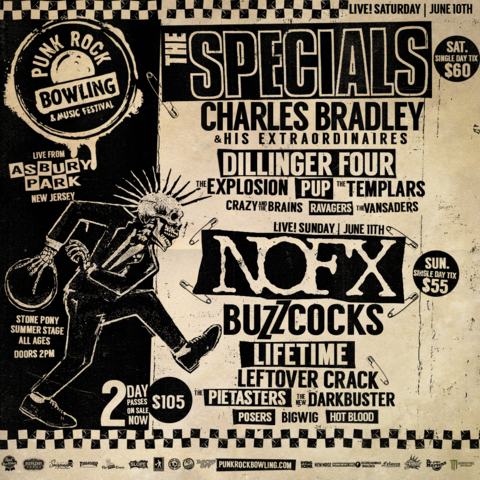 Stern runs down the list of his other notables. "We were on tour with The Bouncing Souls when the first Explosion record came out, and we actually tried to sign them to BYO. We heard they played a show last year and we hit them up… Ari Lifetime (Katz) was at Punk Rock Bowling last year and we wanted to get them on the bill. The Buzzcocks, we saw them in Vegas and it seemed like they got so much better in the last year, just having a great time playing again. And we put NOFX on a bill when they came out with their first 7-inch and all the records got stolen at that first show. Here's the thing with NOFX. They put out so much and so many people imitated their sound that you start to wonder if the world needs another NOFX record. I had the Coaster CD in the door pocket of my car for like two years. And then one day I just popped it in and remembered that every record they do has great songs. I really like First Ditch Effort."
In addition, Saturday of the fest features The Ravagers, The Vansaders, Crazy and the Brains, NYC Oi! band the Templars, Canadian energy punks PUP, the pride of the Midwest, Dillinger Four, and the legendary Specials, who have been defining two-tone since the 1970s in Britain. Sunday will see Hot Blood, Jersey favs Bigwig, The Posers, Boston's Darkbuster, and NYC crust punks Leftover Crack. Melodic masters Lifetime have a very solid backing in Asbury Park, with The Specials headlining Saturday and NOFX headlining Sunday.
And then, in keeping with tradition, there's the full bowling tournament that will go down at Bradley Beach Bowl in neighboring Bradley Beach on Sunday. Punk Rock Bowling has also become noted for its serious club shows. On Friday night, Conflict and The Dwarves headline The Stone Pony while Hot Water Music frontman turned punk-folk crooner Chuck Ragan plays House of Independents on Cookman Ave. Anyone still standing on Saturday night will be treated to NYC's own hardcore henchmen Sick of It All and The Street Dogs from Boston inside the Pony. And though chances are slim, maybe Mark Stern will find a little peak off the Mud Hole.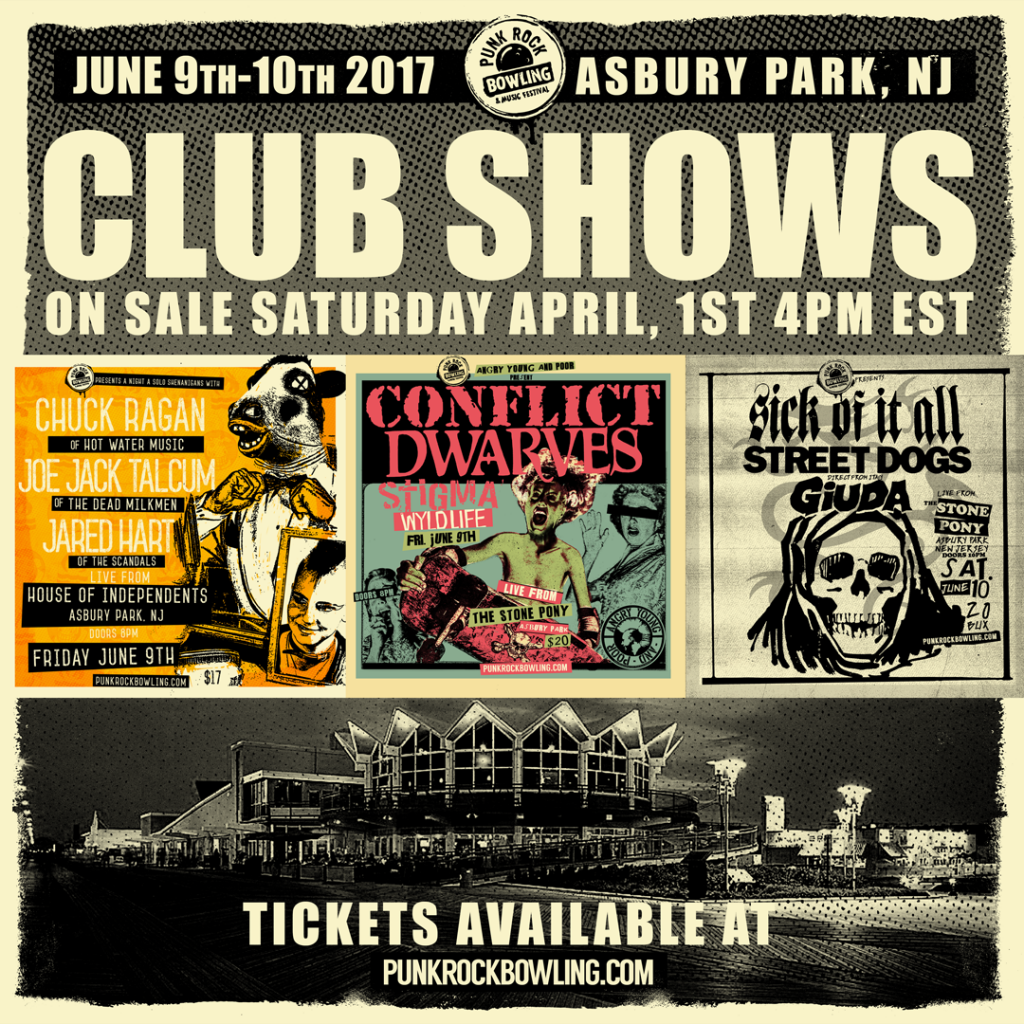 Tags: jon coen, mark stern, music, punk rock bowling