Written by Jon Coen
Sometimes it's best to keep it simple and kick expectations to the curb. That's what legendary New Jersey punk rockers The Bouncing Souls have done on their latest release for Rise Records — they even fittingly named it Simplicity.
The Souls are revered on the East Coast, with decades-long roots running deep in the confluence of surfing, skating, and underground music. They have simultaneously lived in hardcore circles, the thriving Mid-Atlantic pop-punk scene, and the overall Jersey Shore music community. By most accounts, they shouldn't even be putting out a tenth studio album in 20-plus years. Renowned punk bands normally come out swinging with a rough, intense freshman effort, put out two or three albums that define their sound, follow it up with one awkward record, and then play the classics for the next ten years of reunion tours.
But somehow, The Bouncing Souls — with original frontman/guitar/bass trio Greg Attonito, Pete Steinkopf, and Bryan Kienlen, backed for the last three years by Hot Water Music's George Robello are still putting out songs that stand up to the rest of their catalog. Simplicity mixes enough innovation with the classic "whoa-whoa-whoas" to keep the Souls' diehard fans happy while maybe even drawing in a few new punks. Though it does lack that one track with elements of hardcore like "Better Days" from Anchors Aweigh or a sugar-sweet ballad like "The Pizza Song" off The Gold Record, Simplicity's "Writing on the Wall" and "Up to Us" will likely turn into crowd-favorite anthems. The latter is a very Souls-esque song about overcoming adversity and the death of our idols with music and positivity.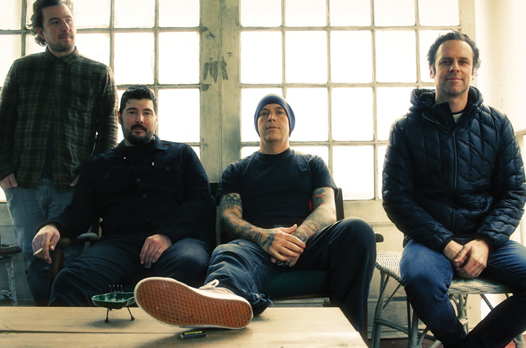 That could be precisely what gives The Bouncing Souls their longevity — a life-affirming message that still retains its edge while appealing to both groms and the old crusts. If it still makes you want to climb on your buddy's sweaty shoulders and crawl across the sea of heads to sing along, it's real simple.
Tags: album of the week, hardcore, music, new jersey, punk, the bouncing souls