Baltimore, MD – 9 Mile Roots have released 'ReEvolve', their new full-length album. It is surprisingly their first release since their 2013 EP 'Lime'. Since they released that EP, it's been a continual stream of live shows and long hours spent writing and putting together new songs. It's not that they've been stagnant all this time; they simply took their time writing and making sure each song was a representation of their development during the last few years.
Fusing a new rock edge with hip-hop flow, built around their strong reggae foundation, 'ReEvolve' aims to take the grand sounds you hear at a 9 Mile Roots live show, and deliver it properly in recorded album format. This is an album that deserves to be listened to with the volume properly cranked up.
Myxolydianblog reviewed the album, stating, "There is plenty of laid-back rock/reggae fusion that hearkens back to groups like 311 and Sublime, and that is the greatest strength of ReEvolve. You can tell that the band is there to have a great time and make catchy songs along the way. 9 Mile Roots play a tight sound, with every instrument never seeming out of place. Especially with summer fast approaching, this may be a record you want in your collection."
The video for "Drifting", which premiered on ThePier.org, can be viewed below. Irie Mag also featured a new track from the forthcoming album, including "On The Floor" in their April playlist, saying "This Suburban Roots Reggae band founded in 2009 and based out of the Baltimore / DC metro is definitely an Irie Magazine favorite." Listen here: http://www.iriemag.com/irie-magazine/world-reggae/04-04/. And look out for the June, 2017 issue of Irie Mag, which will feature 9 Mile Roots on the cover.
ReEvolve was a long time in the making, because as bassist Josh Behun puts it, "We are always evolving, reinventing ourselves, both as a band and as people. We don't rush anything when it comes to making music, we only set out to make the songs that we really feel shine the light on who we are at a given time. We feel that ReEvolve is a really good reflection of who we are right now."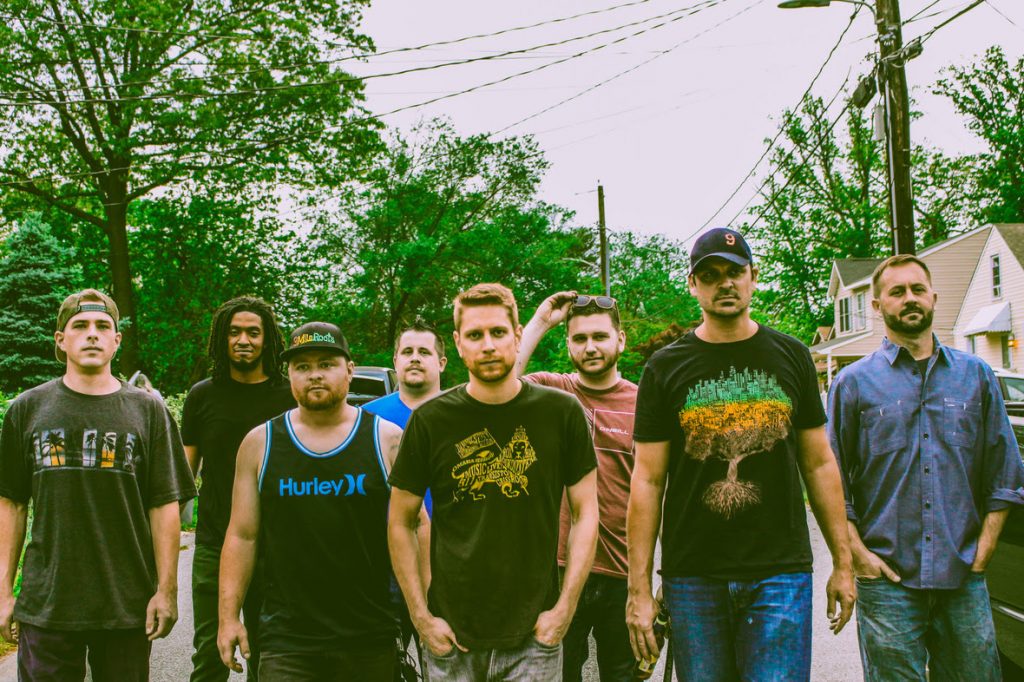 'ReEvolve' purchase/stream links:
https://itunes.apple.com/us/album/reevolve/id1225562610
https://open.spotify.com/album/56apoFyYqzL496uaMCAhWZ
https://www.amazon.com/ReEvolve-9-Mile-Roots/dp/B06Y6FSXC2
ReEvolve Track Listing
1. Feel
2. Drifting
3. Bad Blood
4. On The Floor
5. The Battle
6. On The Wire
7 Premonition
8. Paper
9. Sun
10. Stand
11. Hands Back Up
12. Volcano
Links
Website http://www.9mileroots.com
Facebook https://www.facebook.com/9mileroots
Twitter https://twitter.com/9MileRoots
YouTube https://www.youtube.com/channel/UCVjZ7FptmvuSModAHJW2oqA
SoundCloud https://soundcloud.com/9-mile-roots
For Immediate Release
Contact: Jeff Schad – Montauk Music: 703.581.7441 | jeff@montaukmusic.com
Tags: 9 mile roots, maryland, music, ocean city, Reggae