We've decided to do new things in 2017. And as many of you know, this isn't new for us. Whether exploring new construction methods to create Timbertek surfboards or experimenting with shape to create the Vanguard, our goal has always been to improve the surfing experience year over year for all surfers – everywhere – while also improving the ecofriendlienss of surfboard production. But we're beginning 2017 by improving more than just surfboards. On January 7th we released episode #1 of The Wire Podcast. And today, we released episode #2.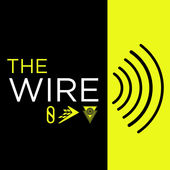 The Wire Ep. 1 – Jess Ponting
Episode #1 will introduce you to someone who you've likely never met before. His name is Jess Ponting, and he's a fascinating example of how one can align their interests as a surfer with their career and work. Jess is the Director of The Center for Surf Research at San Diego State University, and as the first person on earth to ever earn a Ph.D. in Sustainable Surf Tourism Management, he is also the co-founder of Stoke Certified; the world's first sustainability certification program for surf and ski tourism operators.
What all this means is that he spends much of his time teaching and promoting sustainability in many exotic surfing destinations you've heard of. Places like Papua Nu Guinnea, Indonesia, Fiji and more. He is also very loved by his students at SDSU. A former student who now manages the Scorpion Bay Hotel in Mexico says that; "Jess' energy at SDSU has opened doors for many students in sustainable tourism management, and helped many of us succeed in ways we hadn't imagined possible."
You can listen on iTunes here, and on Stitcher here.
The Wire Ep. 2 – Mark Price
In episode #2 you'll drop in on a conversation with someone you likely already know well – Mark Price, the CEO of Firewire. What makes Mark unique is that he knows the size of the pond he wants to swim in. He's had opportunities to chase success outside of the surf industry, but he has never left the beach, and his resume reads like a laundry list of surf brands that have inhabited surfers closets for years – Gotcha, Rip Curl, Reef and more.
The conversation covers much, like
– The book that had the biggest impact on Mark's life
– His strategy for living happily as a pessimist
– Why you should listen to The Smiths (his second favorite band)
– How financial success can result from acting socially and environmentally responsible
And much more…
Whether you're a business owner, entrepreneur, or just someone who loves surfing, you'll find this episode useful as a toolkit for navigating buzzwords like "sustainability' and "environmentally friendly'.
You can listen to this episode on iTunes here, or on Stitcher here.
At a Surf Shop Near You
Lastly – many of you have been looking for the dimensions you want in the Sci-Fi and Greedy Beaver. This month, we've put new boards in many surf shops throughout Australia, the States and U.K., so if you spent the last month of 2016 walking into surf shops that didn't have the dimensions you wanted in either of these boards, give a glance this month, and you may find the dimensions you were looking for. The picture above shows a new Sci-Fi at our Headquarters in California (6'0 x 20 x 2 11/16 – 33.9 L) and below is a Greedy Beaver (5'6 x 19 3/4 x 2 1/4 – 29.9 L)
That's it for now, we'll be in touch later this month. -The Firewire Crew
FIREWIRE BELIEVES…
Firewire is dedicated to building high performance surfboards and accessories through innovative design, materials and construction methods. We strive to do so with the lowest possible impact on the environment while also giving back to the global surf community through support of various environmental and humanitarian organizations.
Tags: firewire, newsletter, podcast, surfboards