Athletes Invest in Health & Wellness Startup To Spark a Movement
Paul Rodriguez, Alana Blanchard, Eric Koston, Coco Ho, Keith Malloy, Taj Burrow, Pat Moore, Laura Enever, Mikey DeTemple, Andrew Reynolds, Monyca Eleogram, Dane Gudauskas, Tanner Gudauskas, Patrick Gudauskas, Guy Mariano,  Jed Anderson, Jett Schilling, Kenny Anderson, Koa Smith, Mason Ho, Mikey Taylor, Nate Tyler, Nick Lavecchia, Atiba Jefferson, Taylor Knox and Jack Freestone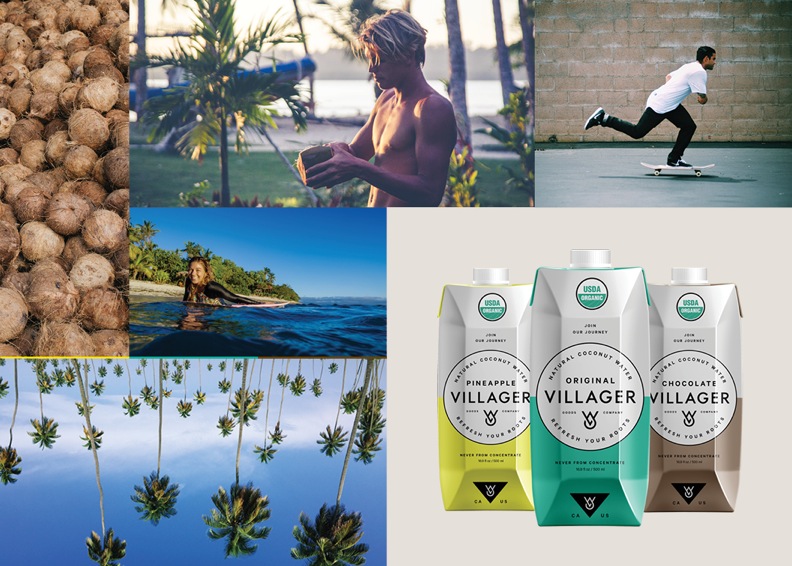 San Clemente, California (July 25, 2016) – Villager Goods coconut water will launch this Fall 2016 as the first athlete-owned start up dedicated to inspiring the world's youth to live healthy positive lives in harmony with nature. The twenty-six top action sports "Villagers" have signed on as investor-ambassadors to show their commitment to living positive, healthy lifestyles that set an example to  younger generations as well as their contemporaries.  Villager Goods will introduce three coconut water flavors – original, pineapple and chocolate – delivering a premium organic, not-from-concentrate product priced in line with mainstream non-organic competitors.
"As a brand and as individuals, we want to use our power of influence for something good," says Ryan Kingman, President of Villager.  "Our goal is to build a global community that inspires individuals to lead a healthier lifestyle."
Villager Goods plans to introduce additional organic food, beverage and consumer goods products in the future. The company will also establish Villager Good, which will represent the brand's cause related hub and focus on supporting initiatives that are important to the Villagers and our brand.
What our Villagers are saying…
"I wanted to be involved with Villager because I love skateboarding and coconut water is great for hydration which helps me have longer skate sessions. I also love the people involved and I think what we are doing is so positive and healthy for everyone!" – Paul Rodriguez, Skateboarder
"I am honored to join a crew of likeminded athletes who back something that actually nurtures and replenishes our bodies. Day in and day out hydration is what we really need and I'm stoked to be a Villager." – Coco Ho, Surfer
"It's easy to get stuck in the status quo. I'm happy to step aside and be a part of a meaningful brand that makes healthy products. It's a much better representation of what I actually buy and consume."- Pat Moore, Snowboarder
"It's exciting to be able to have the opportunity to help create Villager. It's vital to replenish the nutrients I lose when I sweat and coconut water is one of the best options to do just that. Recovery is important to me because it keeps me doing what I love, which is skateboarding." – Eric Koston, Skateboarder
"At a time when caffeinated energy drinks are the norm I'm so stoked to be a part of something healthy and tasty that I can share with my family." – Keith Malloy, Surfer
Villager will be available online at www.villagergoods.com and at premiere retail locations nationwide.
About Villager Goods
Villager Goods is a global community of adventurers that inspires future generations to live healthy lives in harmony with nature, through education and empowerment. We create products that taste good, feel good and are made from the world's simplest ingredients.  Please visit us at www.villagergoods.com and follow @villagergoods on Instagram, Facebook, Snapchat and Twitter.
Coming Fall 2016 from Villagergoods on Vimeo.
Tags: coconut water, press release, product launch, villager