The second stop of the 2016 Rip Curl GromSearch series presented by Banzai Bowls made its annual visit to Kewalo Basin, on the South Shore of Oahu.  Those who entered the event made a great decision as near perfect 3-5 foot A-frames consistently poured into the lineup all day long. With a GromSearch single day record of 100 competitors entered into the draw, the day was an all-out shredfest to see who reigned supreme.
The top four finishers in each division earned all-important invitations to compete in the GromSearch National Final, which will be held at Seaside Reef, San Diego on October 29th.  The Boys and Girls 16/U National Champions get an all-expense paid trip to compete in the GromSearch International Final set to be held somewhere on The Search in early Spring 2017.
For Haleiwa, Hawaii's Koa Matsumoto, it was a big day while taking a victory in the premiere Boys 16/U division. Matsumoto was extremely stoked considering he hasn't had many career results.
"I haven't had a good result in a while, so this one felt good. My strategy was to wait for the sets and look for the rights. I didn't go left at all," Matsumoto stated while describing what it took to win.
It was an all island affair, as finishing runner-up went to the Big Island's, Ocean Donaldson-Sargis, 3rd place, Maui's Cole Alves, and 4th Oahu's Devin Brueggman.
Although finishing 3rd wasn't his dream result, Cole Alves did walk away a winner as he was awarded the Banzai Bowls Maneuver of the Event for a tail hail – open faced air reverse. Cole scored $305 and a custom-made 'bowl' trophy courtesy of Banzai Bowls.
In the stacked Girls 16/U division, the event broke a new record while hosting 36 girls in the draw. Rising above the rest was the sisterly battle of the Nishimoto's. However, as in grade school, the elder of the two siblings stood on top, as Julie took out the younger Emily. One wave in particular in the final (9.5) surfed by Julie would've made hometown hero Carissa Moore proud. 3rd place went to two-time International GromSearch champion, Brisa Hennessy, 4th California's Samantha Sibley, 5th Brittany Penaroza, and rounding out the final in 6th was Gabriela Bryan.
Moving on to the Boys 14/U, it was a total domination by Kewalos local and the event's only double finalist Robert Grilho III. RG3 as he's known, avenged a second place finish in the Boys 12/U to take a GromSearch victory for the 2nd year in a row. Second place went to GromSearch newcomer out of Kauai, Sage Tutterow, 3rd place went to Malibu's Taro Watanabe, 4th place to Wyatt McHale, 5th place to Ocean Macedo, and 6th place to Dylan Franzman.
Unfortunately for Ocean Macedo, 5th place stung a bit considering he just missed out on the National Final. However, to lighten the burn Macedo was awarded with the DHD High Heat Total of the event for an incredible display in the early rounds, totaling 17.1 points. For his efforts Macedo was awarded a custom Darren Handley Designs surfboard.
Finally, the youngest but most competitive division, the Boys 12/U saw a seesaw battle which ended up going in the direction of future star Jackson Bunch. Bunch used his sharp forehand to tear apart the bending inside bowl to finish with 15.5 points. 2nd place as mentioned went to RG3, 3rd place Diego Ferri, 4th Kai Martin, 5th Thatcher Johnson, and 6th Raphael Castro.
Rip Curl's Official Retail Partner of the GromSearch Kewalos, Hawaiian Island Creations, once again donated a custom HIC surfboard to the most inspirational surfer who demonstrated sportsmanship and aloha spirit, this year's recipient was Noah Kawaguchi. Congrats Noah!
The GromSearch at Kewalos is a favorite on the schedule and we would like to thank all the locals for allowing us to hold the event at their beautiful beach park. A shout out is in order to Kanaka Solutions for helping keep the event safe.
We'd like to thank our 2016 supporters, our presenting sponsor Banzai Bowls for their ongoing support, FlexFit, Skullcandy, Dragon Alliance, Carver Skateboards, Surface Sun Systems, DHD Surfboards, and Wahoo's Fish Tacos.
Be sure to check out event coverage with our media partners on SurfingMagazine.com and Surfline.com. You can also be a part of the action by voting for the #SurflineMoment on Surfline's Facebook page.
We hope to see you at stop #3 of the 2016 Rip Curl GromSeach at New Smyrna Inlet, Florida, August 13th or 14th. Sign up now at ripcurl.com/gromsearch.
OFFICIAL RESULTS FROM STOP #2 OF THE RIP CURL GROMSEARCH PRESENTED BY BANZAI BOWLS
Boys 16 & Under
1. Koa Matsumoto ($250)
2. Ocean Donaldson-Sargis
3. Cole Alves
4. Devin Brueggeman
Girls 16 & Under
1. Emily Nishimoto ($250)
2. Julie Nishimoto
3. Brisa Hennessy
4. Samantha Sibley
5. Brittany Penaroza
6. Gabriela Bryan
Boys 14 & Under
1. Robert Grilho III ($250)
2. Sage Tutterow
3. Taro Watanabe
4. Wyatt McHale
5. Ocean Macedo
6. Dylan Franzmann
Boys 12 & Under
1. Jackson Bunch ($250)
2. Robert Grilho III
3. Diego Ferri
4. Kai Martin
5. Thatcher Johnson
6. Raphael Castro
Banzai Bowls Maneuver of the Event
Cole Alves, Air Reverse ($305)
DHD High Heat Total
Ocean Macedo, 17.10
HIC Sportsmanship Award
Noah Kawaguchi
About the GromSearch:
Since Rip Curl developed the concept for the GromSearch events in 1999, the series has spread throughout the surfing world and now culminates with an International final held at a different location each year. The worldwide series is held for male and female surfers aged 16 years and under, commonly referred to as "groms", with the aim of the GromSearch is to nurture and recruit the next generation of surfers at a grassroots level.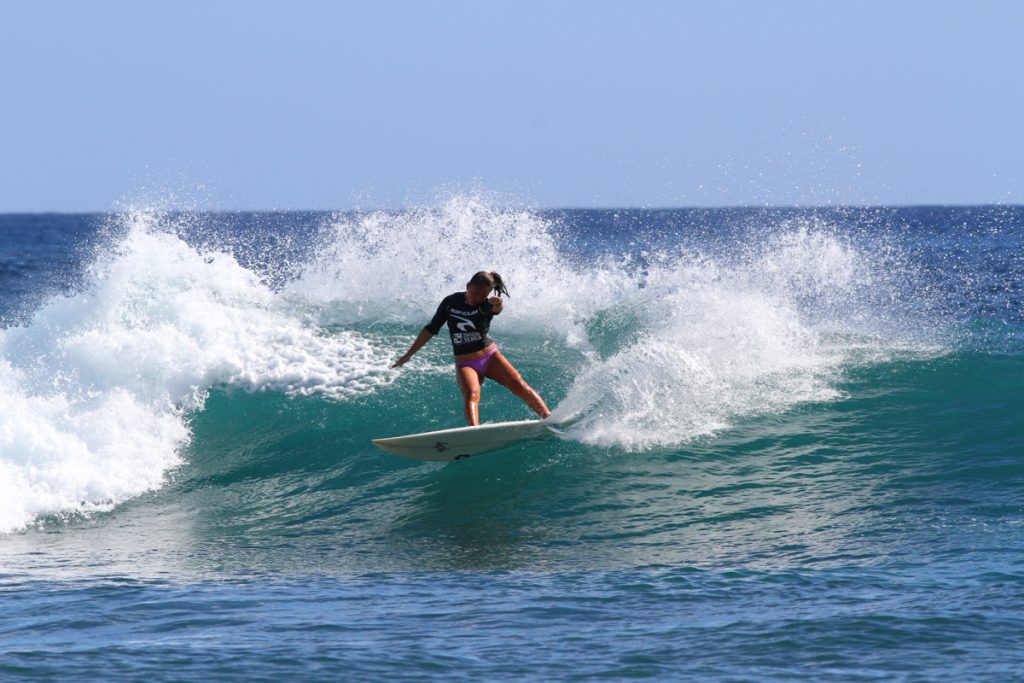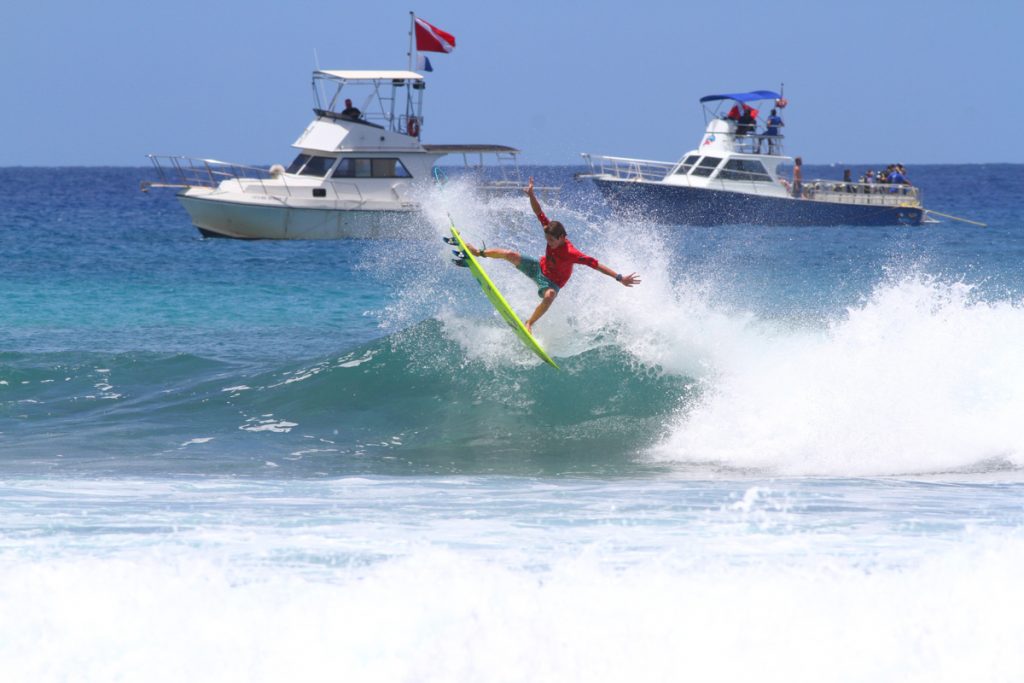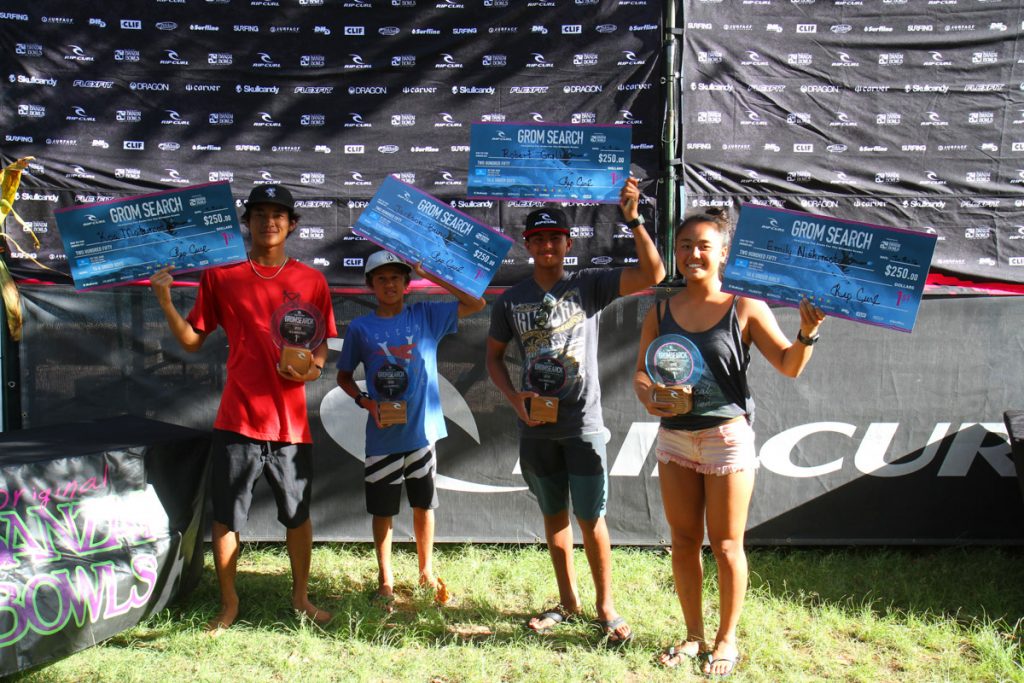 Former GromSearch champions include current WSL World Tour stars; Gabriel Medina, Owen Wright, Jordy Smith, Matt Wilkinson, Nat Young, Kolohe Andino, Tyler Wright, Stephanie Gilmore and Sally Fitzgibbons.
Tags: contest, hawaii, rip curl gromsearch