Experimental eyewear brand Shwood is proud to announce their recent collaboration with Shaper Studios, the world's first DIY surfboard workshop. The collect­ion, titled the Surf Resin Collection, celebrates the handmade authenticity and grittiness of both brands' carefully crafted products. At the core of both Shwood and Shaper Studios is the appreciation of a quality, handcrafted product and the beauty that comes with it. This appreciation is reflected in every detail of the collaboration line.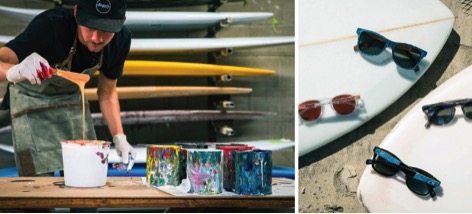 Detailed with the same non-toxic, bio-epoxy resin that Shaper Studios uses to glass surfboards; the collaboration features an assortment of sunglasses inspired by the Pacific coastline and surf culture of Southern California. The collection includes 4 pieces – one a full-frame combination of resin and genuine wood and three Italian acetate frames with resin accents.
Product details:
Custom bio-based surf resin created by Shaper Studios
Colorways inspired by the California Coastline
Color-Matched Polarized Carl Zeiss? Lenses
Full Frame Resin and Genuine Hardwood Retail: $250 USD

The Canby in Hardwood + Midnight Surf Resin

Italian Mazzucchelli Acetate with Resin Inlay Retail: $169 USD

The Canby in Black Midnight Surf Resin
The Francis in Crystal with Sunset Surf Resin
The Francis in Smoke Midnight Surf Resin
The Surf Resin Collection is available now via www.shwoodshop.com.
About Shwood, Inc.
Born from the limb of a Madrone tree, a rusty pair of cabinet hinges and lenses from the corner store, Shwood has been a curious endeavor from the beginning. An endeavor to create a product that encompasses the individuality and uniqueness that can only be found in natural surroundings. A desire to experiment with design, materials and aesthetics in the search for something that works. Free from passing trends, the brand's focus remains rooted in innovation and creation. With these pillars in mind, Shwood designs and offers a collection of highly crafted sunglasses utilizing innovative natural materials. Since the brand's inception in 2009 Shwood has introduced more than 15 new materials into the eyewear industry making it the top material innovator in eyewear. The brand's in-house manufacturing process merges precision technology with classic skilled craftsmanship to create a timeless art form. Every step from veneering and precision lens cutting, to shaping and finishing is conducted in Shwood's Portland-based workshop to promise an entirely handcrafted piece of wooden eyewear. Wood manipulation is kept to a minimum in order to showcase the medium's natural and unique splendor. For more information, please visit www.shwoodshop.com.
About Shaper Studios
Emerging from San Diego's progressive surf culture, Shaper Studios is a tribute to the original California surf shop. The first surf shops were a place where surfboards were made and a clubhouse for local surfers. Through private Surfboard Shaping Lessons and Group Surfboard Shaping Classes, novice surfers and advanced surfers alike can learn this time-honored craft. Today, Shaper Studios maintains a global presence as the world's first do-it-yourself surfboard workshop and gathering place for arts, live music and community events.  For more information or to find a location near you, visit shaperstudios.com.
Tags: shapers studios, shwood, sunglasses