WOMEN'S QS TAKES OVER OCEANSIDE FOR 
PAUL MITCHELL SUPERGIRL PRO QS6000
– TATIANA WESTON-WEBB RETURNS TO DEFEND HER TITLE
– LARGEST FIELD OF WOMEN COMPETITORS IN SURFING HISTORY
– CT STANDOUTS AND TOP QS COMPETITORS IN ATTENDANCE
– MORE AT WWW.WORLDSURFLEAGUE.COM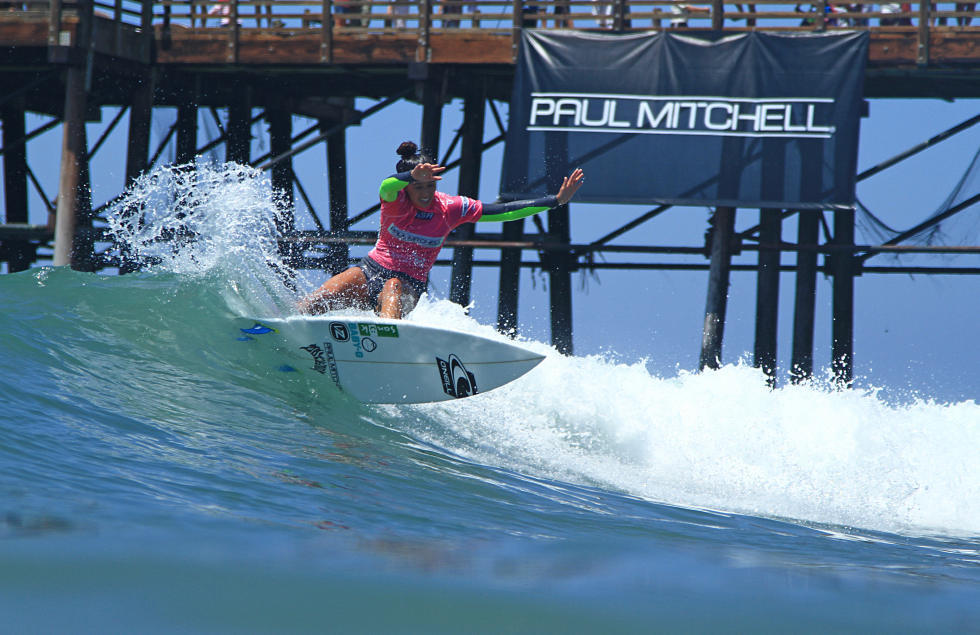 Caption: 2013 Paul Mitchell Supergirl Pro Champion Malia Manuel (HAW) joins the historic 114 competitors as a top seeded Qualifying Series (QS) and Championship Tour (CT) standout. Image: WSL/ Kurt Steinmetz
HUNTINGTON BEACH, Calif./USA (Thursday, July 21, 2016) – The World Surf League (WSL) Women's Qualifying Series (QS) has made its way to the shores of Oceanside, Calif., for the three-day spectacle that encompasses the Paul Mitchell Supergirl Pro Women's QS6000. Boasting the largest field of female competitors, the southside of the Oceanside Pier will host an historical 114 surfers from July 22 – 24, alongside a full weekend of festivities celebrating women athletes from an array of action sports.
As the last of three 6,000-point events in the North America region, all the heavy-hitters are in attendance and looking to solidify their place within the Top 6 of the QS rankings. Defending Supergirl Pro champion Tatiana Weston-Webb (HAW) sits just inside the re-qualification bubble, though her No. 6 spot on the Samsung Galaxy Women's Championship Tour (CT) gives her an edge on requalifying. Weston-Webb came into this event firing on all cylinders last year and is looking for more of the same amid a highly talented field of competitors.
"I think I have a strong chance at defending my title again — not taking anything away from the rest of the QS girls, but I feel I have good luck at this venue," Weston-Webb said. "Winning this event last year definitely boosted my confidence tons and helped me feel really good going into the back half of the competitive season. I think something that's been a key to finding results is just to be happy with my surfing and know that no matter the result I'm still a great surfer, and that I love to compete."
Fellow Hawaiian Malia Manuel (HAW) is no stranger to the beachbreak of Oceanside, Calif., earning a victory in 2013 and finishing with a Quarterfinal result at last year's event. Looking for another big result at this year's event to solidify her place in the upper tier of the QS rankings, Manuel finds herself in familiar territory and poised for a good second-half to her campaign.
"Being comfortable in Oceanside is definitely something I can attribute some past success to," Manuel said. "It's nice to actually be in America and have events. All year we are traveling and staying in different countries, but California is a familiar place for us Hawaiians growing up and shaping our amateur careers. Mother Nature will only provide you what she wants and you have to take advantage of those opportunities. I have great support and some amazing equipment so that helps going into events knowing you're prepped."
Joining Weston-Webb and Manuel, current World No. 1 on the Women's CT, Courtney Conlogue (USA), will also be in the draw along with two-time Paul Mitchell Supergirl Pro winner Sage Erickson (USA), and other CT standouts Bianca Buitendag (ZAF), Laura Enever (AUS), Nikki Van Dijk (AUS), and many more.
San Diego, Calif., native Tia Blanco (USA) has been named the WSL North America wildcard into the Supergirl Pro. Blanco had an unfortunate showing at the previous two QS6000 opportunities in Los Cabos and El Salvador, but she isn't letting that phase her. The 19-year-old is ecstatic with a chance to compete in front of her hometown crowd and put up her best efforts.
"I always have a fantastic time surfing in the Supergirl with such amazing energy down at the beach," Blanco said. "It is really awesome to compete against the best girls in the world. This will be such a great experience for me and I am sure I will learn a lot from this event, win or lose. I have been working really hard lately and I feel like I am surfing well, so I can definitely see myself getting a good result if the waves come my way. It is going to be awesome to have my family and friends down at the beach supporting me."
Round One will hit the water tomorrow morning at 8:00 a.m. PST. For live scoring and updates throughout the first day of competition, go to www.worldsurfleague.com, or download the WSL App. Tune in here Saturday for a live stream of the event that will begin at 7:30 a.m. PST.
Tags: california, competition, contest, oceanside, paul mitchell supergirl pro, qs, wsl