US Open Surf Competitor Discusses Why Delicious Perfect Fit Protein (created by Founders of Tone It Up) Is A Perfect Fit For Females
JULY 26, 2016 — Professional surfer Sage Erickson completes another successful competition round at the US Open of Surfing, and speaks up about why she loves Perfect Fit Protein – created by the Founders of the healthy lifestyle brand and community, Tone It Up. Designed by for women, for women, Perfect Fit Protein is the perfect post workout recovery for athletes and women like Sage. Fitness experts and Co-Founders of Tone It Up Karena Dawn and Katrina Scott struggled to find a clean and honest protein to recommend, and set out on a mission to create their own. With three plant-based flavors of Vanilla, Chocolate, and Coconut, benefits of Perfect Fit include:
Certified Organic and Non-GMO Project Verified
Free of Dairy and Gluten
Only 7 Easy to Understand, Clean Ingredients
Satisfies your appetite, keeping you energized, LONGER
Promotes a healthy, lean physique
Kosher and Vegan
Jumpstarts your metabolism
Helps promote hair, skin, and nail growth
"Perfect Fit is the perfect product for me because it stands for so much I believe in. As an athlete or all around person I choose a healthy lifestyle everyday in areas that I can. I believe that replenishing our bodies and starting our bodies off right rules our entire day. I want to be the most clear headed and genuine possible with every person I run into," says Sage.
As an athlete, Sage finds that incorporating Perfect Fit Protein into her everyday schedule significantly improves her stamina. "If you have tried surfing, then you know it's not an easy breezy workout or sport. Having a stable protein intake weekly keeps me strong and determined. Muscle growth and maintaining that growth is crucial to me performing."
As a woman on-the-go, with her travel and competition schedule, Sage loves to add Perfect Fit Protein to her smoothies. "I put something different together every day, whatever I'm feeling! Sometimes I go super green and I'll use tons of fresh spinach, kale and mint, and then I'll add blueberries and 1 scoop of Vanilla Perfect Fit. Some days I'll go creamy with one scoop of coconut flakes, 1 large scoop of peanut butter, cinnamon and the coconut protein."
Perfect Fit Protein is a delicious, easy to use addition to smoothies and in everyday recipes. To learn more about Perfect Fit, please visit www.myperfectfit.com.
About Perfect Fit
Perfect Fit Protein is an organic, non-GMO plant based protein created using pumpkin seed and pea protein. Developed by the founders of Tone It Up, Karena Dawn and Katrina Scott, Perfect Fit was designed for women, by women – and features only 7 simple ingredients. Offered in Vanilla, Chocolate and now Coconut flavors, it is available in tubs and on the go single use packets. For more information about Perfect Fit, please visit www.myperfectfit.com.
Follow Perfect Fit on Instagram: @perfectfit
About Tone It Up
Tone It Up is a women's specific healthy lifestyle community created by Co-Founders Karena Dawn and Katrina Scott. It offers workout content, nutrition guidance and recipes, lifestyle tips, support and encouragement – and best of all, it has created a platform where women can connect, each sharing in the same journey towards better health and happiness. The community offers members a tremendous accountability and support system – and, a large and loyal network of like minded women to lean on and lift up throughout the process. This quirky, energetic "friend-to-friend" approach to fitness has made Tone It Up the one stop destination for women seeking a fun, unique approach to achieving their best self.
Follow Tone It Up on Instagram: @toneitup
Agency Media Contacts:
Be Social
Alex Neill
858.764.0566
About Sage Erickson
Sage Erickson is a professional surfer on the Women's World Surf League Championship Tour. Growing up on the North Shore of Oahu, Sage taught herself to surf and unearthed a natural, well-rounded talent that led to a spot in surfing's big leagues. After years dominating the NSSA and Pro Junior Circuits, she qualified for the Women's World Tour in 2012. As an adept international competitor, Sage is also a healthy lifestyle advocate and fashion-savvy model with limitless potential for growth in her career.
Follow Sage Erickson on Instagram: @sageerickson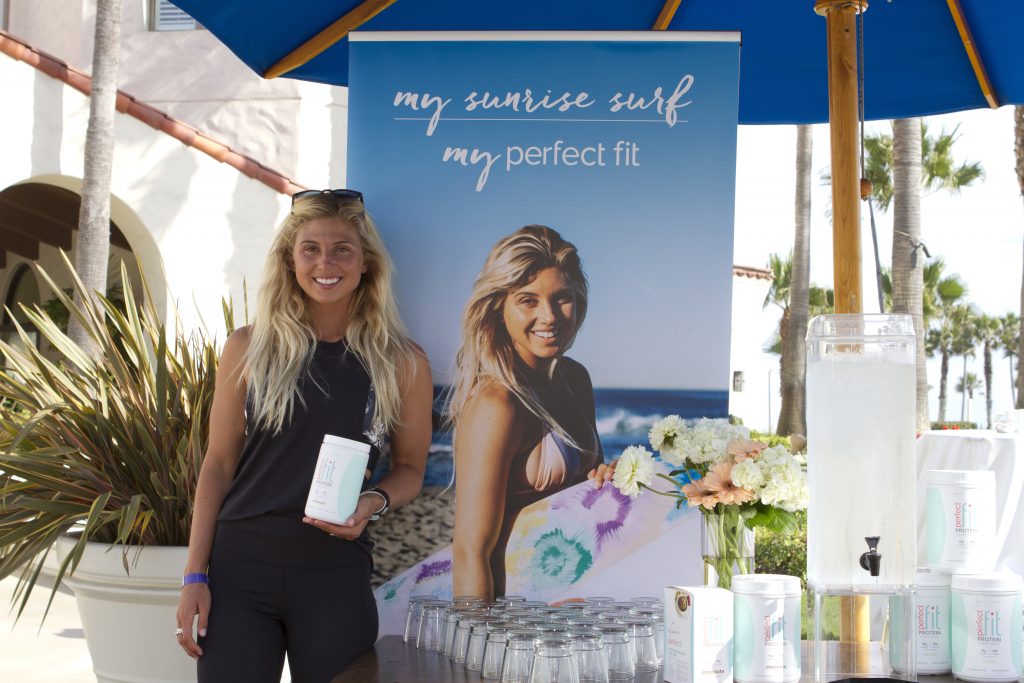 Tags: california, perfect fit protein, press release, sage erickson, us open of surfing