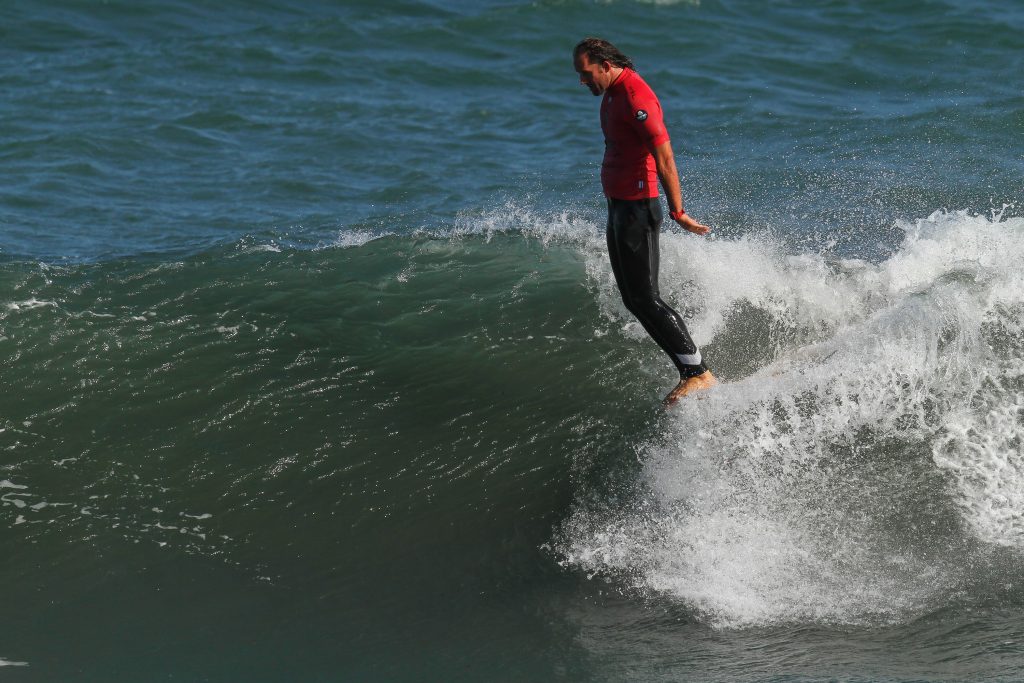 Caption:  Former World Longboard Champion Taylor Jensen made it back-to-back wins at the Whalebone Classic today: Surfing WA / Woolacott
Cottesloe Beach, WA/AUS (Sunday, July 10, 2016) –  Former World Longboard Champions Taylor Jensen (USA) and Chelsea Williams (QLD) have claimed victory at the 19th annual Whalebone Classic, a World Surf League (WSL) Longboard Qualifying Series (LQS) event held at Isolators Reef off Cottesloe.
Despite cold and testing conditions, the third and final day was a true celebration of longboarding on a local, national and international stage.
Taylor Jensen proved unstoppable in the 25-minute men's final, claiming his second consecutive Whalebone Classic title, his third overall.   The 2x World Champion Jensen proved his competition class, defeating another former World Champion Harley Ingelby (NSW) in a rematch of the Australian Open of Longboarding final in Kingscliff, NSW earlier this year.
In a wave-starved final, Jensen mixed elegant footwork and powerful rail manoeuvres, opening with an excellent score of 9.00 (from a possible 10) and kept the momentum for the rest of the final. Jensen scored a back up 7.50 to finish on a combined total of 16.50 (from a possible 20) and confirm place as one of the best performers ever at the Whalebone.
"It's been the most interesting surf conditions I think I've ever experienced for an event," said Jensen. "I got lucky with the waves I found and I made the made them count." "I feel right at home in these sort of conditions, they're really similar to the waves I grew up surfing in California. WA has been a happy hunting ground for me and I'm stoked to take the win."
Notwithstanding a great 7.25 (from a possible 10) ride, Harley Ingleby was left chasing a near perfect 9.26 to snatch the lead when the siren sounded.
"It was a real struggle out there, I only caught three waves and just didn't have the opportunity to answer back," said Ingleby. "It was probably the slowest heat of the whole event, but it's been another great Whalebone Classic."
The women's LQS final was an all Queensland affair, with Chelsea Williams taking on Kathryn Hughes (QLD). Williams linked together the best waves of the final, posting a heat high 6.50 (from a possible 10), finishing with on a two-wave combined total of 11.75 (from a possible 20).
"I found it really hard out there," said Williams. "I'm stoked to take the win of course, but I've really had to earn this one." "It's my first time here to the Whalebone Classic and WA has most definitely lived up to it's reputation of the 'wild west'.  The weather has been so different from what I'm used to back home."
Kathryn Hughes was unable to find a wave of any significance and was left chasing an 8.76 for the win.
"I was little embarrassed with how I surfed to be honest," said Hughes. "I'm happy to have made the final and beat the defending champion Georgia Young yesterday to get into the final."
A strong Sunday crowd was on hand to soak up the vibrant atmosphere and inclusive vibe of longboarding in Western Australia.
Surfing Western Australia  Events Manger Justin Majeks was ecstatic with the success of this years Whalebone Classic and the quality of the surfers who attended in 2016.
"This is one of WA's longest running and most iconic longboarding events that continually attracts some of the world's best longboarding talent to the shores of Western Australia," said Majeks. "It's been a great opportunity for our local talent to compete on home soil, in a professional event, alongside some of the best longboarders on the planet."
For more information head to www.WorldSurfLeague.com or check out the WSL app.
Tags: longboard, lqs, western australia, wsl