HOOD RIVER, Oregon / MAUI, Hawaii (August 10, 2017) – Considered the best surfer in the world, John John Florence has been on a surfboard since his infancy, originally signing as a Dakine athlete at age 7. He's been gracing covers of magazines, redefining the approach to progression and dominating the world tour ever since. Hawaiian-born and bred, Florence is a history-making surfer who stands behind the gear he uses. With the launch of the new JJF Collection from Dakine, Florence and the Maui-born brand created a line of thoughtfully crafted, superior quality products that supports the needs of surfers from all walks of life.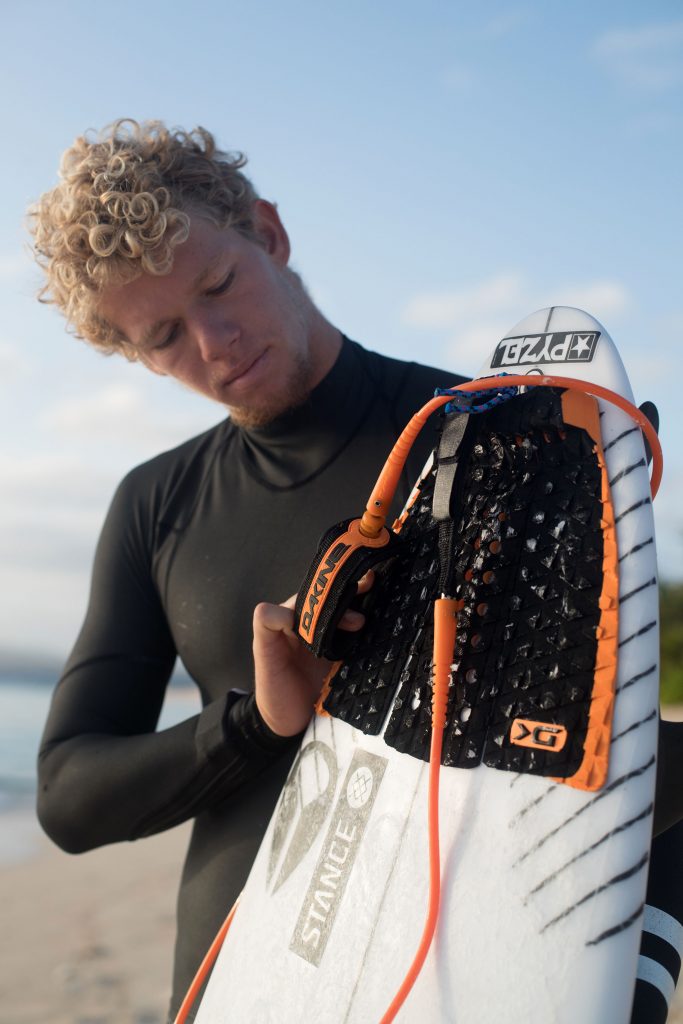 Florence brings his passion, experience and demands of a traveling athlete to the Dakine brand to influence the collection that is built on the details. After re-signing with Dakine in October 2016, the design of the JJF signature traction pad and leash immediately began. Particular with every detail, Florence provided his feedback over 8 rounds of protyping of his ideal traction pad including the size of the kick, direction and height of the grid pattern, the softness of the EVA foam, and the width of the middle arch.
The John John Collection from DAKINE on Vimeo.
"John John takes his equipment very seriously. He won't just use a traction pad or a leash if he doesn't feel it's not going to help elevate his potential while competing," said Micah Nickens, surf marketing director at Dakine. "Adding his name to any product is a very big deal to him. It only gets the green light once he's 100% sure its exactly what he wants."
The hyper-grippy traction pad and series of surf leashes all ship in eco-friendly packaging that is built from recycled cardboard and no plastic, a request from Florence to reduce landfill waste. "Plastic free packaging and my favorite pad yet! I'm so happy to be back with the Dakine family," said Florence.
Coming off the most dominant season of any athlete in the history of professional surfing, Florence earned champion titles at the 2016 WSL World Championship, Hawaiian Triple Crown and Eddie Aikau Waimea Bay Invtiation. The JJF Collection is all about pushing the limits of surf accessories so one of the most progressive riders can continue to change the game.
The JJF Collection from Dakine will be available beginning August 2017 at specialty surf shops and online at www.dakine.com.
About Dakine:
Dakine makes gear for people who love being on the mountain and in the water. Founded in Haiku Maui, Hawaii in 1979 and located at the base of Mt. Hood in Hood River, Oregon, Dakine offers a complete range of innovative and quality products including outerwear, apparel, sport-specific and lifestyle backpacks, bags, travel gear and accessories. Dakine products are available for purchase at specialty sports retailers worldwide. For more information, visit www.dakine.com.
Tags: collection, dakine, gear, john john florence