[threecol_two]
Kenny Briel of Savage Surfboards
Kenny Briel is one of the East Coast's most accomplished shapers, a fine Southern gentleman who's infectiously friendly, endlessly funny — and he's got 45 years and nearly 40,000 boards under his belt. Read up on some of Kenny's boardbuilding thoughts, his strong connection to the Savage Surfboards family, and a few photos of Savage models performing in the field under the feet of teamriders Jason Motes and Corey Sapp.
Phone: 919-209-8449
Hometown: Satellite Beach, FL
Current home: North Carolina
Shaping history: 45 years, over 38,000 boards
Shaping inspiration? Bob Tomb, Dick Catri
East Coast teamriders?
Jason Motes, Corey Sapp, Piper Austin, Josh Motes, Jeffery Crego, Frank O'Rourke, Hunter Heverly, Chase Lieder, the Tanner brothers, Dylan Dreibelbis, Andrew Duss, Tristan Hall, Bradley Rose, Brennan Plotner, and Trelane Lake to name a few.
Favorite old boardbuilding technology?
Classic longboards, pigment lams, tail blocks, nose blocks, fancy stringers.
Favorite new boardbuilding technology?
Epoxy with exotic fabrics.
Your personal shaping focus for 2017?
To build solid, state-of-the-art, and classic surfboards that provide performance with confidence through experience in the surfboard industry and craftsmanship on the Right Coast.
Hottest industry-wide trend for 2017?
Epoxy is really big again with better resin, blanks, carbon, and cloth — light, wide, and functional for East Coast beachbreaks.
Favorite surfboard to shape?
Longboards, but I enjoy shaping all boards.
Most challenging surfboard you've ever shaped?
My first 100 shapes.
Favorite wave to ride for personal R&D?
Escondido in Mexico, Pet Den in Satellite Beach, or Wabasso.
Favorite activity outside the shaping bay?
Family
Thoughts on the future of East Coast boardbuilding?
The ones that will humble themselves will get it. The future just gets harder with the ongoing invasion of foreign boards.
Key East Coast retailers?
Aussie Island surf shop, Recon Surf Wilmington, Spunky's Surf Shop, Sunrise Surf Shop in Jensen Beach, FL, Suncoast Surf Shop, Shark Bait Surf Shop, Sunset Surf Shack in Montauk, NY, Nantucket Surf Co., Jax Surf & Paddle in Neptune Beach, The Surf Station in St. Augustine, Austin's Surf Shop in Jax Beach, Pointbreak in Southport, NC, Revolution Surf & Skate in Ocean Isle, NC, and Savage Surfboards factory outlet.
[/threecol_two]
[threecol_one_last]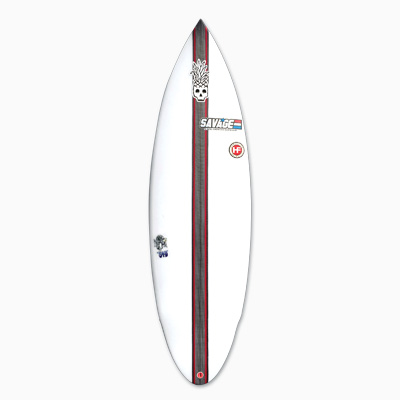 Savage Surfboards
S4D Model shaped by Kenny Briel & Shawn P. O'Donnell
Length: 5'6″
Width: 19.5″
Thickness: 2.38″
Nose: 13.5″
Tail: 15.5″
Volume: 26.5L
Phone: 919-209-8449 • Facebook: /SavageSurfboards • Instagram: @savagesurfboards
Full small wave to medium wave killer with single wing double concave designed by Kenny Briel and Corey Sapp. Sizes can be customized.
SavageSurfboards.com
---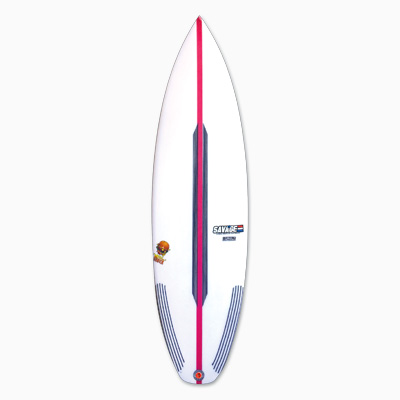 Savage Surfboards
Mushburger Model shaped by Kenny Briel & Shawn P. O'Donnell
Length: 5'8″
Width: 18.75″
Thickness: 2.38″
Nose: 13″
Tail: 15″
Volume: 25L
Phone: 919-209-8449 • Facebook: /SavageSurfboards • Instagram: @savagesurfboards
Beachbreak small wave to head-high conditions, double concave secret agent rocker design by Kenny Briel and Corey Sapp. Sizes can be customized.
SavageSurfboards.com
---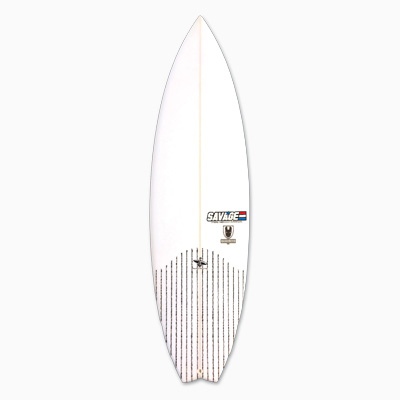 Savage Surfboards
Ironman Model shaped by Kenny Briel & Shawn P. O'Donnell
Length: 5'9″
Width: 20.5″
Thickness: 2.63″
Nose: 13.5″
Tail: 15.75″
Volume: 32L
Phone: 919-209-8449 • Facebook: /SavageSurfboards • Instagram: @savagesurfboards
All-around medium to big guy performance board for knee-high to overhead surf, designed by Kenny Briel and Jason Motes, who has 13 East Coast championship titles and a string of Ironman titles. Sizes can be customized.
SavageSurfboards.com
---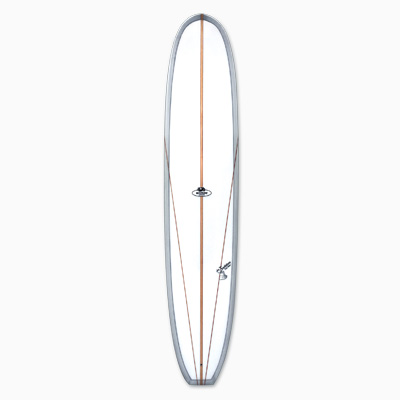 Savage Surfboards
Tombstone Model shaped by Kenny Briel
Length: 9'6″
Width: 23″
Nose: 18.5″
Tail: 16.5″
Volume: 82L
Phone: 919-209-8449 • Facebook: /SavageSurfboards • Instagram: @savagesurfboards
Vintage style stepdeck noserider that is also a great hot dog board. Design inspiration by Bob Tomb and Pat O'Hare — Kenny has been shaping this style board since 1978. Sizes can be customized.
SavageSurfboards.com
[/threecol_one_last]
[template id="5654″]