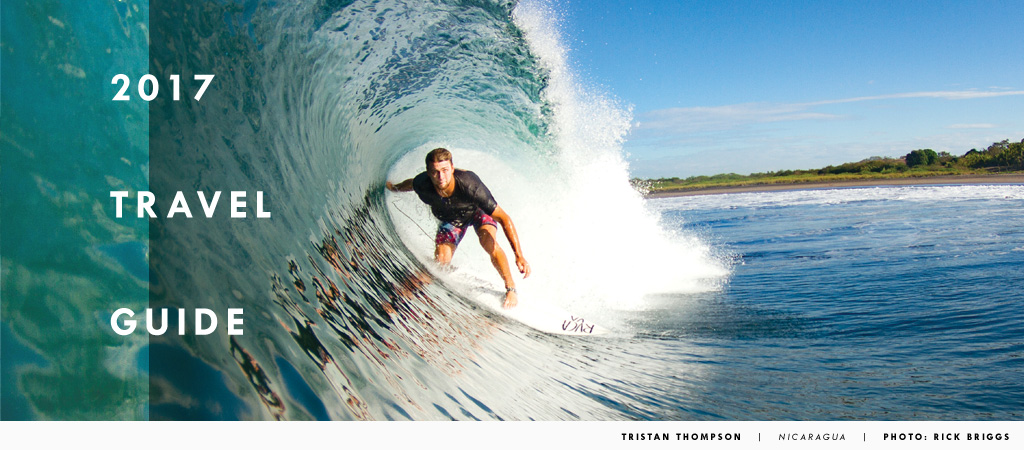 This spring has been a wave-filled one here on the East Coast, but with June and July on the horizon, we're about to enter our slowest time of the year. But we've got good news — you don't have to suffer through flat spells while waiting for hurricane season to kick into high gear. Instead, rely on this in-between time of year to explore a new destination, get familiar with waves of consequence, or push yourself outside your comfort zone. Need more information? The following camps, resorts, and guides will help you get away and go big. Dream on…
---
Real Surf Trips
Costa Rica, Jamaica, Dominican Republic
Rates:
$1395 4 nights/5 days
$1795 6 night/7 days
$2195 9 nights/10 days
Best Season:
Costa Rica:
March – September
Jamaica:
November – April
Dominican Republic:
November – April (surfing)
April – September (windsurfing/kitesurfing)
Contact:
(831) 440-7676 (US dial direct)
bob@realsurftrips.com
RealSurfTrips.com
Welcome to Real Surf Trips, home of the most swell-exposed and wave-rich surf zones, with locations in Costa Rica, Jamaica, and the Dominican Republic. From beginner surf packages to the most perfect waves for experienced surfers looking to progress to that next level, this is exactly what an all-inclusive surf trip is supposed to be. Whether you're looking to book a vacation rental for the entire family, or you just want to add in a few yoga classes to your surf trip, Real Surf Trips features every amenity and experience our locations have to offer!
Includes:
• Luxury accommodations
• Breakfast and dinner served daily with private chef
• Airport pick-up and drop-off
• And much more depending on location!
All you have to do is show up at the airport and we take care of the rest: first-class accommodations, one-of-a-kind service, and more than 20 years of local surf knowledge, guaranteed to give you the surf trip you've been dreaming of! Interested in learning more? Our co-founder Bob Witty will be happy to assist you with all questions and set up your trip.
---
Solid Surf & Adventure
El Transito, Nicaragua
Rates:
$1250 Per Week
Best Season:
November – May
Instagram:
Facebook:
Contact:
ADVENTURE FOR THE SOUL™
At SOLID, we not only show our customers the best of Nicaragua (waves, activities and culture) while making them feel at home, but also limit the guesswork and hassle of decision-making so they can focus on surfing, relaxing and enjoying their stay. With a staff comprised of locals including a bilingual emergency responder guide, we provide both a safe and authentic experience while traveling in Nicaragua. While our focus is on all-inclusive packages, we have options at our Bed + Breakfast and Hostel for those on a budget.
Situated on the Central-Pacific coast less than 90 minutes from the airport, lively city of Leon and historical city of Granada, the four breaks within eyesight of the SOLID compound are the most consistent, uncrowded breaks in the region and provide a variety of waves that are fun for every level. While many will focus on surf, we provide activities that everyone in the family can enjoy such as volcano boarding, rum factory tour, zip-lining, fishing, colonial city tour, horseback riding, yoga, massages and even volunteering.
While the bigger swell season is March through October (good, overhead-sized waves that enable us to travel to a few reef breaks), November through February is a great time to travel to Nicaragua and more specifically to SOLID, as we get consistent waist- to head-high surf — our beach enhances whatever swell is out there. Furthermore, we experience offshore winds 300+ days per year (most consistently November through May) and the ocean and air temp is warm year-round with not even a top needed.
---
Dominican Surf Trips
Millennium Resort
#somewhereinDR
Rates:
Surf Trip: Starting at $85
Accommodation:
Starting at $145 per night for up to two adults (two night minimum). Discounts apply after seven nights
Instagram:
@dominicansurftrips
@millenniumresort
Book with:
Websites:
Dominican Surf Trips is devoted to providing unforgettable adventures for traveling surfers on the island of Dominican Republic with quality custom surf trips and packages for surfers of all ages with local Dominican professional surfer Brandon Sanford.
#somewhereinDR is our hashtag and concept of keeping our spots uncrowded and underground, leaving the client with the sense of satisfaction that comes with breaking free from the well-known surf spots and discovering something new, special, and unique.
Millennium Resort and Spa sits oceanfront at one of the world's watersports capitals, Cabarete in the Dominican Republic. Rooms provide every modern comfort and the resort sees to all of your needs with an attentive staff, full-service spa, fine-dining restaurant, and world-class kiteboarding school. Rooms also feature air conditioning and wireless high-speed Internet access throughout, flat screen TVs with American and European cable in all living rooms and bedrooms, top-quality sheets, bedding and towels, daily maid services, 24 hour on-site security, and a concierge to cater to your every need.
Take the guesswork out of the equation and make the best of your holiday surf adventure by joining us for a inclusive surf, kitesurf or sup adventure. You will be guided by true surf locals taking you to the best spots from when you arrive until your departure. With beach and surf front location, local knowledge and private 4wd transportation, we will guide you daily into the best and emptiest waves available in the area. There is breakfast of fresh fruits and croissants included as well as a DST intro pack with coupons and souvenirs..
---
Popoyo Surf Lodge
Southern Pacific Coast of Nicaragua
Rates:
$1295 per surfer for two
$1195 per surfer for three
$1095 per surfer for four
We offer discounts for groups of five or more.
Low season rates also available January through March
Best Season:
April – November
for experienced surfers
December – March
for beginners and lessons
Instagram:
Facebook:
Contact:
(321) 412-5724
surfnicaragua11@gmail.com
SurfNicaragua.com
Welcome to Playa Guasacate, Nicaragua, home of the world famous Popoyo Surf Lodge. Popoyo Surf Lodge opened in 1999 and is located in the heart of Nicaragua's surf zone. With five trucks, two boats, and Nicaragua's best and most experienced surf guides PSL is your best choice for surfing in Nicaragua. We have an unparalleled knowledge of the waves, the breaks, and the local community. With years of experience living here and surfing the breaks year-round, we really do have the area wired.
We use this experience to ensure that our guests are on the best surf breaks possible, considering swell size and direction, crowds, and waves suitable for our guest's skill level. With two boats, a fleet of 4×4 trucks, and daily surf reports, we have a proven track record of getting our guests to the best waves possible every day of their trip. Check out the surf page for photos of Nicaragua's perfect surf.
At Popoyo Surf Lodge, we strive to maintain and improve the high standards our clients are accustomed to. From our fantastic meals and buffets, world-class surf guides, friendly staff, and modern conveniences, we keep setting new standards for excellence at PSL. All the finest amenities have been considered and carefully planned to ensure that your stay with us is an adventure to be remembered.
---
Scorpion Bay Hotel
San Juanico, Baja California Sur Mexico
The Scorpion Bay Hotel offers the best accommodations at one of the best and longest waves in the world. Our property is truly unique and affords our guests a safe and secure stay in a beautiful, green setting with all of the necessary amenities, even in a remote place like Scorpion Bay. If you are going to make the journey for this special wave, make sure you have a special place to stay as well.
Scorpion Bay is a legendary surf spot that has been compared to other legendary pointbreaks such as Malibu, Rincon, and Jeffrey's Bay. When Scorpion Bay catches the right swell, few waves on Earth can match its form and length. SURFER Magazine ranked Scorpion Bay the 36th best wave in the world! The closest commercial airport to Scorpion Bay is Loreto International Airport. For flights to Loreto, look up Calafia and Alaska Airlines.
---
Tags: dominican republic, jamaica, mexico, nicaragua, travel guide